Venezuelan national airline Conviasa is launching a new route linking Venezuela and Iran…
Basics of Conviasa's Caracas to Tehran route
Conviasa will launch a flight between Caracas (CCS) and Tehran (IKA) every two weeks. Specifically, the flight will operate with the following schedule, starting June 18, 2022:
Saturdays Caracas to Tehran departing 4:00PM arriving 2:00PM (+1 day)
Tuesdays Tehran to Caracas departing 6:30AM arriving 10:30AM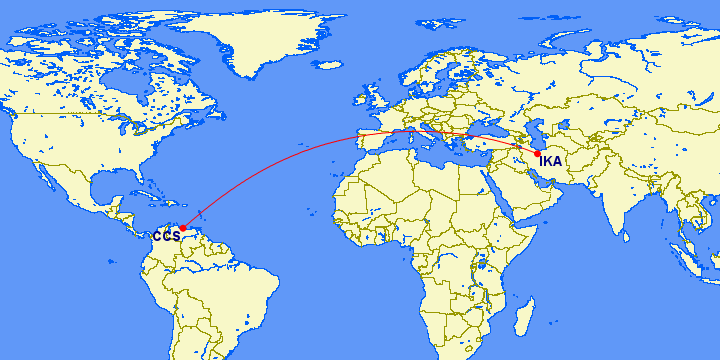 The 7,315-mile flight is blocked at 13hr30min in each direction, and is scheduled to be operated by an Airbus A340-300. Conviasa has a single 25-year-old Airbus A340-300, which used to fly for Air China and Cathay Pacific, among other airlines.
The plane has 255 seats, including eight first class seats, 28 business class seats, and 219 economy class seats. At least that's what the configuration used to be, though I haven't seen any interior pictures of the plane in recent years. Probably most significantly for this route, the Airbus A340-300 also has very good cargo capacity. 😉
This flight is bookable directly on Conviasa's website. It's interesting how minimal the price difference is between economy class and business class. For a one-way ticket, economy starts at ~$1,033, while business class starts at ~$1,290. An extra ~$260 for business class on a 13+ hour flight seems like a steal. That further reflects that cargo is probably the main motivator here, with passengers essentially just chipping in gas money.

Other interesting flights to & from Venezuela
Given the political situation, this is far from the first "interesting" route we've seen to & from Venezuela in recent years:
Conviasa has actually been operating flights to Tehran in recent months. However, the airline has been offering this as part of a tag-on to its existing Moscow service, meaning the plane flies from Caracas to Moscow to Tehran to Moscow to Caracas.
I feel like maybe a Caracas to Pyongyang flight would logically be next?
Bottom line
Conviasa is launching regularly scheduled service between Caracas and Tehran, with the airline planning on serving the route every two weeks. As an airline product geek, I can't even begin to say how much I'd love to experience this flight, though suffice it to say that I won't be onboard anytime soon.
I'd be fascinated to know what the demand is like in this market — presumably these planes will be taking off close to their maximum takeoff weight, but how will that be broken down between cargo and passengers?
What do you make of Conviasa's new Caracas to Tehran route?
(Featured image courtesy of Andres Ramirez)