This sure hasn't been a good week for me as far as airline reliability goes. I feel like for my past several hundred thousand miles I've had amazing luck with my flights, and have barely had any major delays or cancelations. Then last week I had a 10 hour delay on my flight from Yerevan to Doha due to fog, which threw off my plans.
I'll be the first to admit that I often plan trips very tightly, and that's on me:
I feel like I'm pretty well equipped to handle operational challenges when they arise, so even when things go wrong it's usually not a big deal
Given my crazy travel schedule, to me it's generally worth the substantial time savings to plan travel as tightly together as possible, even if it comes with some risk
I realize sometimes this plan backfires, and it could cost me
Well, today this plan backfired, and it cost me dearly. I've learned a lesson from this, and will act accordingly in the future, because it's simply not worth the hassle and cost.
Ford and I were scheduled to fly on American last night from Los Angeles to London. I then booked a separate ticket from London to Geneva on Swiss, since I wanted to fly the CSeries. I planned a layover of 2hr20min. I know that's on the tight side (again, that's on me), but I figured as long as our flight arrived within 75 minutes of our scheduled arrival time, we'd be good. American has an excellent on-time record for this route lately.
Boarding was completed well before our scheduled departure time, though the door just remained open. A few minutes after our scheduled departure time the captain announced that there was a small maintenance issue they just fixed and were getting signed off, and the door should be closing within a couple of minutes.
A few minutes later the captain announced that there was another issue, and that the plane would be going out of service completely. That escalated quickly.
On the plus side, I have to give American a lot of credit for how quickly they got us a new plane. There was another 777-300ER at the gate next to us, and they managed to get it catered, serviced, the bags switched over, and everything else, with a delay of just 95 minutes. Credit where credit is due — that's impressive.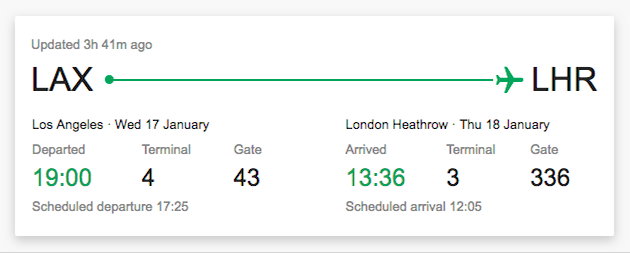 During the delay I looked more closely at our connection, and realized it was likely we'd misconnect. In looking at flights from London to Geneva, virtually everything was sold out. I guess everyone is going skiing this weekend. I decided to book a backup just in case.
I ended up booking Swiss tickets from London to Zurich to Geneva for $250 per person, which was the cheapest option. I booked through Priceline so that I could cancel within 24 hours (in other words, till departure), and figured at least we'd have these tickets as a last resort.
When we got to Heathrow we rushed as much as possible, though with the terminal change and long security lines, we missed our connection by a couple of minutes.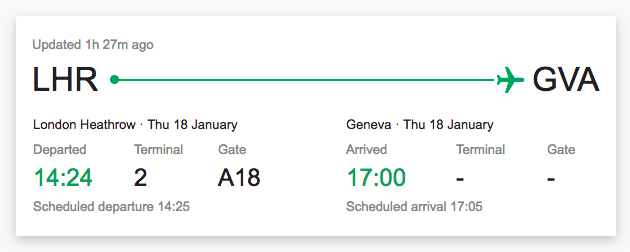 The Swiss agents couldn't have been less helpful, and told us to go to the Swiss ticketing desk at check-in. So we went there.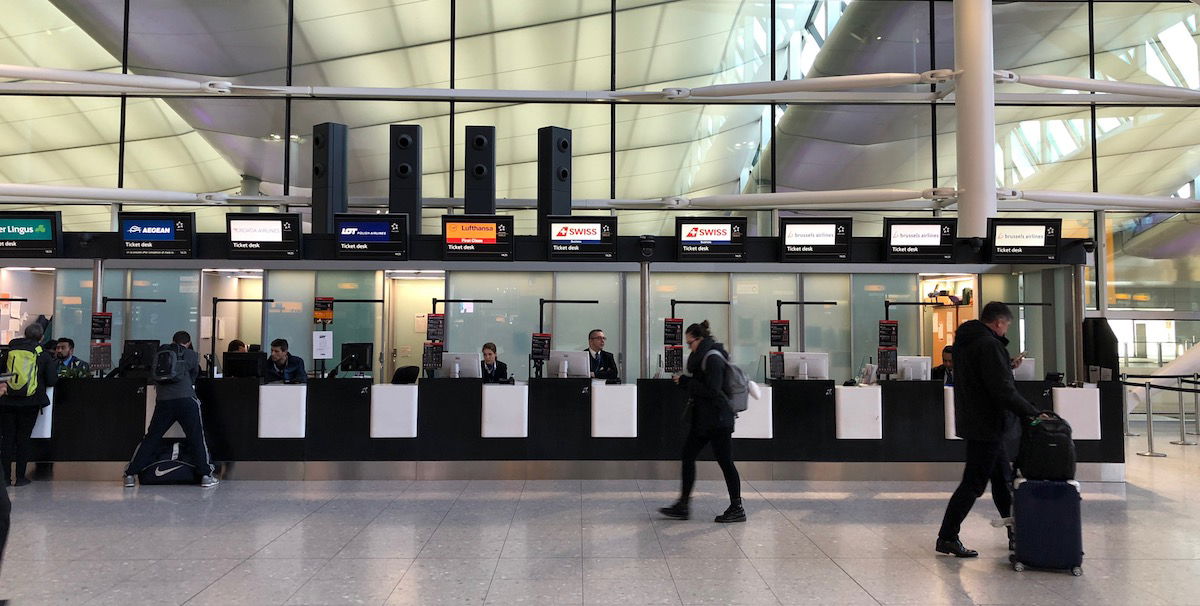 I explained that we misconnected, and that I was dumb for booking on separate tickets.
"I have good news, we can get you on the 7PM flight nonstop to Geneva."
"Oh, that's great!"
She typed and typed and typed and typed. I felt like she was a nicer version of Carol Beer.
After typing for over five minutes, she said "oh, your ticket is changeable. That'll cost you 450GBP per person."
I asked nicely if there was anything else that could be done, and she said that we could also be routed through Zurich, and that would "only" cost 300GBP per person.
In the US we're used to airlines putting us on standby for the next flight if we miss our flight, while in Europe you're out of luck. The only option is to pay the fare difference and possibly even a change fee, which can be prohibitively expensive.
At that point I told her it was fine, and that we'd find a separate way to get to Geneva. The catch was that we had a return from Geneva to London booked on the same ticket, and I even paid about $100 per person to upgrade (because both directions were on the CSeries, I wanted to review economy in one direction and business in the other).
"Yes, you can keep the return. There shouldn't be a cost to do so, but you'll have to call Swiss to reissue the ticket."
"But you're Swiss ticketing, can't you reissue the ticket for me?"
"No, you have to call. We can't do that here."
After checking in for the other itinerary we booked, we headed to the lounge. The Wi-Fi in the lounge was awful and my phone signal wasn't good (for whatever reason), so Tiffany was nice enough to call Swiss for me. They informed her that the fee to be able to take the return flight would be 205GBP per person. That's right, they wanted that amount just to let us keep the return flight on the ticket we already paid for.
That's in spite of the fact that the agent at the desk told us there would be no cost (though I was skeptical of that). I could book a significantly cheaper one-way ticket from Geneva to London, so had Tiffany just cancel it. She asked if they could at least refund the upgrade cost, and they said no. On the plus side, after Tiffany asked they offered to refund us 52GBP per person for the tickets, which is a small portion of what we paid.
The original roundtrip Swiss ticket, with the outbound in economy and the return in business class, cost 400GBP total for both of us. For that we got a 104GBP refund. And then I had to buy new tickets from London to Geneva for 180GBP per person, and then separate return tickets from Geneva to London.
So, what did I learn? Generally I tend to think that most airport agents will work with you, so there's limited risk. Clearly that's not always the case, especially in Europe. This was my first time no showing (at least as they saw it, since my inbound flight was on a separate ticket) for a ticket in Europe, and I realized they have no mercy whatsoever. I kind of knew this in the back of my mind, though always hope for the best.
I won't be doing this again. Next time I'll just leave a longer connection on separate tickets, because this simply isn't worth the risk. Not only was the mistake expensive, but the whole situation was extremely frustrating, between having to go to the ticketing desk, being lied to by the ticketing agent, having to call (which Tiffany was kind enough to do), and not even being able to keep the return portion of the ticket.
If you're connecting in Europe on separate tickets, leave LOTS of time! Usually I say "oh well, that's the cost of my strategy," but in this case I learned my lesson and won't be doing this again. And if I do, I'll be sure to book my tickets as one-ways, so I don't run into the same issue with the return.