Skiing in Switzerland
---
Booking the Huus Hotel
Originally our plan was to just spend five nights at the W Verbier and then go to London for a few nights before returning to the US. Given how beautiful the Alps are, I thought it might be nice to visit somewhere else in Switzerland, especially since we've been to London a countless number of times before. Hyatt and Starwood don't have many hotels in the Alps, though I did notice that there were several adorable-looking Design Hotels properties all around Switzerland.
For those of you not familiar, Design Hotels is a group of independent hotels with a focus on cool design (as the name suggests). While the hotels aren't fully integrated into the SPG portfolio, SPG and Design Hotels do have a marketing partnership. This means that you can earn and redeem Starpoints at Design Hotels properties, though you don't receive your typical elite benefits.
Sure, I'd love if Design Hotels were fully integrated into SPG, but having access to adorable, more-or-less independent hotels while still being able to earn and redeem points is awesome.
So while we had several Design Hotels properties in Switzerland to choose from, we ended up deciding on Huus Hotel Gstaad. We chose this because Gstaad is a manageable distance from both Verbier and Geneva, so the logistics were easy enough.
The nightly rate at the Huus Hotel for our nights was 280CHF (~300USD), or we could redeem just 10,000 Starpoints per night, so that's what we did, since I'd consider getting three cents of value per Starpoint to be a good deal.
Huus Hotel Gstaad review
Huus Hotel is so, so, so cute.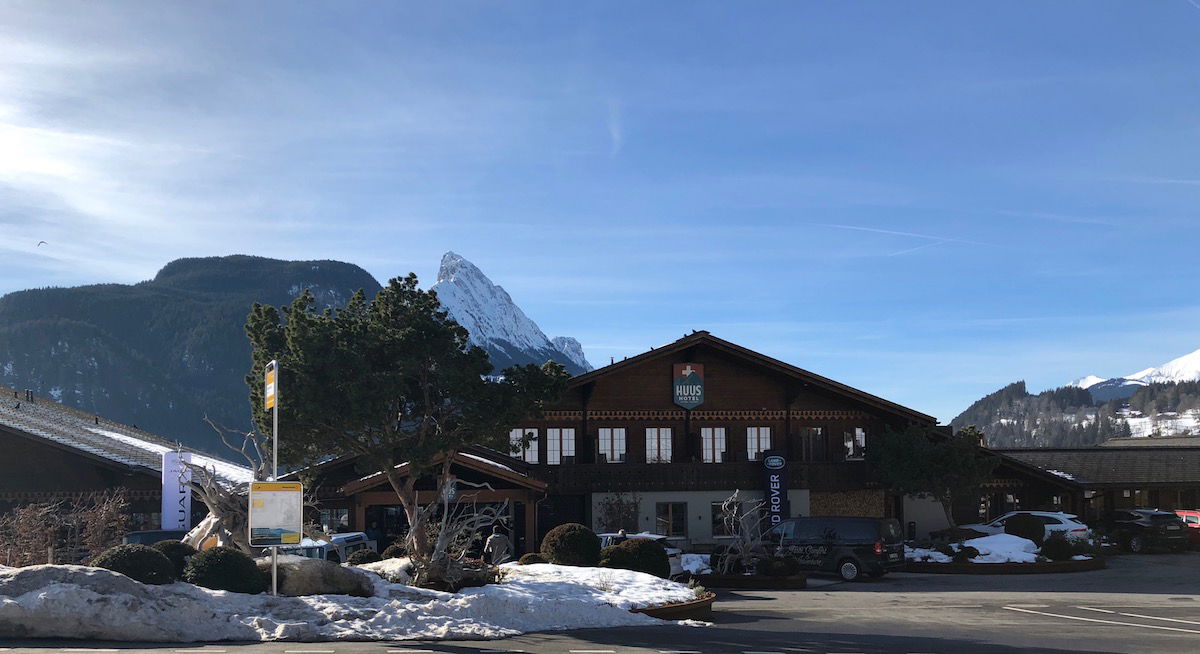 Huus Hotel Gstaad exterior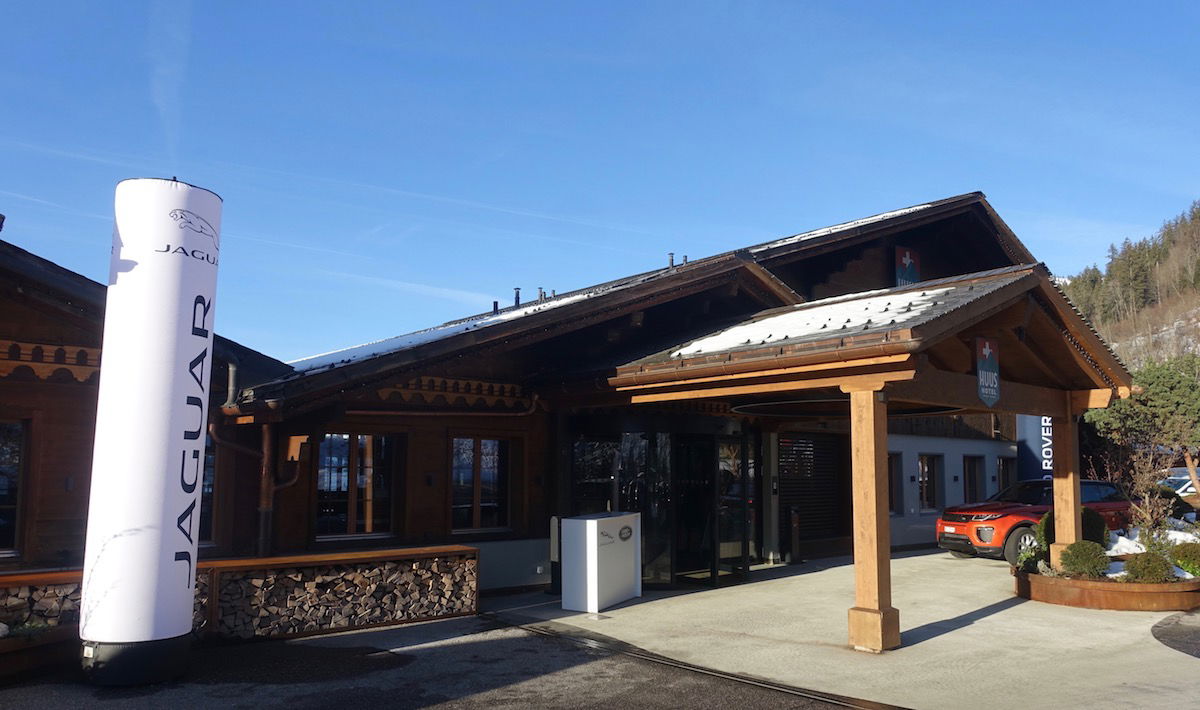 Huus Hotel Gstaad exterior
I fell in love with the property the second we arrived. Inside the entrance and to the left was reception, where we were warmly welcomed. All the customer-facing employees at Huus Hotel wear jeans, button downs, and red suspenders, which is a quirky look. The check-in process was quick, the front desk agent explained we were entitled to free breakfast (which we weren't even aware of, but all guests at the hotel get free breakfast), and he also invited us to enjoy a welcome drink in the lobby bar at our leisure.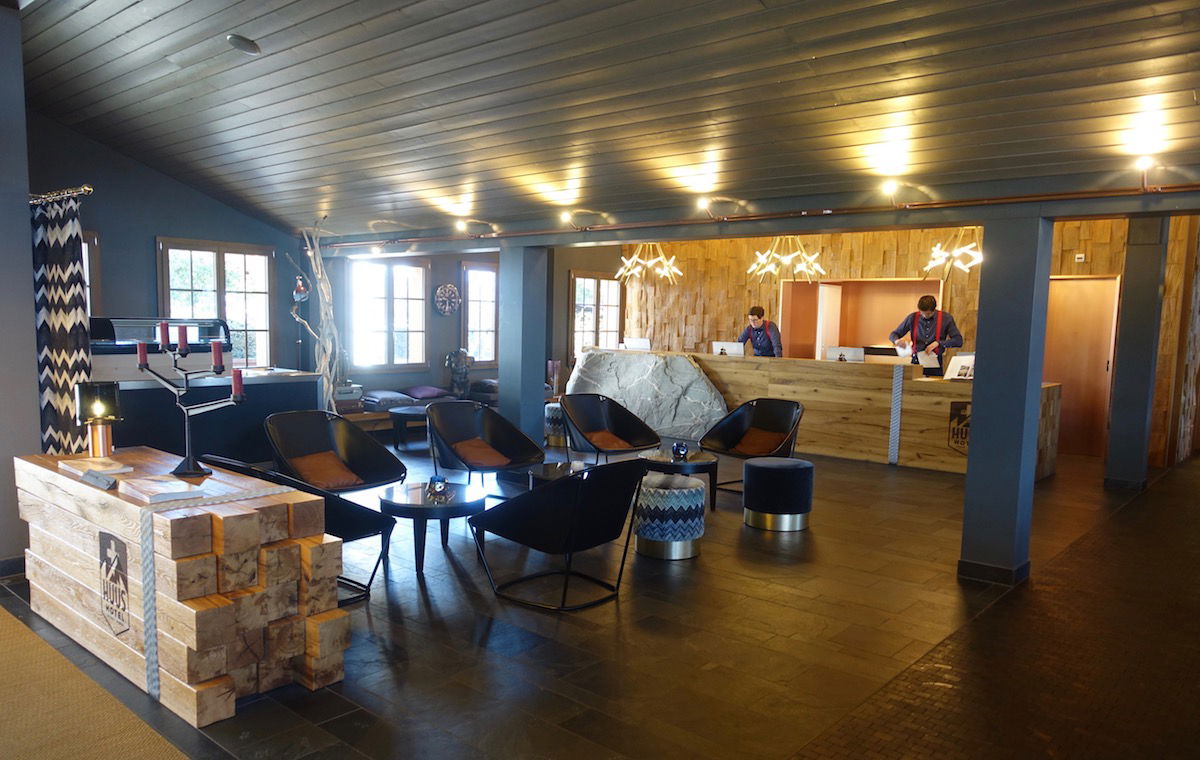 Huus Hotel Gstaad reception
The hotel's lobby (including the bar area) is incredibly cozy. I'll leave it to the pictures to show that.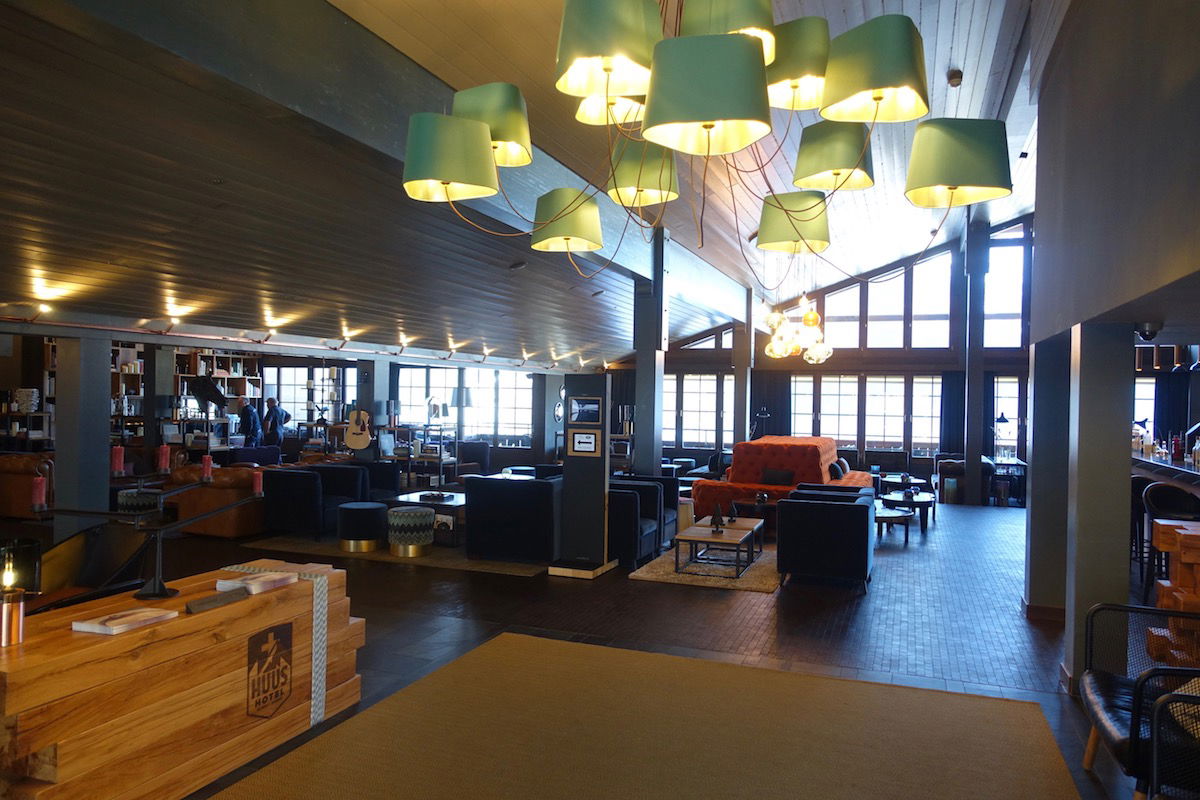 Huus Hotel Gstaad lobby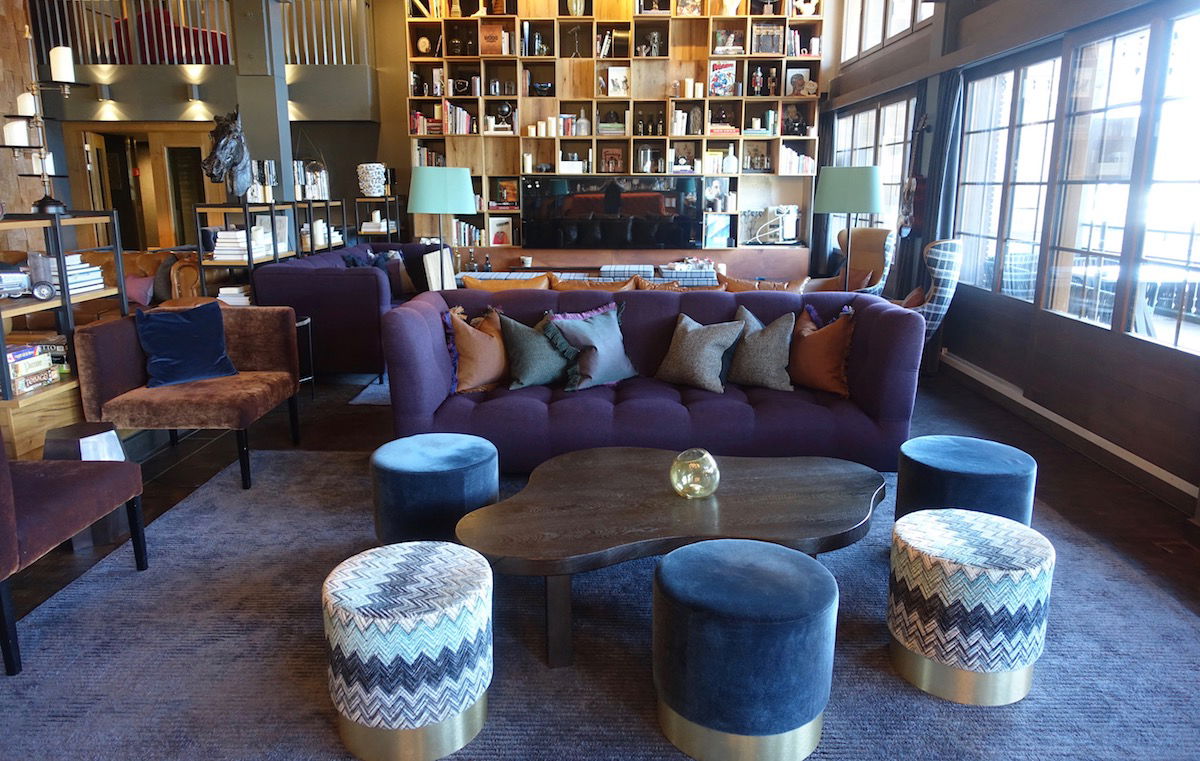 Huus Hotel Gstaad lobby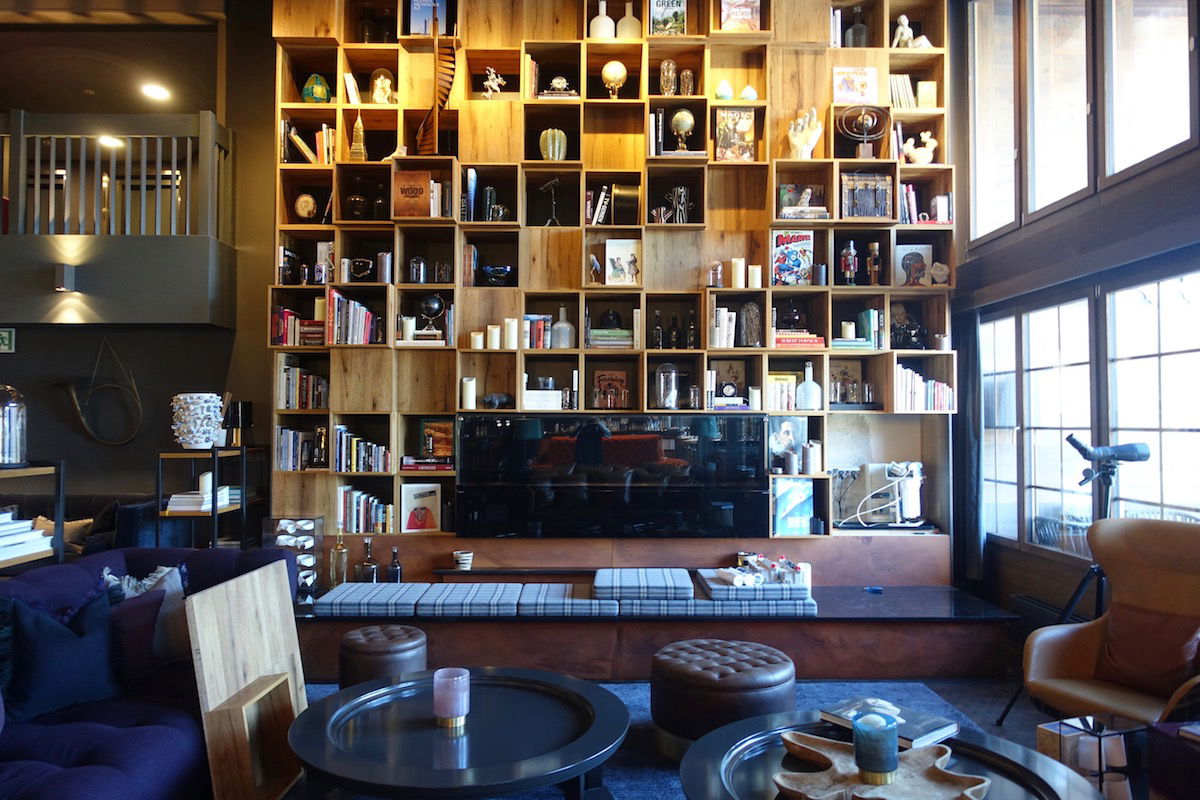 Huus Hotel Gstaad lobby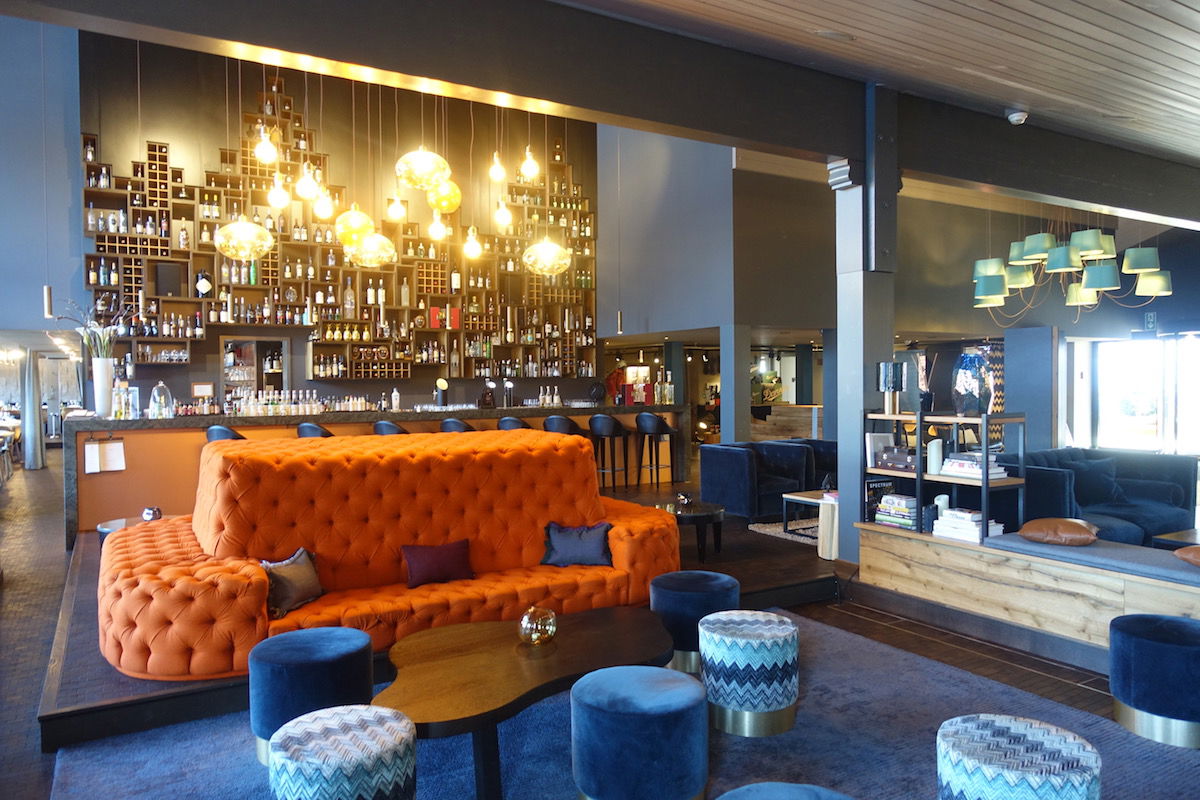 Huus Hotel Gstaad lobby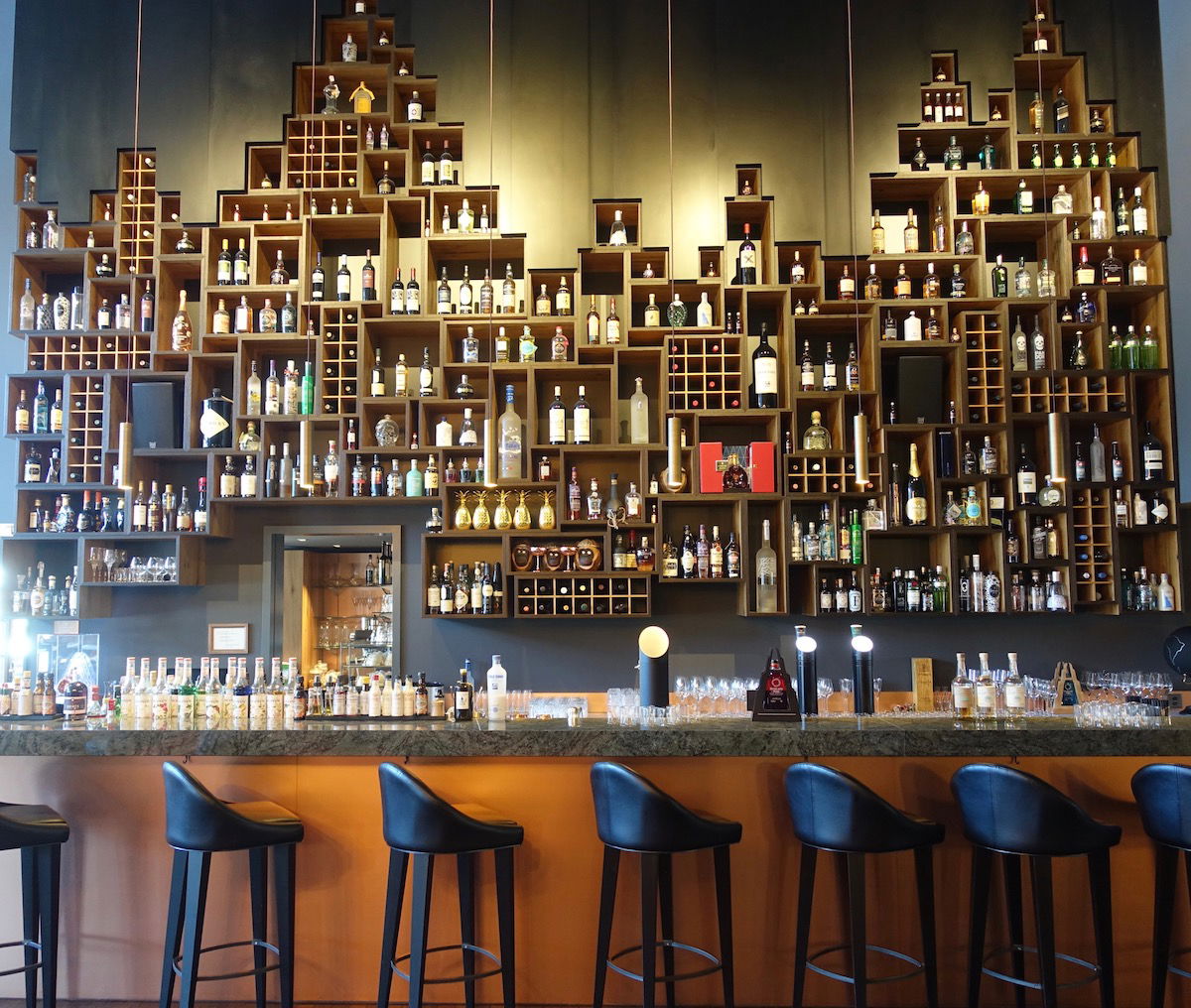 Huus Hotel Gstaad bar
The hotel is built into a mountain, so the lobby isn't on the lowest floor. The lobby is on level 0, and then there is one floor above it and three floors below it. What's strange is that the floor above the lobby is level 1, the floor below the lobby is level 2, the floor below that is level 3, and the floor below that is level 4 (that's correct, there were no "minus" signs there). That took some getting used to.
Our room, #210, was one level below the lobby. At the bottom of the staircase our room was the first room after turning left.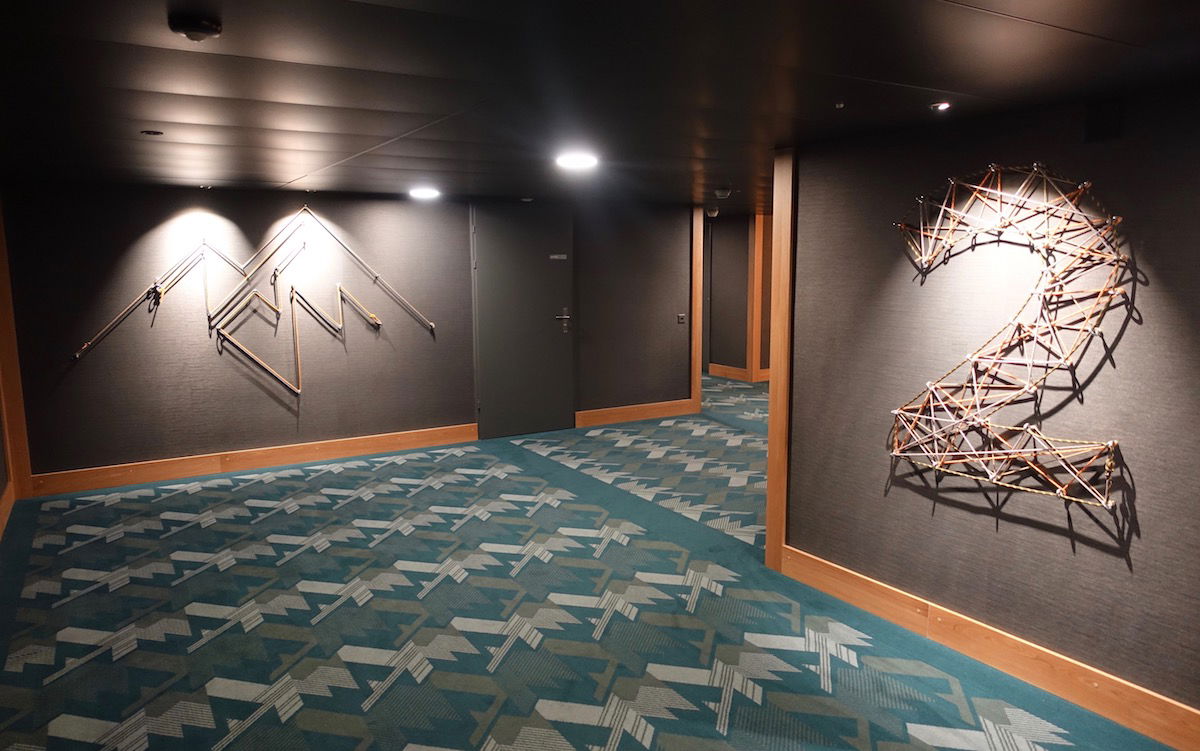 Huus Hotel Gstaad hallway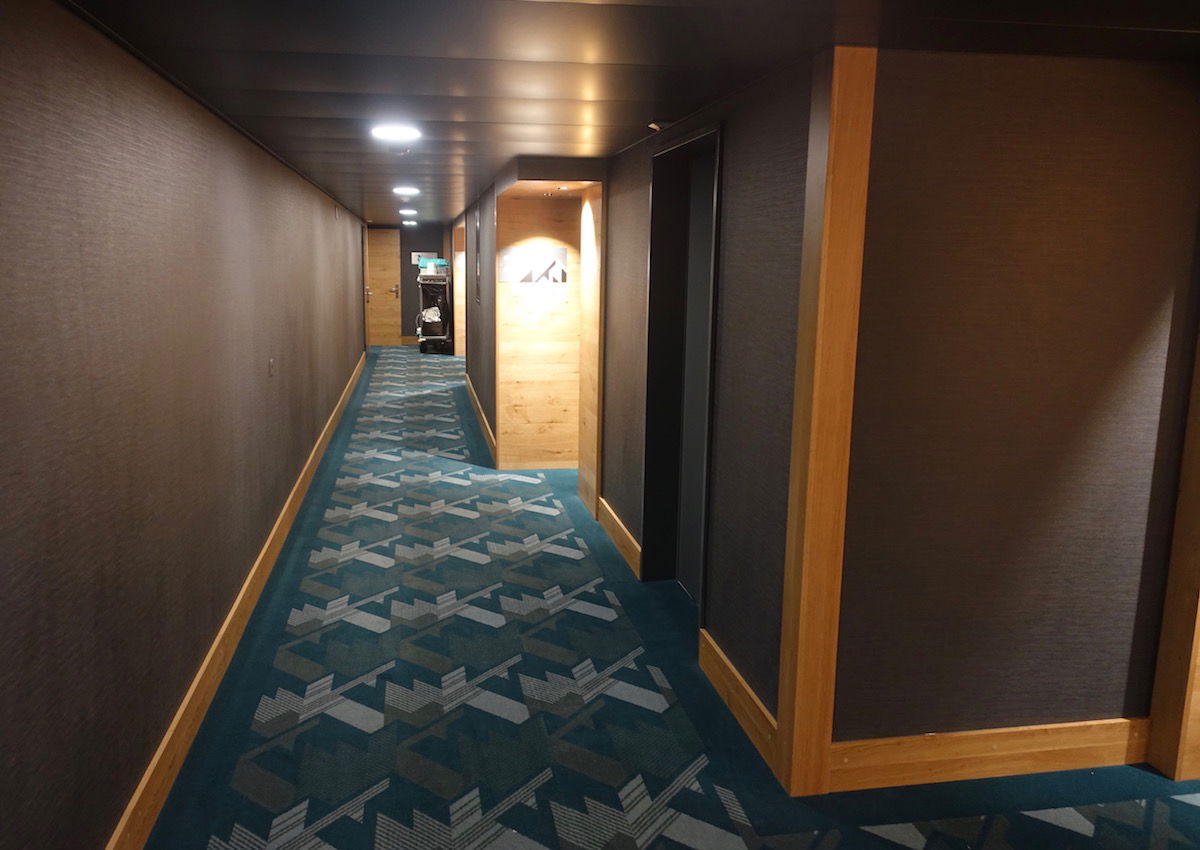 Huus Hotel Gstaad hallway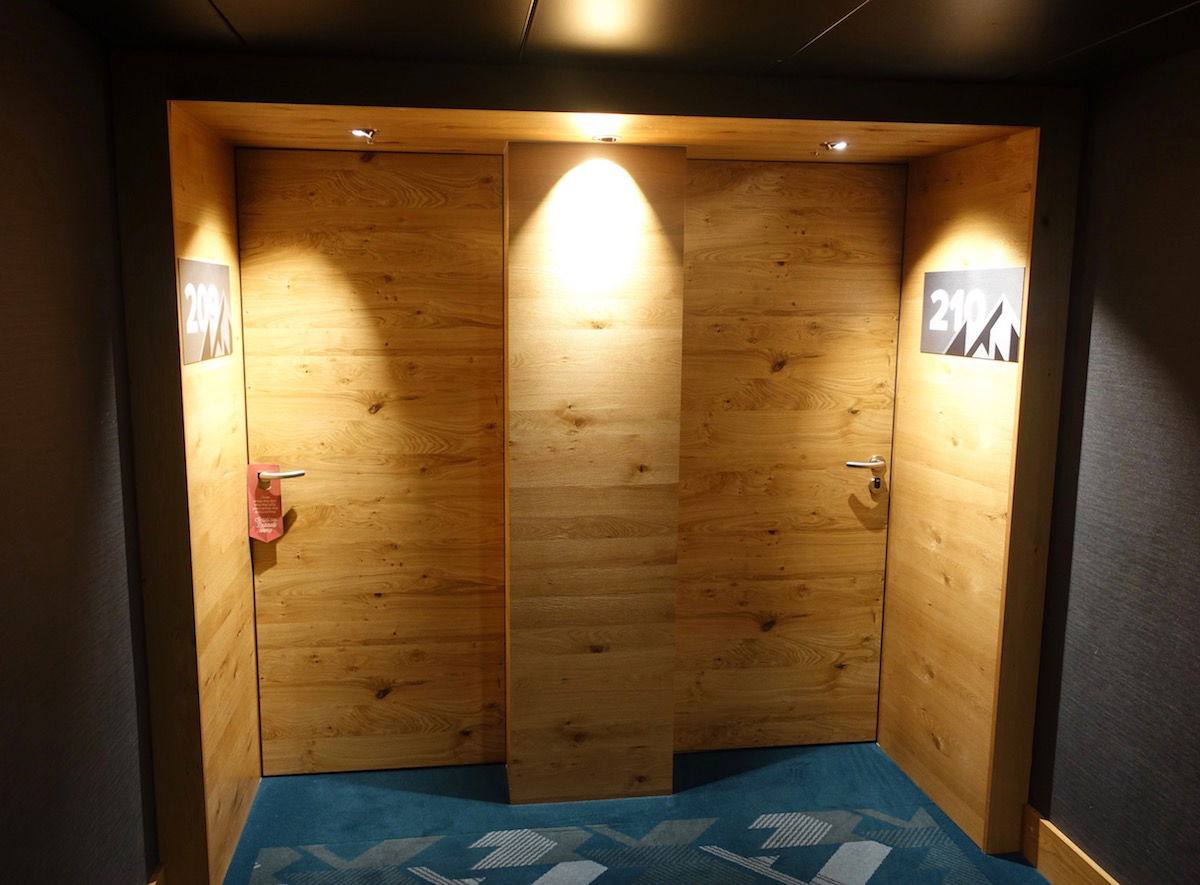 Huus Hotel Gstaad room exterior
For what it's worth, I should mention that this hotel was renovated just a couple of years ago, and previously was a Steigenberger hotel (a German hotel brand). So not only did I find the design to be charming, but everything still felt fresh.
The room had a long entrance with a cuckoo clock on the wall.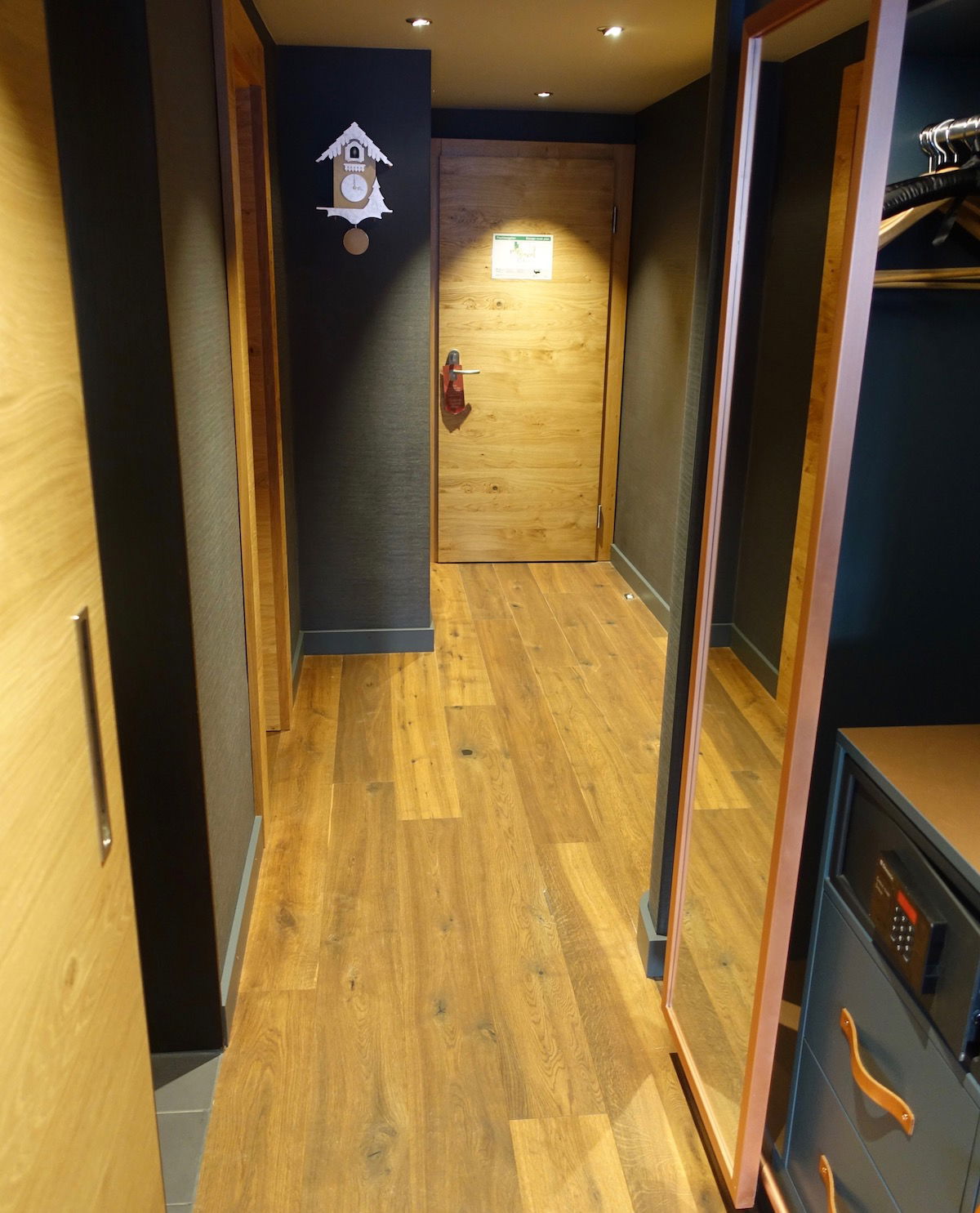 Huus Hotel Gstaad room entryway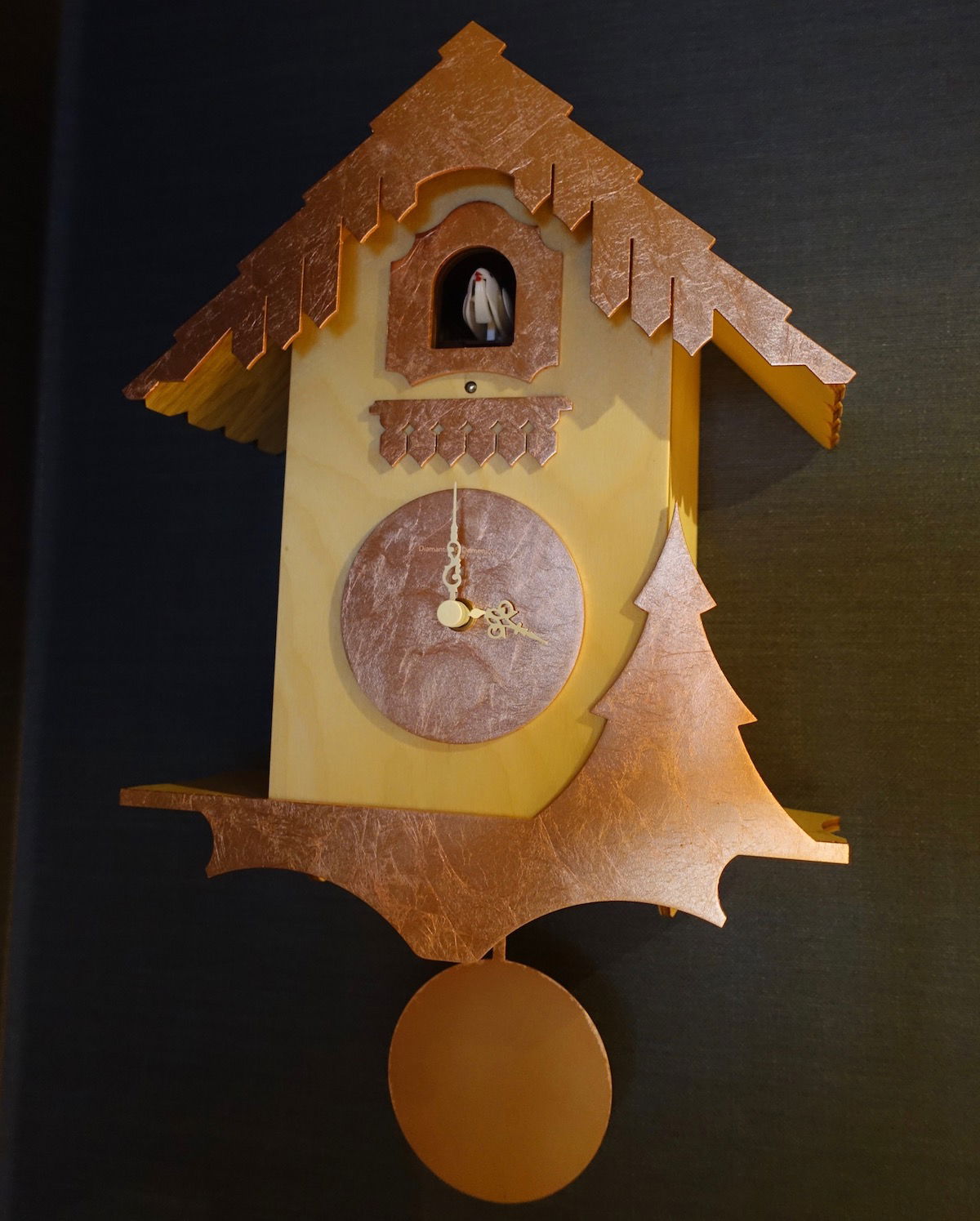 Huus Hotel Gstaad room
Seriously, how adorable and cozy is this room? From the slanted ceilings, to the finishes, I just loved it. The room had a king size bed, and there were two separate comforters, as you'll often find in Europe.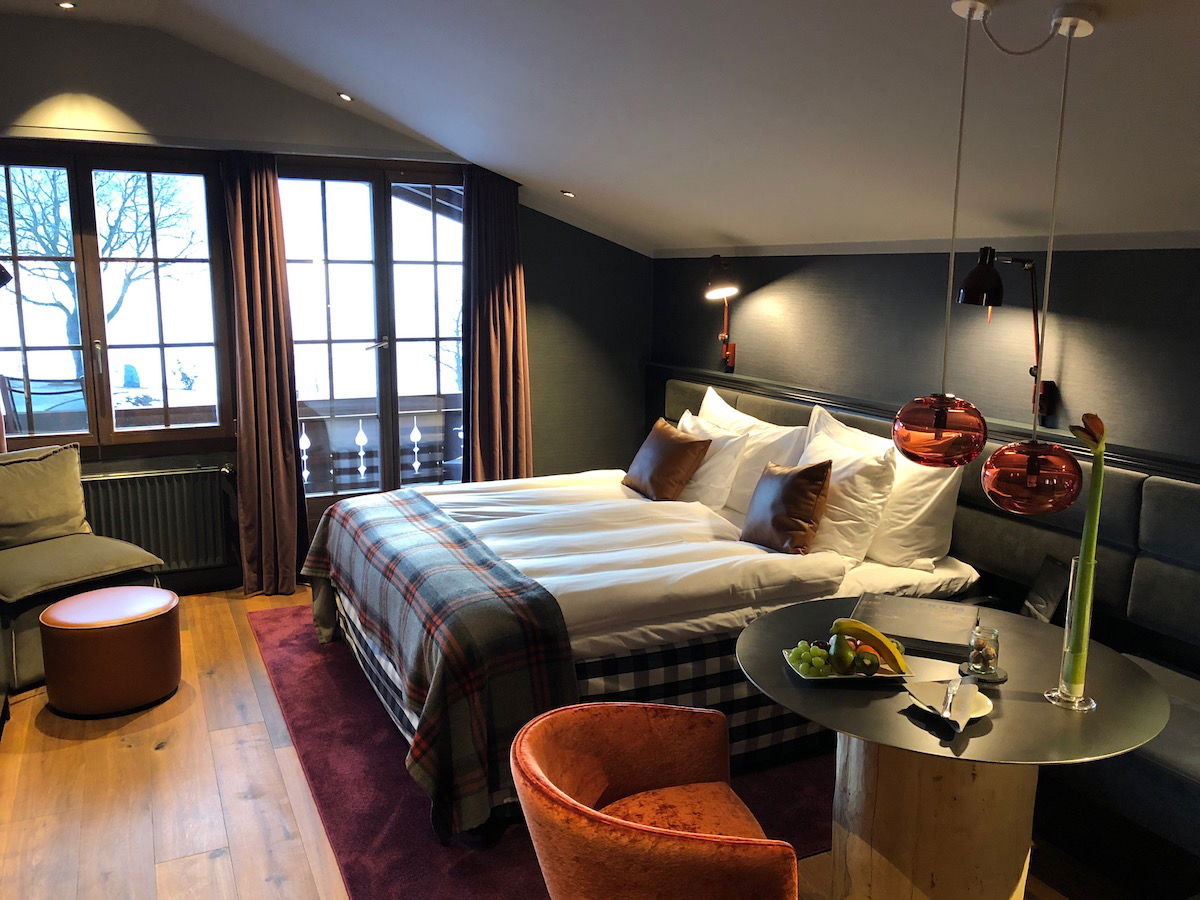 Huus Hotel room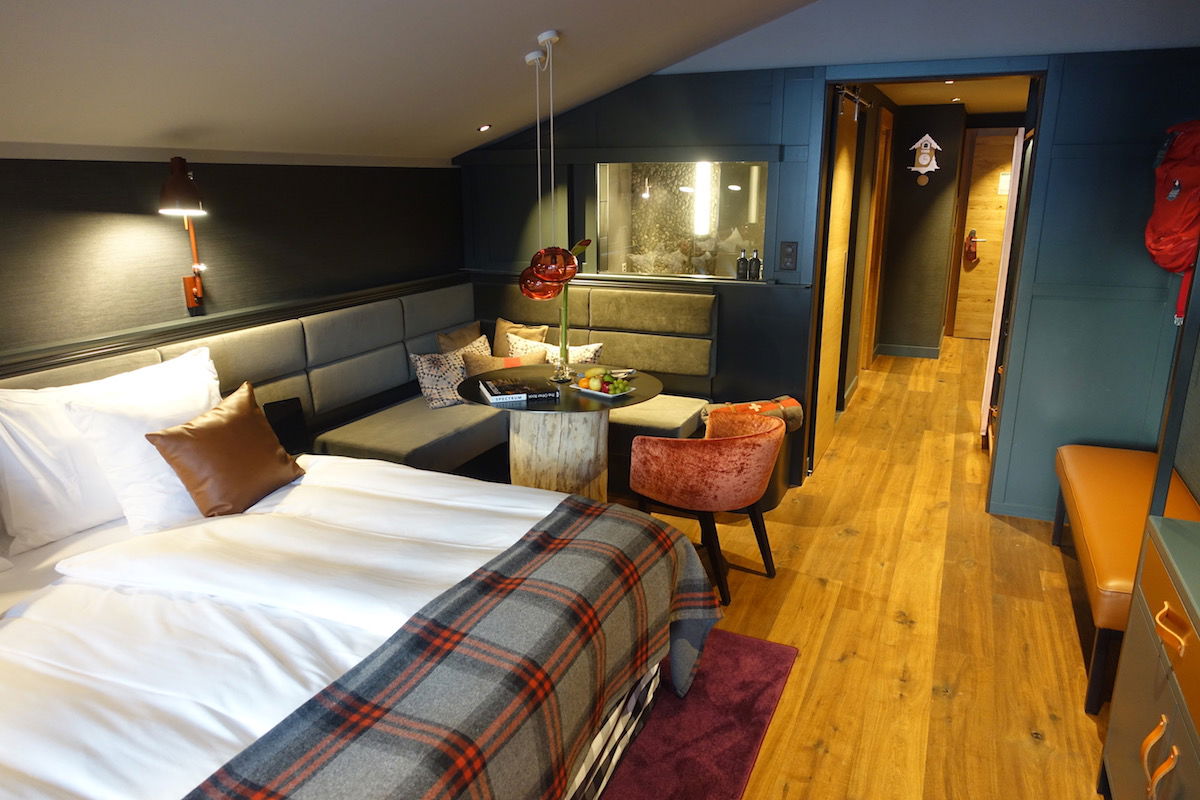 Huus Hotel room
Then back near the entrance was an "L" shaped sitting area with a table, and another chair across from it.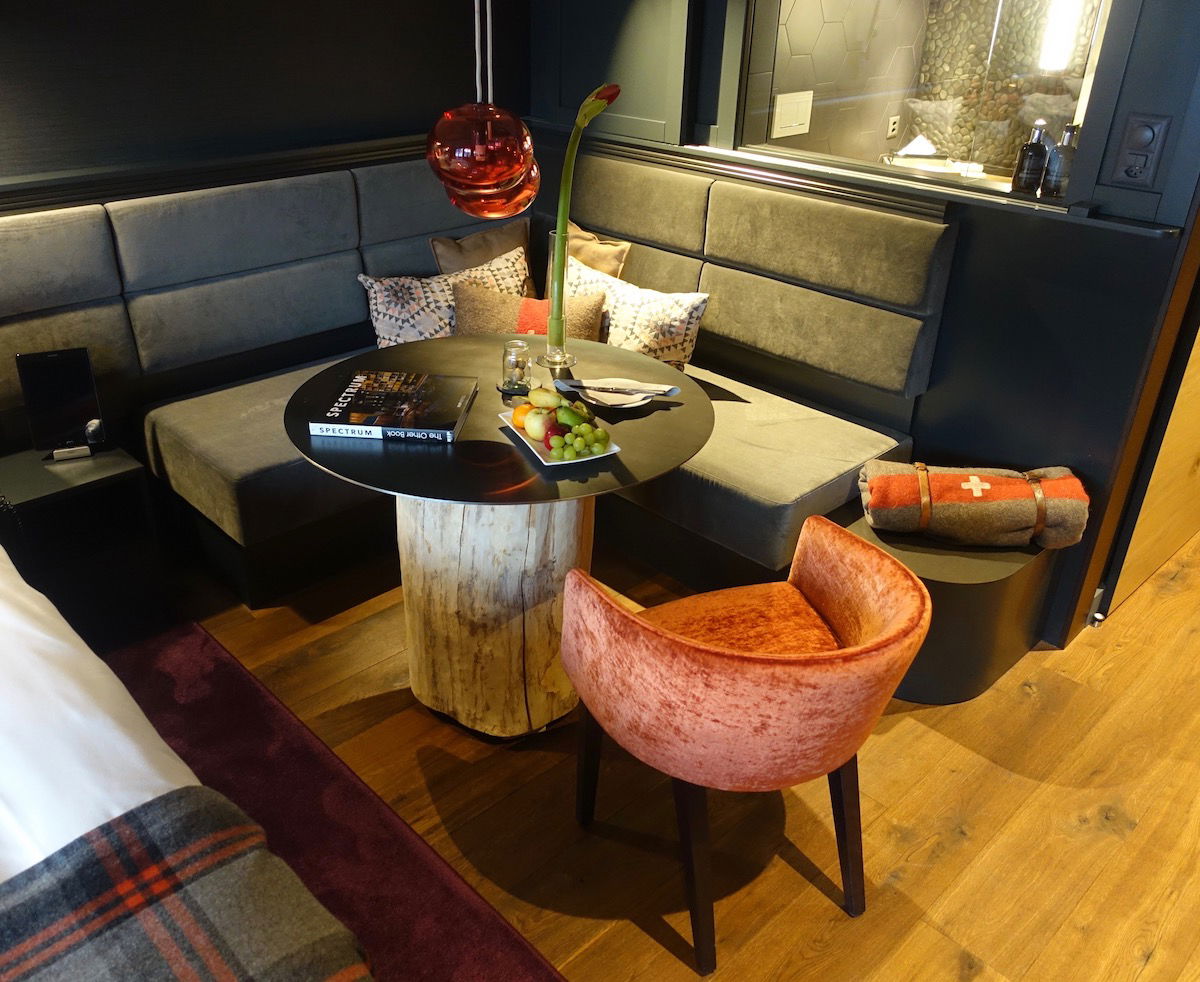 Huus Hotel sitting area
On the table was a fruit plate and some chocolates.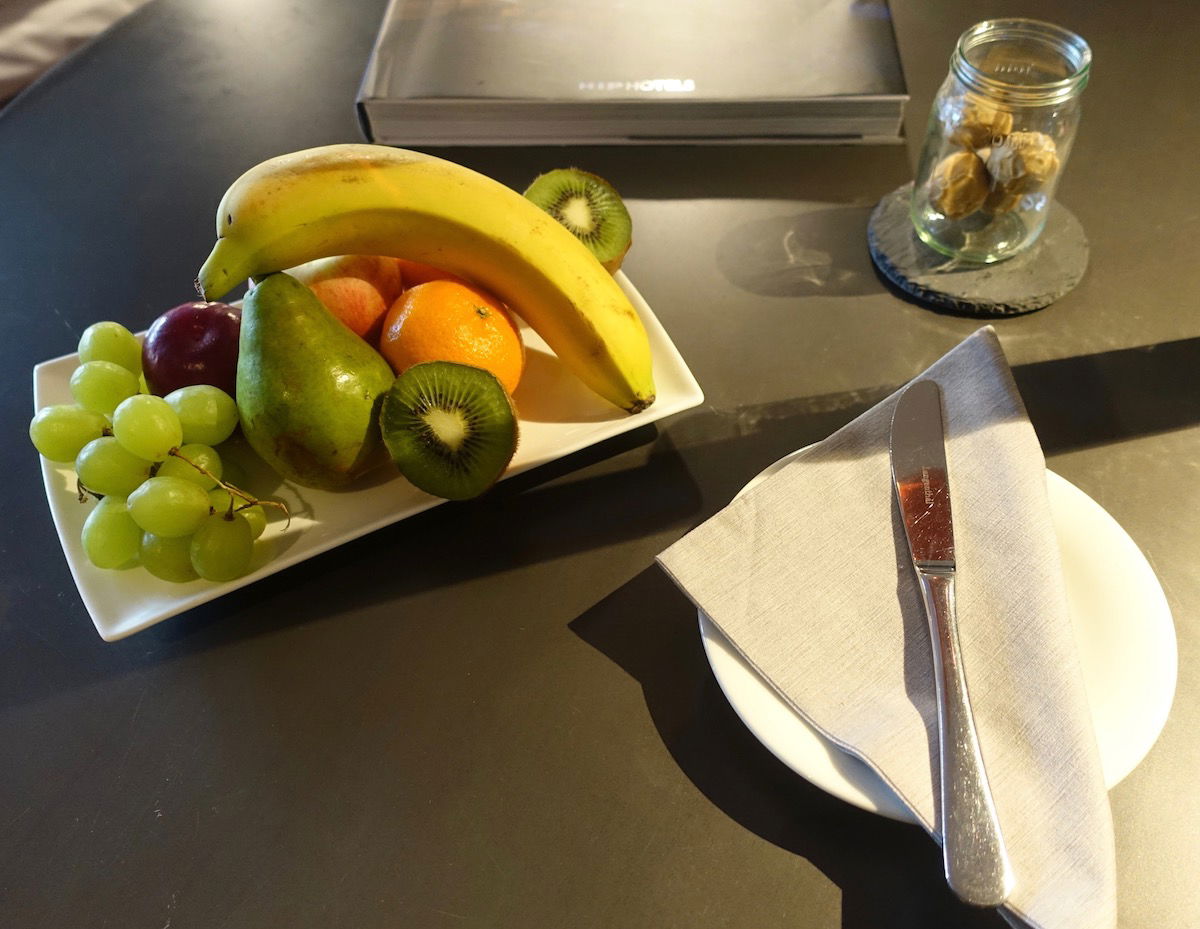 Huus Hotel welcome amenity
Next to the table was a blanket.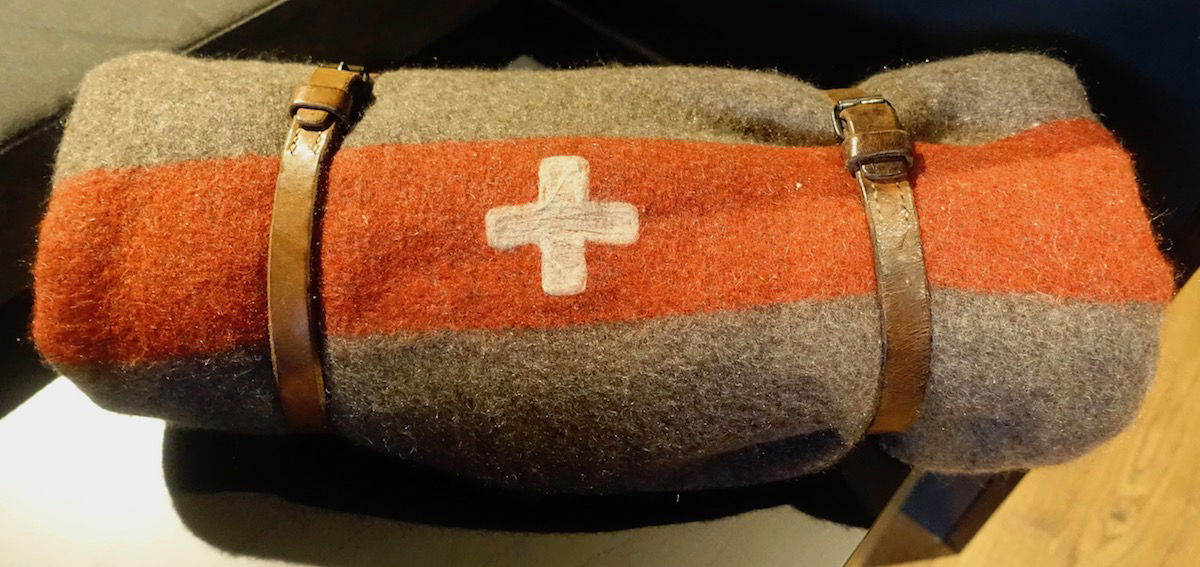 Huus Hotel cute in-room touches
Across from the sitting area was a chair with a side table, the TV, and a bench. Hanging on the wall was a backpack that you could use during your stay.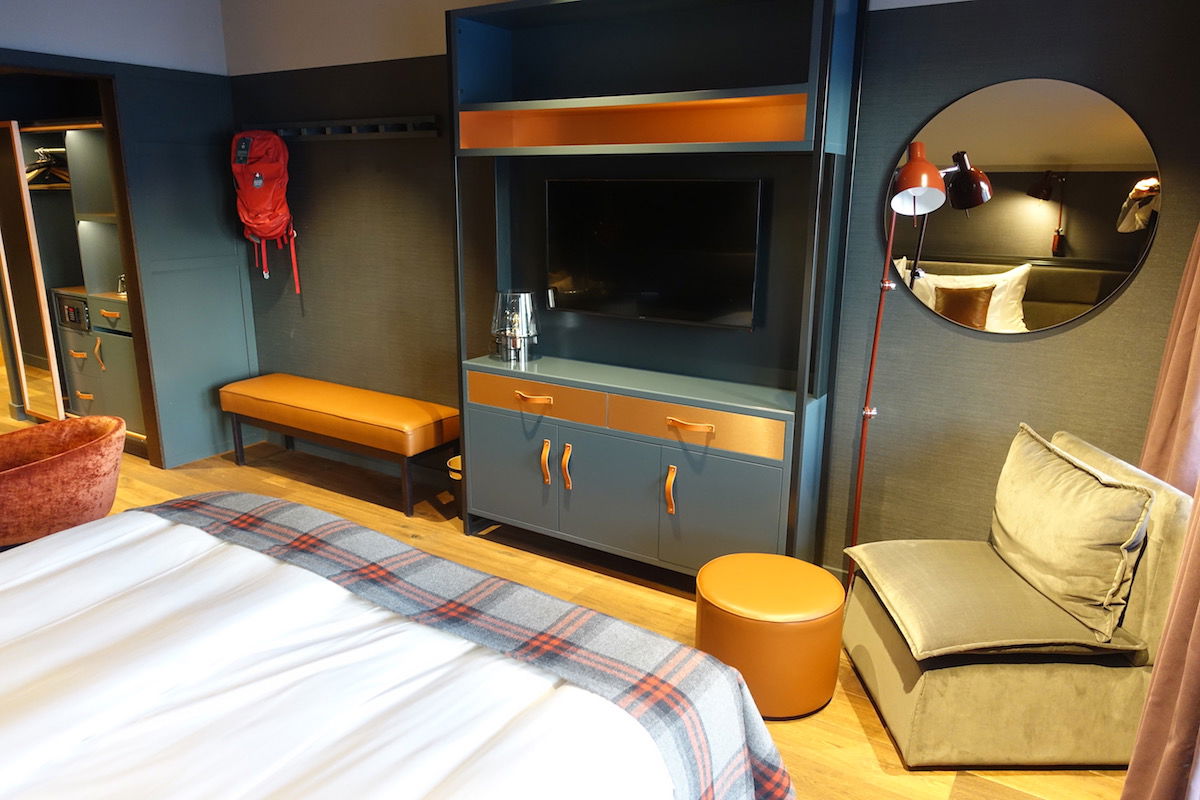 Huus Hotel room
Back near the entrance were two big bottles of water (still Evian and sparkling Badoit), and the minibar.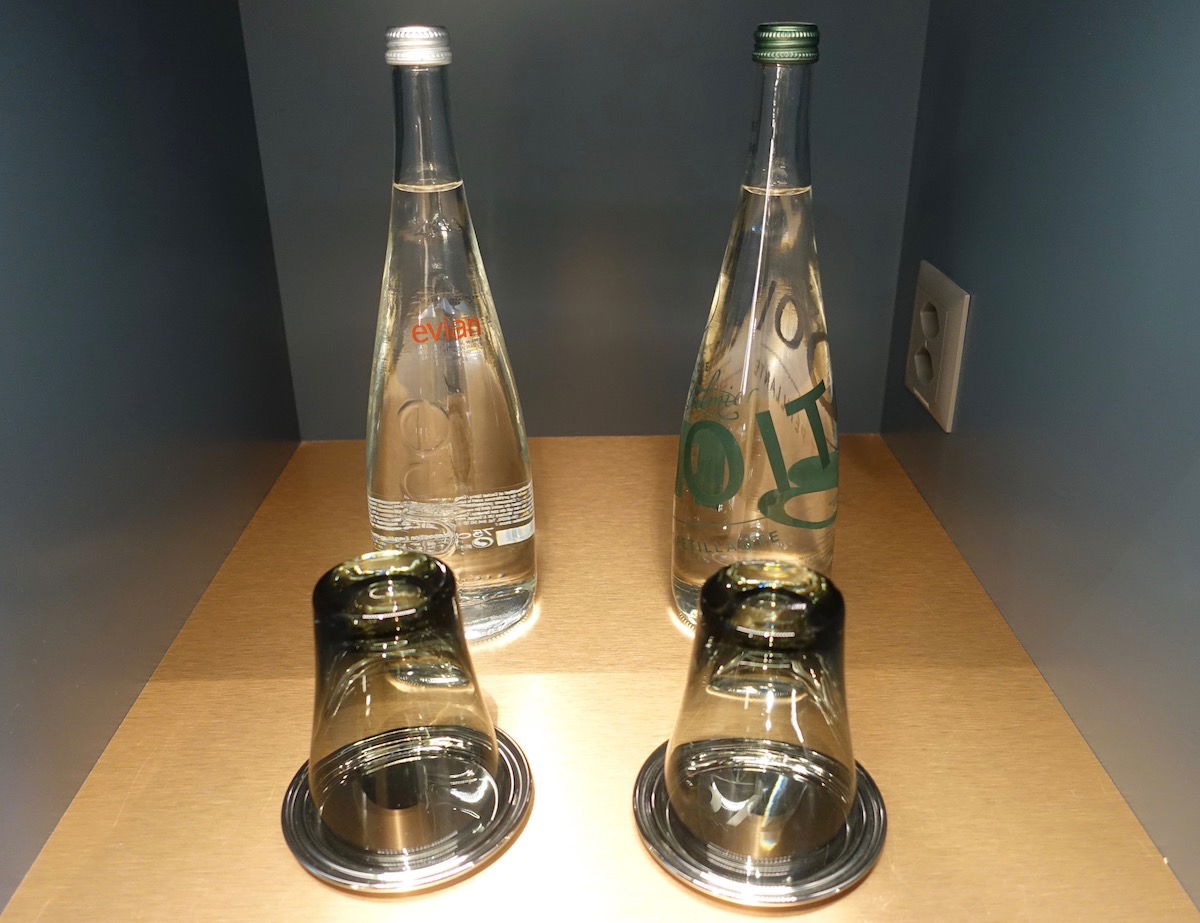 Huus Hotel Gstaad bottled water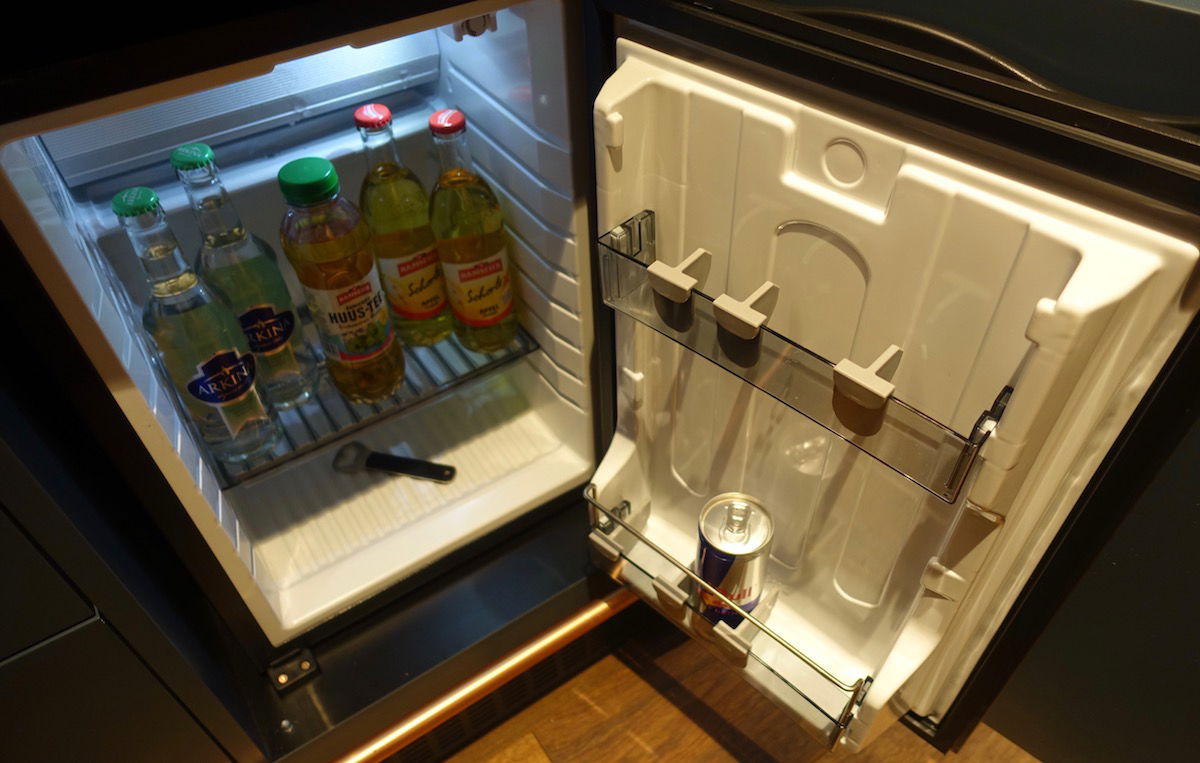 Huus Hotel minibar
Then there was the bathroom, with a sink, toilet, and shower/tub combo.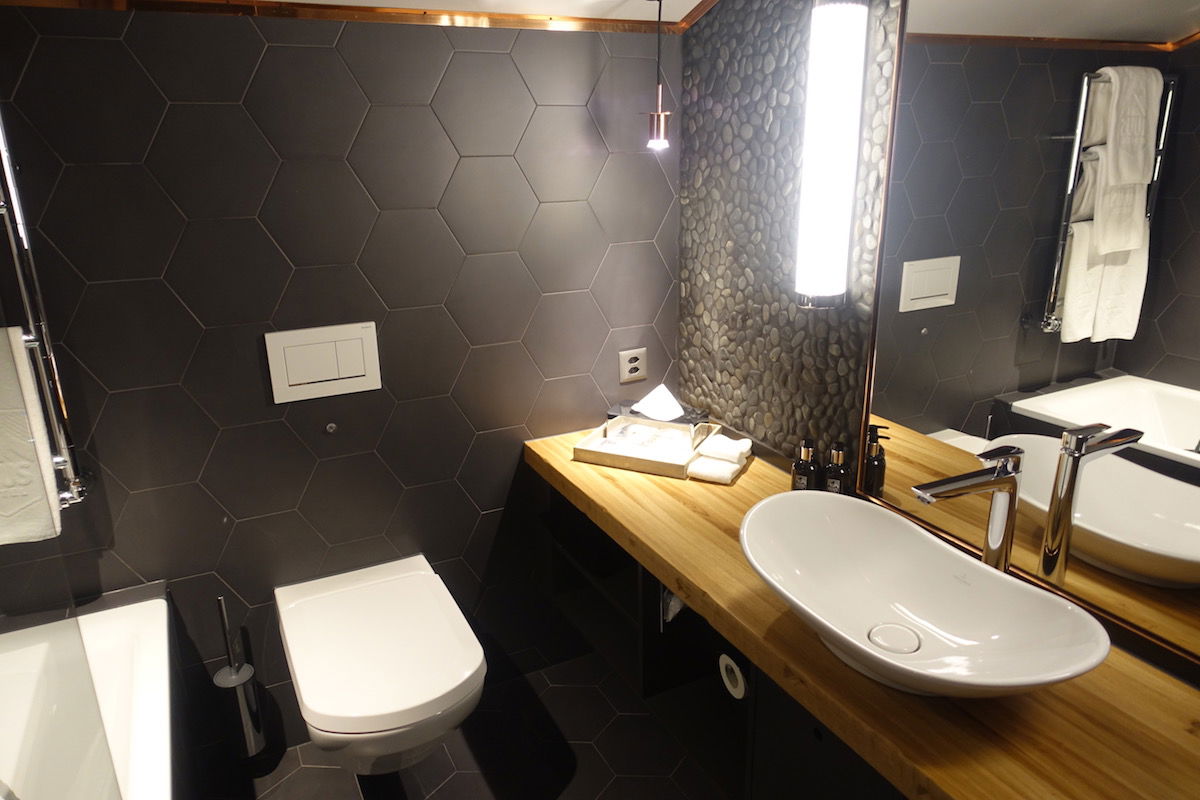 Huus Hotel bathroom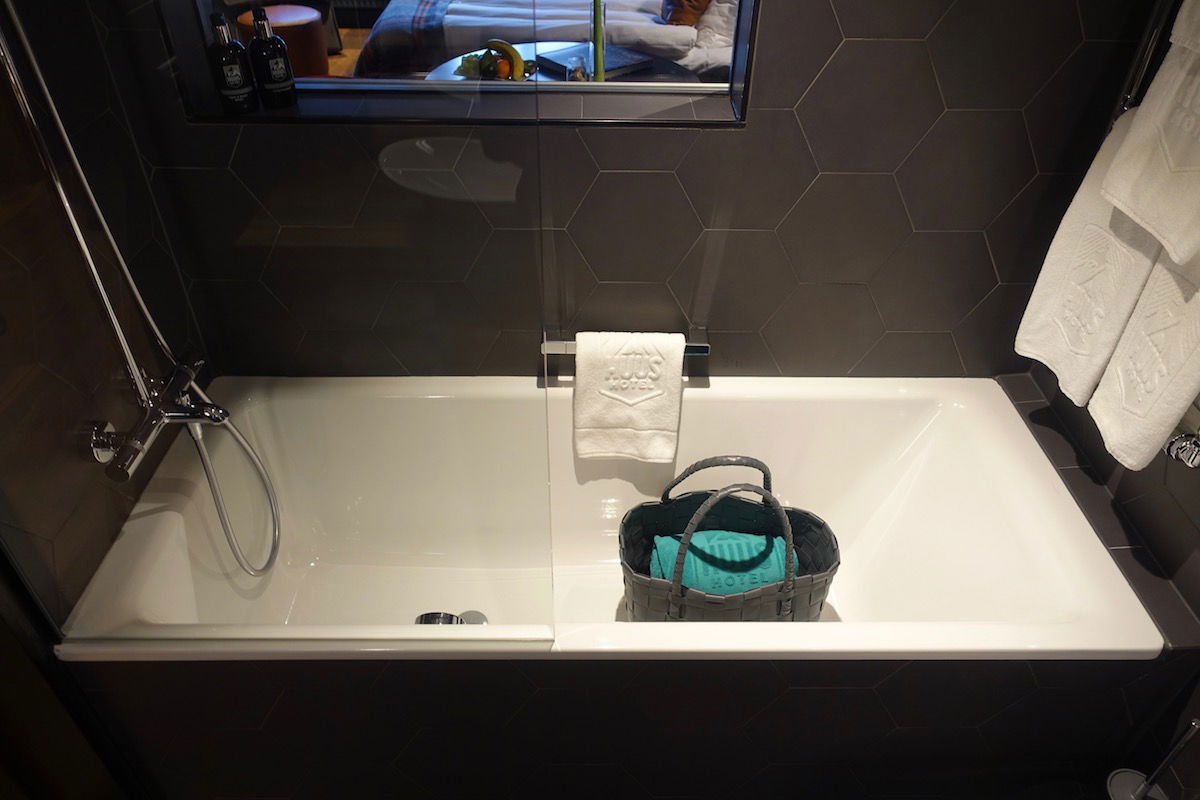 Huus Hotel shower
There was a glass window between the bathroom and the bedroom. There were blinds you could extend for privacy, though I found it strange that those could be controlled from the bedroom rather than from the bathroom.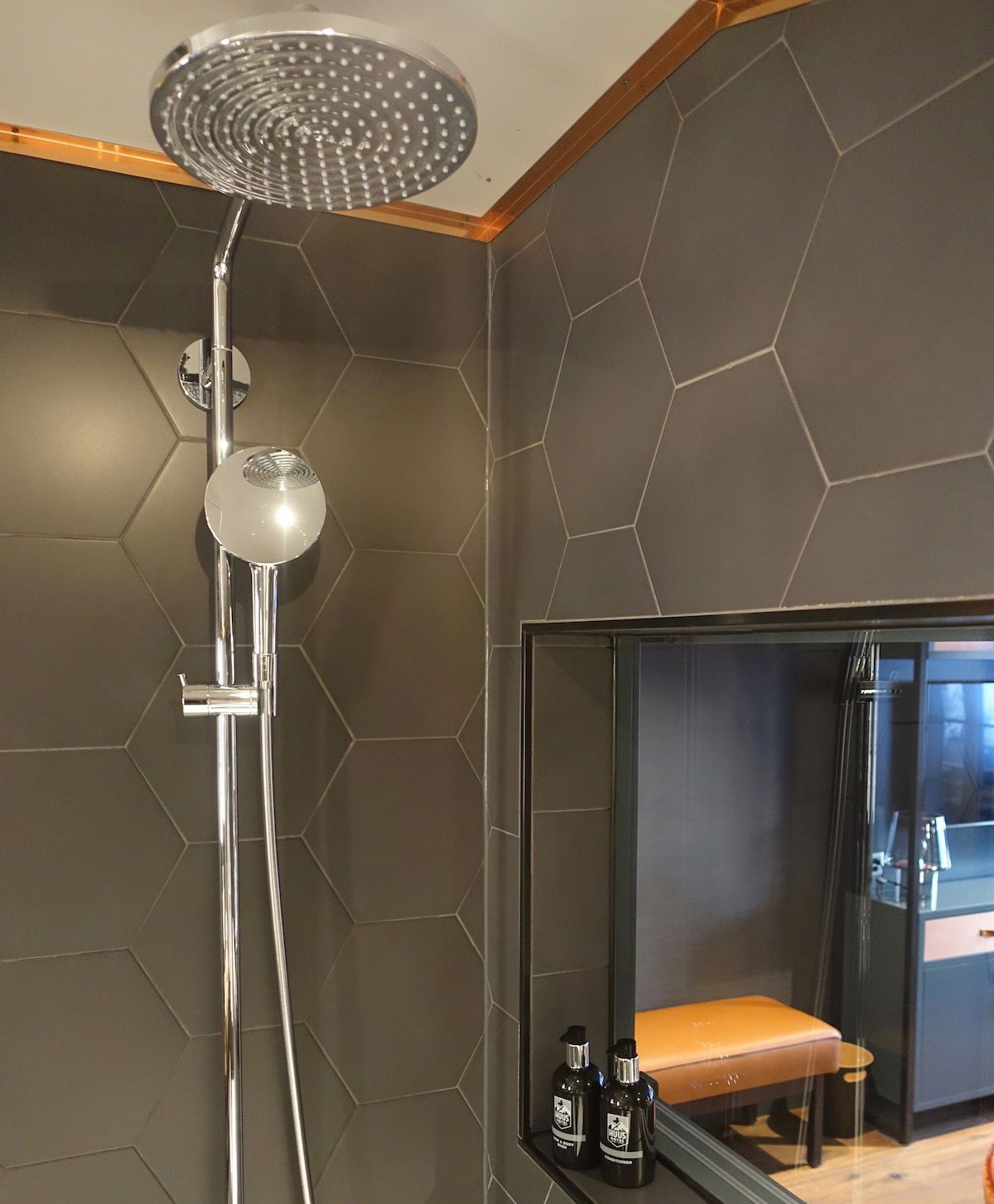 Huus Hotel shower
Toiletries were in reusable hotel branded bottles.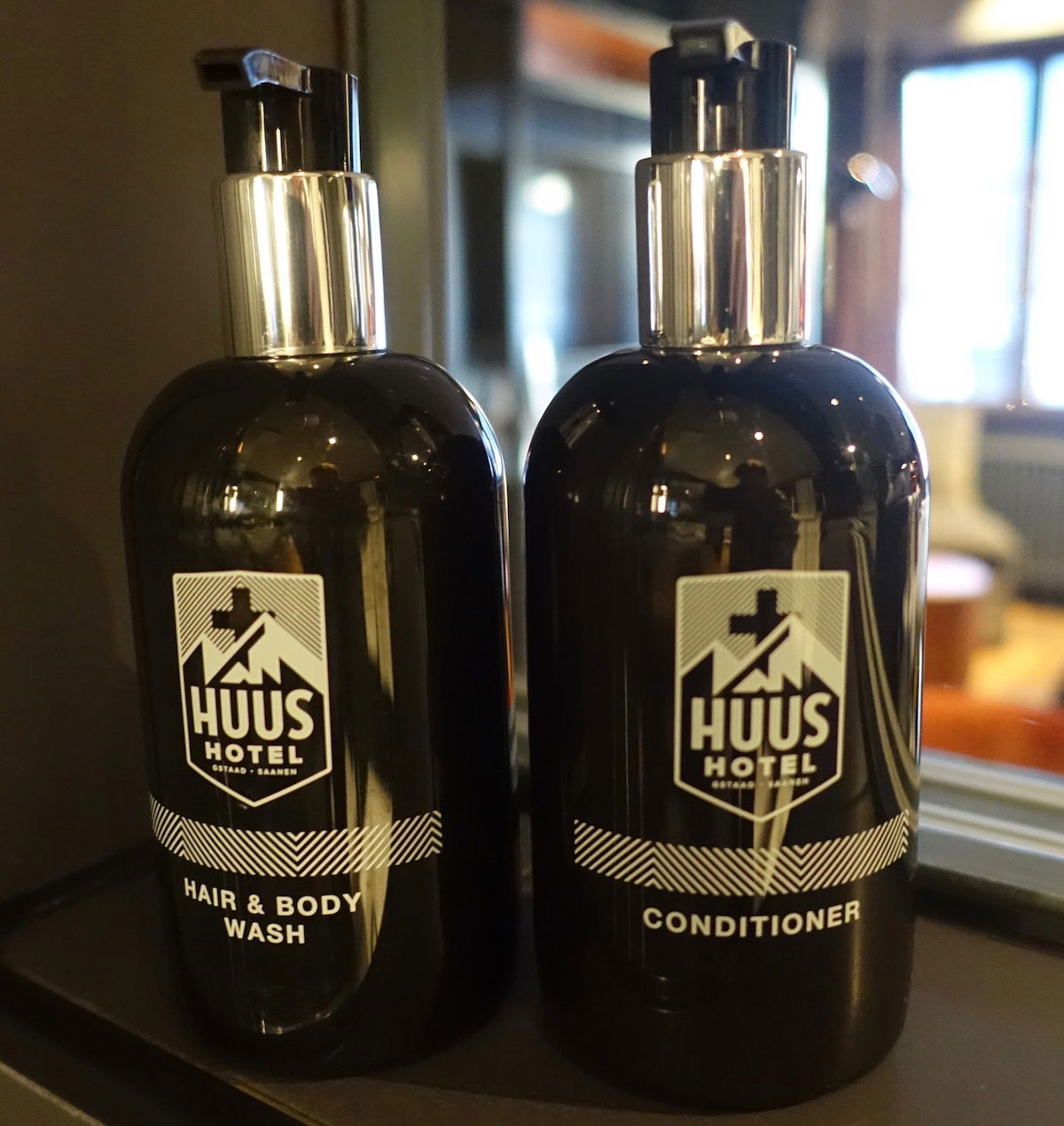 Huus Hotel toiletries
The bathroom also had an impressive number of other amenities.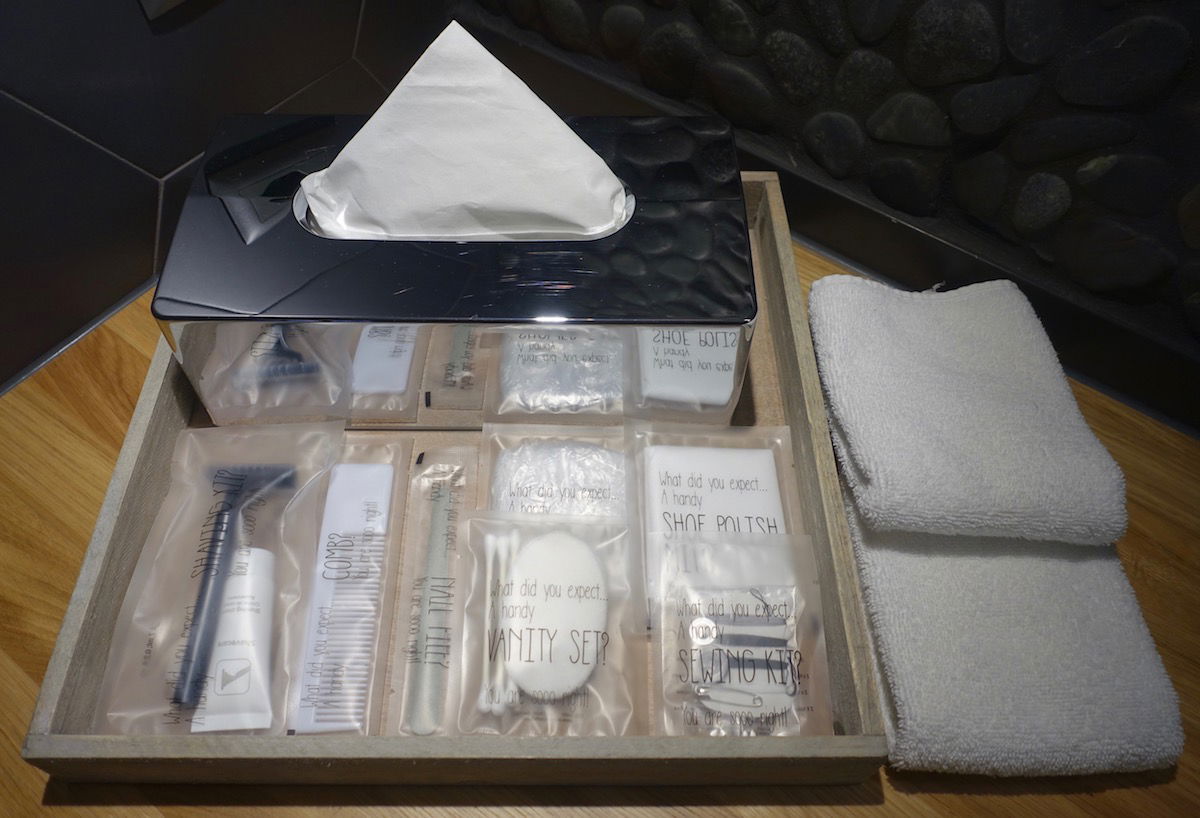 Huus Hotel amenities
Right near the entrance to the room was another half bathroom. This is the first time I can remember having a standard room with two toilets in it.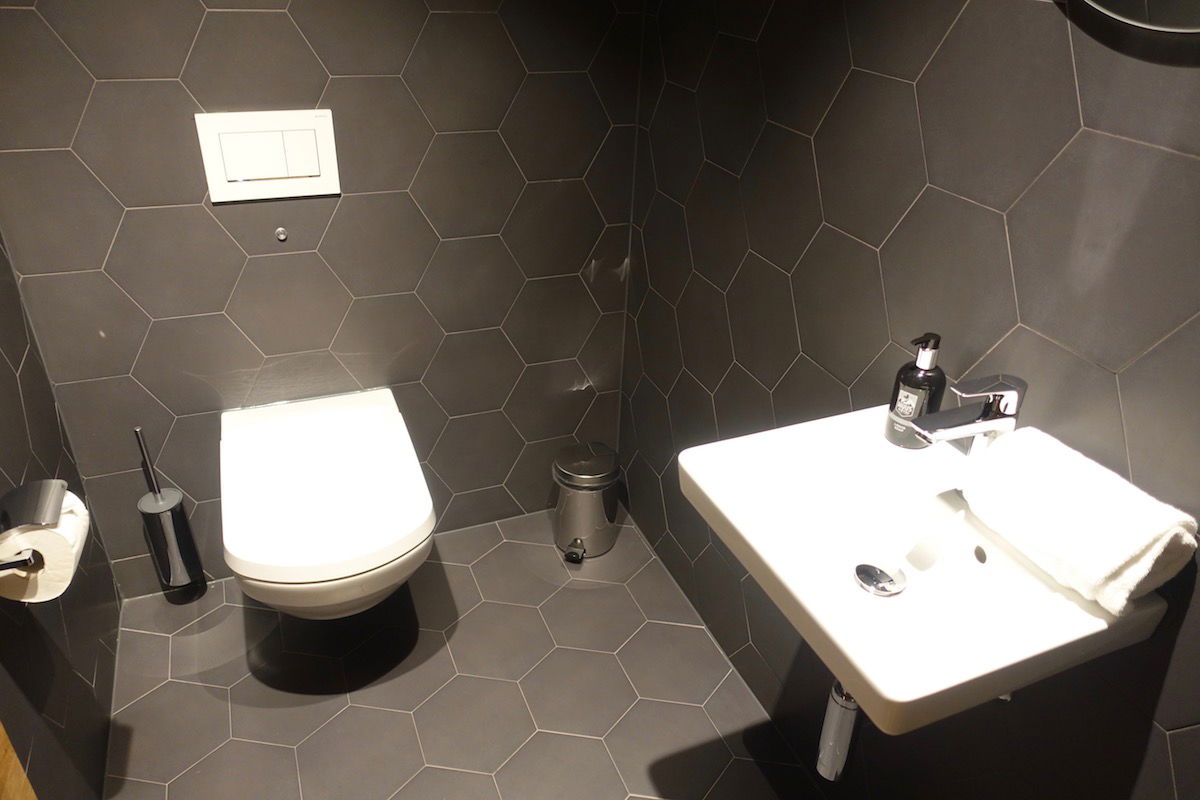 Huus Hotel Gstaad room toilet
While the room was cute, the real treat was the patio, or more specifically, the view from it. There were two chairs on the patio.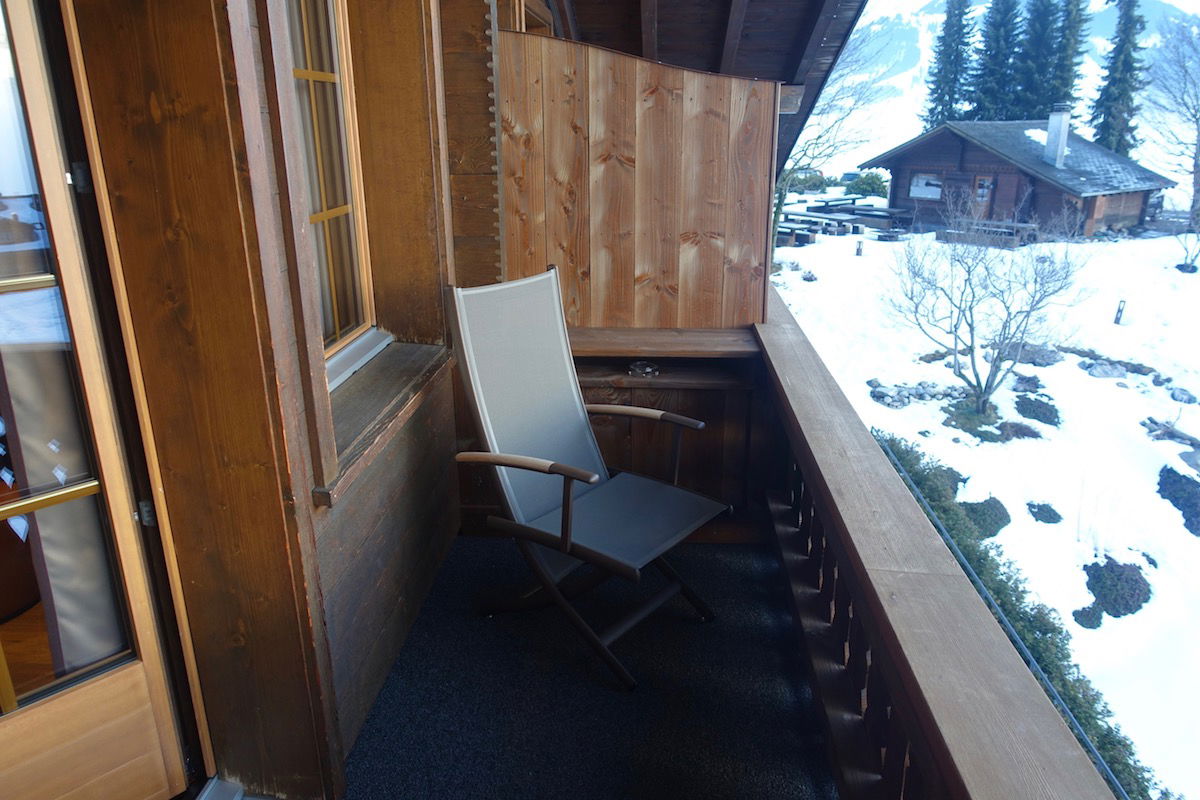 Huus Hotel patio
That view, though. OMG!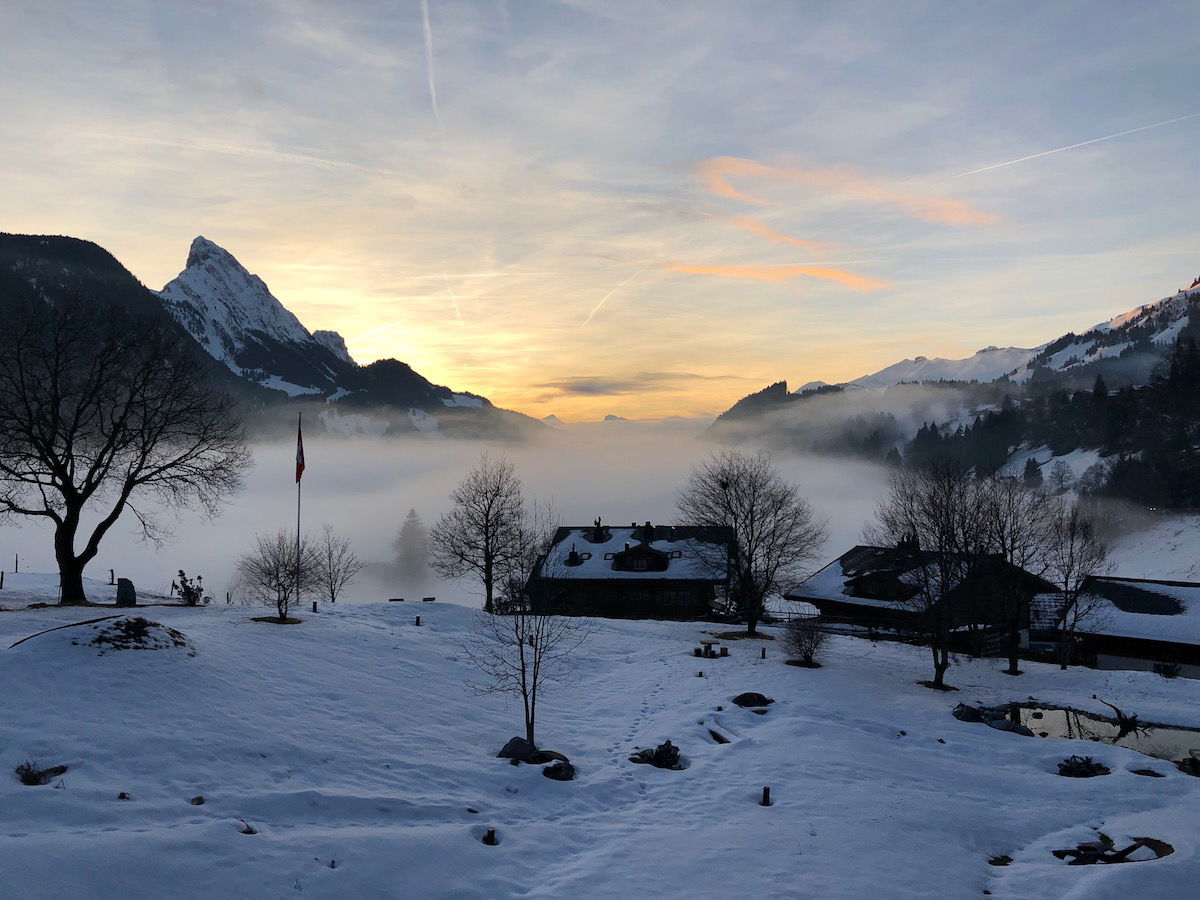 Huus Hotel view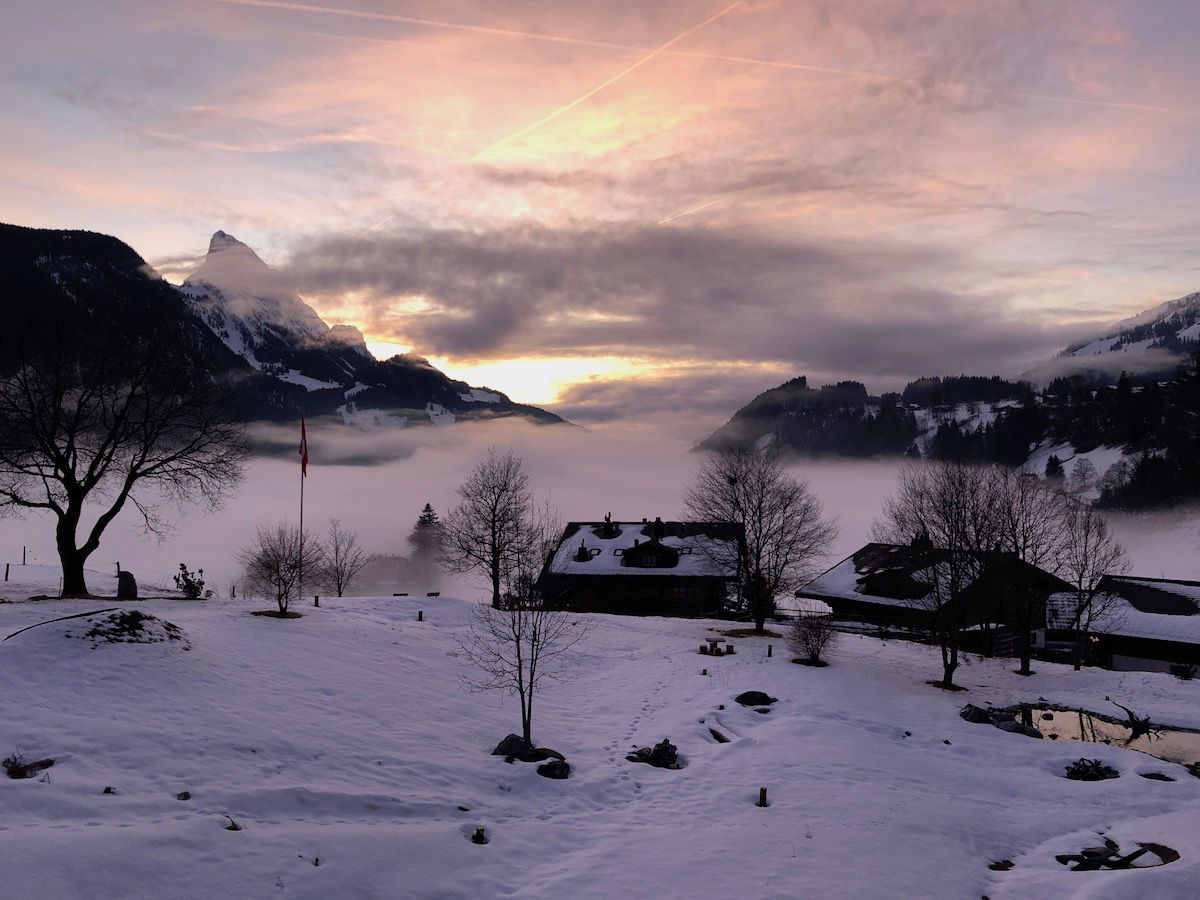 Huus Hotel view
The next morning the weather cleared up a bit, and we saw that there was actually a small runway in the valley. I'm guessing there were no planes landing there the previous evening when I took pictures. 😉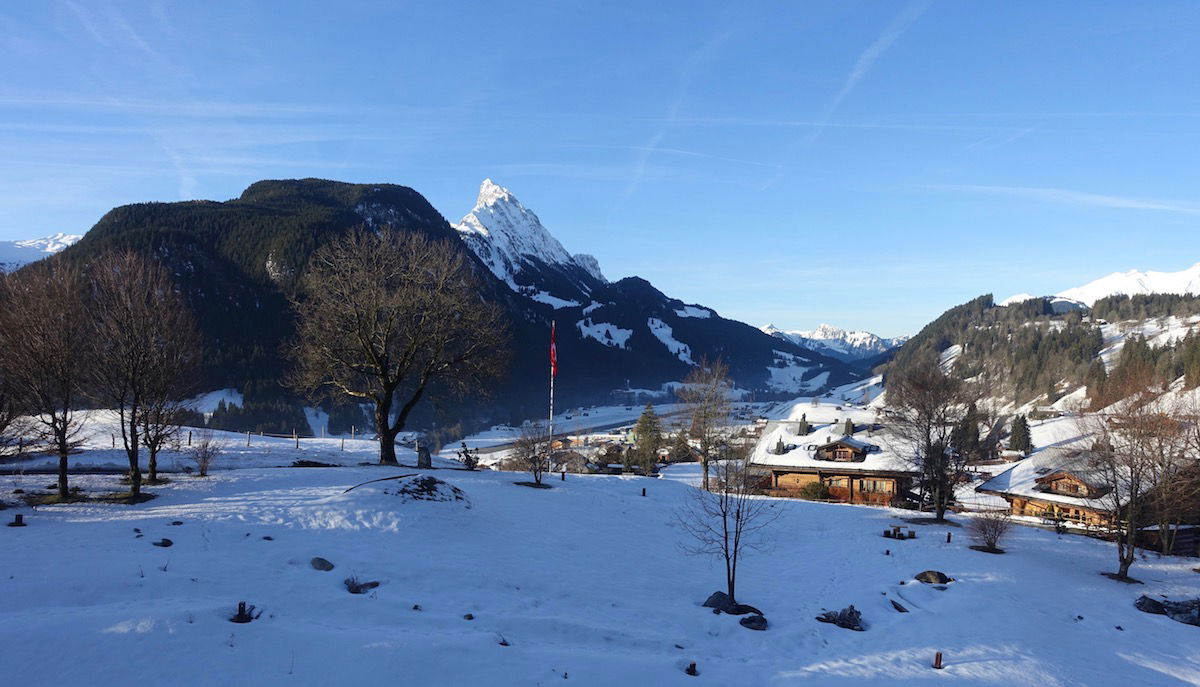 Huus Hotel view
Wifi throughout the hotel was free and sufficiently fast, and you didn't even have to log in with your room number or name.
Breakfast was served in the hotel's fourth floor (which is the bottom level) restaurant from 7AM until 11AM daily.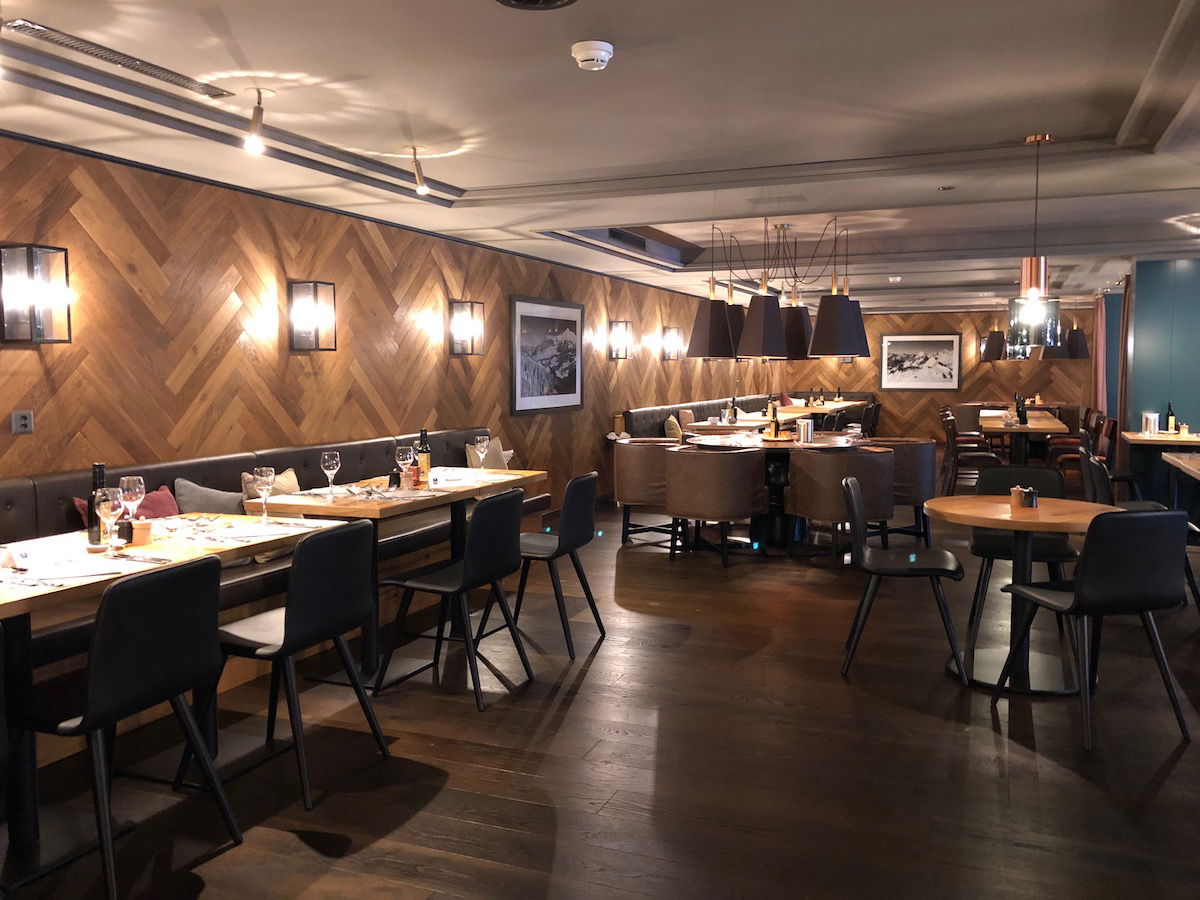 Huus Hotel breakfast restaurant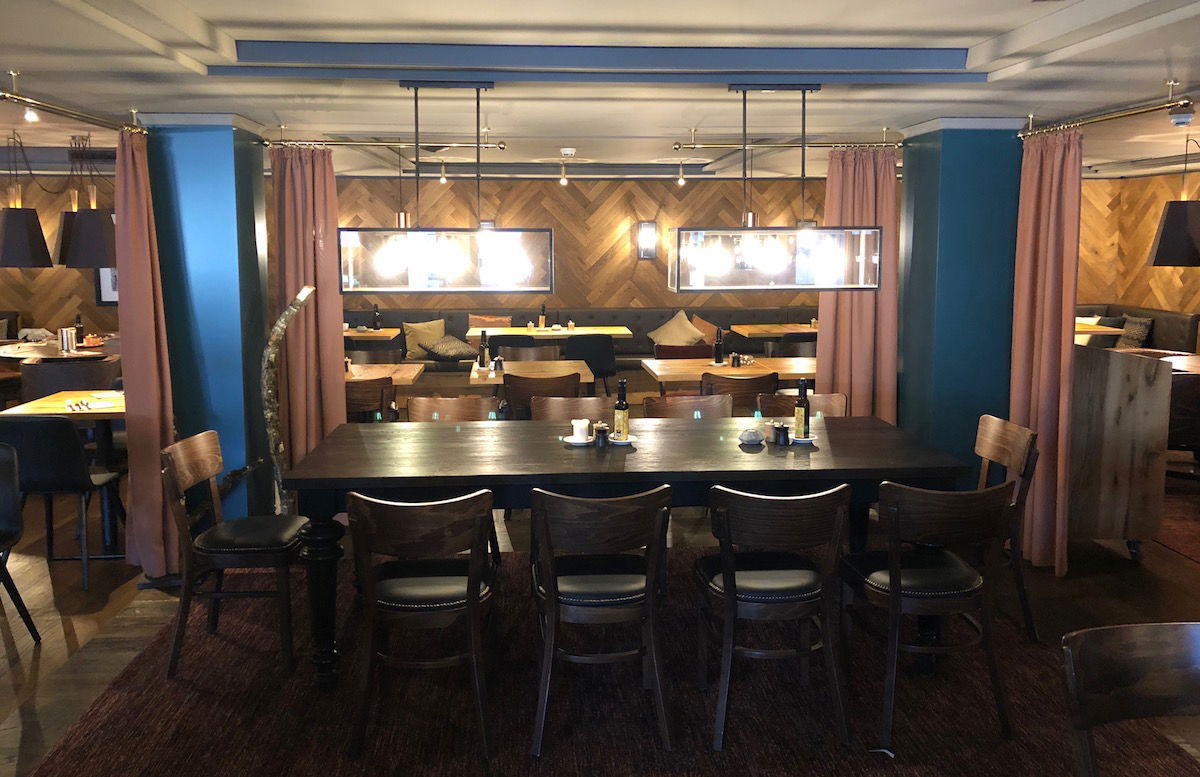 Huus Hotel breakfast restaurant
Breakfast was completely self service — you got your own coffee and food, and they never even asked for your room number, or anything. The breakfast buffet was extensive, especially for Europe. There wasn't anything cooked to order, but it was still a good spread. I loved that they had a freshly squeezed orange juice station. They had half oranges sitting there, and then you could squeeze them into a cup.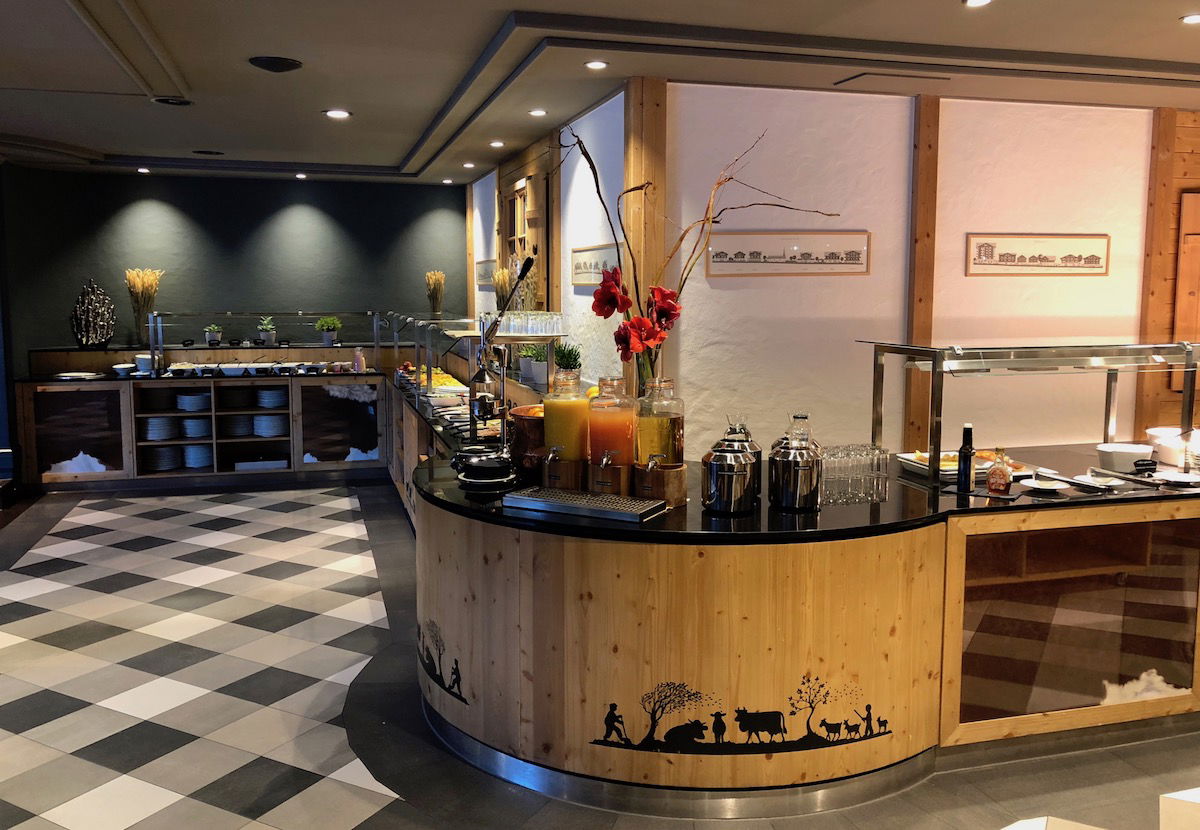 Huus Hotel breakfast buffet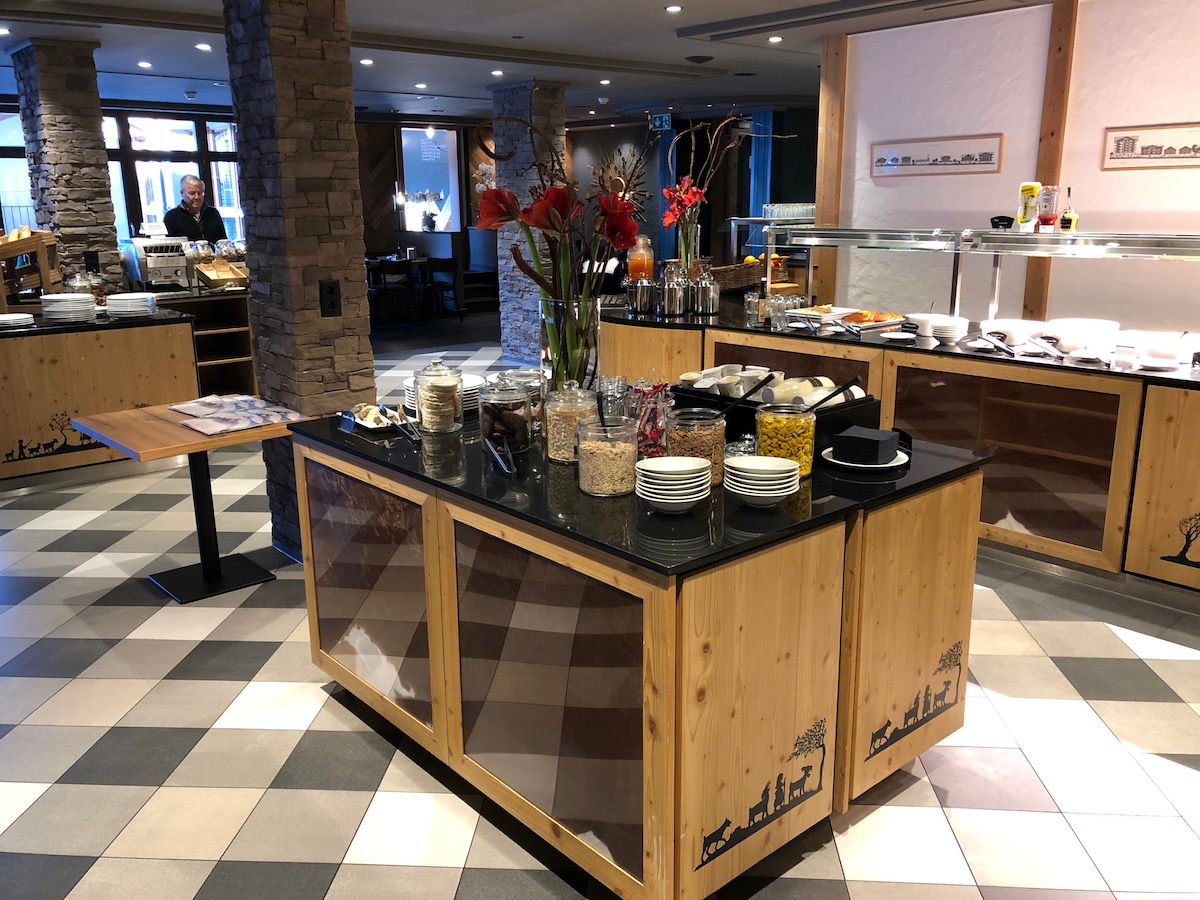 Huus Hotel breakfast buffet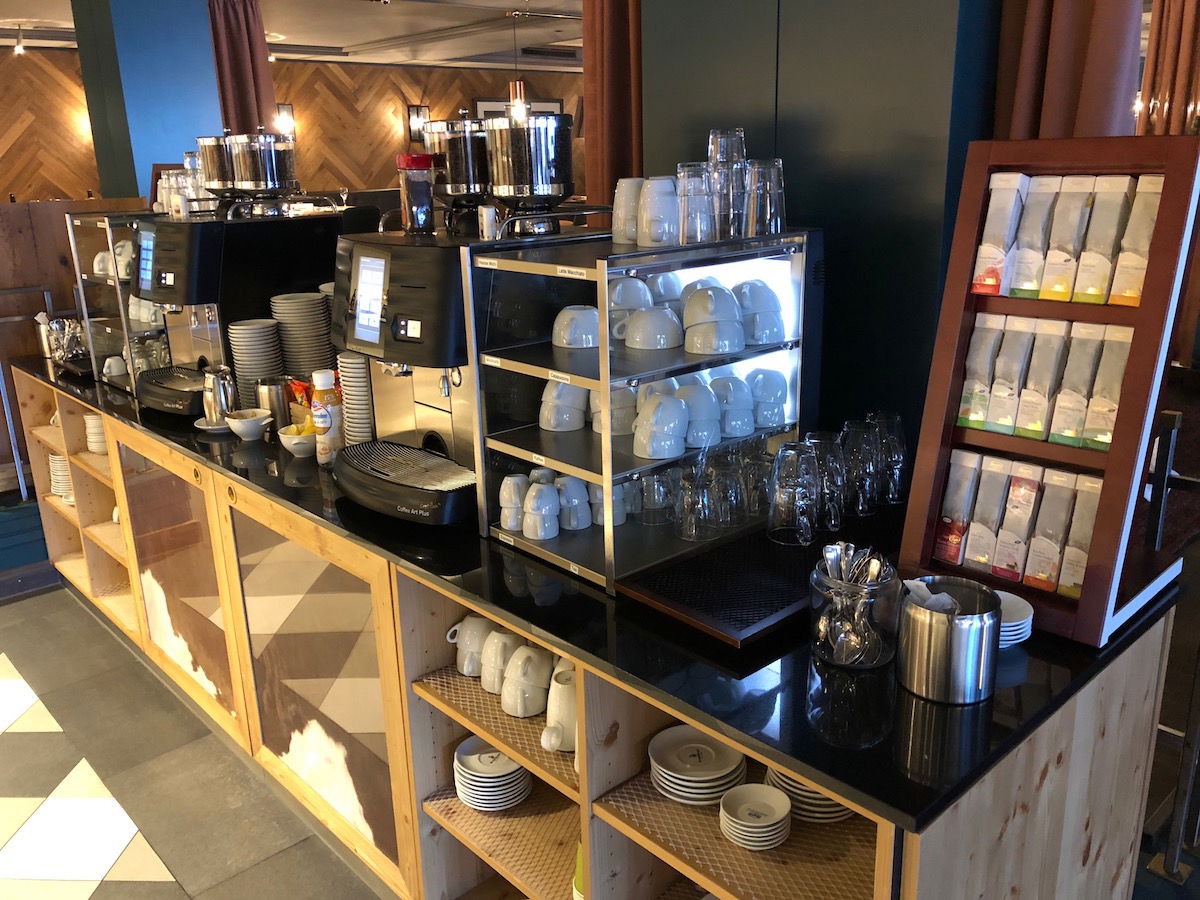 Huus Hotel breakfast buffet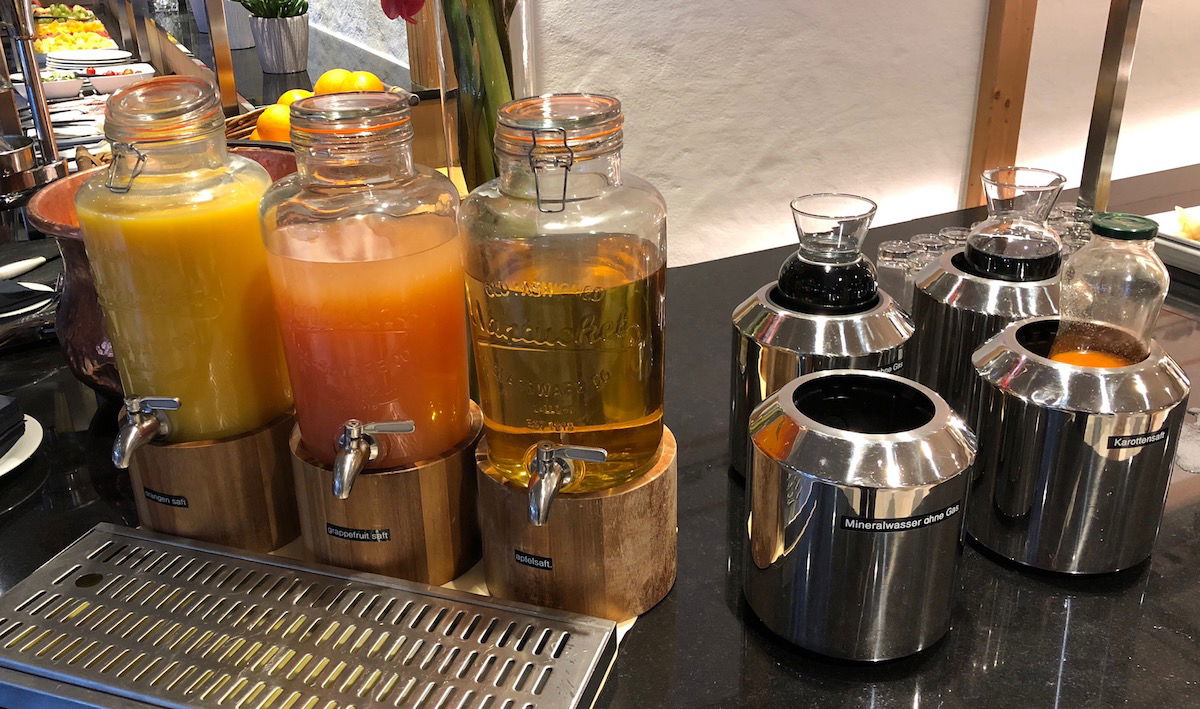 Huus Hotel breakfast buffet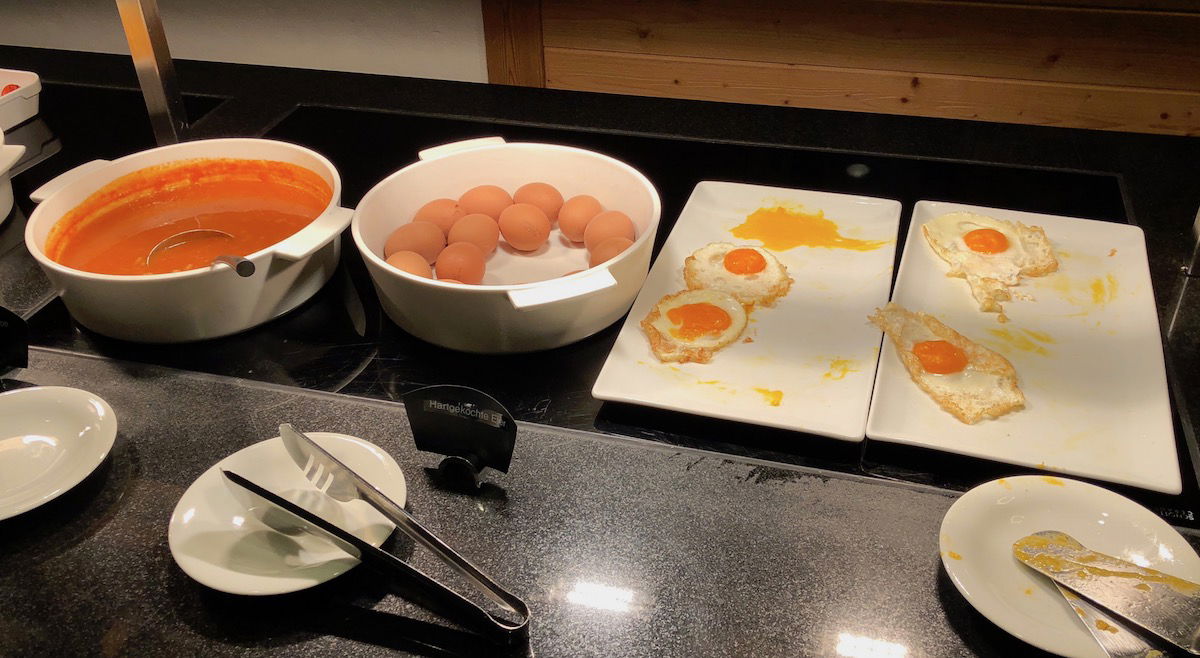 Huus Hotel breakfast buffet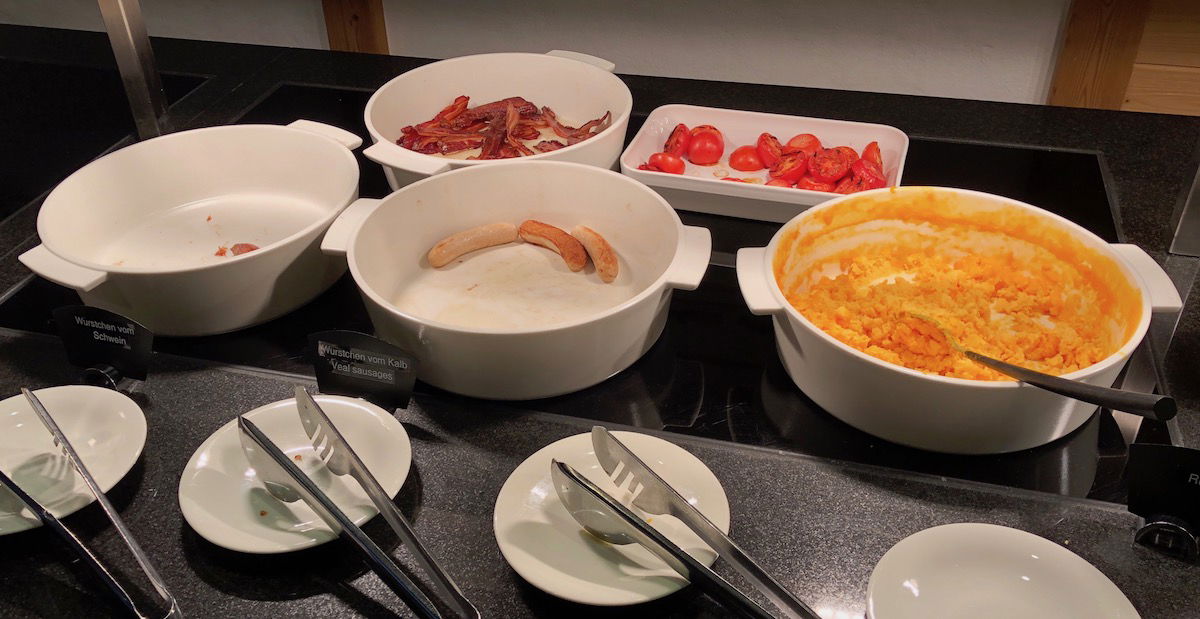 Huus Hotel breakfast buffet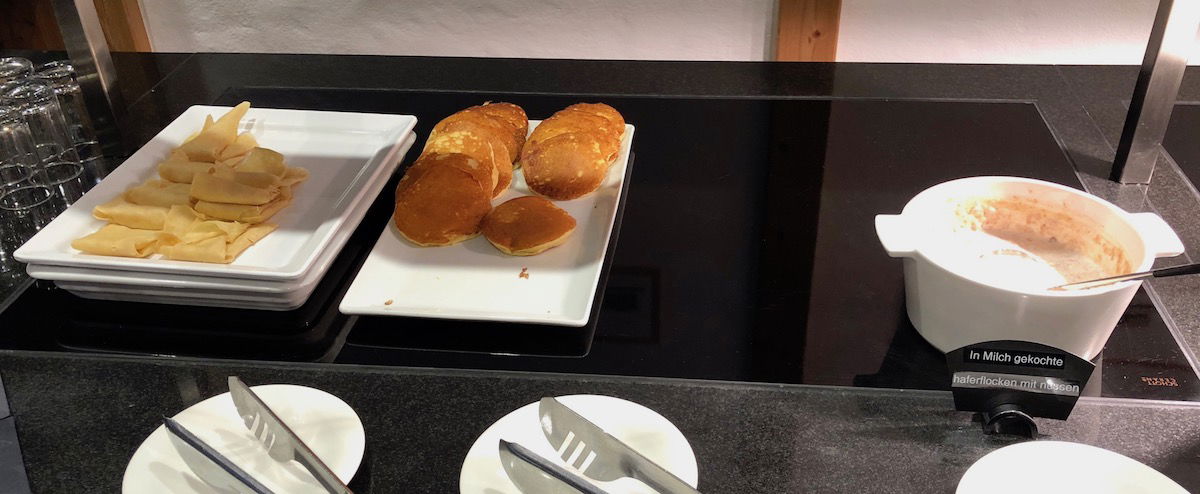 Huus Hotel breakfast buffet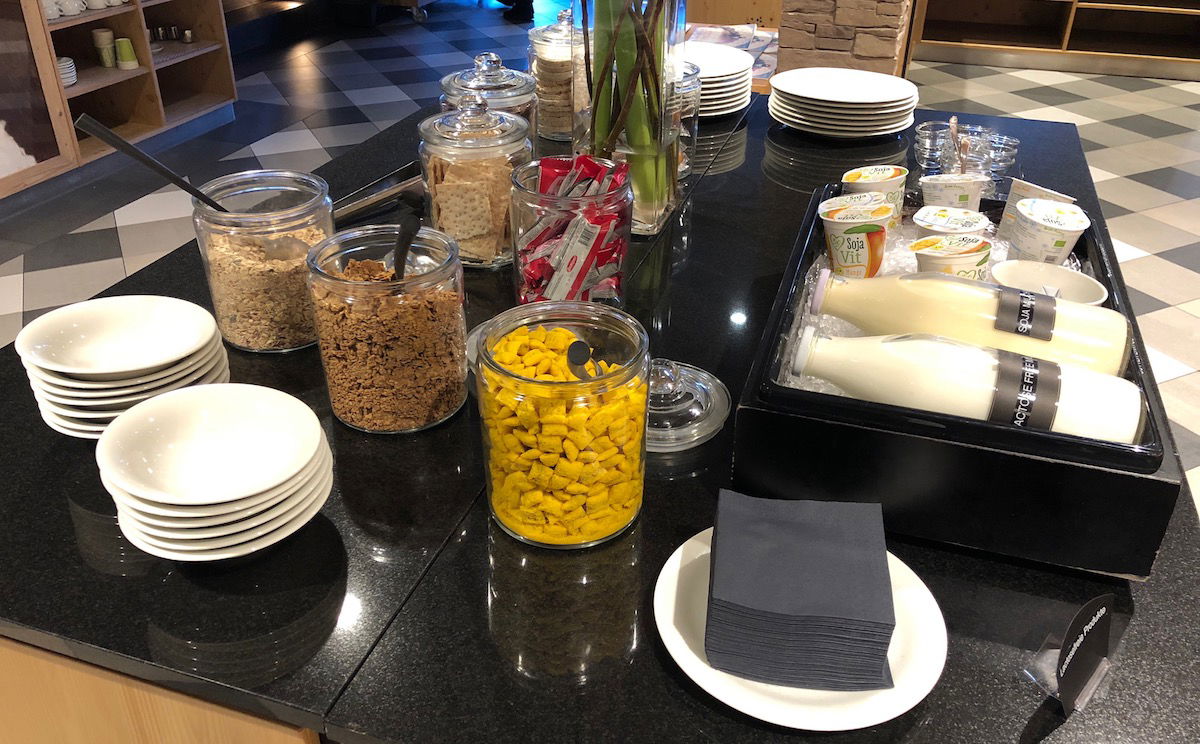 Huus Hotel breakfast buffet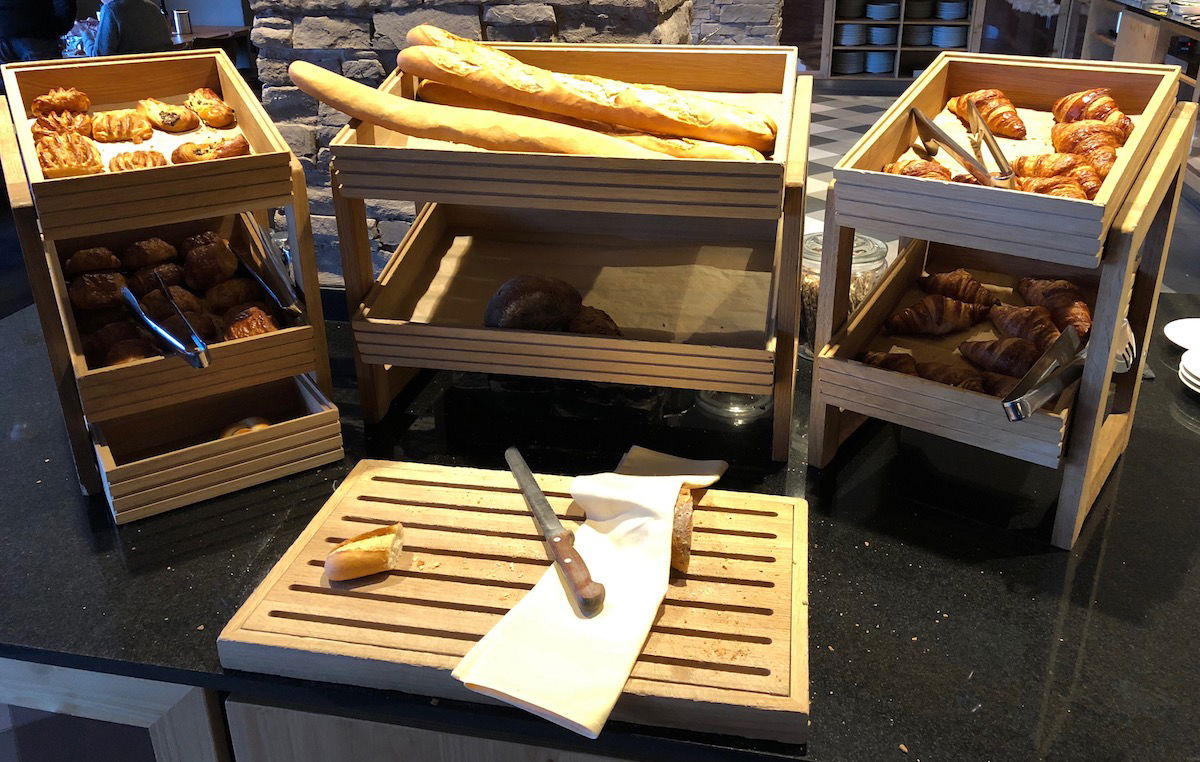 Huus Hotel breakfast buffet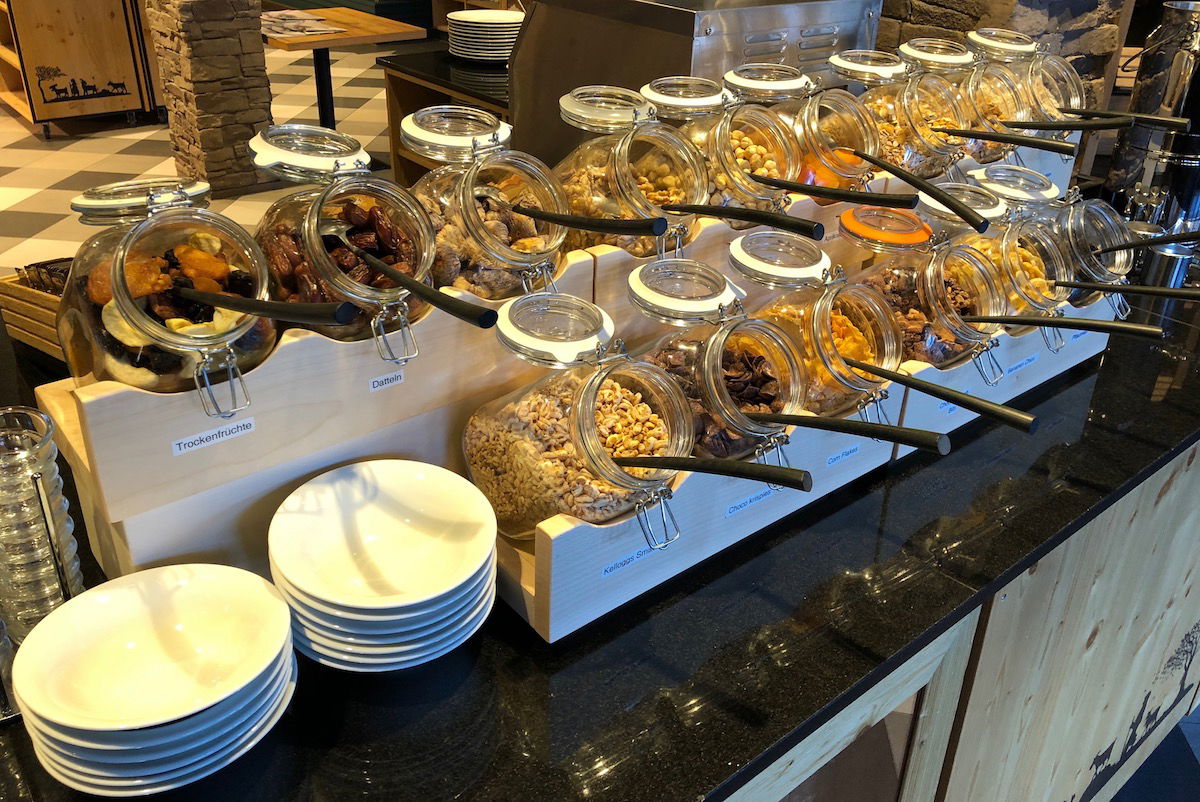 Huus Hotel breakfast buffet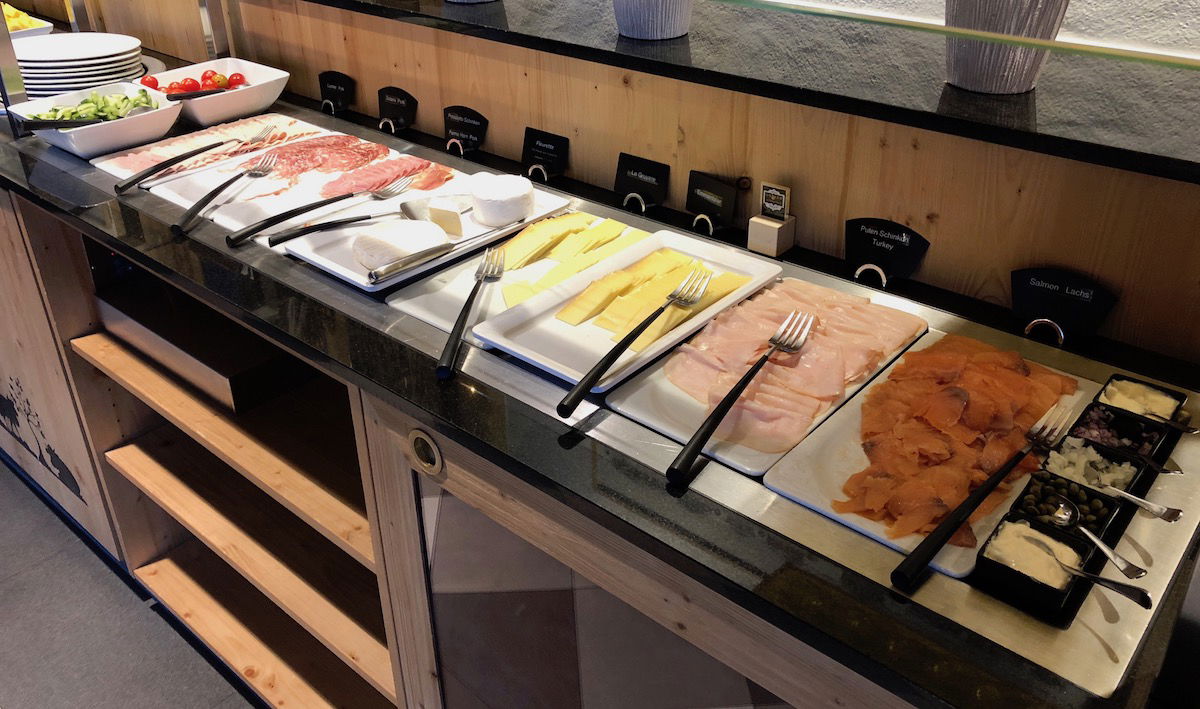 Huus Hotel breakfast buffet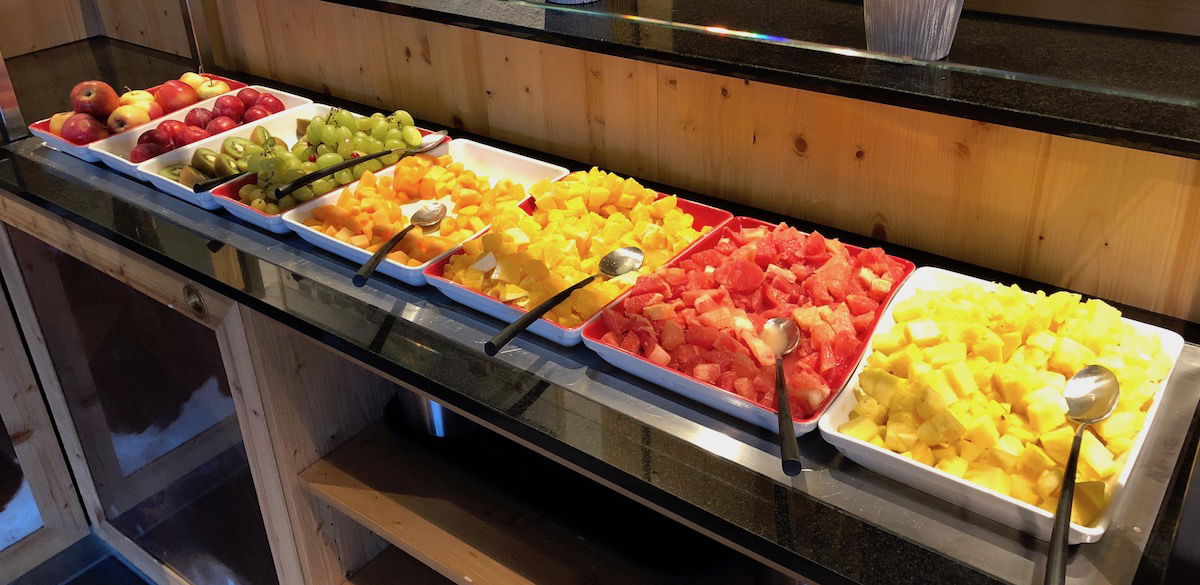 Huus Hotel breakfast buffet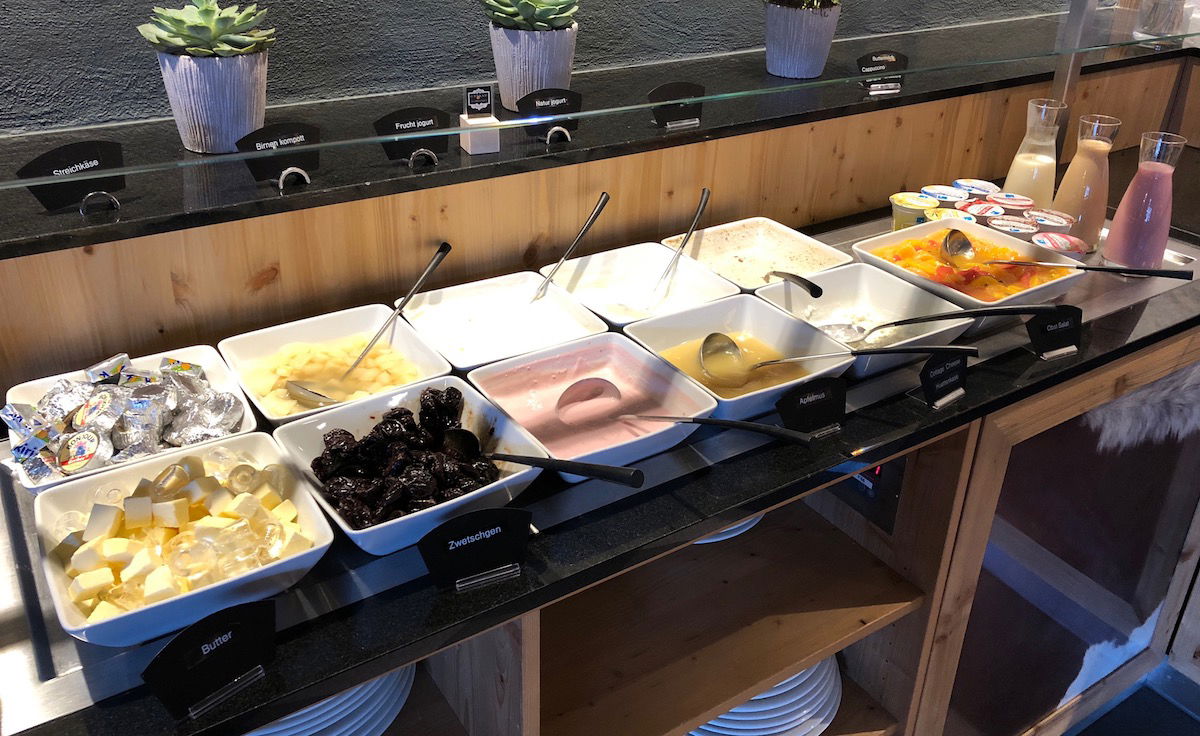 Huus Hotel breakfast buffet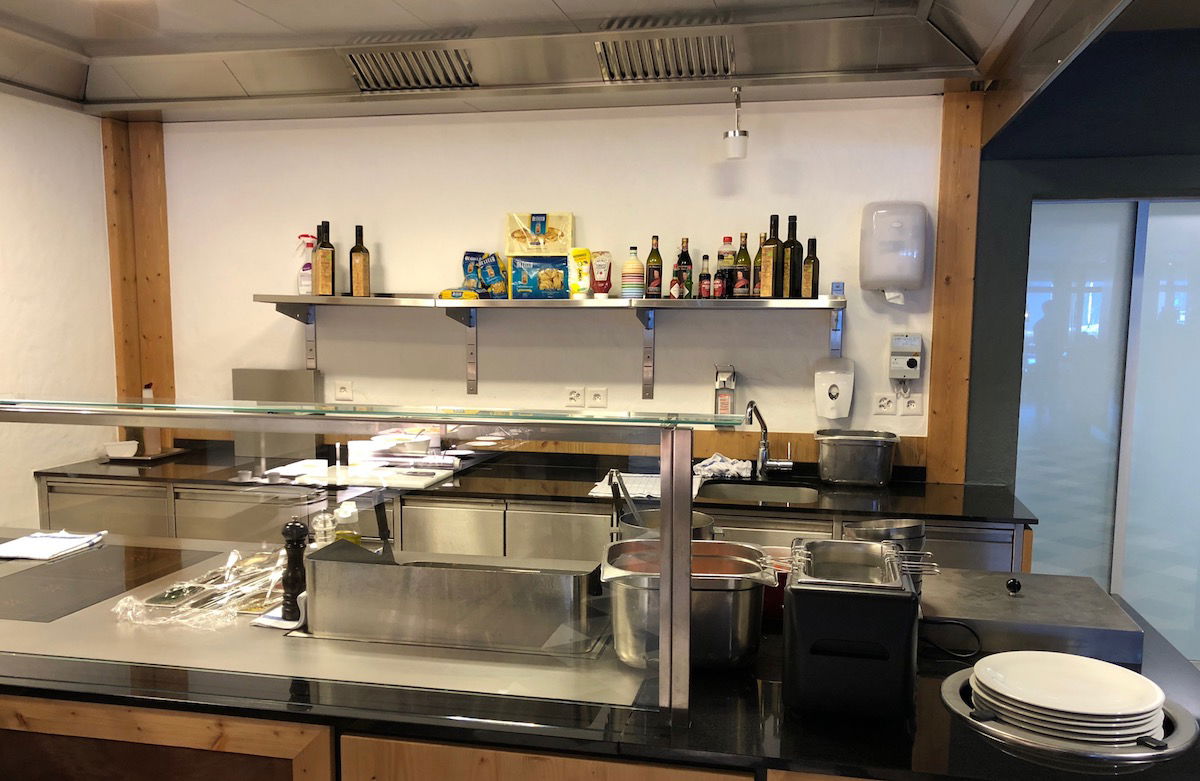 Huus Hotel breakfast buffet
A couple of nights we had drinks in the hotel's lobby.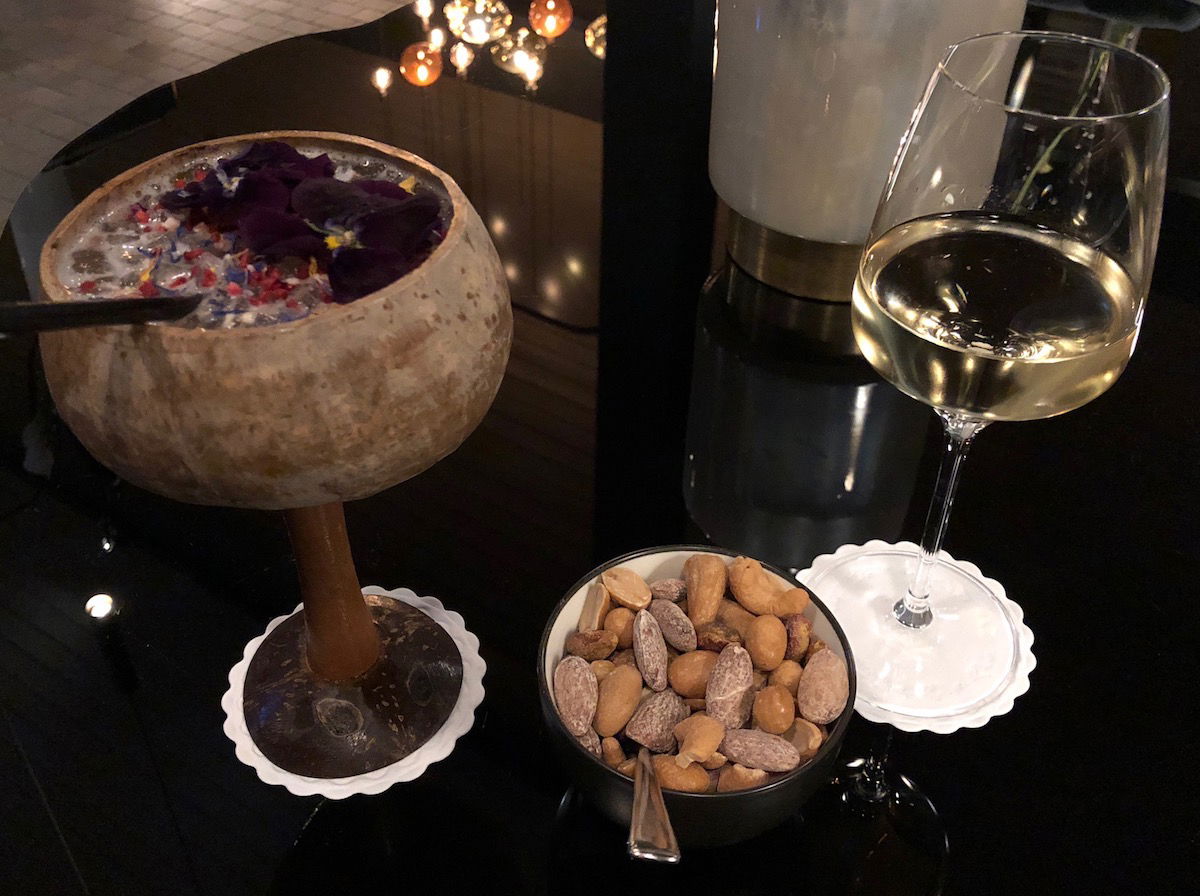 Huus Hotel cocktails
The hotel's main restaurant is just off the lobby, though we didn't eat there.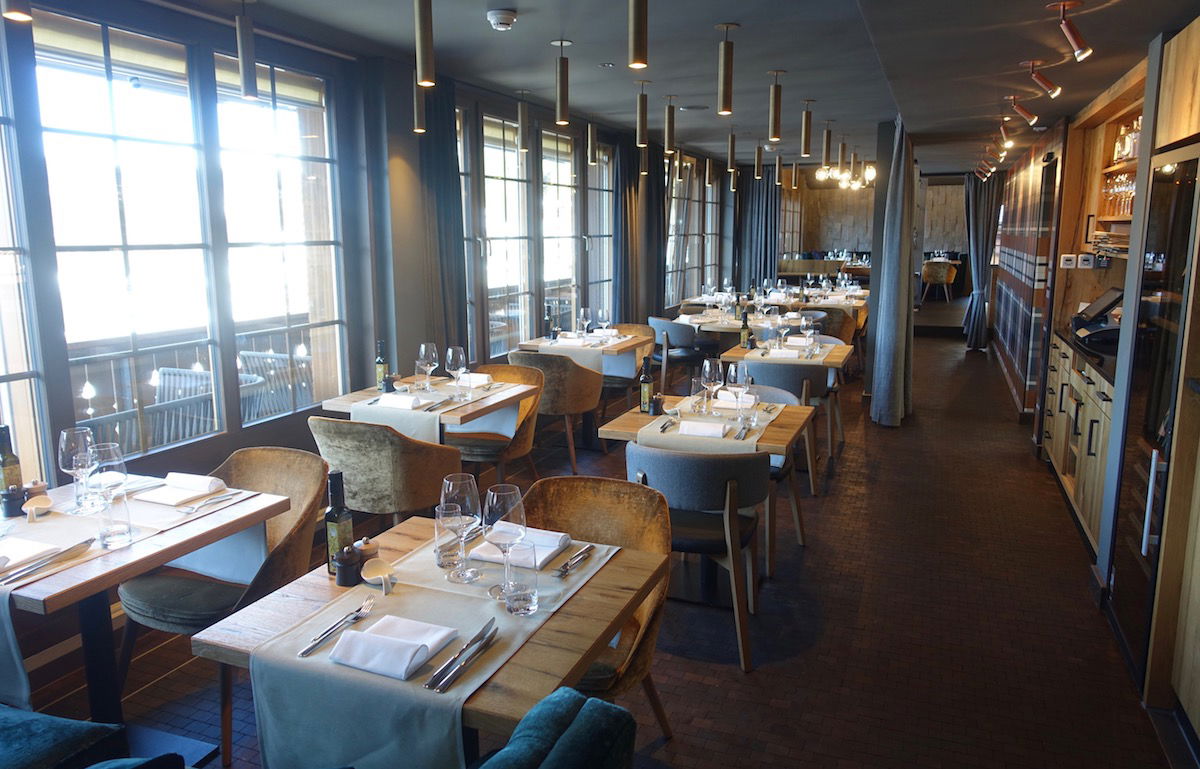 Huus Hotel restaurant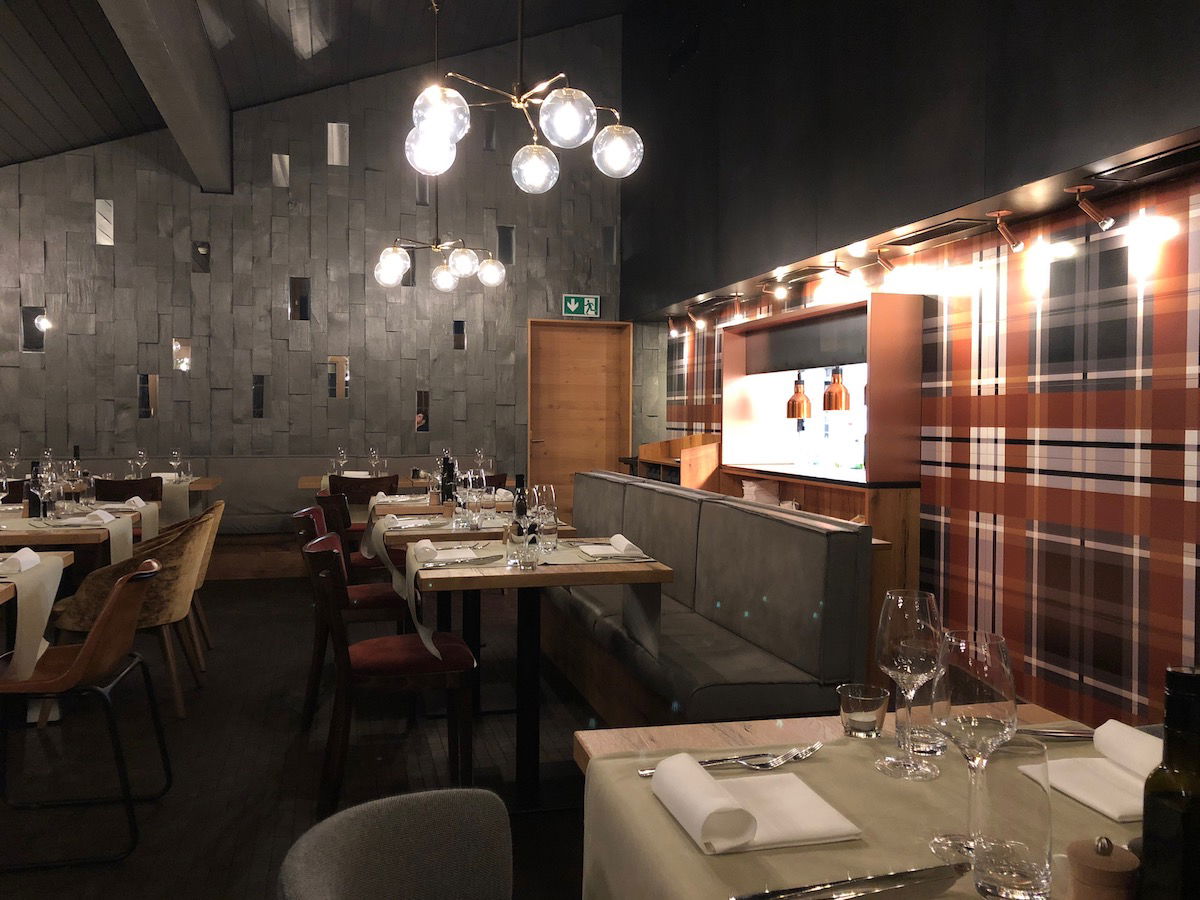 Huus Hotel restaurant
On the third floor the hotel had a gym, with decent equipment.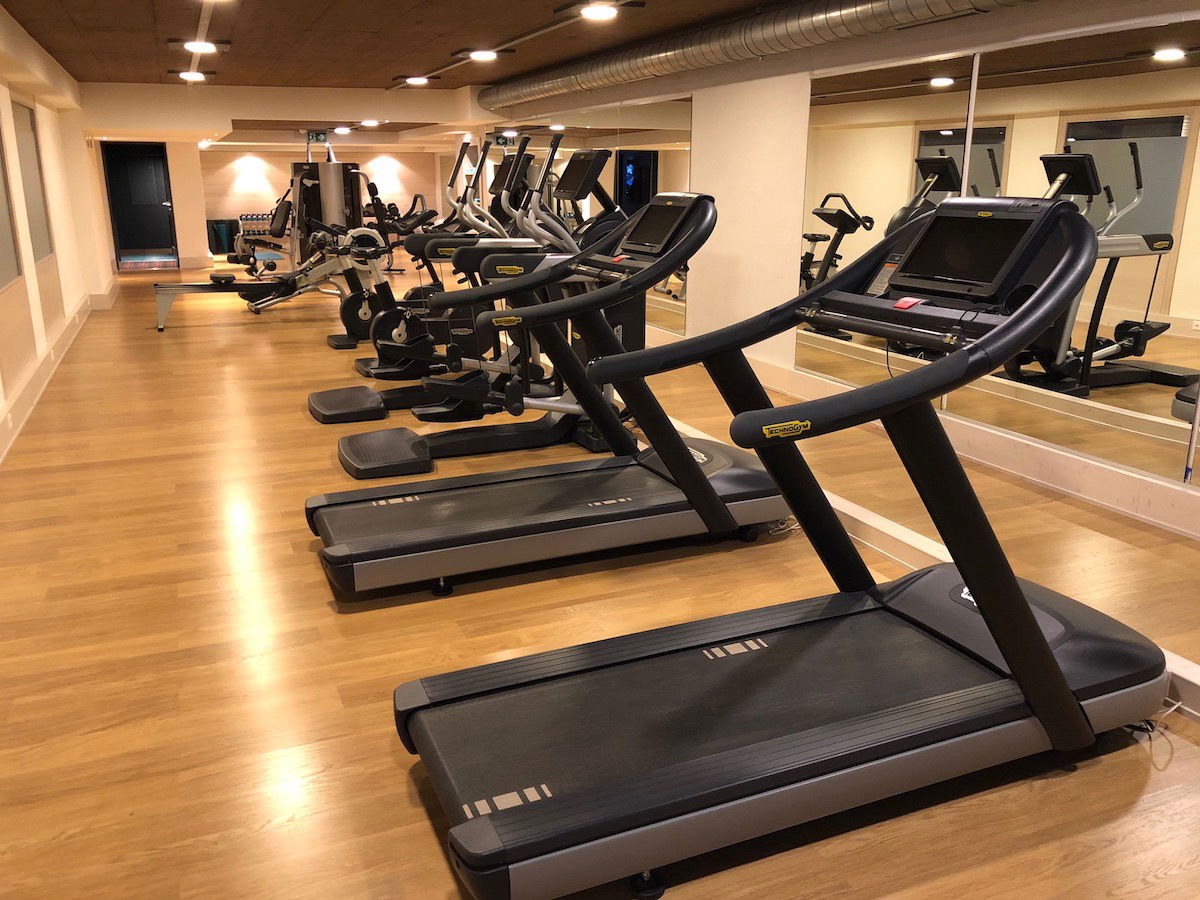 Huus Hotel gym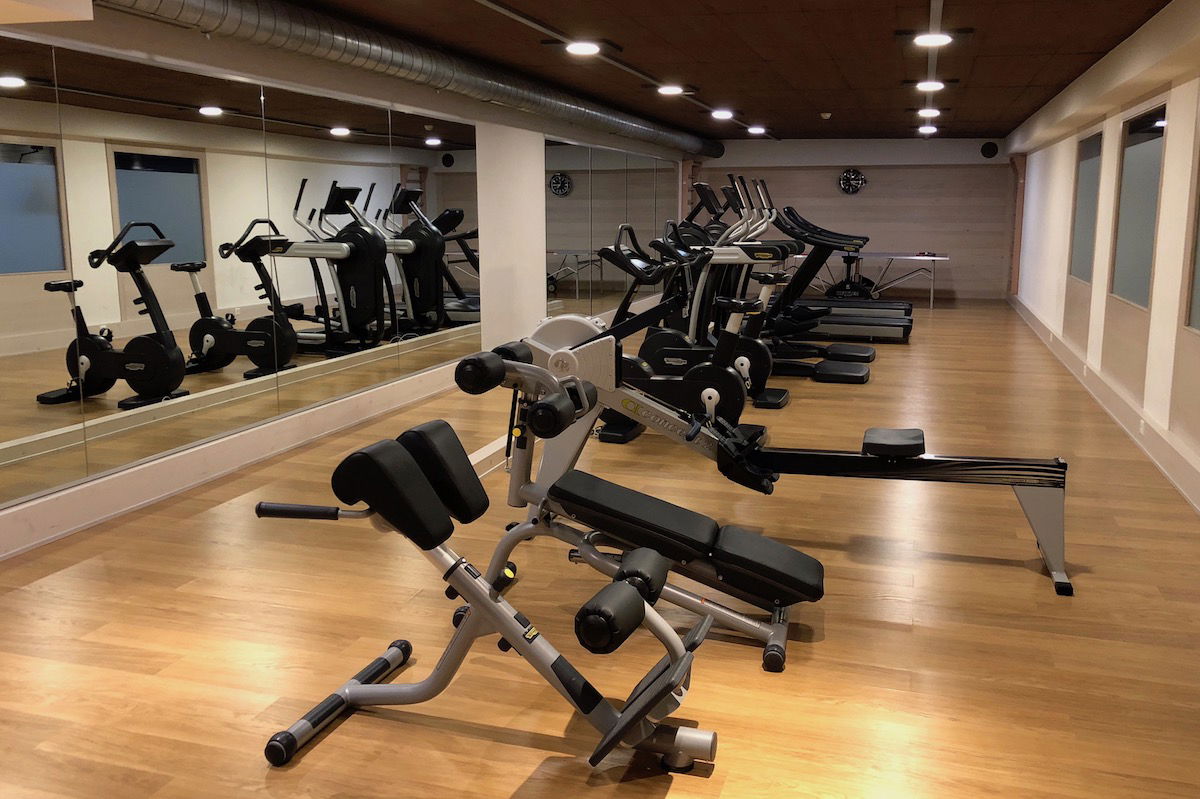 Huus Hotel gym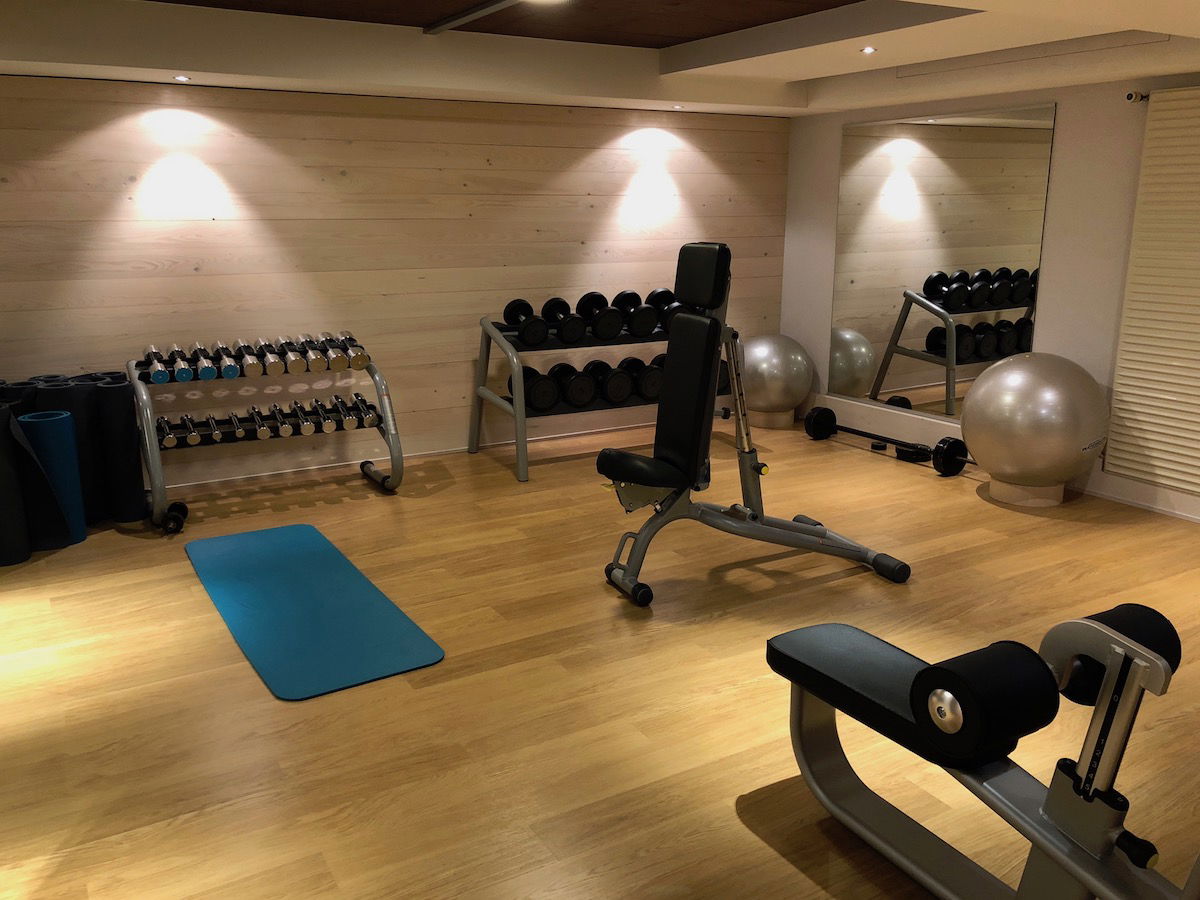 Huus Hotel gym
The fact that they had a ping pong table in the gym was something I was happy about, as it allowed me to pretend that I was "exercising" by beating Ford at ping pong (just about the only "sport" I'm better at than him). 😉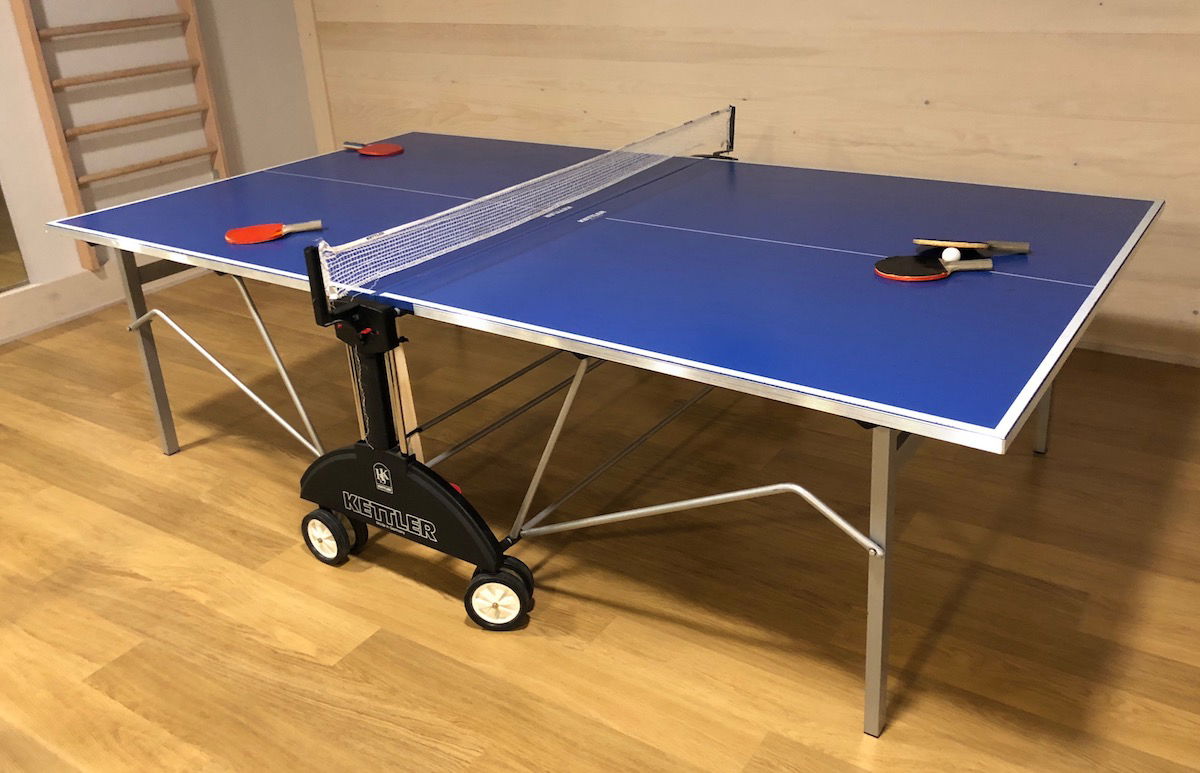 Huus Hotel gym
Next to the gym was a room with some pool tables, foosball tables, video game consoles, and TVs. I never saw anyone in the room.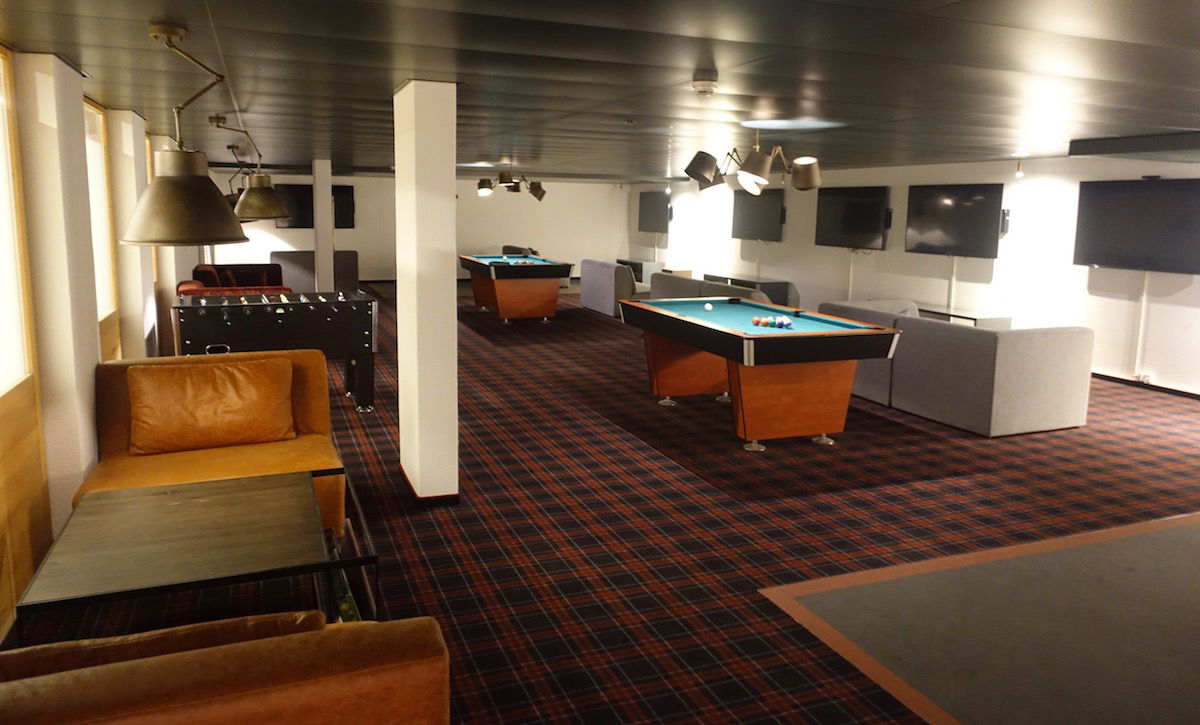 Huus Hotel pool tables & TVs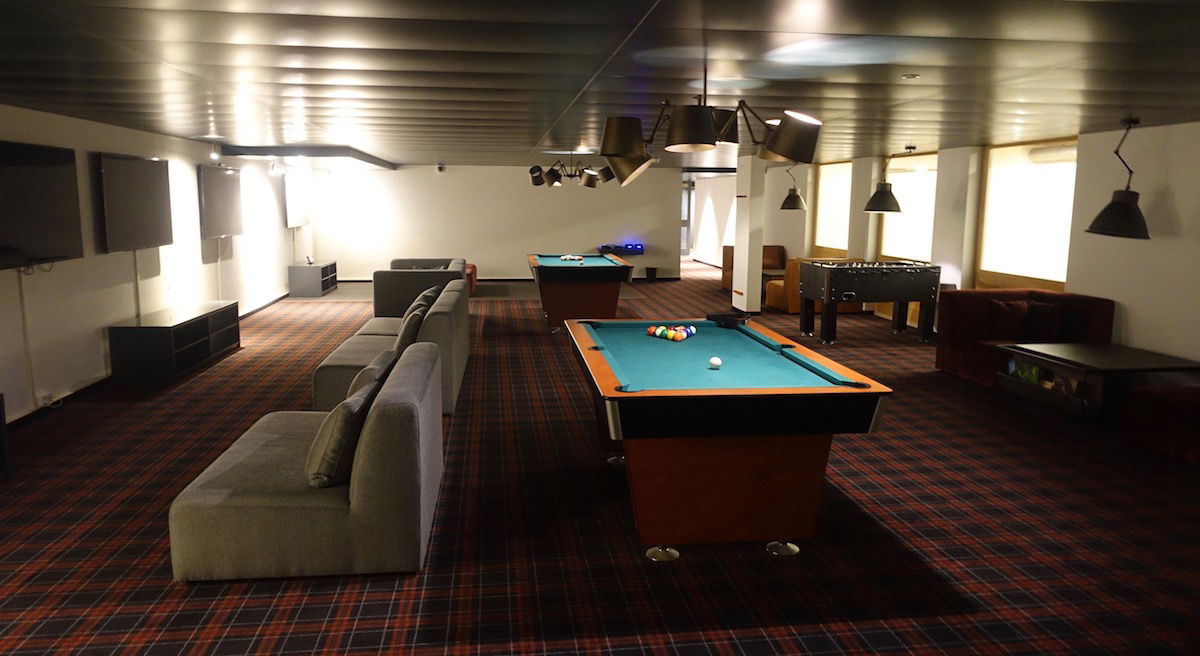 Huus Hotel pool tables & TVs
The hotel offers weekly activities that are complimentary for guests. Since Ford skied in Verbier, we didn't do any of that here, but rather just enjoyed the town of Gstaad, had nice meals, and took gondolas.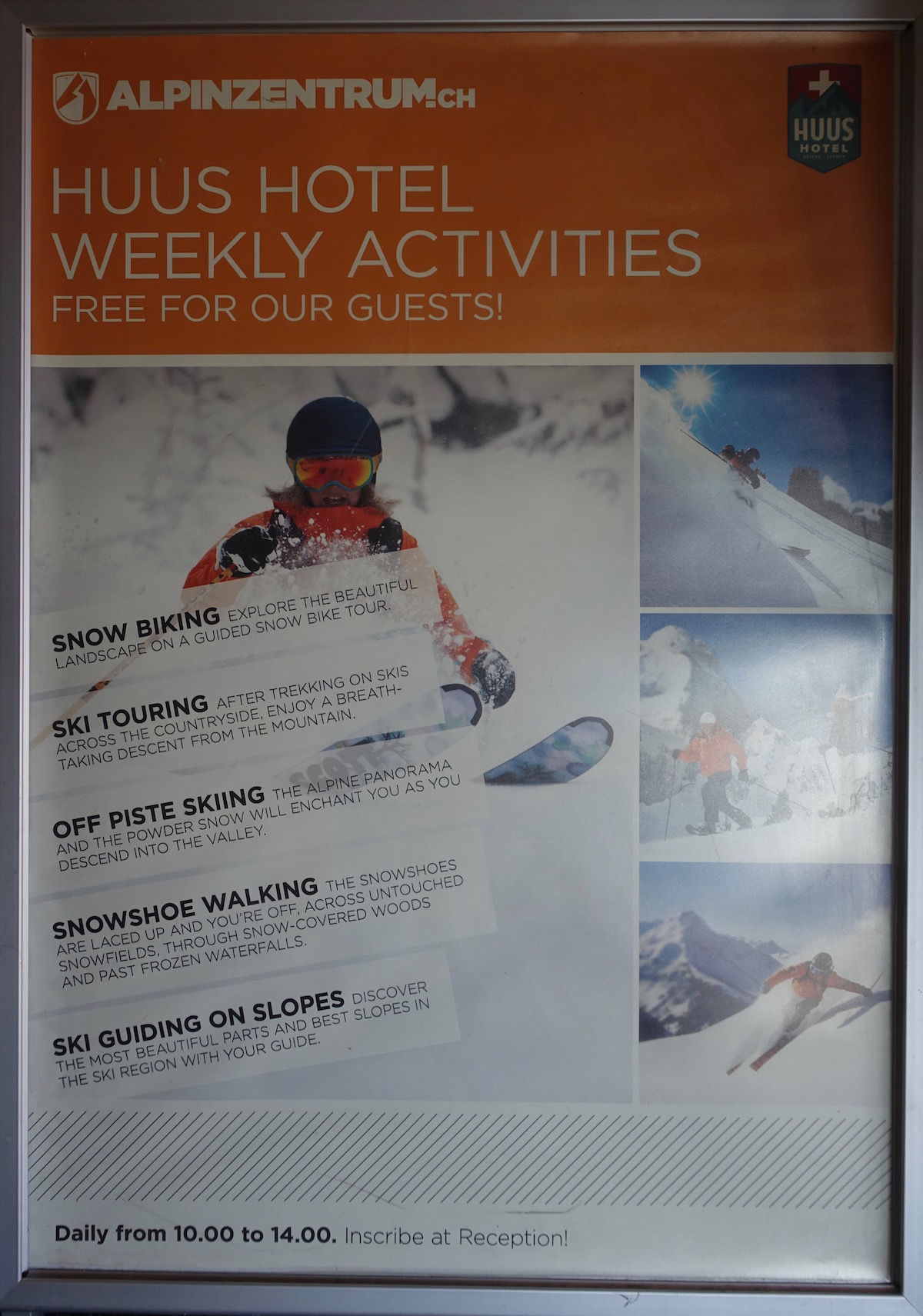 Huus Hotel weekly activities
I had a very favorable impression of this hotel. I loved the design, I loved the views, and I loved the people working there. There's one thing I didn't love, though — the location. Huus Hotel is just a few miles from Gstaad "proper." When I booked the hotel I didn't assume it was much of an obstacle, though this ended up being costly. There are two ways you can get to town:
A taxi, which costs 30-35CHF
A bus, which costs 4.40CHF per person, per direction
There's a bus stop right in front of the hotel, which is nice. The problem is that the bus doesn't run that often, and it doesn't operate late at night. Sometimes it runs twice an hour, sometimes once an hour, sometimes once every two hours. We tried to take it when we could, but typically it wasn't running in a practical way for our dinner plans, so that proved to be a pain.
Having to pay 70 CHF for a roundtrip taxi drive that takes maybe 20 minutes total is rough. But I guess that's why the Huus Hotel was relatively reasonably priced. I imagine if it were in the town of Gstaad, rates would be at least double as high. I wouldn't let that deter you from staying there, though it is something to be aware of. You could certainly also rent a car, though I didn't see an abundance of parking spaces in town (then again, I wasn't looking that closely).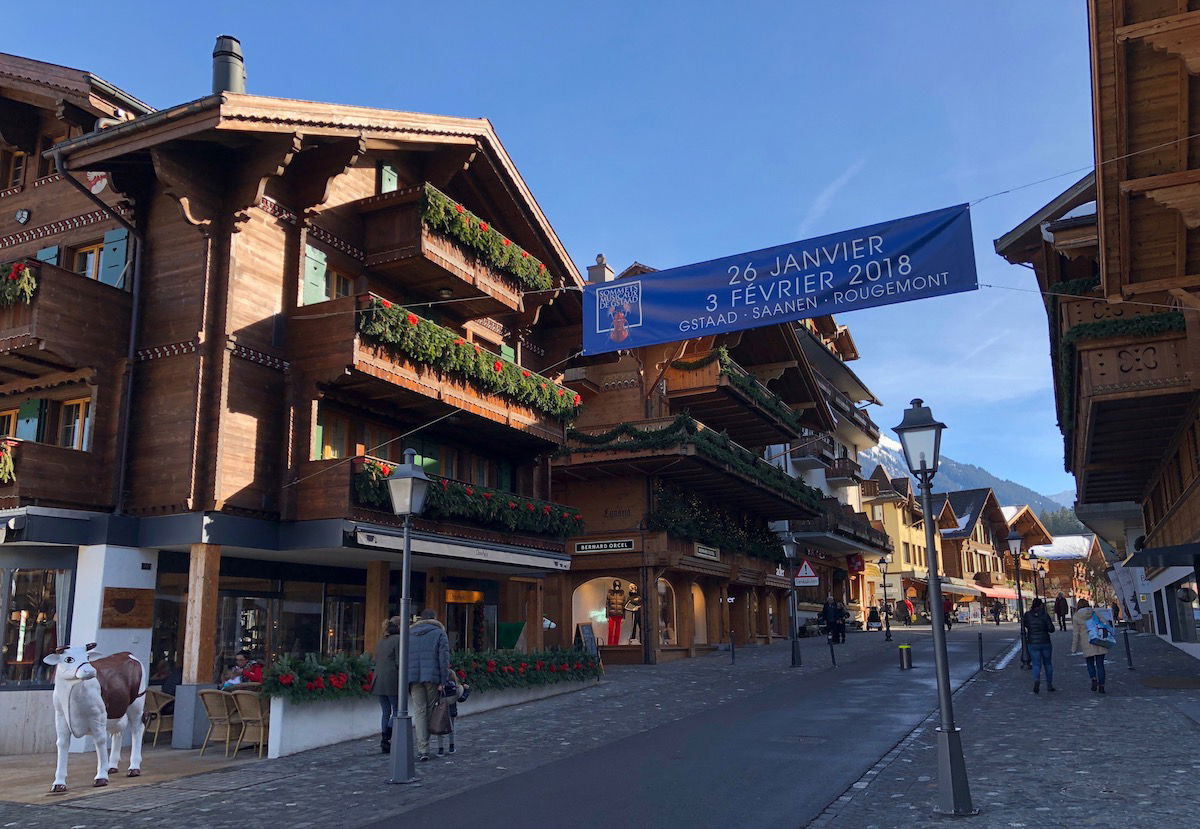 Gstaad
The last day we took a train back to Geneva Airport, which was easy. The nearest train station to the hotel is in the town of Saanen (which is immediately below the hotel). On the plus side, the hotel offered a complimentary shuttle to the train station. If only they'd do a similar thing to the town of Gstaad.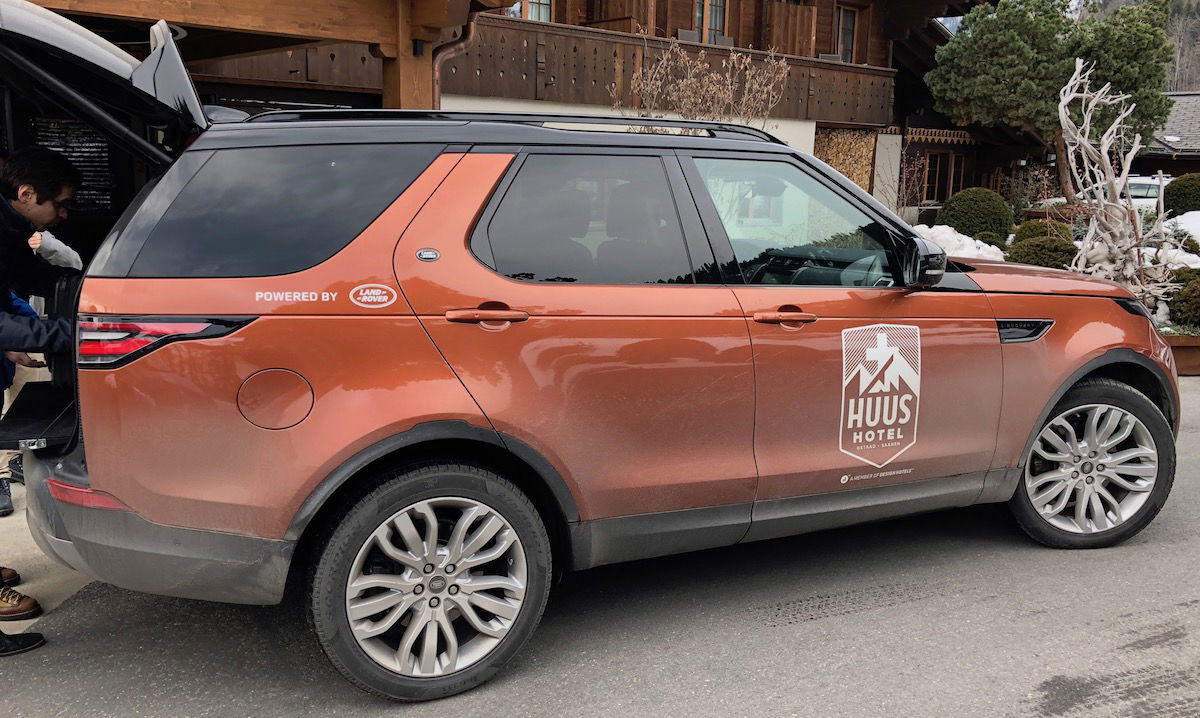 Huus Hotel transport to train station
Huus Hotel Gstaad bottom line
I loved almost everything about Huus Hotel. The hotel is beautiful, has incredible views, and the employees were all friendly. The only thing to be aware of is that the hotel isn't in the town of Gstaad itself. If you can be flexible and always take the bus then it'll just cost you about $10 roundtrip per person to to get to town. However, if you take a taxi, the cost can quickly add up.
I love Design Hotels properties, and in particular the ability to earn and redeem Starpoints for stays there.
All things considered I'd highly recommend this hotel.