While awesome journeys like these happen around the globe on a daily basis, I always love highlighting them when readers bring them to my attention.
Virgin Australia turboprop flies from Australia to England
Virgin Australia has undergone a major restructuring, and as part of that, the airline cut its wide body and turboprop fleet, instead simply focusing on 737s. The airline used to operate a fleet of over a dozen ATR72 aircraft, including the ATR72-600.
When airlines get rid of planes, it's normal for them to have to be repositioned, either to return to the leasing company, or to be transferred to their new owner. Well, within the past week a former Virgin Australia ATR72-600 aircraft — with the registration code VH-FVZ — had quite a journey.
The plane had to be repositioned from Brisbane, Australia, to Exeter, England, and as you might expect, that took quite a few stops. While the direct air distance between Brisbane and Exeter is just over 10,000 miles, the ATR72-600 ordinarily has a maximum range of around 2,000 miles (though that's higher with a very light load), and a maximum speed of around 300 miles.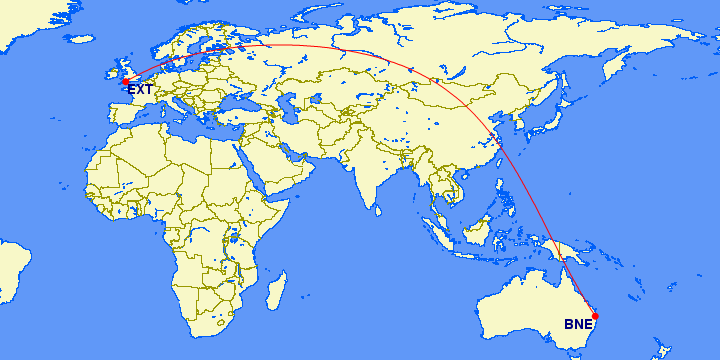 As you'd expect, a journey like this would take a minimum of six stops, and would take well over 30 hours in the air. So, how did this repositioning flight happen?
The ATR72-600's eight segment routing
Within the past week, the ATR72-600 ended up operating an eight segment routing over the course of seven days (including a two day break in Egypt). Suffice to say that the route was fascinating. Here's how the plane flew:
On July 12 it flew from Brisbane to Darwin in a flight time of 6hr51min
On July 13 it flew from Darwin to Denpasar in a flight time of 4hr3min
On July 13 it flew from Denpasar to Medan in a flight time of 5hr
On July 14 it flew from Medan to Male in a flight time of 6hr8min
On July 14 it flew from Male to Muscat in a flight time of 6hr4min
On July 15 it flew from Muscat to Hurghada in a flight time of 5hr47min
On July 18 it flew from Hurghada to Catania in a flight time of 4hr38min
On July 18 it flew from Catania to Exeter in a flight time of 5hr7min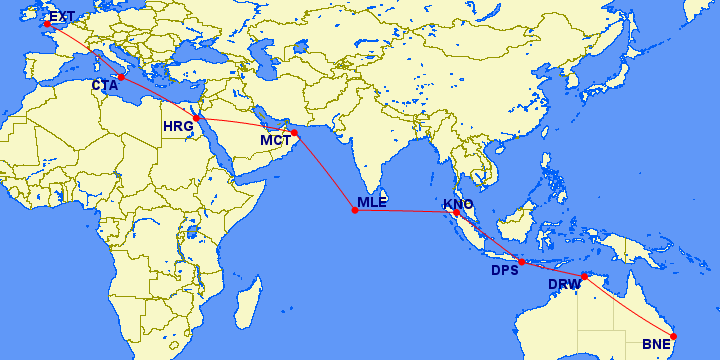 For some context:
The plane ended up flying a distance of 11,845 miles, about 14% longer than the direct air distance between the two airports
The shortest segment covered a distance of 1,097 miles (between Darwin and Denpasar), while the longest segment covered a distance of 1,771 miles (between Brisbane and Darwin)
The crew's longest day was July 14, where over 12 hours were spent in the air, flying from Medan to Male to Muscat
Bottom line
Virgin Australia has retired its entire turboprop fleet, and as you'd expect, this means the planes largely have to be repositioned. While flying a wide body aircraft to the other side of the globe might be easy, the same isn't true for a turboprop, with a range of just a couple of thousand miles.
That's why I find these kinds of journeys to be especially interesting. While they happen every day around the globe, that doesn't make them any less interesting. How cool (and exhausting) it must be to be the crew operating these flights.
Anyone find these repositioning flights to be as cool as I do?
(Featured image courtesy of Nick-D, tip of the hat to @WassimCornet)