In September 2019, IHG announced a potentially interesting partnership, which could greatly increase its portfolio of luxury hotels. This was supposed to launch in early 2020, but ended up being delayed due to coronavirus.
Well, a test phase of this partnership was rolled out a few weeks ago, and now there are over 400 participating properties (though annoyingly there's not a list of participating properties, so you'll have to discover through trial and error).
Let's take a closer look at how this partnership works.
IHG's new partnership with Mr. & Mrs. Smith
IHG has launched a partnership with Mr. and Mrs. Smith, which more than double the number of luxury and boutique hotels available to IHG Rewards Club members. It complements Six Senses, Regent, InterContinental, Kimpton, and Hotel Indigo.
Mr. and Mrs. Smith also has properties in 11 countries where IHG doesn't have a presence, including Belize, Iceland, Mozambique, Myanmar, and more.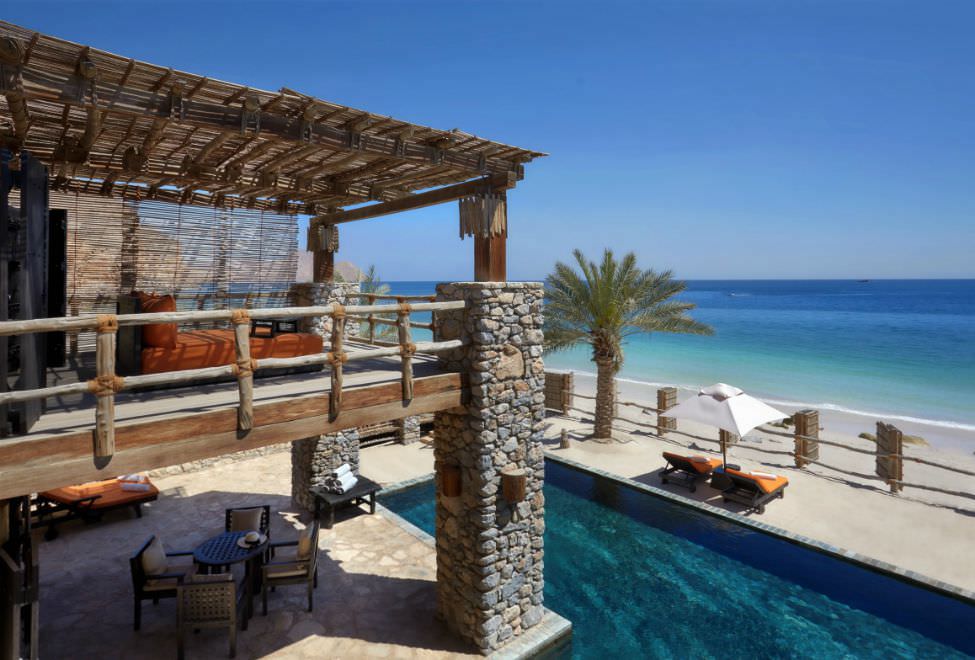 IHG recently acquired Six Senses
With this partnership, IHG Rewards Club members can now earn and redeem points at over 400 Mr. and Mrs. Smith hotels when booking through IHG's direct channels, including the website and app. We'll continue to see some additional properties added over the coming weeks, though the bulk of properties are now "live."
Here are just a few examples of Mr. and Mrs. Smith properties that IHG Rewards Club members now have access to:
IHG Rewards Club members will be able to earn and redeem points across hundreds of luxury and boutique hotels around the world, including some of Smith's most seductive stays, such as Jasper Conran's self-styled riad hideaway L'Hôtel Marrakech, 18th-century organic Tuscan estate Borgo Pignano, high-in-the-Himalayas retreat The Kumaon and the charming Old Rectory on South Africa's famed Garden Route.
What is Mr. & Mrs. Smith?
For those of you not familiar with Mr. and Mrs. Smith, the company describes itself as a "travel club and boutique hotel specialist." The way I view it, Mr. and Mrs. Smith is essentially a luxury travel agency that has marketed itself really well. Now it has an exclusive loyalty partnership with IHG.
Mr. & Mrs. Smith doesn't manage any hotels, but rather gets a commission when people book through the company.
Should we be excited about this partnership?
IHG and Mr. & Mrs. Smith are essentially forming a marketing partnership here. This is similar to the partnership that Hyatt has with Small Luxury Hotels of the World, and the partnership that Marriott has with Design Hotels (which it inherited from Starwood).
Presumably with this new partnership, IHG is getting some of the commission that Mr. & Mrs. Smith otherwise usually gets from hotels I would assume that commission is usually around 10-15%, or maybe in some cases even higher given the influence it has.
So, should we be excited about this partnership? Maybe.
Earning IHG points with Mr. & Mrs. Smith
On the points earning front, this means it's possible to earn IHG points for some hotels that you couldn't previously earn points with:
IHG Rewards Club members can earn 10 points per dollar spent
IHG Reward Club elite members are eligible to earn their tier bonuses at these properties
Mr. and Mrs. Smith properties aren't otherwise be eligible for IHG Rewards Club promotions
Mr. & Mrs. Smith has over 1,400 hotels, though only 400+ of them are participating in this partnership.
Mr. & Mrs. Smith properties include Amans, Singitas, and many more incredible luxury brands. Unfortunately I wouldn't expect many of those properties to be participating in this partnership, though I guess you never know how stuff will evolve…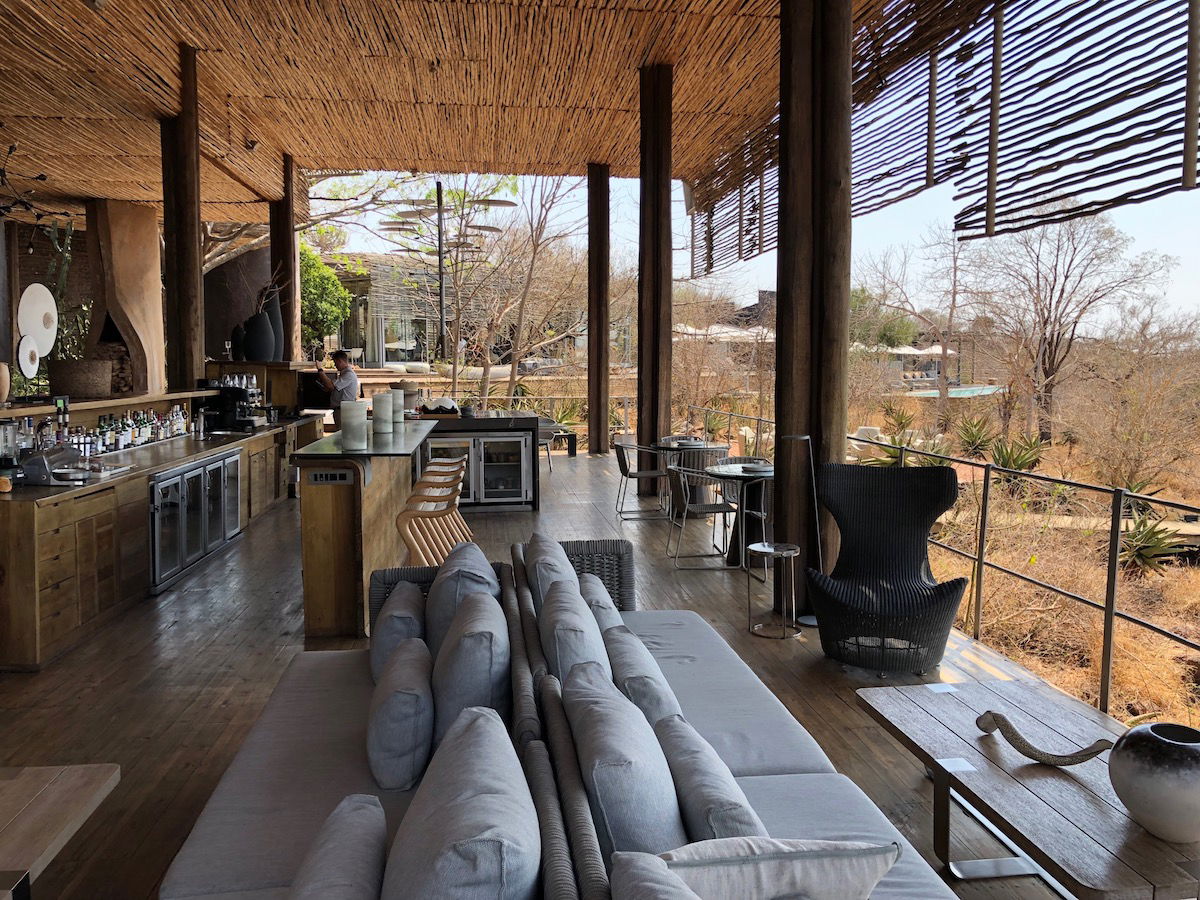 Could you earn IHG points for a safari some day?
I'd note that in many cases there will be an opportunity cost to booking through this partnership. With most of these hotels:
There may be opportunities to book for less through other channels
The hotels may offer promotions and package deals directly that won't be available through the IHG partnership
There may be more perks available through other channels, like Virtuoso
I'm cautiously excited here. I'm obviously intrigued by the prospect of earning points at traditionally non-points hotels, though there will also be a significant opportunity cost to doing so in some cases.
Redeeming IHG points with Mr. & Mrs. Smith
It's also possible to redeem IHG Rewards Club points for stays at Mr. & Mrs. Smith properties, though I'd really manage my expectations when it comes to this:
Presumably IHG is paying "out of pocket" for whatever the cost of a hotel would be, and IHG has confirmed that award pricing at these hotels is dynamic
IHG has confirmed that free night awards aren't redeemable at these properties, and these properties also aren't eligible for the fourth night free benefit on co-branded IHG credit cards
Based on my current searches many hotels simply aren't showing award nights available any night, so that's not a good sign
While there may be some decent opportunities to redeem points at Mr. and Mrs. Smith properties, don't expect you're going to get outsized value.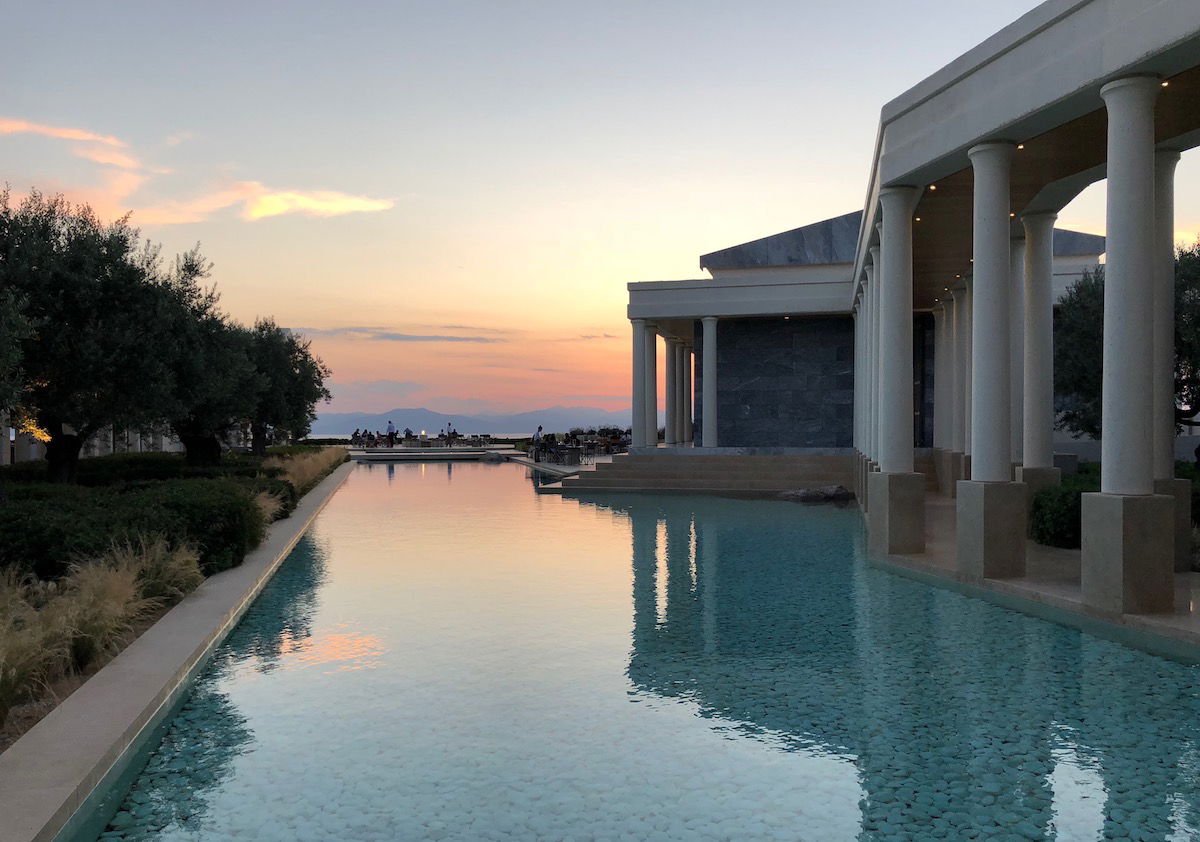 Could there be opportunities to redeem points at Amans?
IHG elite perks with Mr. and Mrs. Smith
IHG's most loyal members (including InterContinental Ambassador and Kimpton Inner Circle members) receive room upgrades subject to availability and a free gift upon arrival, which could include a bottle of champagne, picnic hamper, or 30-minute massage.
Some examples of this partnership
I decided to play around with the possibilities here a bit.
Just to compare a direct rate vs. a rate through IHG, I had a look at The Retreat at Blue Lagoon Iceland, which is participating in this partnership:
The rate is the same whether you book through IHG or direct
The hotel doesn't participate in Virtuoso, so there's not much opportunity to cost to booking through IHG
I don't see any dates with award availability
So if I were to book a stay here, I'd probably go through IHG.

Direct rate


IHG rate
What about some hotels where points can be redeemed? There's a region in Italy with three properties, and we can compare the paid and award rates:
The hotel that charges 230 EUR (~267 USD) requires 47,500 points
The hotel that charges 241.86 EUR (~283 USD) requires 50,714 points
The hotel that charges 151.86 EUR (~177 USD) requires 30,714 points
As you can see, you get about ~0.55 cents per IHG Rewards Club points. That's almost exactly in line with what I would have expected.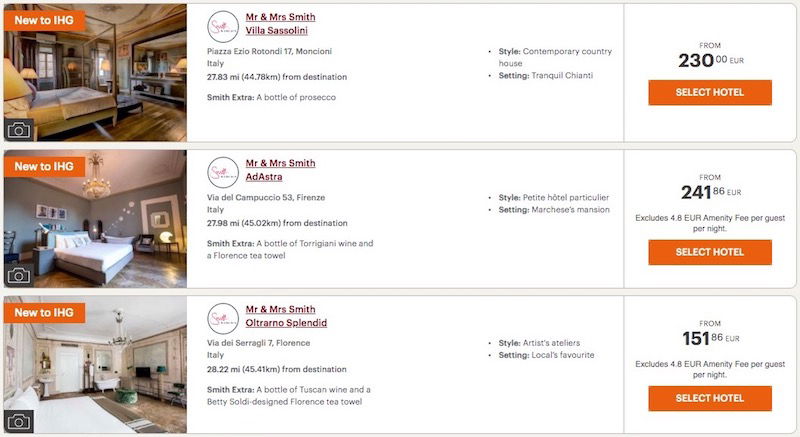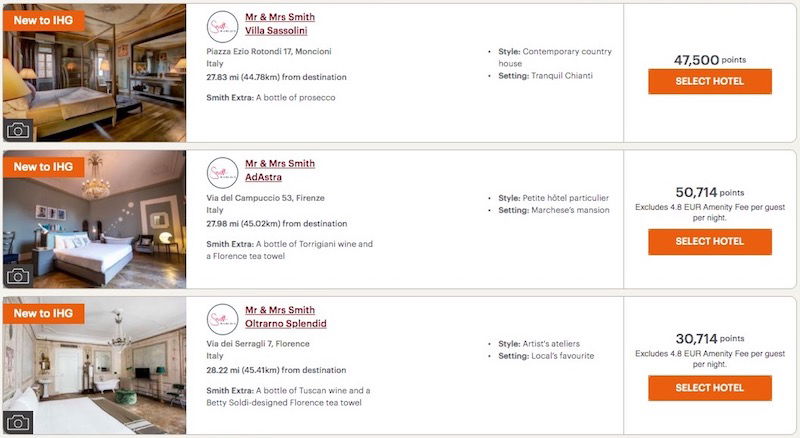 Bottom line
Last year IHG announced a partnership with Mr. and Mrs. Smith, and it's finally live, with 400+ hotels now participating.
IHG is following the trend here by establishing a marketing partnership that gets loyalty program members access to more luxury hotels. It's important to manage expectations here, though.
Mr. & Mrs. Smith is a luxury travel agency that's good at marketing and positioning itself. There's going to be some value here for members:
Some will appreciate being able to book through IHG in order to earn points, but just make sure there's not too much of an oportunity cost
Some will appreciate being able to redeem points through IHG, though don't expect to get over 0.6 cents of value per point
So this is a cool development, though personally I think Hyatt's partnership with Small Luxury Hotel of the World is better ,given the award chart, better points earning potential, and more.
What do you make of the partnership between IHG and Mr. & Mrs. Smith?