This is an easy promotion that anyone who is eligible should consider…
IHG incentivizing downloading app
IHG has just launched what it's describing as its "Biggest Member Event." There's one particularly easy opportunity that's worth taking advantage of, if you're eligible. Specifically, you can receive 1,000 IHG One Rewards points when you download the IHG app:
You must download the app between November 22 and December 2, 2022
You must have never downloaded the app before
Bonus points will post within six weeks
There's no activity requirement beyond having to log into your account; in other words, you don't need to book a hotel, or anything else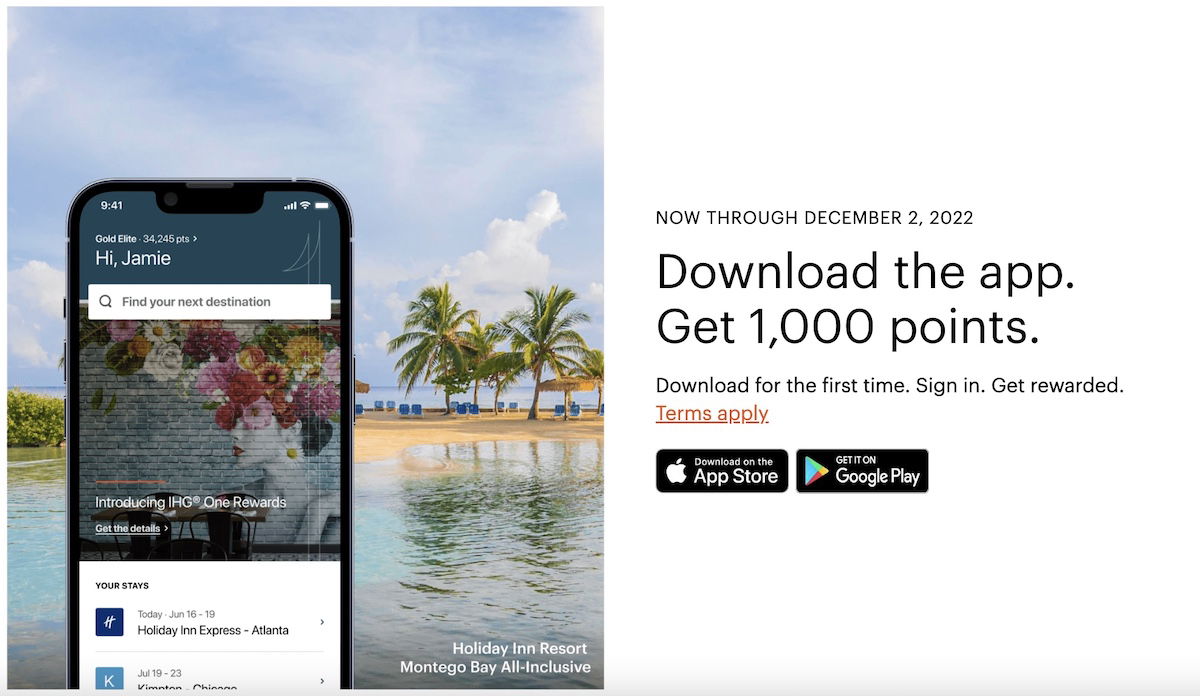 I value 1,000 IHG points at $5
Personally I value IHG One Rewards points at 0.5 cents each, meaning that to me 1,000 IHG points are worth ~$5. That seems like a pretty solid reward for simply downloading an app (which you can always delete in the future, if you'd like). On top of that, keep in mind that IHG points expire after 12 months of inactivity for non-elite members, so this is also a way to extend the expiration of your points.
In general I find IHG's loyalty program much more interesting than in the past, thanks to the revamp earlier this year. IHG Platinum and IHG Diamond status has been improved considerably, and there's huge value to the Milestone Rewards program, which can offer you club lounge access, suite upgrade awards, and more.
Bottom line
IHG is offering 1,000 bonus points for downloading the IHG One Rewards app for the first time. This is a solid promotion, so if you've never had the app before, be sure you download it to earn this reward.
Is this promotion enough of an incentive for you to download the IHG app (if you don't have it already)?