Beginners Guide To Miles & Points
What's The Point?
How Loyalty Programs Work
Credit Cards and Credit Scores
Types of Miles & Points
Identifying Your Travel Goals
How Alliances Work
Credit Card Strategy For Beginners
Earning Miles & Points
Hotels Matter Too
What's Next?
This may sound obvious, but before you start collecting miles and points, it really helps to know how you're going to want to travel, and maybe even where you're hoping to go.
Someone who wants to reduce the cost of taking their family of four to Disney World each year is going to need a different approach than the couple wanting to visit Southeast Asia. Business travelers looking to make their weekly "commute" more pleasant are likely going to have different priorities than someone planning a honeymoon.
There isn't a one-size-fits-all solution, and there is an added variable in that each airline program has different rules as far as what routings are allowed. Combine this with availability trends, and it's no wonder people feel like they can't use their miles!
However, with the right accrual strategy you should be in a much better position for getting the flights you're hoping for. There are tons of variables here, and none of this is set in stone, but we have to start somewhere.
Best Time to Use Airline Miles
Unfortunately, there is no best time to use your miles.  Each airline has its own process for when they open up their award calendar, but you will typically find most schedules open between 11 and 12 months out.  This means in March, you could book travel for the winter holidays, but probably not spring break of the following year.
Booking an award flight with airline miles isn't an exact science, since availability is constantly changing.  However, based on years of experience booking travel for family, friends and clients, I find that the best chance of finding award seats is either right when the schedule opens and within a couple weeks of departure.  For most of us, booking an award flight 10-11 months out has a high chance of success.
Do Airline Miles Expire?
The last thing you want to happen, is to be very proactive and start saving points for that dream trip well in advance, only to find out your miles expired.  While most of the major airlines have relatively generous policies, it is important to be aware so your points don't go to waste.
As far as domestic airlines go, United Mileage Plus, Delta SkyMiles and JetBlue TrueBlue are the only airlines with no expiration policy – your miles are yours forever!  On the other hand, the rest of the major worldwide airlines have policies ranging from 24 months to 36 months, typically based on the date of your last qualifying activity.
Thankfully, it's relatively easy to extend the life of your miles without actually getting on a plane.  Qualifying activity can include everything from using a shopping portal, visiting a participating dining rewards restaurant, buying miles, or donating miles.
Identifying Your Travel Goals
As a very general outline, here are the miles I'd recommend you accrue based on the regions you're hoping to visit and how you'd like to get there. If you need inspiration, check out my Trip Reports to see products I've flown and places I've been using miles and points.
Domestic Economy
Capital One Miles or British Airways Avios
Hawaii
Award availability to Hawaii is a mixed bag.
It's sometimes good in the offseason and from the West Coast, while it's virtually impossible over peak dates from the East Coast. A fixed-value points currency could help if you need to travel over peak dates, in which case the Barclaycard Arrival is great. Otherwise British Airways Avios are great if originating on the West Coast, and Singapore Airlines KrisFlyer miles if originating on the East Coast.
This is where a flexible point currency comes in handy – so you can direct points to the right programs at the right times.
Europe Business Class
All the flexible-points currencies are great here. Focus on either American Express Membership Rewards, Chase Ultimate Rewards, or Capital One, making sure you don't over-diversify your miles.
Africa
Africa is tough for award travel, but as long as you know that going in (and can be flexible) it's not impossible. Look at Chase Ultimate Rewards, American AAdvantage, and Alaska Mileage Plan for the best values.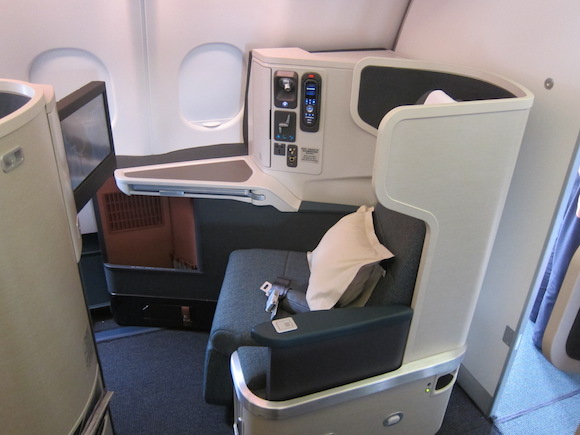 Cathay Pacific business class can be a great option to Africa
India
Like Africa, India can be tricky. Being open to organizing separate internal flights will help tremendously. In addition to the flexible-points currencies, look at American AAdvantage, and United MileagePlus.
Asia Business Class
There are some phenomenal business class products to Asia, many of which are on par (or better) than what you'll find on transatlantic routes. All the flexible-points currencies are great here, particularly Chase Ultimate Rewards.
Asia First Class
All the flexible-points currencies are great here, in addition to Alaska Mileage Plan, but keep in mind advance availability is tough to come by. You may have to look at splitting your group, or booking business class, or an extra connection, and improving your itinerary closer to departure.
Australia/New Zealand
If you want to travel in a premium cabin over New Years with more than two people, it ain't happening. Otherwise, Delta SkyMiles is actually a strong option (though I'd recommend earning American Express Membership Rewards over SkyMiles whenever possible).
Exotic Destinations
French Polynesia, Seychelles, the Maldives. They're all places we dream of going, and they are really hard to get to on miles in many cases, though not impossible if you're flexible.
If you have a dream destination, I'd recommend looking at the tips and tutorials section of this blog, or at the very least the Wikipedia page of the airport, and knowing what airlines fly there. It's always a bit painful when someone contacts my award booking service looking to fly to Tahiti, and they only have United miles, for example.
So what makes it possible to fly to all these destinations, and why did I choose the programs I did? I mean, Alaska Airlines is probably not an option you'd think of for flights to South Africa.
The answer has to do not just with the individual airlines themselves, but with the way airlines partner with each other.
Next: How Alliances Work