Posts from me are going to be a bit lighter over the next week as I continue my dad's round the world surprise birthday trip. As you may (or may not) know, I also have a points consulting service, whereby we help people redeem their airline miles. I have several colleagues working with me, and they're some of the most knowledgeable and passionate people I know in this hobby. They've offered to pitch in and write a few posts to give me a bit more time off while I'm traveling, so hopefully you'll enjoy the additional unique perspectives. This post is from my friend Alex, who is even more of an airline nut than I am. — Ben
---
A common award request PointsPros receives is for trips to Hawaii, which has seen insane growth over the past few years with Alaska's (the airline, not the state 😉 ) expansion from the West Coast. Quite often people are looking for the best product to Hawaii, and really want a lie-flat seat.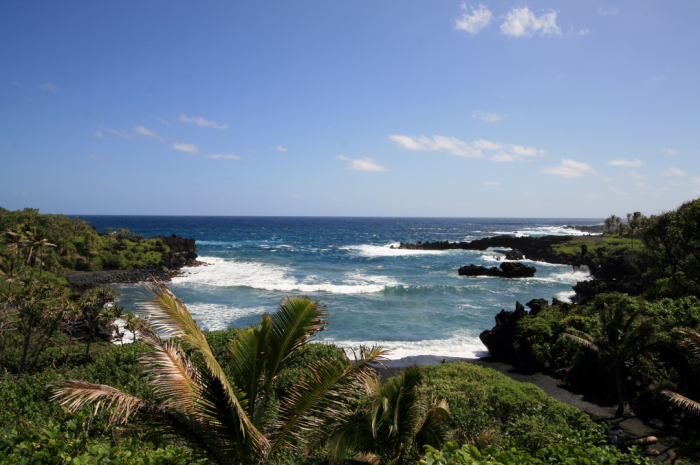 Why aren't there more lie-flat seats to Hawaii?
If airlines had their way, there would be no lie-flat seats offered to Hawaii. They'd probably fly sardine cans if they could. It's a leisure market, and fares and service reflect that. A sub-six hour flight on United from Newark to London serves a meal in Economy, while an eleven hour flight from Newark to Honolulu only offers meals for purchase. A little ridiculous in my book, but that's what the market dictates.
Let's look at fares.
The round-trip fare in first class on Newark-Honolulu is $3,369.60
The round-trip fare in "BusinessFirst" on Newark-London is $5,218.20


Keep in mind, New York to London is a highly competitive market, if not the most competitive in the world. And while it's the same "BusinessFirst" seat, United markets it as "United First," their domestic nomenclature.
It's $1,848.60 less to fly to Honolulu than it is to London, which is nearly 3,000 more flown miles round-trip. A great example of market based pricing, rather than rational pricing.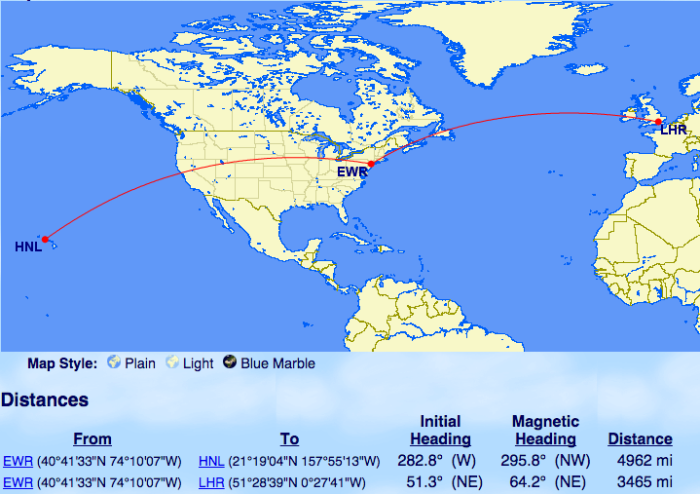 The same logic applies to the service on board. You'll get a five-course meal (definitely not five-star quality) on Newark-London, but a two-course meal (the second course is an ice cream sundae) on Newark-Honolulu. There's a pre-arrival snack on both flights, but even in first class, you're going to walk off the plane hungry in Honolulu, while you'll be bloated in London.
Although American, Delta, and United serve Hawaii with internationally configured aircraft, it's because they don't have other aircraft capable of operating long routes, and it's not efficient to create a small subfleet of aircraft for just a few routes.
For example, United runs an international 767-400 with lie-flat seats on Newark to Honolulu, but they also run it on one of their flights from San Francisco to Honolulu. Why that one flight, and not the three others run by domestic aircraft? Aircraft utilization. The flight departs San Francisco in the afternoon, and turns right around for Newark. The same applies in reverse. This is a more efficient flying pattern than just flying an aircraft between Newark and Honolulu.
Funnily enough, United is an exception to this rule, and they have been for years. They have a special subfleet of 777s for Hawaii. Previously, United's high-density 777 had 36 standard domestic first class seats, but United recently reconfigured these planes with their last generation of international business class seat, which was quite an improvement. The seat count only dropped by four, because they added an extra seat per row. But why? These planes also fly to Guam, but if they just ran routes like Chicago-Honolulu, you can bet they'd keep the same miserable configuration.
Let's look at Hawaiian Airlines – their first class product is marginally better than a standard domestic first class seat. You get about 8-10 inches of extra "pitch" (legroom) and a legrest on their A330s, but it's a far-cry from the lie-flat seats Delta offers on their A330 running Atlanta to Honolulu. But Hawaiian also flies these same seats to Asia, Australia, and New Zealand, hence the improved product.
Realistically, you shouldn't expect to get a premium product on a non-premium route. With that said, I'd likely do what I could to get on one of these flights, but expect to pay more than the saver rate if you're using miles.
Where can you get lie-flat seats?
You can get "lie-flat" seats on just a handful of routes:
American (angled lie-flat): Dallas/DFW-Honolulu/HNL, Dallas/DFW-Maui/OGG
Delta: Los Angeles/LAX-Honolulu/HNL; Atlanta/ATL-Honolulu/HNL; New York/JFK-Honolulu/HNL
United: Newark/EWR-Honolulu/HNL; San Francisco/SFO-Honolulu/HNL; Washington/IAD-Honolulu/HNL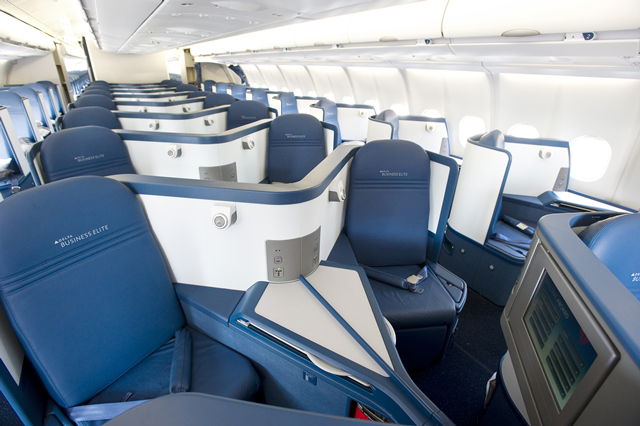 Delta's A330 BusinessElite product that operates ATL to HNL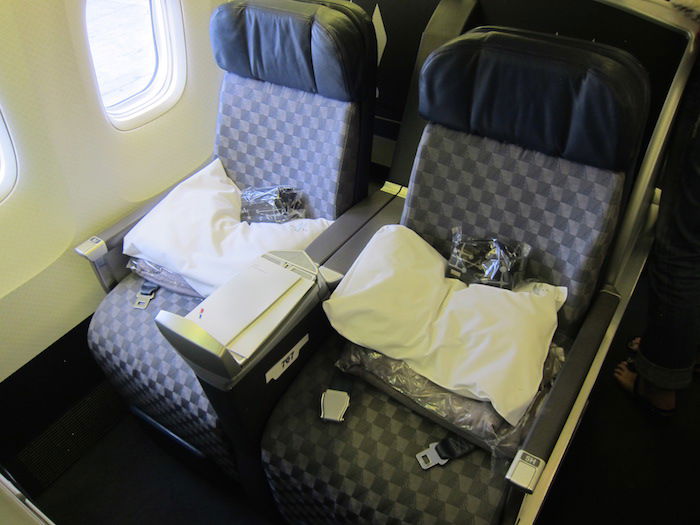 American's 767-300 business class product that operates DFW to HNL and OGG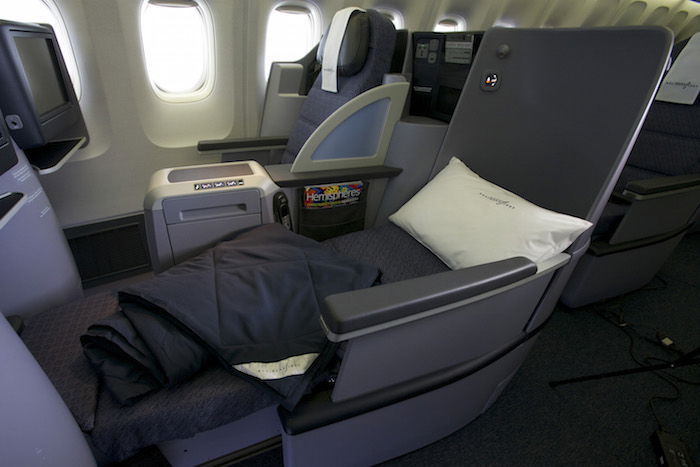 United's 767-400 BusinessFirst product that operates EWR and SFO to HNL
Of course, this is all subject to change, and the only routes I'd really count on are Dallas, Newark, and Atlanta to Honolulu, as well as Dallas-Maui.
The real issue is that airlines almost never release saver award space on these flights
To book an award seat on one of these flights, you'll likely need to have miles in the operating airline's program because you can't use partner programs to book non-saver level award space.
American requires anywhere from 67,500 to 125,000 AAdvantage miles for a one-way "AAnytime Award"
Delta requires 80,000 to 95,000 SkyMiles for a "Standard" or "Peak" one-way award under their current 2014 SkyMiles award chart (although you still have to book it as a round-trip)
United requires 90,000 miles for a "Standard" one-way award
Although, to be fair, there are a handful of dates with saver award space on American's DFW-HNL and DFW-OGG flights.
Back to the United Newark-Honolulu example, it's $3369.60 for a paid fare, but you're going to be paying 180,000 MileagePlus miles for that same trip. You're only getting 1.87 cents of value per mile, which isn't a great redemption unless you're drowning in miles and want to burn them.
In some cases, I'd suggest paying outright for the seat (if you can afford it), but I'm in the camp of "I would never pay for premium cabins with cash, just miles," so you can wave to me from first class while I'm in Economy Plus.
I really love being able to build itineraries for clients that exceed expectations, and it always saddens me to give bad news when somebody wants to book one of the "nice" flights to Hawaii.
Do you think it's worth the premium to have a lie-flat seat to Hawaii?