Review: Iceland Saga Class 757-200 Gothenburg To Reykjavik
What To Do During A Stopover In Iceland
Review: Icelandair Saga Class 757-200 Reykjavik to Gothenburg
---
Icelandair has always intrigued me. They're based in one of the most remote countries in the world, with only 320,000 inhabitants. Yet, in June 2016 over 440,000 passengers flew with the airline. When I found a cheap roundtrip fare from Gothenburg, where I live (but not for much longer), I couldn't resist my urge to visit to Iceland.
Iceland Flight 385
Gothenburg (GOT) to Reykjavik (KEF)
23 May 2016
Depart: 6:35AM
Arrive: 07:30AM
Duration: 2hr55min
Aircraft: Boeing 757-200
Seat: 4K (Saga Class)
Booking
I booked my tickets through Orbitz, where I found the offer. It's always good to keep an eye out with Icelandair though, as I've sometimes stumbled across flights from Scandinavia from $120 roundtrip. In fact, my friends and I found a $300 economy roundtrip ticket from GOT to JFK in August, with two pieces of luggage included. Guess who's going to New York soon? 😉
Airport & Boarding
We booked these flights insanely early… six months early. It helped us have something to look forward to after our final exams, but little did we know that our school would schedule our senior prom at 7:00pm the night before we left for Iceland (go figure).
I woke up at 4am after leaving prom at around 1am. Luckily, Sweden in May is light 21 hours a day, so we woke up to daylight and before I knew it I was in the SAS lounge.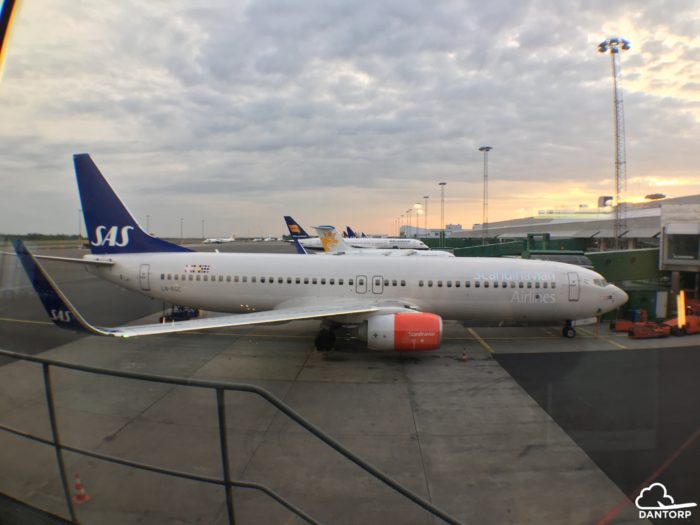 Everything spiraled downhill from there, because I realized I'd forgotten quite a few things at home (don't go on vacation the morning after prom, kids).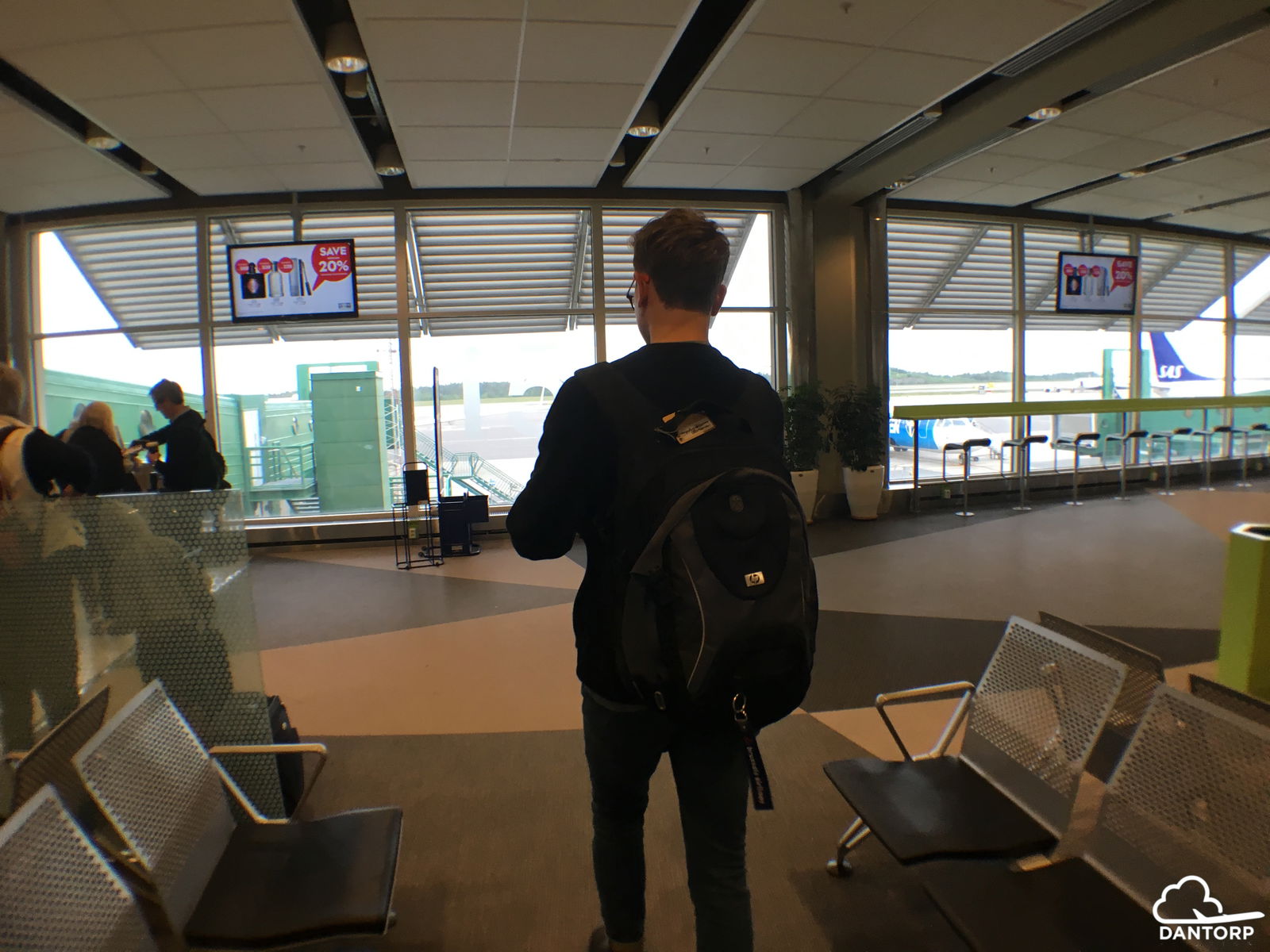 Rather hectically we made it to the gate, and I was among the last to board.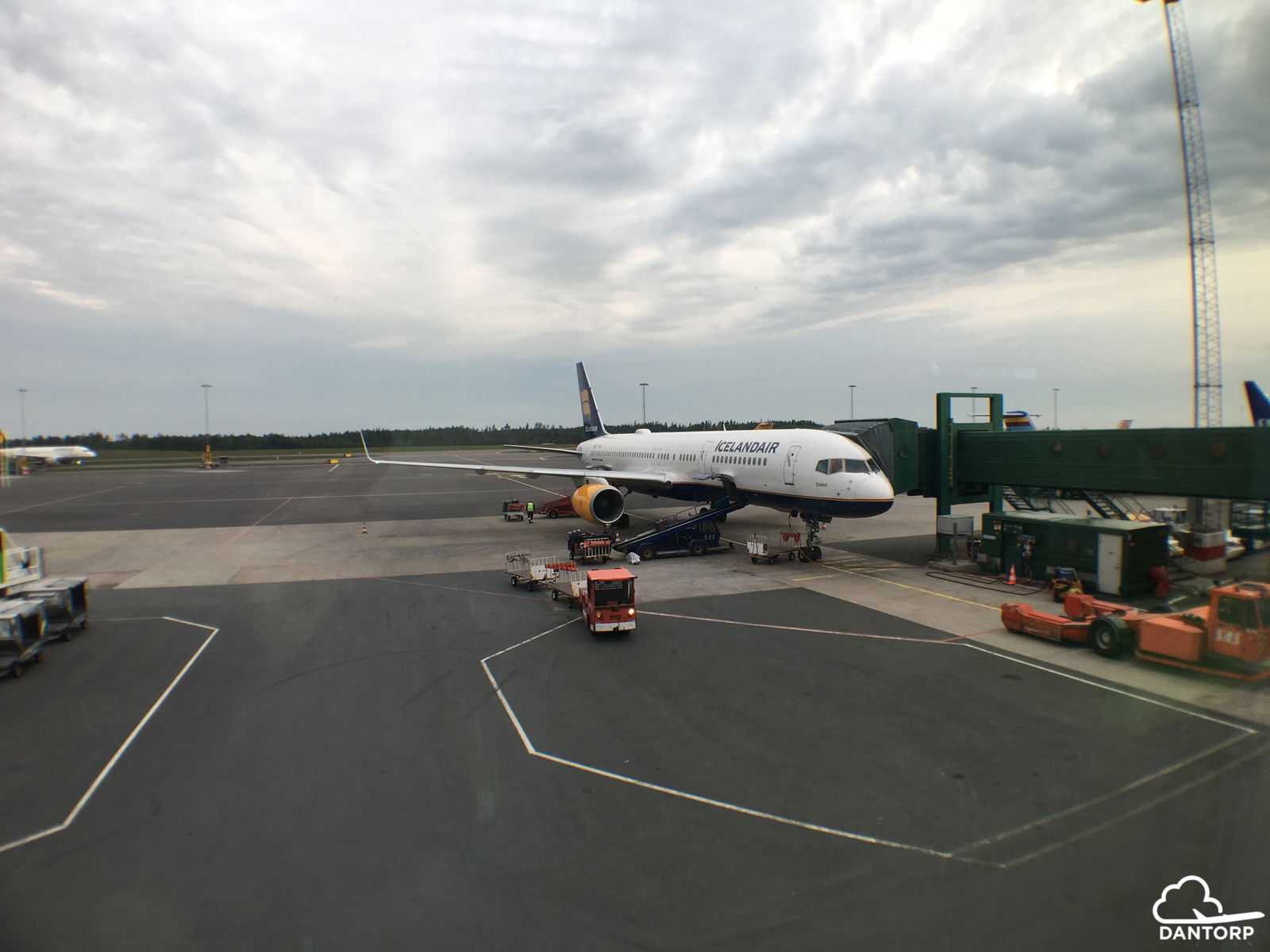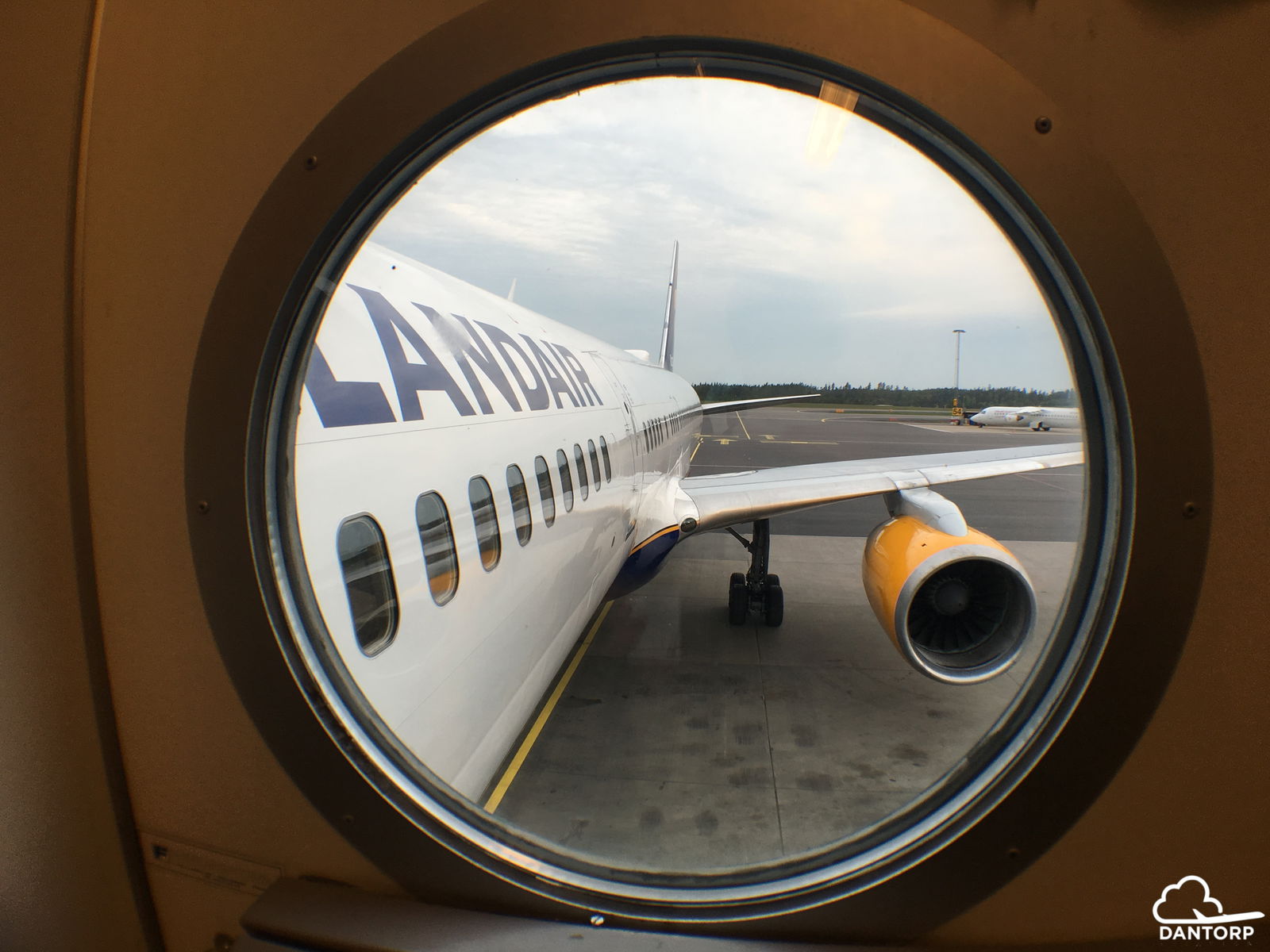 Onboard
Icelandair's Saga Class cabin extends up to six rows, but today it was only four. If you're lucky, this means you can buy a premium economy ticket, but snag a Saga Class seat.
We settled down in the last row of Saga Class, with only one other person in our cabin. She was seated in row 2. The 2-2 configuration is similar to what you'll find in US domestic first class. Given that the average Icelandair flight is probably 3-4 hours, that's not a problem.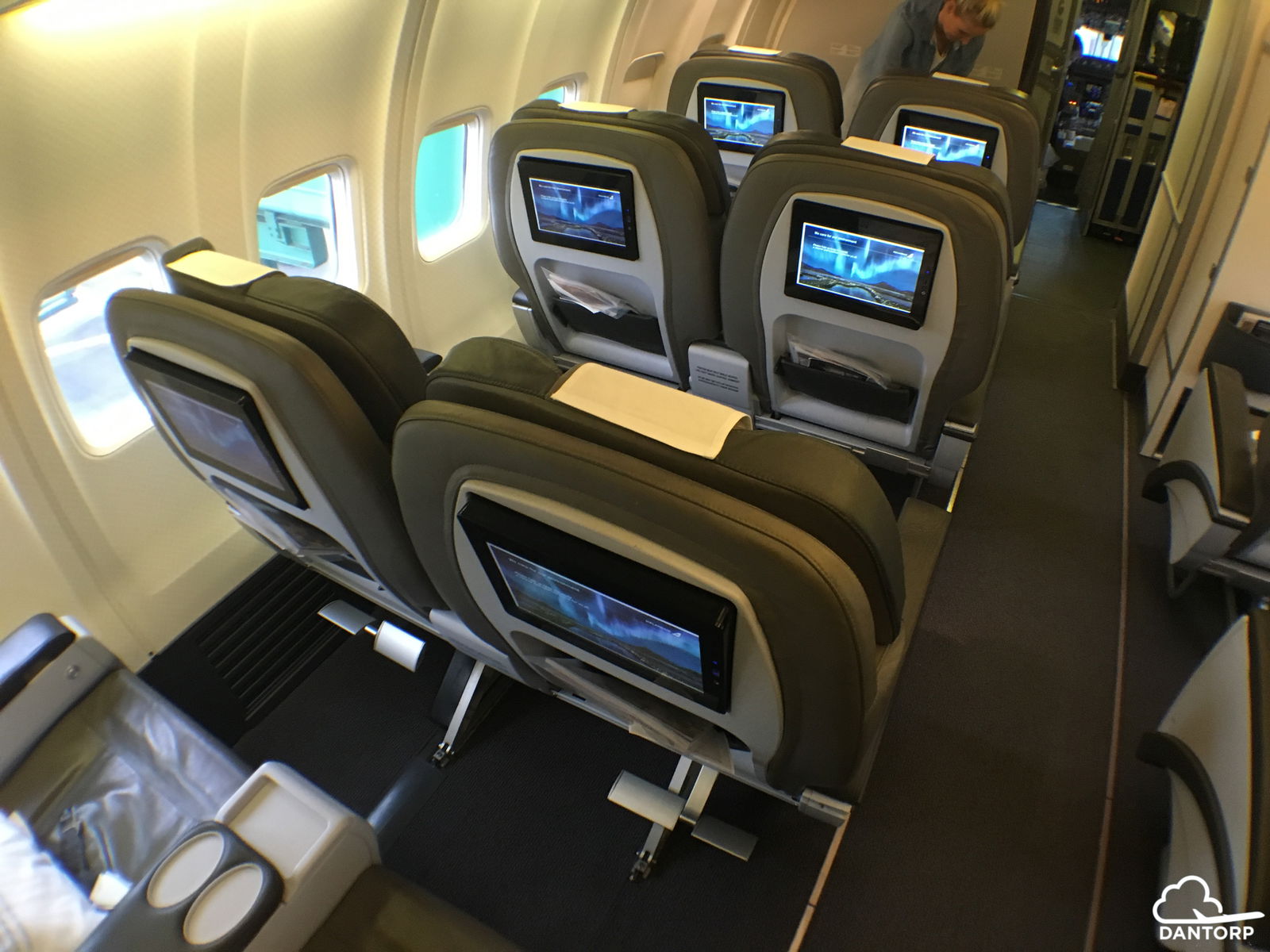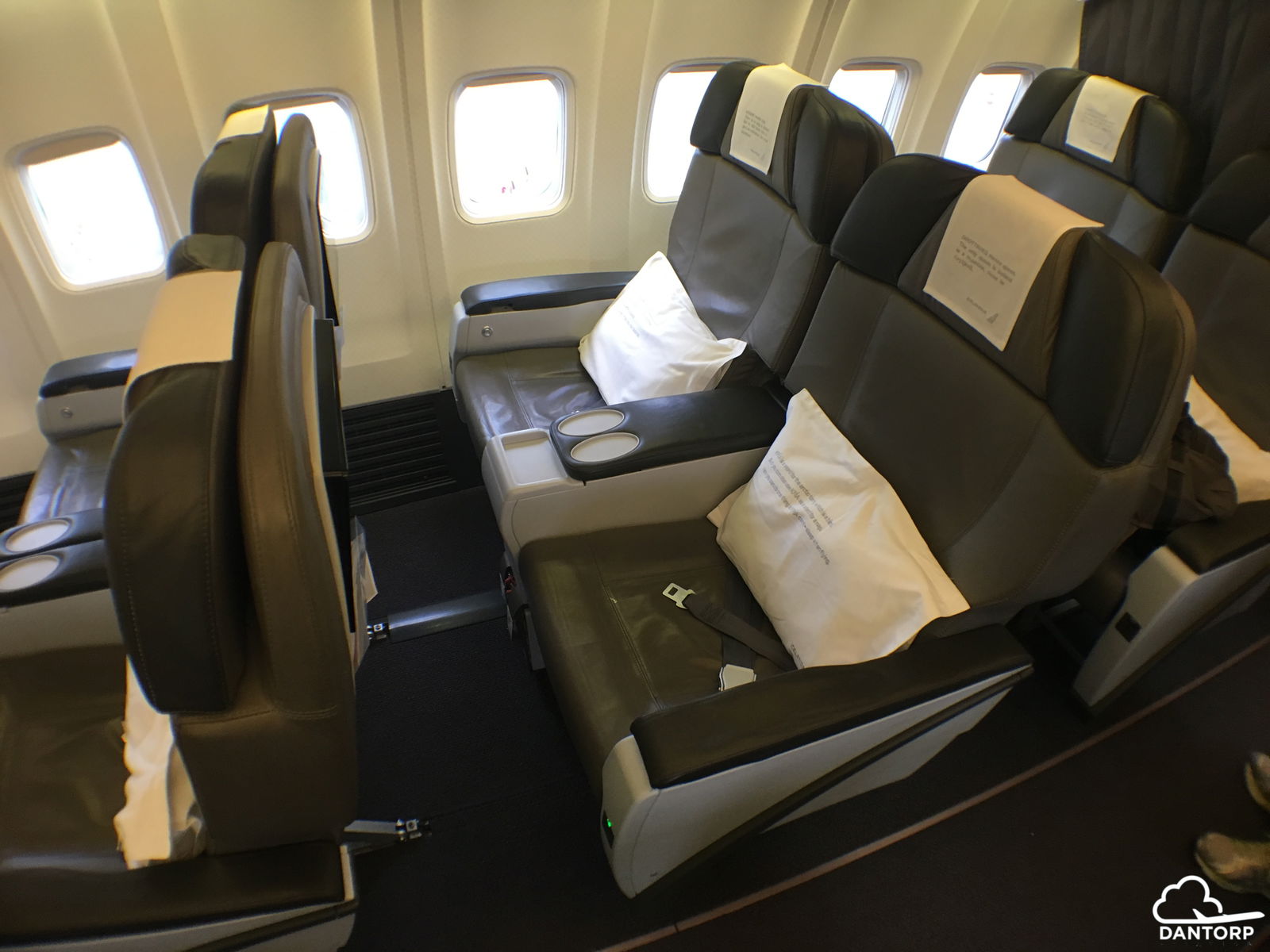 The seats look a lot like US domestic first class seats.
I actually found the seat to be very comfortable, and it felt much wider than your typical recliner. The legroom and armrests were great. Note that Icelandair only provide amenity kits on flights to the US, not on flights from the rest of Europe to Iceland.
The entertainment system had a large, HD touchscreen with plenty of viewing options.
There was a small, extendable area for our "morning shots", which we were served by the purser. I'm a big juicer, so I loved the concept (and the flavor of the apple and ginger based juice).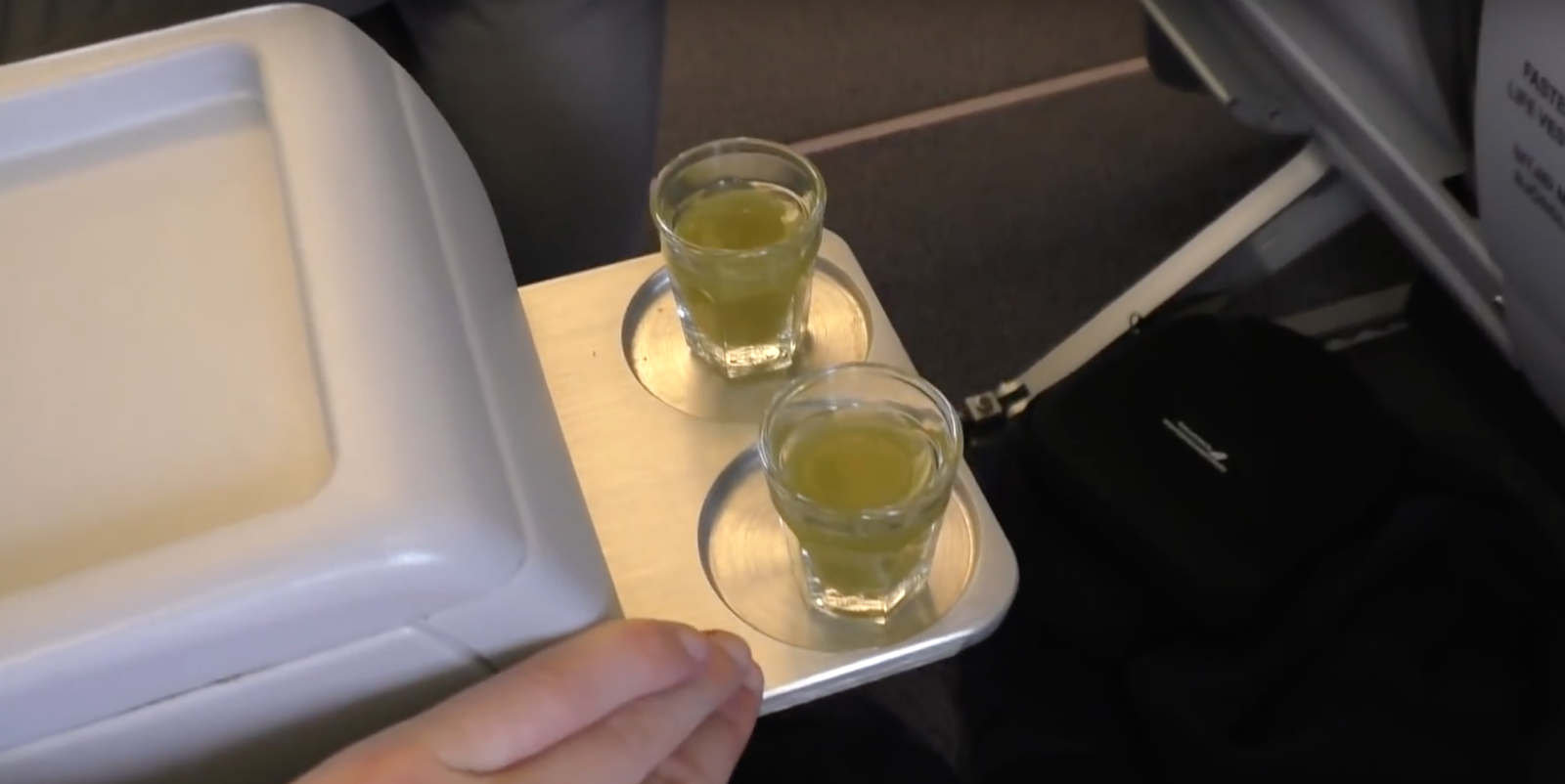 Pushback began at 6:30am, at which point the safety video began to play. A short taxi later, we spooled up the engines and blasted off runway 21.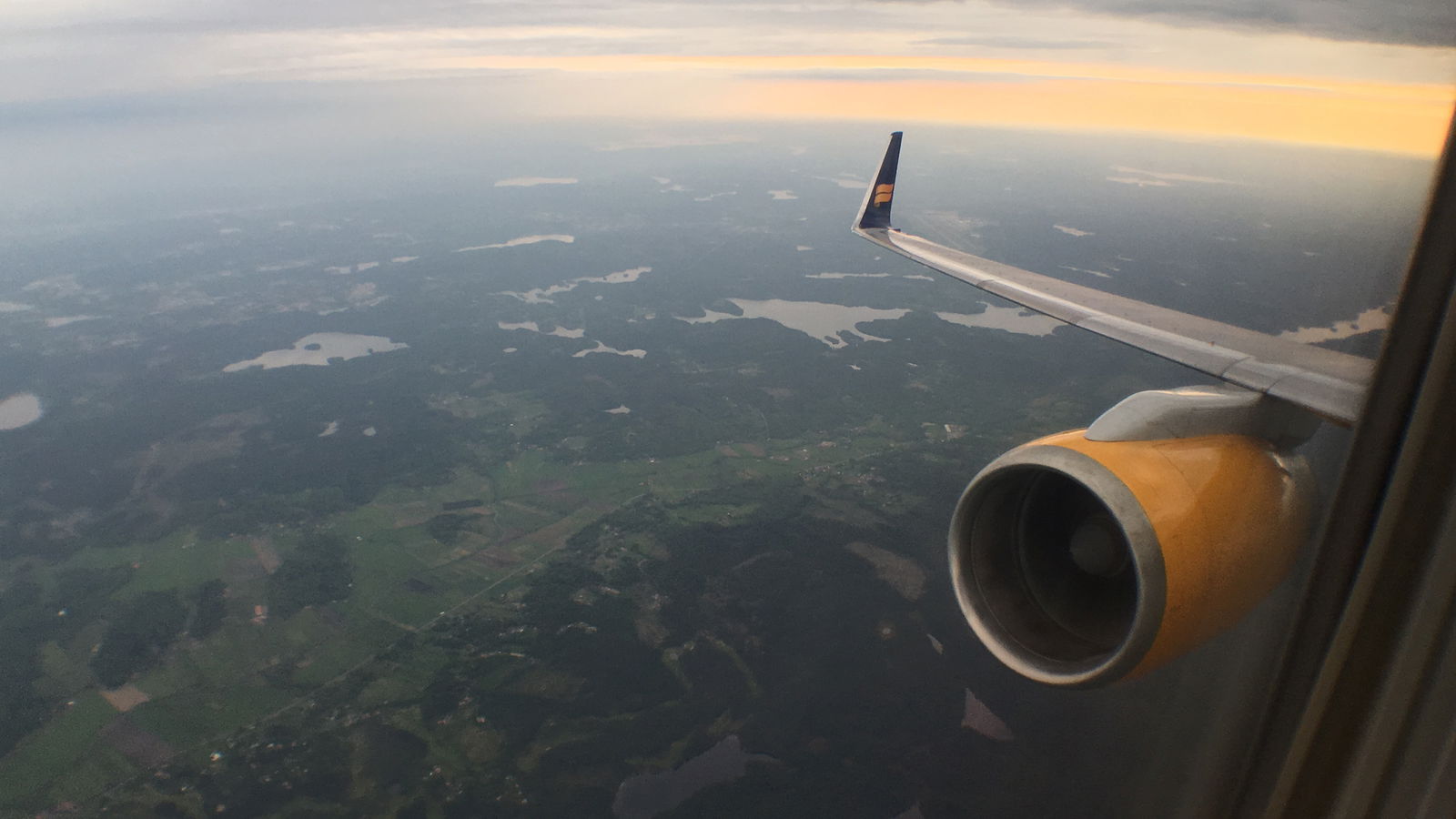 The seatbelt sign was turned off ten minutes later. At this point, the service began, starting with hot towels before our pre-ordered meals were brought out. The menu card was really cute, though not too useful in our case.
I loved the presentation of the food, and everything looked really thought through. I tried the duck, since I exempt myself from vegetarianism when I'm flying. That ended up being the only food I left, since I wasn't keen on it. The rest was delicious – probably the best airplane breakfast I've had. The Icelandic inspiration behind the food was clear.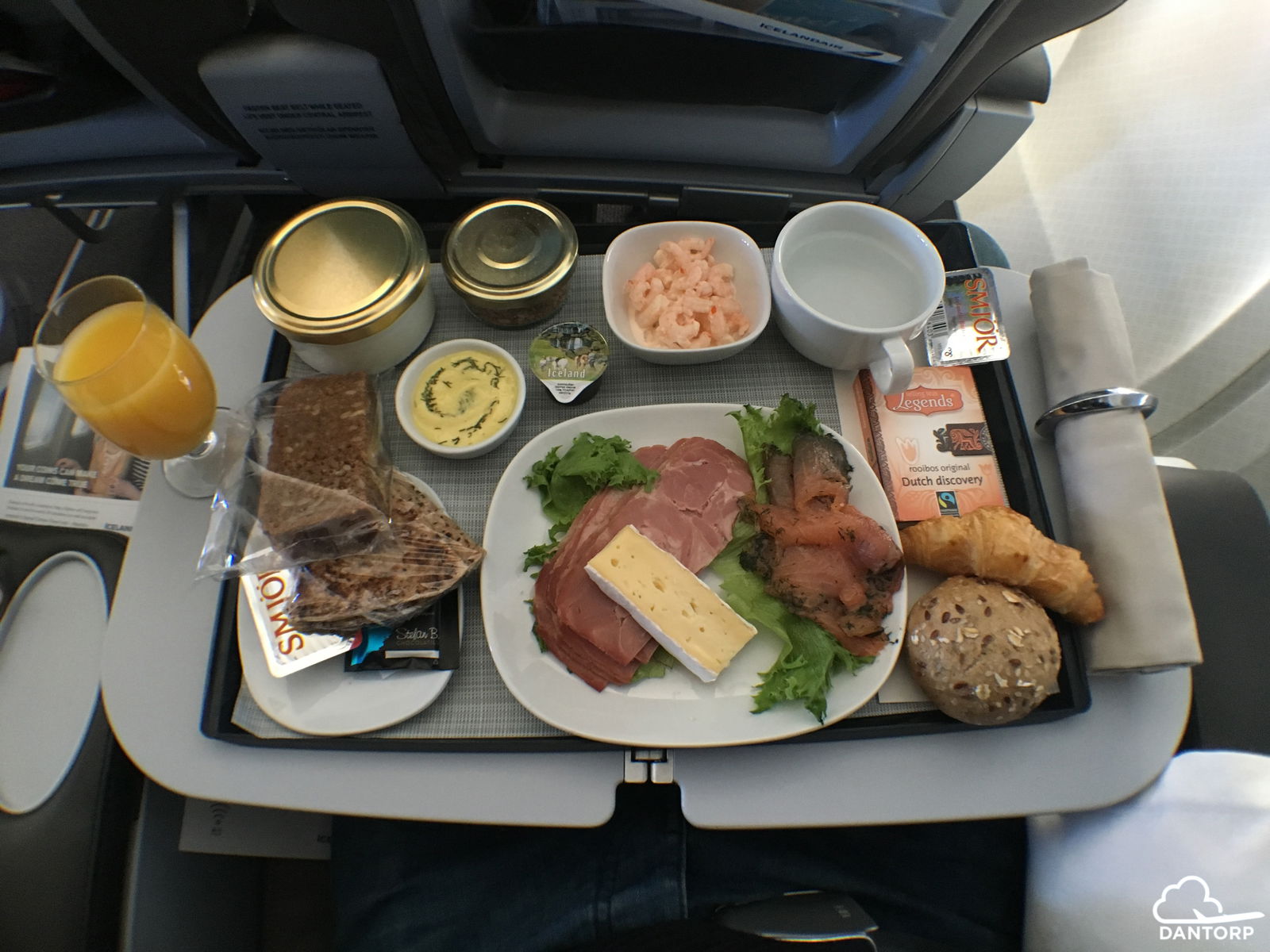 There was a tiny shrimp cocktail of sorts, yoghurt and musli, warm and fresh pastries, smoked salmon, brie and duck.
Once the trays were cleared, I decided to try out the recline. It felt similar to your typical recliner at home and was comfortable enough. My post-prom sleep deprivation was starting to get to me at this point, so perhaps that added to my sensation of Saga Class seat induced drowsiness.
Throughout the flight the service was hospitable and charming. The purser did an especially good job, and she wore an authentic smile as she went about her work.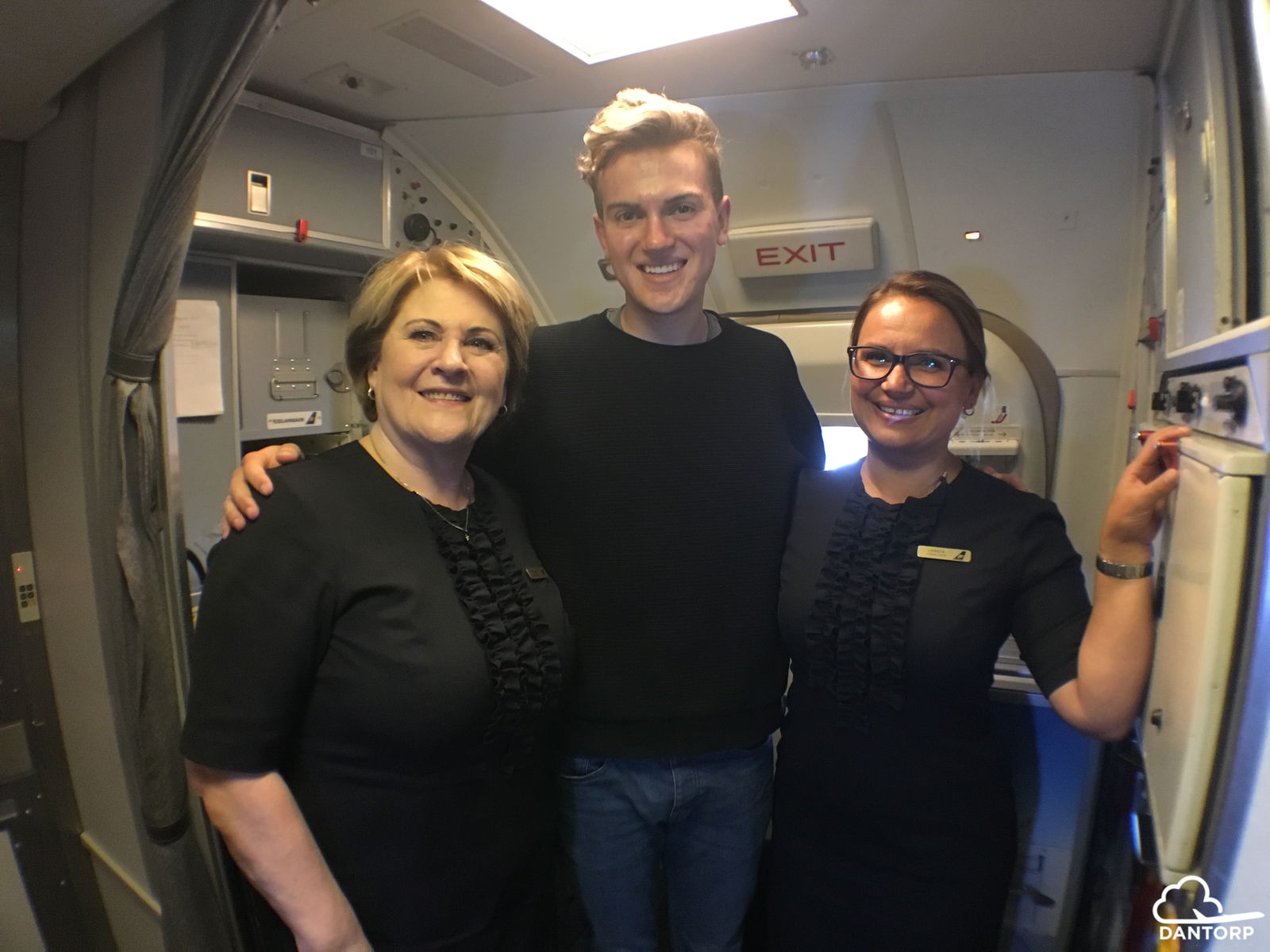 One thing I love about Icelandair is that their entire cabins are filled with witty Icelandic phrases. It adds a personal and cultural touch that conveys an appreciated attention to detail.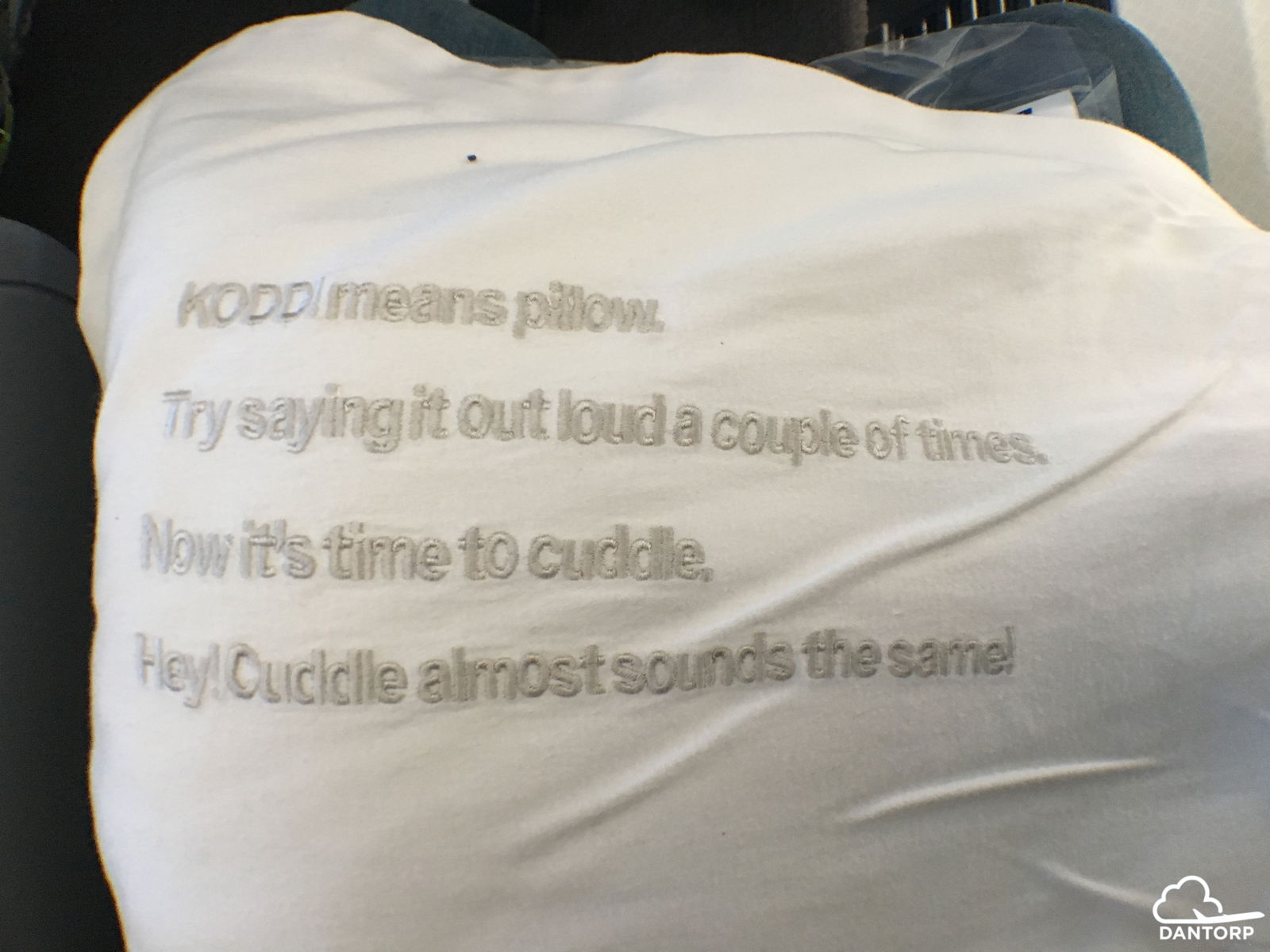 I rarely use the IFE when I fly, as I prefer to work or listen to podcasts/audiobooks. I often get drowsy when I try to read on planes, so audiobooks work well. On this flight I started listening to Tony Robbins's latest book after hearing him talk about it on the Tim Ferriss podcast – it made great entertainment, especially since the Icelandair headphones are almost Bose Quality, and had great noise cancelation.
There is also free Wi-Fi with an impressive connection speed!
The views as we flew in over the eastern coast of Iceland were among the best I've ever seen. I couldn't believe I'd be landing on that island soon!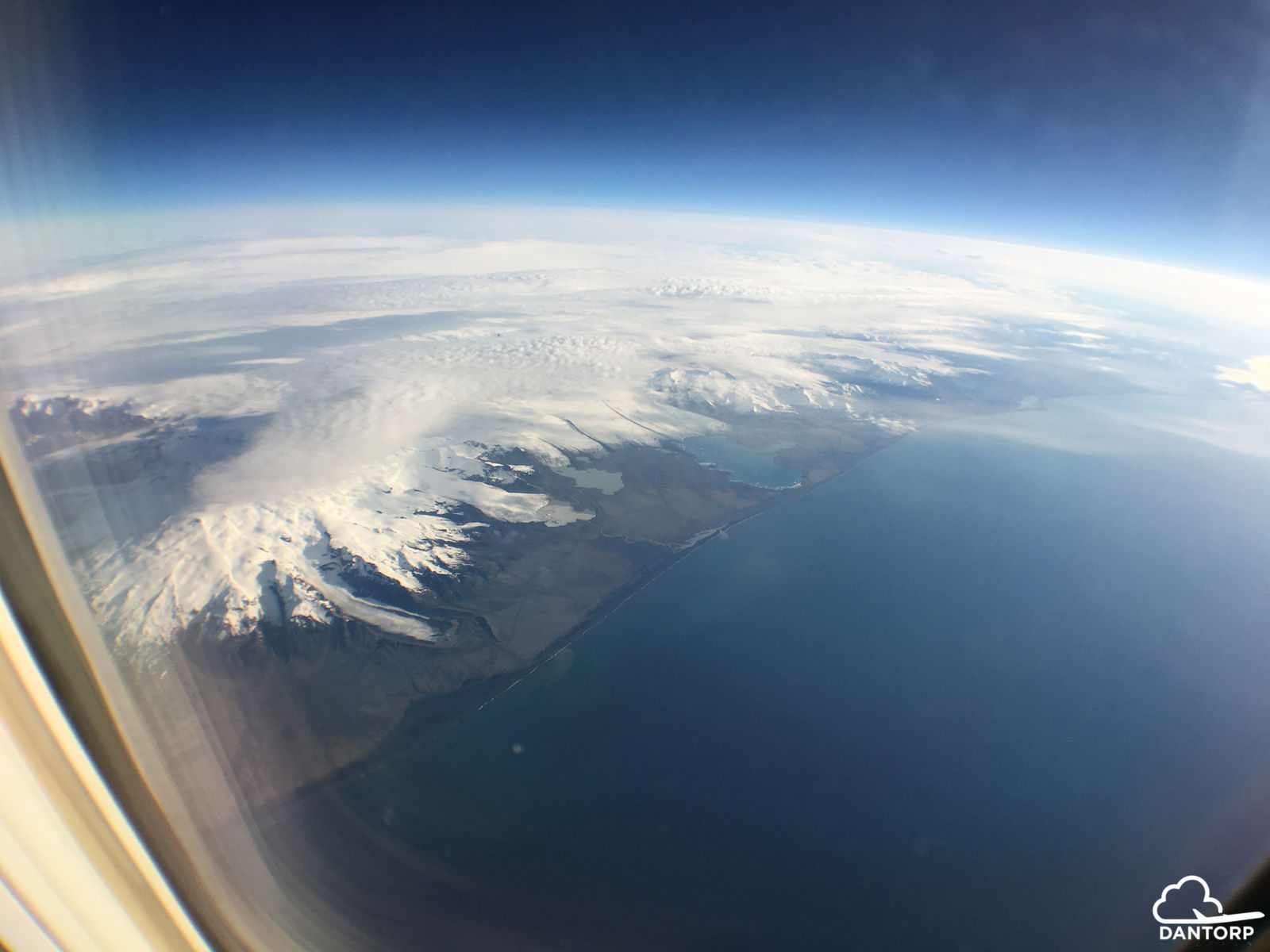 Around 30 minutes before landing I requested a coffee, which the purser gladly served. It came with some tasty Icelandic chocolates.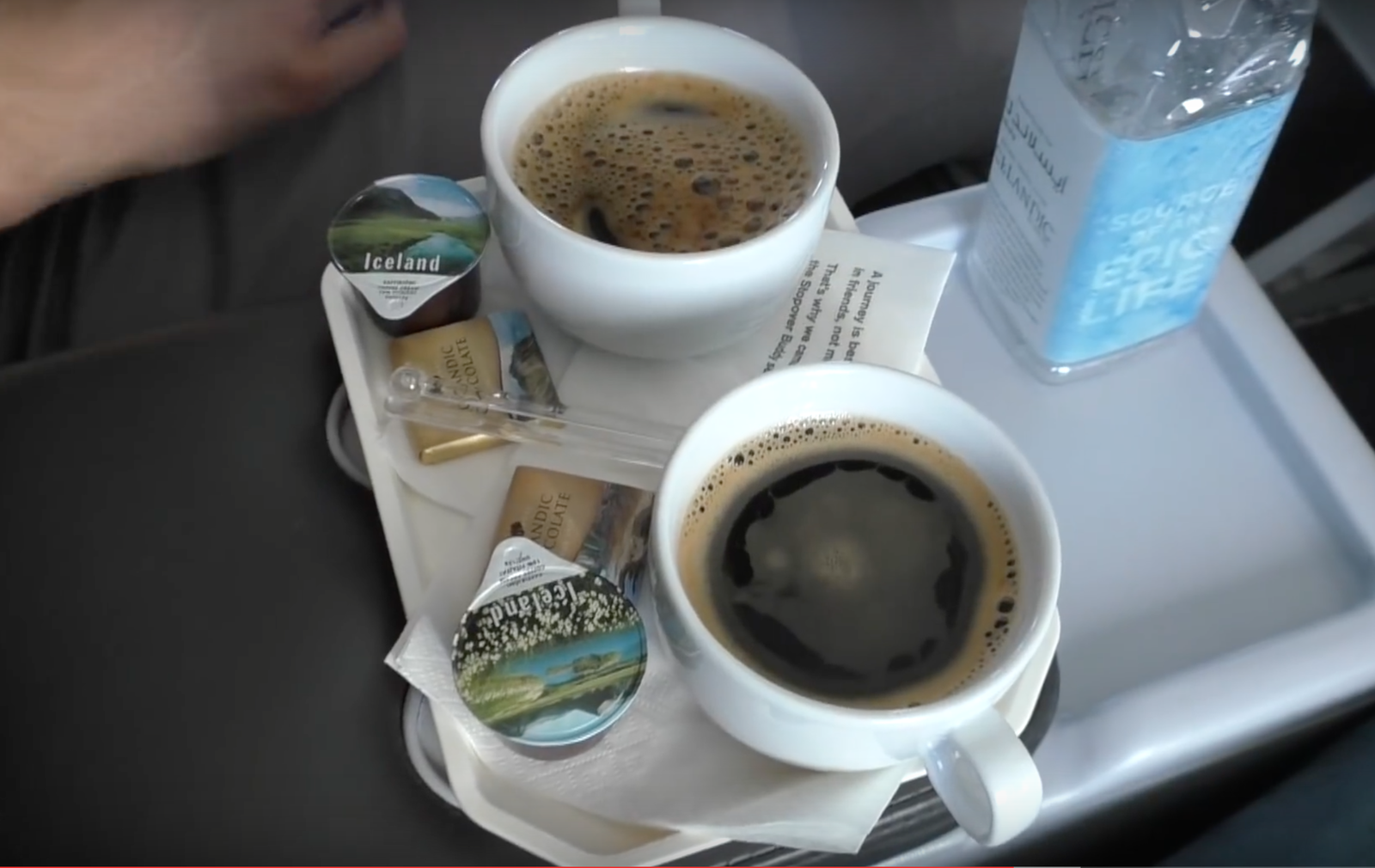 We soon started our decent toward Keflavik and landed right on schedule. The weather wasn't great, but I still enjoyed the views on approach. Something about the low clouds made the landscape all the more dramatic.
After a short taxi, we pulled into a bus gate and got to take an awesome nature colored bus to the terminal. My trip to Iceland was off to a good start!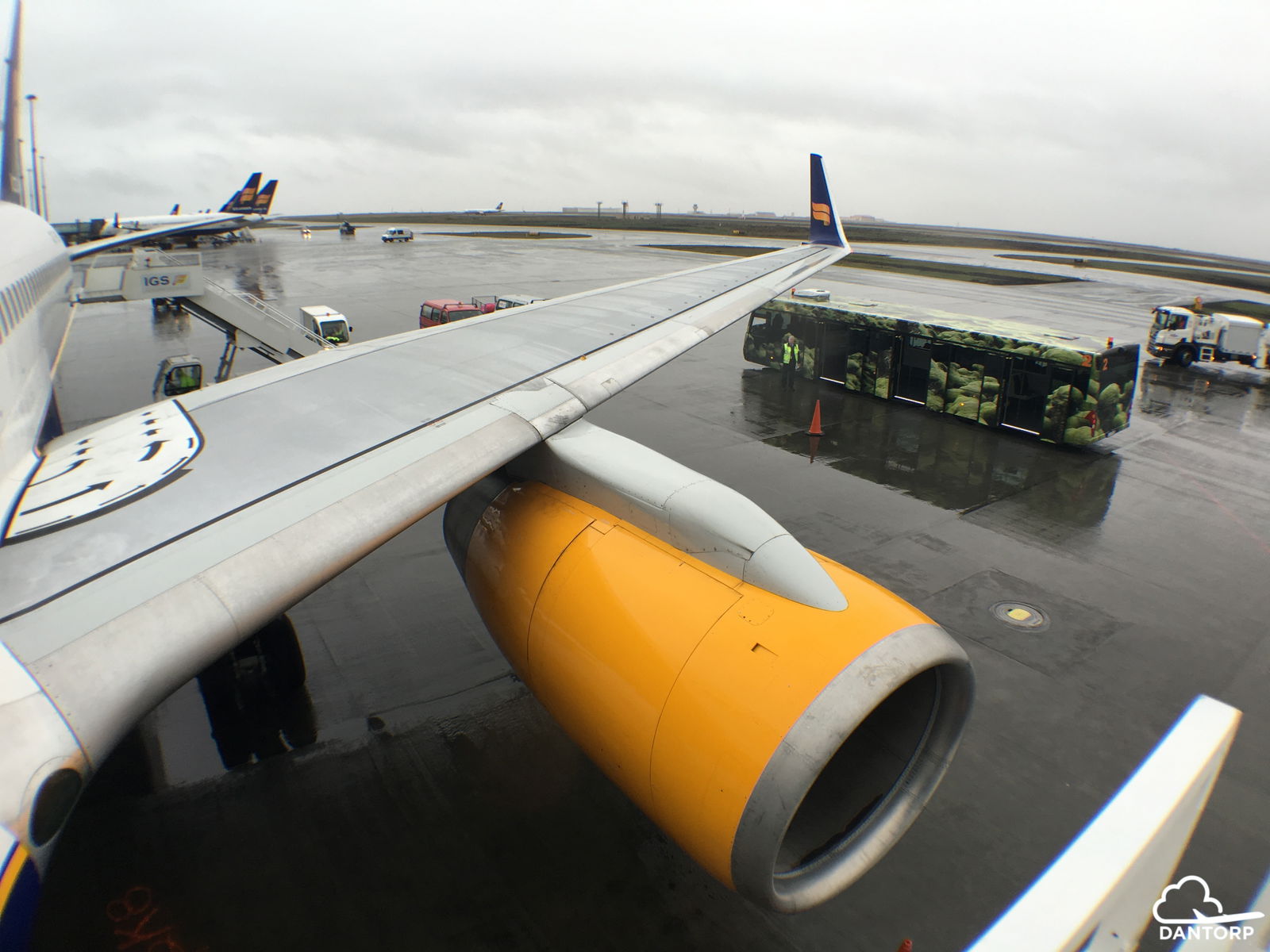 Bottom Line
In conclusion, I had a brilliant flight with Icelandair. Almost every aspect exceeded my expectations.
The food was delicious and well presented. The seat was comfortable, and although nothing revolutionary, it's by far the best business class product you can fly to Iceland. The service was warm and there was free Wi-Fi, which is a great perk. I wouldn't hesitate to fly Icelandair again, and I look forward to trying their economy class soon.
For those interested, here's my full video review of the flight.
Have you flown Icelandair before? If so, what did you think? Leave your thoughts in the comments below!