"Americans For Fair Skies" published a story today entitled "He may love points, but Ben Schlappig doesn't get the point of the Gulf carrier subsidy fight."
Now, I know exactly what they're doing here. They're going for earned media, because why pay for advertisements when they know I'll write about it here, and they'll get publicity from it? And they're right. I'll take the bait, because this is just too fun.
What is "Americans For Fair Skies?"
"Americans For Fair Skies" claims to be a "grassroots group of concerned Americans" that's "financially supported by thousands of concerned citizens." It's led by Donald Lee Moak, a former Delta captain and former president of ALPA (the Air Line Pilots Association).
Based on their 2015 tax return, the organization raised about $5.3 million over the course of nine months. They had a budget of $3.2 million over that period — $2.1 million went to advertising, $1 million went to the president's consulting company (Mr. Moak seems to have quite an incentive to keep this going), and $100,000 to "others."
Fair Skies has refused to reveal how much of their donations come from "concerned Americans" rather than, ahem, concerned airlines.
It seems to me like the Gulf carriers might not be the only ones that are heavily subsidized by organizations with bottomless pockets around here.
In the interest of full disclosure, I've never been paid a single dime from a US carrier or Gulf carrier.
What their response is in reference to
"Americans For Fair Skies" refers to the post I made regarding the self-proclaimed documentary (but more accurately, propaganda piece) that was published a few weeks back. Here it is:
Here's why they take issue with me
First of all, "Americans For Fair Skies," I'm happy that the copy & paste function on your computer still works. With how often you recycle the same inaccurate catch phrases, it's a miracle that the "C" and "V" buttons on your keyboard haven't worn out.
To summarize their main points here:
I've bent the narrative, have taken aim at American workers, and have failed to understand the importance of the campaign against the future of US aviation
For every route lost to a Gulf carrier, 1,500 good-paying American jobs are lost
Labeling the video as "propaganda" does a disservice to the people whose lives depend on the success of US airlines
If we don't take action, the airlines will go the way of the maritime industry and rapidly disappear
The consumer takes a hit because of the Gulf carriers, because the flooding of existing routes creates a loss of expansion opportunity for US airlines, and puts short-haul flights in jeopardy, which are dependent on longhaul flights for revenue
The US carriers want to provide "more options, more routes, more access to countries like India"
US airlines welcome competition and they want consumes to have a choice
My response
Let's address just a few areas they bring up:
Jobs, jobs, jobs!
They love pointing out how each route lost to a Gulf carrier costs "1,500 good-paying American jobs". Out of curiosity, how many routes are they going to claim have been lost to Gulf carriers? Let's say maybe Newark to Dubai and Atlanta to Dubai? 3,000 jobs maybe, using this logic?
Since this is all about good-paying American jobs, how many good-paying American jobs do you think are created by all the Boeing aircraft that the big three Gulf carriers are ordering? You know in the video how you shamed them for how many new planes they ordered (while seemingly not understanding that Qatar isn't in the UAE)?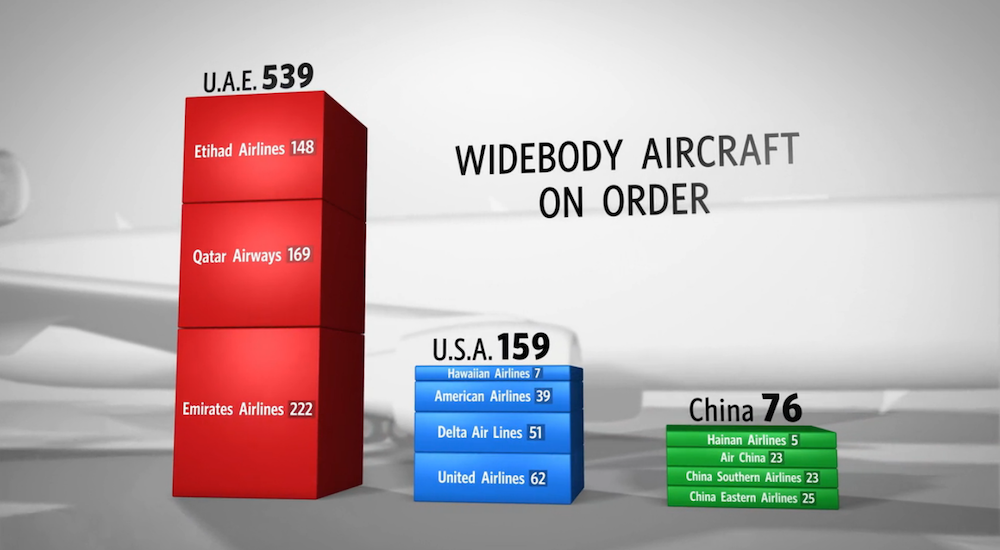 Oh, speaking of the importance of American jobs, how many widebody planes does Delta have on order from Boeing? Z-E-R-O. Not a single one. They do have 49 on order from Airbus though. What happened to the priority being good-paying American jobs?
Since this lobbying group is throwing around some numbers, let's throw around some numbers from Emirates. According to a study by Campbell-Hill Aviation Group, Emirates supported more than 104,000 American jobs and contributed $21.3 billion in revenue to the US economy, including $10.5 billion to the country's gross domestic product, and $6.4 billion of labor income in 2015.
While we're at it, should we talk about how Alaska, Hawaiian, and JetBlue seem quite happy with the partnerships they have with the Gulf carriers? The Gulf carriers are helping them fill seats, and creating good-paying American jobs.
If we don't take action, the US airline industry is at risk
Show of hands — how many of you are concerned about the US airlines going out of business? Just last week Delta announced their second quarter profit of $1.85 billion, which is a $172 million increase from the same quarter the previous year. That's despite a $125 million operational disruption.
You know why the US airlines are doing so well? Because they're charging us for everything, from checked bags to not being miserable (aka basic economy). But you want us to believe that consumers are taking a hit because of Gulf carriers? Really?
The suggestion that domestic routes would disappear due to international routes being discontinued is preposterous as well. Due to the fee environment in the airline industry, airlines are performing perfectly well on domestic routes. The demand for domestic travel isn't going away, so I think many of us would be perfectly happy seeing some more competitors enter the industry.
Or maybe they're suggesting that the domestic routes at risk are the government subsidized ones?
US airlines welcome competition and want customers to have a choice
LOL!
Here's the real problem
A lot of people seem to accuse me of taking one side or the other. Some suggest I'm overly supportive of the Gulf carriers (and I can see why they'd say that), and some suggest that I'm overly supportive of the US carriers (seriously). I call out the the Gulf carriers when they're in the wrong, I have a lot of problems with how business is done in the Middle East, and I think Qatar Airways' CEO is a babbling clown.
Here's my real issue — I don't necessarily disagree with the argument that I think the US carriers are really trying to make.
The problem is that they haven't once actually tried to make that argument. Not a single time. Is this an actual policy issue? If the US carriers really believe that government subisidies in airlines are illegal:
Why do they continue to accept US government subsidies on many routes?
Why do they specifically target Emirates, Etihad, and Qatar, and not the dozens of other airlines that are part of the Open Skies agreement and are government subsidized?
If they truly believe that these airlines are doing business illegally, then why does American continue to partner with both Etihad and Qatar?
If the US carriers wanted to say "we want to look at the role that government subsidized airlines play in the Open Skies agreement," I'd support that. I think there would be validity to it.
But that's not the argument they're making.
They're suggesting that US airlines are at risk of going out of business, while the airlines record their biggest profits ever.
They're suggesting that consumers are losing out because of the Gulf carriers, when in reality we like having the choice, the additional routes they open up, and overall aren't too pleased with the state of the US airline industry.
They're suggesting that we won't be able to get our military where they need to go if the Gulf carriers aren't stopped.
They're suggesting that the most important thing is American jobs, while forgetting the hugely positive contributions that the Gulf carriers make to the US economy, including the number of planes that they order from Boeing to fly around the world (while Delta doesn't have a single widebody plane on order from Boeing).
They're suggesting that government subsidized airlines are illegal in the context of Open Skies, all while American continues to partner with Etihad and Qatar, Delta continues to partner with Saudia, United continues to partner with Singapore, etc.
That's my challenge to these lobbying groups — stop with the propaganda, and stop with the sensationalism. Give us an actual rational argument and thought to support, and we're right behind you.
Until then, I'm going to keep calling you guys out on this garbage…