For a couple of years now, the "big three" US carriers, led by Delta, have been running a massive smear campaign against the Gulf carriers, and it's just laughable. In early May I shared a short video featuring a Delta flight attendant who explains the "situation" with the Gulf carriers in an incredibly dishonest way. It's just unbelievable how low the US carriers will go to trash the Gulf carriers.
As if that wasn't bad enough, Delta has now released a 15 minute "documentary" intended to "educate" their employees about the situation with the Gulf carriers. A documentary is defined as "a movie or a television or radio program that provides a factual record or report," and that couldn't be further from what this is.
This is a propaganda piece at its finest. Hell, this is so well produced that it would make Kim Jong-un proud. Some of the things in the video are accurate, some are downright lies, and most are simply a stretch.
Here's the full 15 minute video, for anyone who is interested:
Now, I'm not going to address everything point-by-point, though there are a few things I wanted to mention:
This video is actually better produced than past ones
For a propaganda piece, this is well produced. They intelligently use all of Akbar Al Baker's stupid quotes (and there are lots of them), they quote reputable people, and it certainly leaves a viewer who doesn't know any better saying "this ain't right, I'm gonna Tweet the president."
As I've always said, the US carriers could have a valid point
In the battle between the US and Gulf carriers, it's not that I 100% side with Gulf carriers. Instead, I detest the way the US carriers are approaching this. The US airlines certainly have a topic that's worth pursing — what does a "level playing field" really look like in an international aviation treaty?
What I detest, however, is that they've argued that subsidies are illegal, yet they've only singled out three carriers rather conveniently, when there are dozens of airlines participating in Open Skies that are subsidized. This topic should be much broader than the US3 vs. the Gulf3, and until the US actually makes that point, I refuse to support their case.
My point is this — US carriers, if you want me to support your case, give me a case that can actually be supported in good conscience, rather than a faux-patriotic puff piece. And if you really think that the Gulf carriers are going to destroy the American aviation industry, stop partnering with them (I'm looking at you, American)!!
What's wrong with this video? Where do we even start?
A former US trade representative says "foreign government subsidies are simply illegal." If it's that simple, why is this conversation only about two countries? What about the countless number of other airlines that are government subsidized that fly under the Open Skies agreement?
A Delta tech ops employee and Delta pilot say "it's all about fairness. You give us a level playing field, and we can compete with any airline. We are the crown jewel, they want our market." This is why I find the victim mentality on the part of Delta so funny. Hey Delta, guess what? You can compete! You're one of the world's most profitable airlines, and your profitability has only increased over the years, in spite of the Gulf carriers greatly increasing service to the US. So as much as they'd like to keep pretending "we can't compete," Delta is competing, and they're competing very well. C'mon Delta, give yourself some credit. 😉
There's a Delta ramper who says "I work at international concourse in Atlanta and I see Qatar come in, the plane is always empty, every day." Hyperbole much?
While they're correct on their point that the Gulf carriers have a bunch of planes on order, can't they at least get the numbers right, if they're going through the effort of making a "documentary?" There are a lot more planes on order in China than they claim. Besides, this only reinforces the point that Delta would much rather buy used planes rather than new ones. They also don't seem to know that Qatar doesn't belong to the UAE, which is just beyond embarrassing.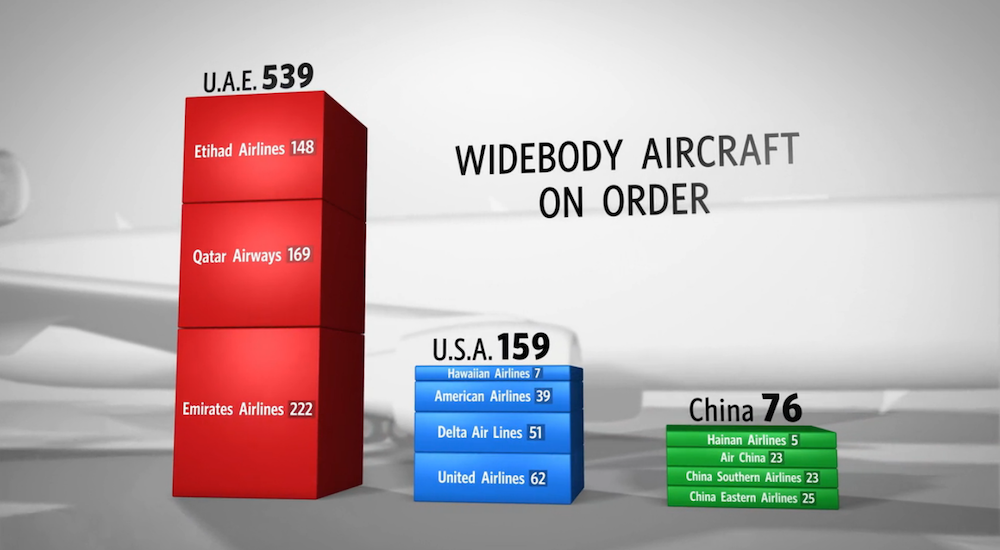 A Delta executive says "it's a crime that we don't fly to India." Let's keep in mind that Delta cut nonstop flights to India in 2009, when oil prices were high, and when they cut a whole bunch of other international capacity. Can they really in good conscience blame the Gulf carriers for that?
Then they quote a Delta reservations agent who says "when somebody calls in and says 'I want to go to India,' I have to tell them that we don't fly there, and I have to refer them to another airline." Oh c'mon, Delta has several codeshare agreements in place to India, as they always have. Delta can sell someone a ticket to India, and they'll make a lot more money off the ticket now than they did when they flew nonstop. Are you also going to blame the Gulf carriers for the fact that you don't fly to Brisbane, Transylvania, and Timbuktu, and have to "refer people to other airlines?"
Then they talk about how the Gulf carriers are impacting other airlines. "Qantas has seen their profitability decrease year after year, and essentially what Emirates did is back them into a corner and turn them into one of their feeders." Yep, Qantas was backed into a corner with this partnership, and it has worked horribly for them. Oh wait, their past two years have their most profitable yet, and they've said that "our customers, our employees and our share holders are reacting unbelievably positively to the Emirates alliance." It's a win-win, but still, shame on Emirates, apparently.
But the most preposterous claim of all is about the military. If the Gulf carriers continue to grow, then the US airlines won't be able to afford any widebody planes anymore, and then our military won't be able to get where they need to go. I mean… really?
Okay, I don't want to spend my whole Sunday morning writing about this, so I'll stop there.
PS: Delta, unless the Gulf carriers recently started flying to Kentucky, it's actually Frankfurt.