Over the years we've seen Starwood, Marriott, IHG, and Hilton all launch experiences marketplaces. The idea is that these allow you to redeem points for unique experiences you might not otherwise be able to have, and it presents a fun alternative for redeeming your points in a memorable way.
While generally the best way to redeem hotel points is for hotel stays, I'm a fan of these options, and I sure have enjoyed redeeming Starpoints for some cool suite tickets at concerts.
Hyatt has just announced that they're launching a similar initiative… with a twist.
Hyatt launches FIND, an experiences marketplace
Today Hyatt is launching FIND, which is "a curated selection of over 100 unique, exclusive experiences focused on enhancing the mind, body, and spirit, both during and outside hotel stays." These experiences are centered around food, drink, fitness, relaxation, and exploration, in cities around the globe.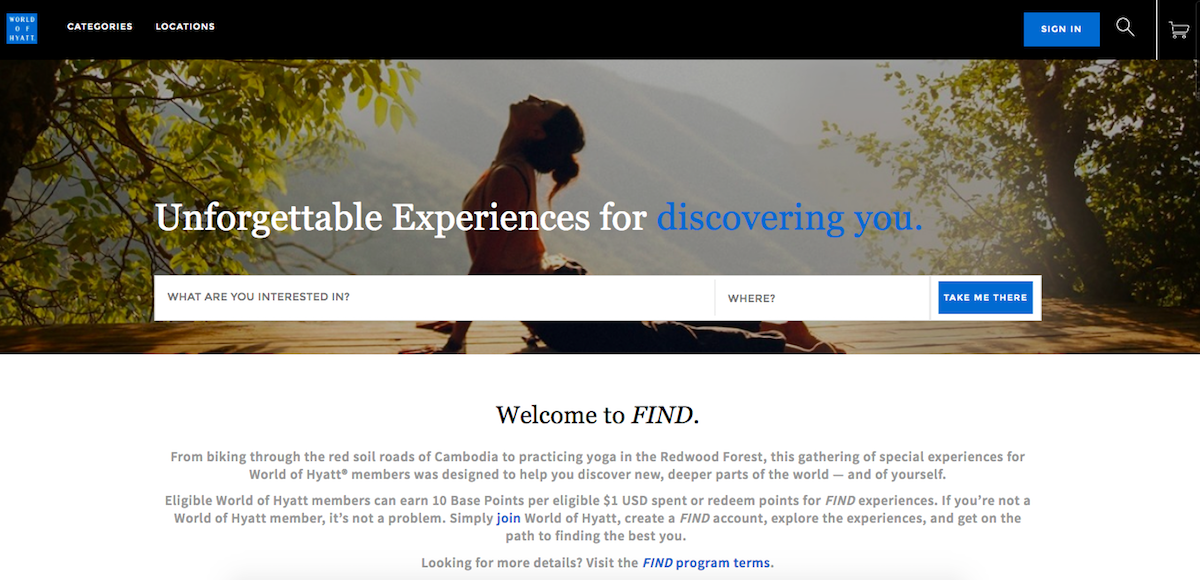 While many experiences have already been loaded, Hyatt will continue to evolve the list of experiences over time, though they're not available in Europe, or to residents of Europe.
Members will be able to earn and redeem World of Hyatt points for experiences through FIND. Unlike some experiences marketplaces, there's no bidding on experiences here, but rather there's a fixed cost for all of them. You have two options for paying:
You can pay cash for the experience, and earn 10 World of Hyatt points per dollar spent, which is double the regular earning rate for hotel stays (you usually earn five points per dollar spent at Hyatt properties); I value World of Hyatt points at 1.5 cents each, so to me that's the equivalent of a 15% return
You can redeem World of Hyatt points for the experience, and it seems like the value you get per point is consistently 1.4 cents per point, which is fair
If we're going to view points as a true currency, then I'd say paying cash is generally a better value here. That's because if you redeem points you're also forgoing the 10 points per dollar you'd get if paying cash, meaning the real value you're getting is 1.2 cents per point (1.4 cents, minus 15% to account for the value of the points you're forgoing).
What kind of experiences are available through Hyatt FIND?
There are already over 100 experiences available, so here's a small sampling of them:
Create Your Own Herbal and Organic Beauty Products — San Francisco
Insiders Tour of the Chicago Farmers Markets Classic Experience with Aram Reed — Chicago
Join the Founders of Goat Yoga Las Vegas for a Private Feeding and Yoga Session with Baby Goats — Las Vegas
Paragliding Tandem Flight Experience — Los Angeles
Private Bonsai Class with New York City's Premier Professional Bonsai Artist — New York
Guided Hike Through Forever Wild Old Growth Forest Untouched by Man — Miami
Masters of Food and Wine: Tastemakers Masterclass and Dinner — Sydney
Calligraphy with Delhi Hero Qamar Dagar — Delhi
A Taste of Buddhism — Siem Reap
Where Culture Meets Cuisine, A Vietnamese Cooking Class — Saigon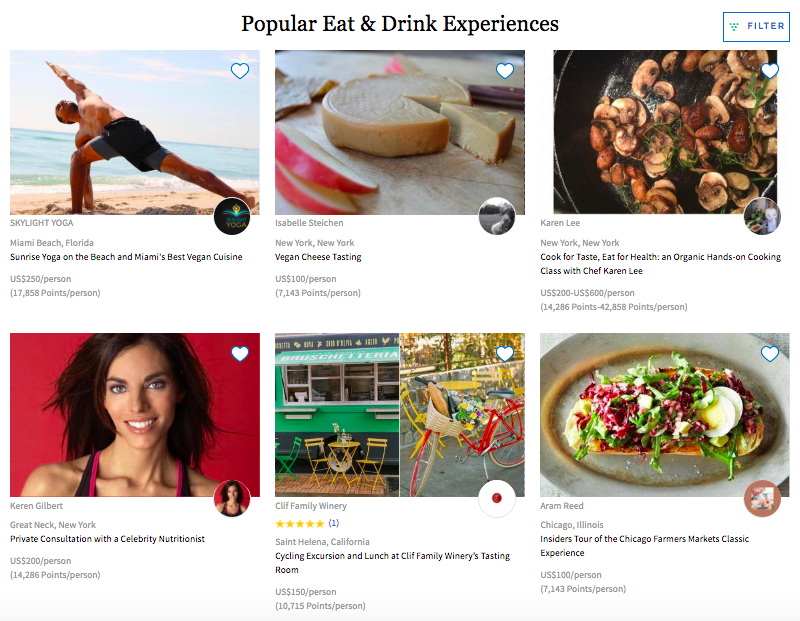 My take: Hyatt's FIND value proposition
I have two overall takeaways from this — one revolves around the actual value proposition, and the other revolves around Hyatt's new "wellbeing" focus.
First let's talk about the value of these redemptions. What's interesting here is that the redemptions are fixed price, so unlike with some other experiences marketplaces, there's no bidding. Furthermore, you can pay with either cash or points.
One of the cool things about SPG Moments is that there are experiences you can bid on, and that means it's possible to get an exceptionally good value at times. In this case you're not going to get outsized value, since the cost is the cost, and that's that. I guess it's nice that they let you pay cash or redeem points, which other marketplaces don't allow.
If I wanted one of these experiences I personally wouldn't redeem points, given that you're getting 1.4 cents of value per point, and you're forgoing 10 points per dollar. So if I did want to partake in one of these experiences, I'd pay cash, because I want to get more than 1.2 cents of value per Hyatt point.
My take: Hyatt's focus on wellbeing
Ever since the World of Hyatt program was launched at the beginning of last year, there has been a focus on wellbeing. I really want to like this concept, and I get what Hyatt is going for. Yes, people care about their health and wellbeing more than in the past, and it's nice of Hyatt to acknowledge that.
However, am I the only one who on some level feels like Hyatt has gone from a parent that feeds their kids junk food (or maybe just those really good freshly baked cookies in Grand Clubs) and lets them live their life (not saying that's right or wrong), to a parent that suddenly forces their kids to eat nothing but vegetables and do yoga against their will? I get Hyatt has done their research on what they think millennials want, but it almost seems like the program is pandering to people like Rob Lowe's character in Parks and Rec.
I've been loyal to Hyatt for a decade, and it's only in the past year or so that they've had this huge emphasis on wellbeing. Hyatt claims that this is through continuing to listen and understand what is important to their members. Sure, I think it's great and innovative that the new Hyatt Credit Card offers bonus points on gym memberships, which is something that I don't think any other card offers. I appreciate that.
But I think Hyatt's focus is a bit extreme. I mean, I don't mind getting on the treadmill and I recently started a skincare routine that costs me too much money and that I question the effectiveness of (I'll report back), but that's about the extent to which I want to engage in "wellbeing." Maybe that's just me.
Should I feel ashamed that a private stand up paddle yoga class or vegan cheese tasting or group rowing outing or private aerial hammock class or private parkour lesson (I don't even know what that is) doesn't appeal to me?
So maybe that's on me, but if I'm going to engage with one of these experiences marketplaces, can I have front row tickets to a Shawn Mendes concert and dinner at a really cool restaurant instead?
Bottom line
All things considered I'm thrilled with the direction the World of Hyatt program has taken lately. Hyatt recently launched a phenomenal new credit card, award stays now count towards status, Globalist suite upgrades have an improved expiration policy, Hyatt Privé adds a lot of value to Hyatt stays, etc.
That's the stuff that adds value to me, and not all of these wellbeing centric initiatives they're launching. On the plus side, I commend Hyatt for at least offering fair redemption rates with these experiences, rather than only offering half a cent per point, or some similarly horrible value.
As I always say, even if these aren't ways I'd personally redeem points, more options are always a good thing.
What do you make of Hyatt's new FIND experiences? Does World of Hyatt's wellbeing focus resonate with you?