The upcoming Hilton devaluation has me thinking about the best ways to redeem Hilton points before March 28, and one property that interests me is the Hilton Bora Bora Nui.
I've been to the Maldives and wouldn't mind visiting Tahiti/Bora Bora to be able to compare them, but for me it's not a destination I'd like to visit in and of itself. While I'm sure it's stunning, I prefer "action" destinations over relaxation destinations. That being said, if I could add a stopover enroute, or even make Tahiti the stopover enroute to somewhere else, it could be worthwhile. The problem is that there aren't many logical stopover points if booking an award ticket between the US and Tahiti.
There are only two airlines flying nonstop between the US mainland and Tahiti, and those are Air France and Air Tahiti Nui. Air Tahiti Nui has a lot more flights than Air France, but it sure helps to have access to award availability on both airlines, as Tahiti is one of the toughest destinations in the world to get to on miles.
There are two practical ways to book an award ticket from the US mainland to Tahiti:
American charges just 125,000 AAdvantage miles for roundtrip business class between the US and Tahiti, and they partner with Air Tahiti Nui. They don't impose any fuel surcharges on these redemptions.
Delta charges 150,000 SkyMiles for roundtrip business class between the US and Tahiti, and they partner with both Air Tahiti Nui and Air France. That being said, they impose fuel surcharges for redemptions on Air Tahiti Nui.
So while American's rates are substantially lower and they don't impose fuel surcharges, I'd probably book through Delta since I value their miles less, and since they get you access to Air France and Air Tahiti Nui award space. But the real benefit of booking through Delta is that for the same cost you can actually make Tahiti your stopover point and continue to Australia or New Zealand on the same ticket.
For example, you could fly from Los Angeles to Tahiti on Air Tahiti Nui, have a stopover, then continue on them to Auckland (they don't fly anywhere in Australia unfortunately), and then return out of either Australia or New Zealand back to the US. You could route the return on Virgin Australia, China Southern through Guangzhou, Korean Air through Seoul, or even Aerolineas Argentinas through Buenos Aires if you feel like sending out a fax.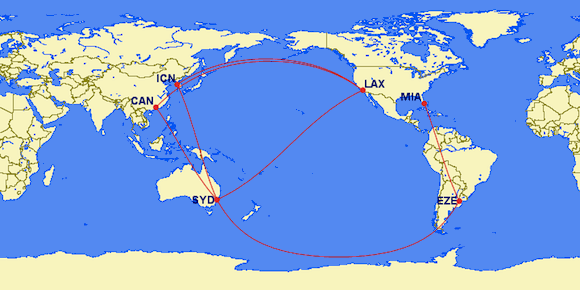 Possible return routings
Now if you have American miles and prefer not returning directly from Tahiti, for 30,000 miles in business class you could book an award ticket between Tahiti and Australia/New Zealand and return from there, making the cost of a similar trip 155,000 AAdvantage miles.
Anyway, just a quick tip for anyone looking to go to Tahiti that wants a bit more excitement than just a roundtrip journey in Air Tahiti Nui's new cutting edge business class.