Given that my schedule is fairly flexible I tend to plan trips last minute. This is for a couple of reasons. First of all, award availability on the better products seems to be most readily available within a week or two of departure. And second of all, I always want to try the latest airline products for the purposes of reviewing them, and very rarely do they roll out as expected, so it helps to plan last minute once they're actually introduced in order to experience them.
I have a tendency to plan my travels more around airlines and destinations than hotels. However, due to all the hotel devaluations that have been announced I'm in a situation for the first time whereby I need to plan a ton of future travel in the next few weeks around hotels.
Here's what I have to burn through in the coming weeks/months:
500,000 Hilton Honors points, which will be severely devalued on March 28, 2013
Two free Hilton weekend nights from the Citi Hilton Reserve card, which expire November 1, 2013
Two free Hyatt nights in a suite from the Chase Hyatt Visa card, which expire on August 31, 2013
Perhaps some Starwood cash & points stays before the category changes and cash & points pricing changes kick in on March 5, 2013
How the hell did I end up with 500,000 DisHHonor Pesos Honors points?
So I have 500,000 Honors points. Cause, ya know, I'm a smartass, and thought I'd start saving up for the next few AXON awards I'd want to book, given that points never devalue. Especially currencies that are issued in the same quantities as Vietnamese Dong.
AXON awards are valid for four nights at a category seven property, and cost 145,000 points. That's currently Hilton's highest category, and the four nights cost you 145,000 points, compared to the regular cost of 50,000 points per night. So that's better than buy three get one free. The value of AXON awards will decrease substantially as of March 28, as they're only valid for category one through seven properties, while they'll now have 10 categories.
So practically speaking I'd like to book three AXON awards, which would burn up 435,000 points, plus the two Hilton weekend night certificates. So that's a total of 14 hotel nights that I have to book in the next month. At Hilton properties.*Gulp*
In this post I outlined some of the best redemptions using AXON awards. I mentioned the Conrad Tokyo, which is a great hotel. But if I'm in Tokyo I'd rather stay at the Park Hyatt on points, which is an even better hotel. I also really like the Conrad Hong Kong, but I don't foresee a need/desire to spend four nights in Hong Kong this year. I know Hong Kong like the back of my hand and love passing through there for a night or two, but don't think I'll be doing four nights there anytime soon.
Then there's the Conrad Koh Samui, which I'd definitely love to visit, so that's the award I have to force myself to plan.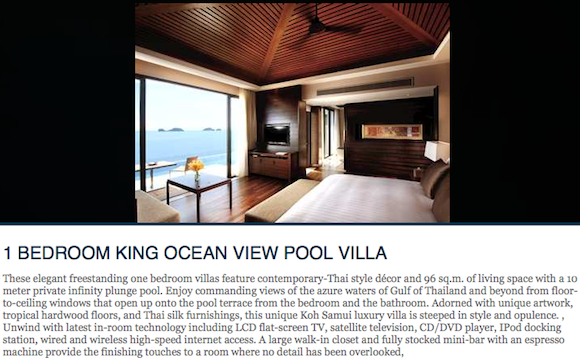 And then there's the Conrad Maldives, which also looks very nice and should be a great redemption. But I feel like if I go back to the Maldives I'd want to stay at the Park Hyatt, and I'm not sure I'd want to visit two properties in the Maldives (or for that matter spend more than four nights there), given the cost of transport and lack of things to do. Or for that matter I'm not even sure I need to visit the Maldives again anytime soon, given the challenge of finding awards space there, the cost of transport between the islands, and the fact that you have to pay to buy up to an overwater bungalow.
On almost the exact opposite side of the globe as the Maldives is the Hilton Bora Bora Nui, which is also a great redemption. Though I'm not sure I want to go all the way to Bora Bora for the same reasons I'm not sure I want to go to the Maldives — finding award space to Tahiti is tough, flights between Tahiti and Bora Bora are expensive, and there's not a whole lot to do once you're on the island.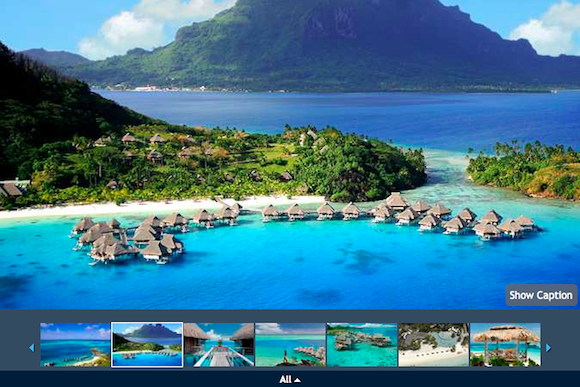 Hilton Bora Bora Nui
Gary and I seem to be on the same page, as he suggests the same hotels plus the Conrad Sanya. While the Conrad Sanya looks very nice, revenue rates are quite reasonable and it's only a category six property, so it's not quite as good of a use of an AXON award.
Any other Hilton properties that are fairly nice, usually expensive, category seven, and in awesome destinations that are worth spending four nights in?
Is Peru finally calling?
To be honest, redeeming Starpoints is my lowest priority on the hotel redemption front, since their value isn't going down by that much in my book. Still, I've been dying to visit their two Luxury Collection properties in Peru, specifically Tambo del Inka and Hotel Paracas. Based on what I've heard these are phenomenal properties, and Tambo del Inka is a great launching point for a Machu Picchu expedition.
Both of these properties will be going from category four to category five, made only worse by the fact that the cost of cash & points is going up by ~20%. So both hotels will go from costing 4,000 Starpoints plus $60 per night, to costing 6,000 Starpoints plus $110 per night.


That's a discount of 2,000 Starpoints and $50 per night for locking in this reservation by March 5, even if it's for travel later on.
Maybe it's worth planning a Peru trip now?
Where to spend two nights in a suite at a Hyatt?
This is even lower on my immediate priority list than Starwood, but by August 31 I do have to redeem my two free nights in a suite from the Chase Hyatt Visa card sign-up bonus.
The two Park Hyatts I most immediately want to visit are those in Sydney and the Maldives, but go figure that those are two of the handful of properties where you can't redeem for a suite. So do I just redeem the two free nights for a "basic" room there, or go out of my way to the Park Hyatt Paris, Park Hyatt Tokyo, Park Hyatt Zurich, etc., so that I'm "maximizing" my stay?
For example, a suite at the Park Hyatt Tokyo retails for over $1,700 per night including tax. I've stayed at the hotel before, but at the same time from a "maximization" standpoint it's tough not to want to stay there again. But then we get into the debate over whether maximization is getting the most dollar value out of a redemption or getting the best new experience.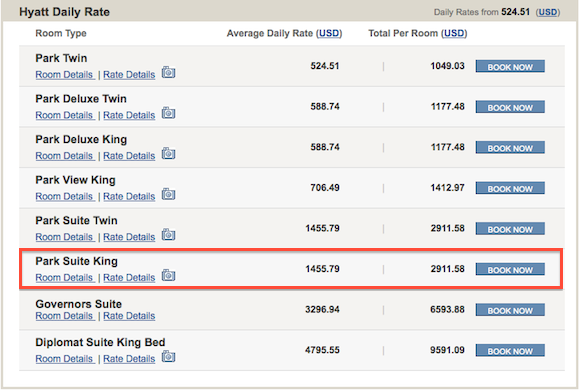 Where would you stay?
Conclusion
The above isn't meant to be about me, even though I have a lot more questions than answers, but rather I'm just trying to explain my thought process given my circumstances. My hope is that those of you in a similar situation can apply it to your circumstances. Or maybe we can do some group brainstorming about Hilton properties other than the Conrads and Hilton mentioned above that would be a good use of points for redemptions made in the next month.