In the interest of full disclosure, OMAAT earns a referral bonus for anyone that's approved through some of the below links. These are the best publicly available offers (terms apply) that we have found for each product or service. Opinions expressed here are the author's alone, not those of the bank, credit card issuer, airline, hotel chain, or product manufacturer/service provider, and have not been reviewed, approved or otherwise endorsed by any of these entities. Please check out our advertiser policy for further details about our partners, and thanks for your support!
Chase issues some of the best rewards credit cards out there. When it comes to applying for Chase credit cards, people frequently find themselves faced with Chase's "5/24 rule," which is one of the restrictions they have in place.
So in this post I wanted to take a closer look at what exactly the rule is, and how you can check your status towards this limit.
What Is The Chase 5/24 Rule?
With Chase's 5/24 rule, you typically won't be approved for a Chase credit card if you've opened five or more new card accounts in the past 24 months (as I'll cover below, some cards don't count towards that total).
Why Does Chase Have The 5/24 Rule?
All credit card issuers have some policies in place to attract new cardmembers. Given how generous many card offers are, they try to create some rules that they think will encourage profitable behavior.
While Chase has never publicly explained this, the assumption is that the 5/24 rule is intended to encourage profitable behavior, and to prevent card members from being approved who may not have long-term plans to be clients.
Of course, there's no perfect system, but it seems that their metrics suggest this is working, because they've expanded this since it was first introduced.
What Chase Cards Are Subjected To The 5/24 Rule?
While only limited cards were subjected to this rule when it was first introduced, nowadays all Chase cards are subjected to the 5/24 rule. So as a general rule of thumb, don't expect you'll be approved for any Chase cards if you're above their limit.
Do Business Cards Count Towards The 5/24 Limit?
You're above the Chase 5/24 limit if you've opened five or more new card accounts in the past 24 months. However, as I hinted at, not all cards count towards that limit.
The most notable exception is that many business card applications won't count towards the 5/24 limit. Why? Because generally, business cards won't show on your personal credit report as a new card.
Based on the way Chase checks your eligibility, they wouldn't see the business cards you've opened.
So applying for cards like The Business Platinum Card® from American Express, The American Express® Business Gold Card, The Blue Business® Plus Credit Card from American Express, etc., don't count towards the 5/24 limit.
The same is true of Bank of America, Chase, and Citi cards. The exception is that Capital One business cards typically show on your personal report, so those would count towards the limit.
How Can You Determine Your 5/24 Status?
One question I'm often asked is how you can see your status as it relates to 5/24. Most people probably remember how many cards they've opened in the past 24 months, but for those who don't, there's an easy and quick way to look it up.
My preferred way of looking it up is through Credit Karma. You can register for Credit Karma for free, which is an easy process. You'll just need to enter some personal information and then verify some security questions, all of which should take just a couple of minutes.
Once you're logged into your account, you should see your credit scores displayed.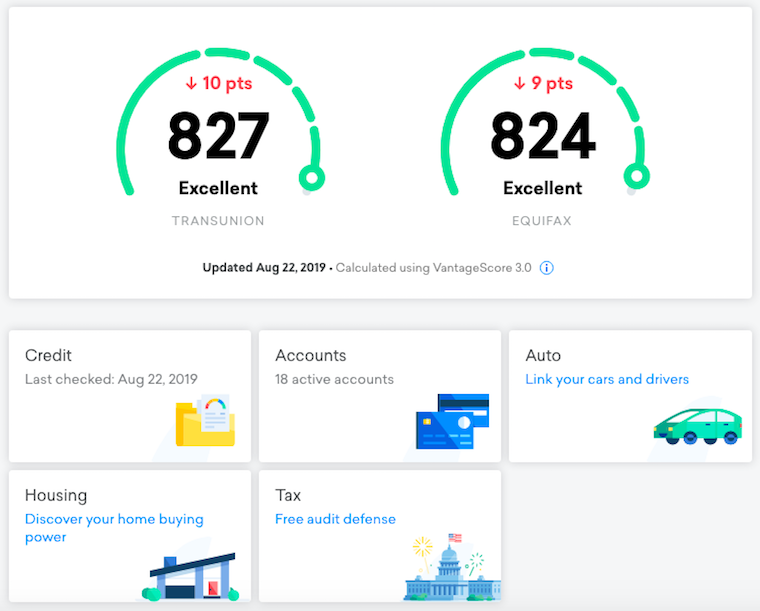 If you click on the "Credit" section you can see all kinds of interesting information, though this won't accurately show your 5/24 status.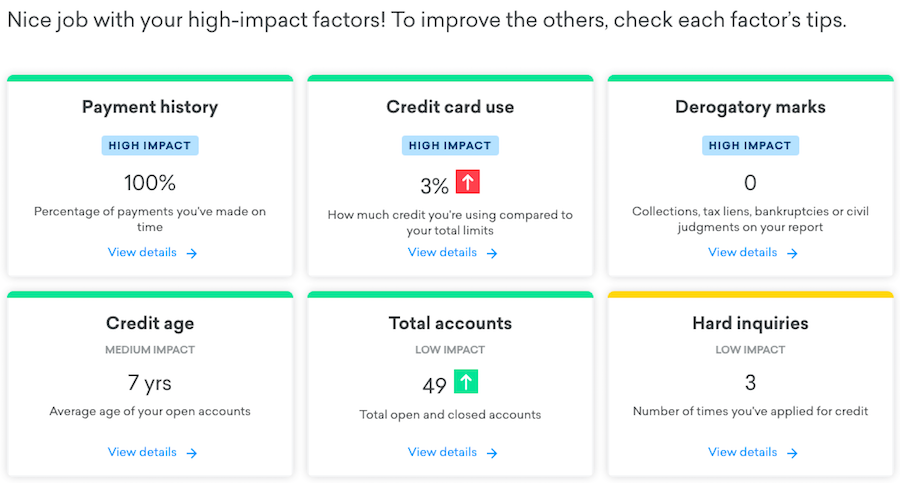 The easiest way to definitively check your 5/24 status is to view your accounts after you log into your Credit Karma account. This is a page that's part of their older interface that isn't otherwise accessible off the main site anymore, and it's also the only part of the site that will show you the accurate info you need.
This page will basically show your entire card history. On this page, click the "Open Date" button, which will sort all of these accounts based on when they were opened (if you push it twice you'll see the most recent inquiries at the top, rather than at the bottom).
That will show you all the cards you've opened, including those that you've closed in the meantime. For example, in my case, I'm exactly at 5/24. My fifth most recent opened account was on September 23, 2017, so in about a month I'll once again be below the 5/24 limit.
I always recommend waiting until the beginning of the following month before applying, so in the above case I'd wait until October 1 before applying for a Chase credit card.
There are a couple of other things to be aware of and consider:
Only credit cards count towards this limit, and not car loans, mortgages, etc.
It can sometimes take a while for recent applications to show on your report, so if you've applied for a card in the past few weeks, it may not be on there yet
Which Are The Best Chase Cards To Get Under 5/24?
Chase has so many excellent rewards cards, which is why it can be tough to choose which to apply for.
On the most basic level, I love the Ultimate Rewards program. This includes the following four excellent personal credit cards:
Then there are three great business cards earning Ultimate Rewards points:
The ideal setup is to have six of the above seven cards, which I consider to be the Chase "holy grail" (and it's also what I have). The reason I say six of the seven cards is because you have to choose between the Sapphire Preferred and Sapphire Reserve, though in the other cases you can get all the cards, and they make amazing complements.
If you're applying for Chase cards while under 5/24, I'd generally recommend applying for business cards before personal cards. That's because while both business and personal cards are subject to 5/24, business card applications don't count as further applications towards the limit.
Chase also has lots of great co-branded credit cards to consider, including the:
Chase 5/24 Summary
All card issuers have restrictions in place regarding who they will and won't approve for cards. One of Chase's primary restrictions is the 5/24 rule, which means you typically won't be approved for a card if you've opened five or more new card accounts in the past 24 months.
Hopefully the above is a good outline of how to determine your "status" towards that limit.
Chase has some of the best rewards cards out there, so if you're underneath the limit, there are lots of great cards to consider.