Japan has an excellent national train network which is efficient, extremely punctual and comfortable to use.
It can also be extremely expensive.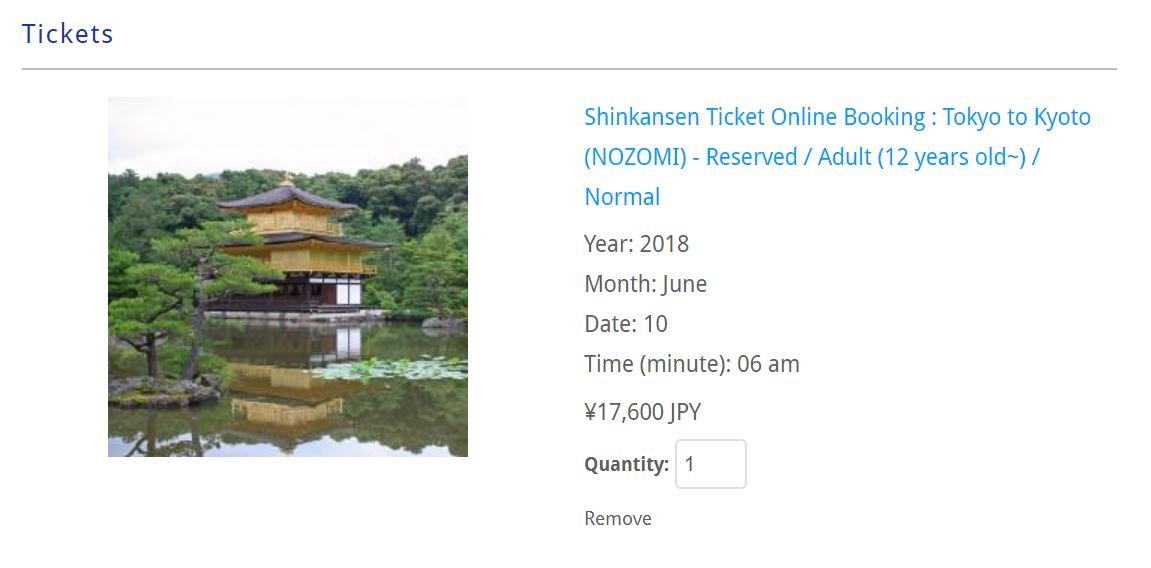 While traveling between major cities like Tokyo and Osaka the train network may be a no-brainer (albeit an expensive one), Japan is a country made up of several islands, and if you are traveling further afield, it may be sensible to fly instead.
Japan's two largest carriers are Japan Airlines (JAL) and All Nippon Airways (ANA). JAL is a member of the oneworld alliance, while ANA is a member of Star Alliance. Both carriers use both narrow-body and wide-body aircraft on domestic routes. You have a good chance of scoring a 787 Dreamliner with ANA domestically.
Both airlines offer special domestic fares for international visitors, which have the same conditions/benefits:
You must be a foreign tourist (either foreign passport holder or Japanese passport holder with evidence of foreign residency)
You must have evidence of international flights in and out of Japan
While you book can this offer online using the respective airlines websites, your ticket isn't really confirmed until check-in; this is because they will check you fit the eligibility before actually checking you in, especially regarding the foreign passport/residency (I guess this is to stop locals booking these discount tickets for themselves)
Tickets are booked in economy class and payment must be made at time of booking
Checked baggage is included, as per international flight allowances
Status benefits can be used
Tickets are non-refundable, non-transferable and date and routes cannot be changed
Tickets will usually accrue miles/points at 100%, as per normal revenue tickets
Prices are for one-way domestic flights, within Japan, per flight and include all taxes
You can 'fly ahead' on the day by checking in earlier and taking an earlier flight at no additional cost, where seats are available
If you do not meet the requirements both airlines will charge you the difference before this special rate and a revenue fare on the day before checking you in
JAL Explorer Pass
The JAL Explorer Pass offers fixed prices at three different tiers (per flight):
JPY 5,400 (~US$50): Routes within Hokkaido & Routes departing from/to Tohoku
JPY 7,560 (~$70): Routes between Tokyo and Osaka, Tokyo and Nanki-Shirahama, Okinawa main island and outlying islands
JPY 10,800 (~$100): Routes aside from the above
Here are their domestic destinations from their largest hubs in Tokyo Haneda, and Osaka Itami: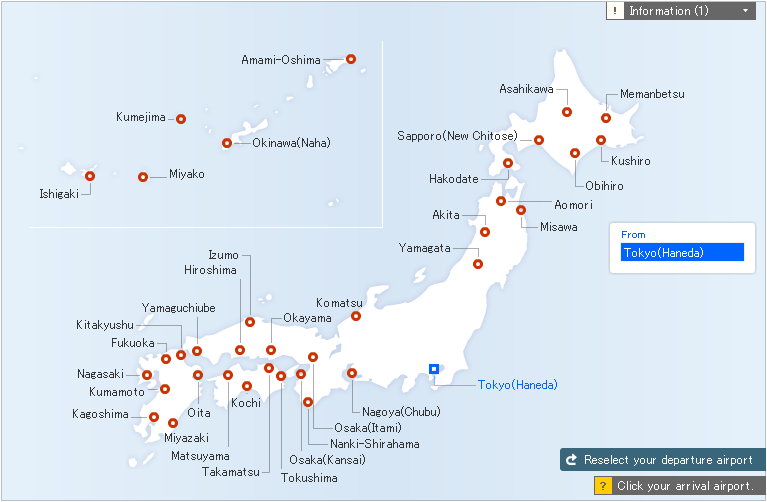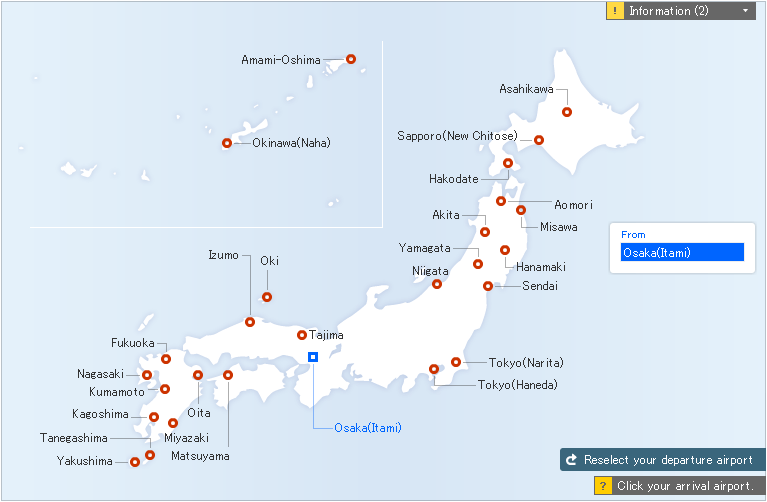 I used this fare a few years back when visiting Okinawa, and needed to fly from Tokyo. Obviously check the price of revenue fares against this offer, but here is an example of a Tokyo to Okinawa fare, if you want to fly JAL (vs. the ~$100 Explorer Pass fare above):

Unfortunately a popular route like Tokyo to Osaka only provides a marginal discount by booking a $70 Explore Japan Fare vs. a revenue fare, and although train travel may be more expensive, it will be far more convenient: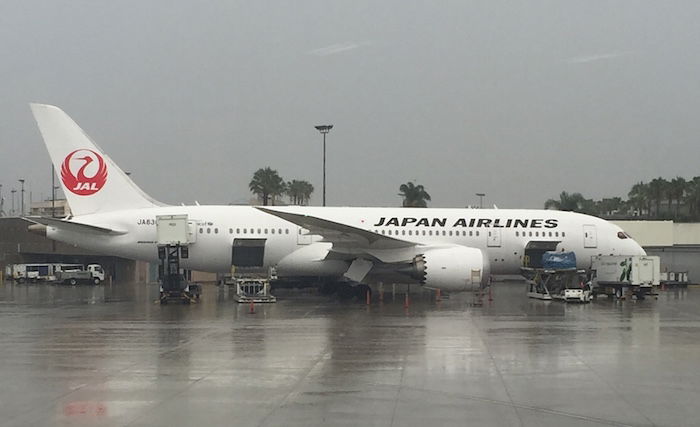 ANA Experience Japan Fare
JAL's biggest competitor, ANA offer the same pricing tiers, with slightly different routes (per flight):
JPY 5,400 (~$50): Sapporo to Wakkanai, Memanbetsu, Nemuro Nakashibetsu, Kushiro, Hakodate, Aomori, Akita, Sendai, Niigata, Fukushima. Tokyo to Odate Noshiro, Akita, Shonai. Osaka to Aomori, Akita, Sendai, Fukushima, Niigata
JPY 7,560 (~$70): Tokyo to Osaka (Itami/Kobe/Kansai)
JPY 10,800 (~$100): Routes aside from the above
Here is ANA's domestic destinations. They hub at both Tokyo Narita and Haneda, with secondary hubs at Osaka Kansai and Itami.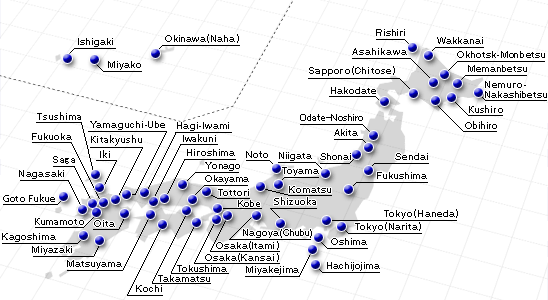 Remember, you can use this offer to book flights up to 72 hours in advance, so fairly last minute. Here are the costs of revenue fares on the popular Osaka to Sapporo route, booked 4 days in advance (vs. the ~$100 Experience Japan fare):

A few years ago I took my cousin on a crazy US Airways Guam run. We had our stopover in Tokyo, so had plenty of time in Japan. He gave me the challenge of finding a 'really remote Japanese beach location,' which was a challenge I relished. I went searching the JAL and ANA route map, and ended up settling on the tiny island of Ishigaki, which is Southwest of Okinawa and I believe, the most Southwest point of Japan, way down near Taiwan.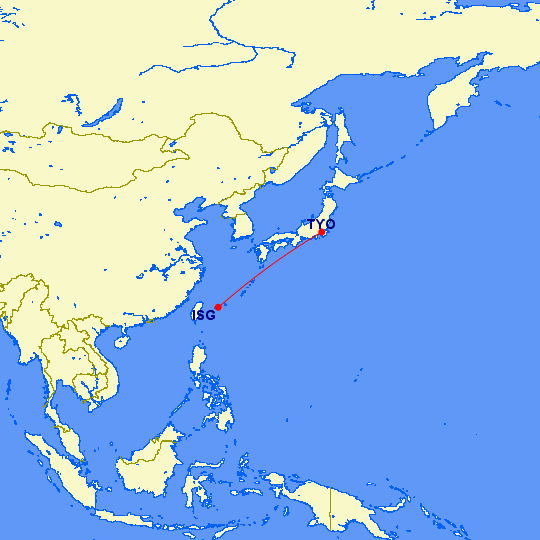 There were direct flights available on ANA, which is one of their longest domestic routes. We used a ~$100 Experience Japan fare vs. the equivalent revenue fares:


The X Factor: Upgrades
Domestic premium fares in Japan are fairly confusing. They offer business class on most domestic routes as well as first class on some of the more popular trunk routes. However the premium class is usually just a slightly better seat with no other benefits. On many domestic flights in Japan you will literally receive a glass of water and nothing else, regardless of which class you are in.
Some loyalty programs credit these flights as business or first class in terms of status and mileage earn.
So why would you bother booking premium classes/upgrades? Because upgrades can be available on most domestic flights for as low as JPY 1000 (~$10). Even if its just a better seat this can be a no-brainer. Now while these Discover/Explore Japan fares are always booked in economy, you can pay a small upgrade fee at check-in, where space is available. Remember you need to check-in in person because they will need to check your eligibility for the special fare.
If you are interested in a cheap, better seat I would recommend investing in ExpertFlyer to monitor loads and seat maps, and check-in as early as possible to grab an upgrade.
Bottom line
I would encourage you to experience rail travel in Japan, as it's a great way to get around. But if you are traveling further within Japan, these two offers can be excellent value and you can choose between the two biggest carriers in the country. Just like when using miles, always check the price of revenue fares for your preferred dates and routes to ensure you are really saving money.
There has been a big increase in low cost carriers in Japan such as Peach, Vanilla and Jetstar Japan, so you will likely to be able to find an LCC fare for under $100 on many routes, but if you prefer a full service main-line carrier, or have alliance loyalties, consider these fares next time you are headed to Japan.
Have you ever booked a special domestic fare with JAL or ANA?