Yesterday I shared the bizarre experience I had at the Sheraton Grand London, where three kids essentially forced their way into our hotel room, claiming it was their mom's room, and then after being in there for a short while alone, they ran. It was one of the most bizarre things I've experienced at a hotel, and I wasn't sure what to make of it. Check out yesterday's post for the full recap, as it's quite a story.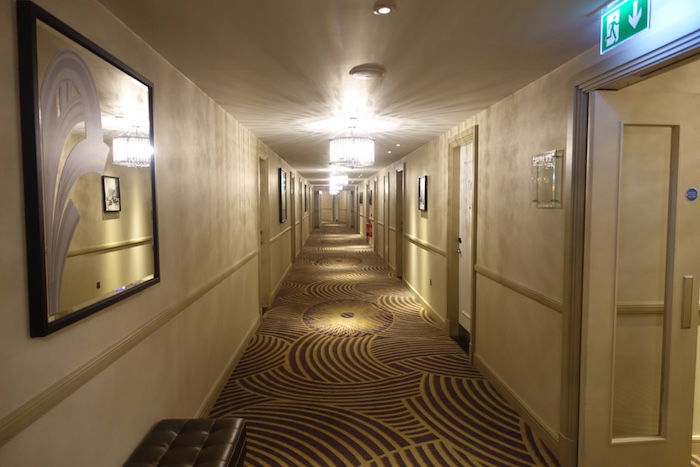 Hallway at the hotel
As I explained yesterday, I was very impressed by the hotel's initial reaction. The front office manager, Roman, took the situation very seriously, and promised that the hotel would report back to me about what they found out after conducting an investigation. While this situation creeped me out, it wasn't a huge deal, and I certainly don't think the hotel bares any responsibility for the situation, as it could happen at any hotel.
Follow-up with the hotel's general manager
This morning a note was slipped under my door from the general manager, Kieran, saying he wanted to meet and provide me with an update on their investigation. I met with him this afternoon, and he was a really nice guy. Here's what he said they had discovered after their investigation:
While key access is required for the elevators, the kids had snuck into the staircase when someone else opened that door, which is how they accessed the floors with guest rooms
They asked one of the room attendants to open a door (claiming it was their room), and of course she refused
We were just further down the hallway, which is probably why they targeted us
Based on them reviewing the footage, the kids ran right out of the hotel after this incident, and weren't otherwise seen on camera, so they didn't seem to be hotel guests; they only spent a total of a few minutes in the hotel
The kids had stolen a wireless device in the room (apparently the hotel provides these for guests), and also took some things out of the minibar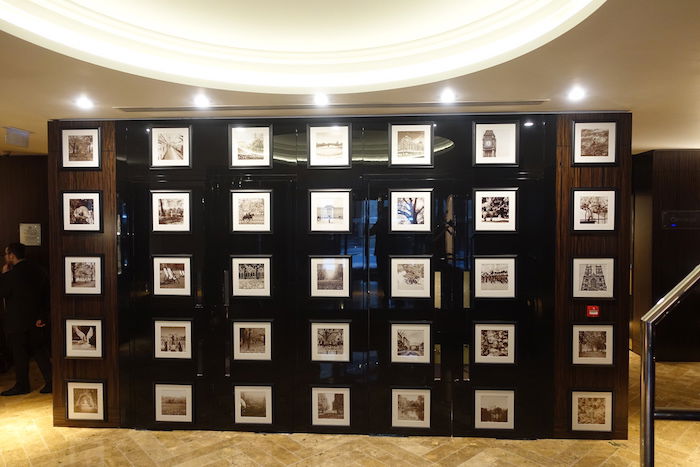 The door to the stairs is hidden in this wall
That makes me very happy that I reported them. Imagine if I just wrote it off as a prank, and then after the fact they charged me for the mobile device and minibar items, given that they were missing. I feel the explanation of "oh, you don't understand, when we checked in these kids just walked into our room and we thought it was a prank" works better right away than days later.
Beyond sharing that full summary, the general manager also explained:
The hotel is working on installing key access for the staircase, though as he said, there's no way to stop everyone (you can just get in the elevator behind another guest, after all)
They reported the kids and situation to the police, though said that the police likely won't do anything (understandably they have bigger priorities)
They reported the situation to some sort of security network that exists between many hotels, so that other hotels can be on the lookout and aware of the situation
He also apologized profusely, and said he had comped the first night of the stay, and asked if there's anything else he could do. While that was a very nice gesture, I insisted he undo that, because I don't think I deserve any compensation in this situation; the hotel truly did everything in their power. He tried to offer something else (other comped charges, a free airport transfer, etc.), though I turned those down.
I just figured I'd mention that in the interest of transparency, since surely my resident peanut gallery will be along shortly to say I was trying to milk the hotel for compensation.
This incident made my impression of the hotel more favorable
I truly believe this incident could have happened at virtually any hotel. There are very few hotels where kids couldn't get in through a side entrance and quickly make their way up a set of stairs, especially at a hotel frequented by families, where they could have very well been guests. Clearly these were savvy kids too, since they managed to find the wireless device and minibar while in the hotel room for such a short period.
Ultimately it comes down to how a hotel handles the situation. In this case the Sheraton Grand — and in particular Roman and Kieran — did a spectacular job. They took the situation extremely seriously, conducted a quick investigation, and were more apologetic than they had to be.
Roman was gracious, did a personal inspection of the room, and was proactive in getting us a taxi and pushing back our dinner reservation. Kieran followed up and was much more transparent than I would have expected from a hotel general manager, who has a lot of things to deal with.
For a bit of context, early last year my mom was robbed inside the W Barcelona, which was a legitimately horrible situation — her credit cards and Green Card were stolen, etc. While I don't think it was the hotel's fault, they couldn't have been more indifferent. They treated us like crap, like we were inconveniencing them, and did nothing to try and help figure out what happened. The general manager there was even worse. While the hotel is beautiful, I'd never return on principle.
My experience at the Sheraton Grand London couldn't have been more different.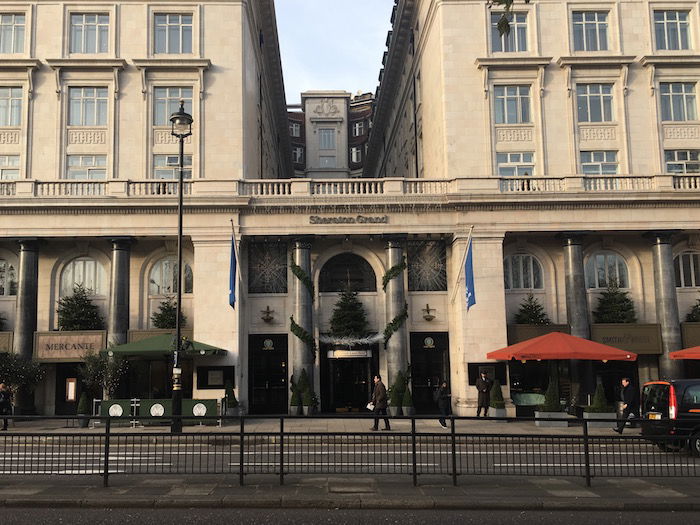 Sheraton Grand London exterior
Bottom line
Kudos to the hotel for how they handled the situation. This remains one of the strangest things that has happened to me at a hotel. Given that the kids actually stole some things from the room, I have to wonder if they were just bored kids playing a prank (that went way too far), or if this is some sort of organized thing where people have kids steal stuff, since they look less suspicious. For what it's worth, the kids seemed like they were just posh brats, and were very well dressed.
Given that they actually stole things from the room, do you think this was just a prank, or…?