I've had a lot of weird stuff happen in my travels, though this has to be among the strangest.
This afternoon we checked into the Sheraton Grand Park Lane London. We got our keys about three hours late since our suite wasn't ready until then, and were so excited to finally be able to settle in and freshen up (before that, Ford was falling asleep on the couch in the club lounge).
With keys in hand we headed to our room. Ford and I both walked into the room, and suddenly three kids are in our room as well. I'd say they were somewhere between eight and ten years old. They came out of nowhere. To be clear, they didn't knock or anything, but rather walked right in, and of course I didn't want to physically push them out, or anything.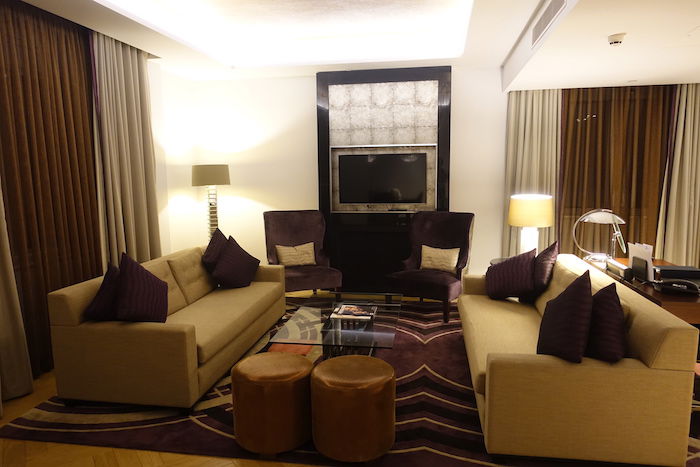 They started talking to us. "What are you doing? You're in our mom's room!"
I double checked the room number on our keys and the room number on our door, and sure enough they matched.
I responded with "hmmm, are you sure?"
"Yes, this is our room. You need to get out."
I hadn't turned on all the lights in the room yet, though best I could tell the room had been recently serviced. So I said "where is your stuff then?"
He pointed to the umbrella next to the door, and said "that's my mom's," and then pointed to the (dark) bedroom and said "the stuff is over there." Then they ran into the bedroom.
We had no reason to believe they were lying. Heck, I've been assigned rooms that were occupied before. So at this point we decided to err on the side of caution. We didn't want to close the door with us and the kids in there (where the narrative could easily turn into "we told them it was our room and they still followed us in here!"), so Ford and I walked outside the room. For a second we stood there and tried to decide what to do. In the meantime I could hear the kids screaming and running around inside.
I walked down the long hallway back towards the elevators going to the lobby, and as I reached the end of it, the kids were running behind me, saying "we were kidding." I responded with "that's not cool," and they said "can't you take a joke?"
Now, I'll be the first to admit that I'm a bit paranoid when it comes to hotel room security. I've had some weird stuff happen over the years, partly from malicious readers. I didn't necessarily assume these kids had bad intentions. At the same time, I was trying to think back to being an eight year old and the pranks I'd pull, and forcing my way into someone's hotel room wasn't among those (at the same time, I ended up being a hall monitor a couple of years later, so perhaps I'm not the best person to ask about pranks). 😉
Sure, it's very possible that they were just playing a prank, and that was the extent of it. But I also figured that if they were going to pull a prank that goes that far, I couldn't rule out the possibility of the prank having gone a bit further.
I don't know exactly what I had in mind, but I didn't want to rule anything out (whether it's putting dog crap in the bed, stealing an object from the room, taking drinks from the minibar, or who knows what).
The other question was how the kids got onto the floor to begin with, since key access is required for all floors. Not only that, but you can only access the floor that you're staying on.
We headed back to the front desk and explained the situation to the associate at reception. She sent up security immediately, who took the situation seriously.
Back at reception the front office manager, Roman, talked to the security guy. We overheard him say "two minutes before I got this call, I was told there were three unattended kids who had walked in through the side entrance."
Roman apologized and invited us to wait in the club lounge while he personally inspected the room, and then also had two more room attendants do inspections, just to be on the safe side. He was incredibly gracious, as he also insisted on covering our taxi to a restaurant (we were going to walk, but we were running late due to this situation), and he even called the restaurant to tell them we would be a little late. Furthermore, he promised to follow up with us regarding whether the kids were hotel guests or not.
So kudos to Roman for how well he handled the situation, especially since this really wasn't the hotel's fault. Kids playing pranks could happen at any hotel.
Bottom line
While I've had a lot of weird stuff happen to me in hotels, this was a first. While I know there are a lot of kids who play pranks, forcibly entering someone's hotel room and lying to them seems like it's crossing the line. It's not that I necessarily assumed they did anything beyond that, but I also didn't want the liability in case they stole something from the room, took alcoholic drinks from the minibar, etc.
How would you have handled this situation? What would you have done when the kids walked into the room, and would you have reported it?