Hong Kong Airlines is Hong Kong's third largest airline. They just took delivery of their first A350, and they're using the plane for longhaul expansion, which is exciting.
This summer Hong Kong Airlines added flights between Hong Kong and Vancouver using A330s, and this December they'll begin flying between Hong Kong and Los Angeles using A350s (surprisingly this will be LAX's first scheduled A350 service). However, this is only the beginning of their longhaul expansion, it looks like.
Per the awesome Danny Lee at the South China Morning Post, Hong Kong Airlines is planning on adding flights to London, New York, and San Francisco in 2018. While we don't yet have exact launch dates or schedules for the new flights, this growth does seem possible, given the speed at which they'll be taking delivery of A350s.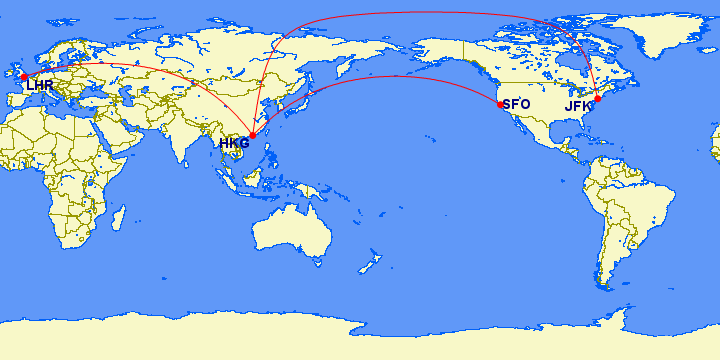 Per the story:
Ben Wong Ching-ho, chief operating officer at Hong Kong Airlines, took a swipe at a Cathay Pacific's dominance at Hong Kong International Airport, where it controls almost half of take-off and landing slots with sister airline Cathay Dragon.

"The competition says competition is not good, but I think competition is a good thing," Wong said. "In all the major cities in Asia [there are at least two airlines]. We think Hong Kong can host two locally based airlines so hopefully, with some competition, we can offer a better selection for the public."
Cathay Pacific has been struggling financially, so this will pose yet another threat to Hong Kong's dominant airline.
All that being said, international airfare is so cheap nowadays, that I have to wonder how they can even make money with these routes. Economy fares from the US to Asia pretty consistently run around $600. Cathay Pacific can usually charge a bit of a premium when they sell nonstop tickets to Hong Kong, though tickets are still consistently under $1,000 roundtrip.
Hong Kong Airlines can't compete with Cathay Pacific on frequency (for example, Cathay Pacific has up to four flights per day to both Los Angeles and New York), so do they plan on beating them on price, or…?
I've been wanting to try Hong Kong Airlines' longhaul business class, though I've been surprised by their pricing for the new Los Angeles route. Yes, economy is cheap, but it's cheap on just about any airline nowadays. The part that surprises me is that their cheapest business class fare is over $5,200, which is actually more expensive than some of the fares that both American and Cathay Pacific have in the market. For a newcomer to the route, you'd think they'd have some attractive introductory pricing, but we haven't seen that yet.

Bottom line
Competition is a good thing, especially for Hong Kong, which up until now has been a market with just one real longhaul airline. However, with airfare between the US and Asia as cheap as it has ever been, I have to wonder what money is in it for the airlines, even with more fuel efficient planes.
Furthermore, selfishly I hope Hong Kong Airlines publishes some business class promotions, so I can review them on a US route.
What do you make of Hong Kong Airlines' longhaul expansion?