Last weekend I flew Austrian Airlines between London and Vienna. It was my first time on Austrian, and I thought they were a fun little airline with great cabin crew. It was quite a novelty to still be served a complimentary snack and drink on a European flight.
The flights departed from and arrived into London Heathrow's Terminal 2, which is home to the 20+ Star Alliance airlines that serve Heathrow, as well as some other airlines like Icelandair and Aer Lingus. Of the four terminals in use at Heathrow, Terminal 2 is my favourite. It's only a few years old and still feels new like Terminal 5, but never seems quite as crowded as Terminal 5, and I find it easier to navigate.
Admittedly, my previous Terminal 2 flights had all departed and arrived at the main terminal building.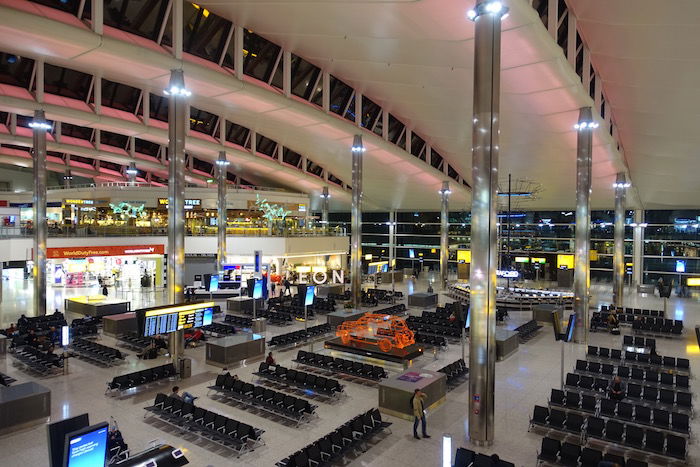 As you can see from the official blueprint below, Terminal 2 consists firstly of a central Terminal 2A, where all check-in desks and security are located. This has 11 gates. There is then the satellite Terminal 2B building (to the right below), which has a further 14 gates. There are several lounges in Terminal 2 — the Lufthansa and Plaza Premium Lounges are in Terminal 2A, with the Air Canada, United and Singapore Lounges are in Terminal 2B.
Most airlines only depart from one terminal or the other. For example, Singapore Airlines always departs from 2B, so it makes sense for them to have their lounge in the same building.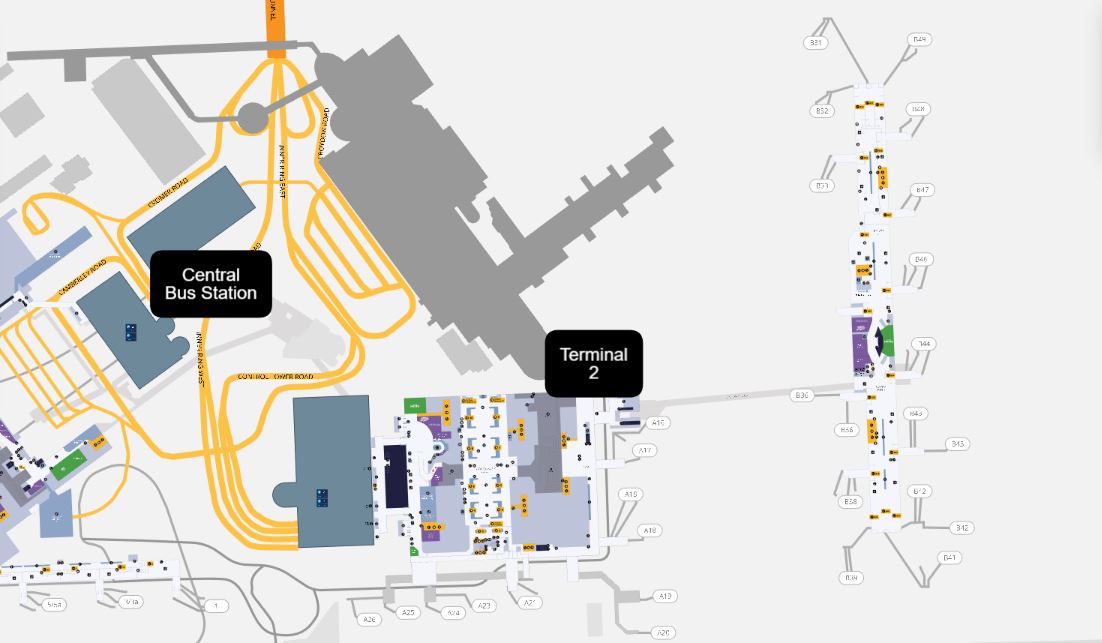 Terminal 5 has a similar set-up, except that there are two satellite terminals rather than one (so Terminals 5A, 5B and 5C).
Almost all European Star Alliance airlines use narrow-body aircraft from Terminal 2, while airlines flying further to Asia, Africa and the Americas use larger wide-body aircraft, like the A380, A350 and B777.
The problem
Here's the thing though. Almost every European airline operates from 2A, while all long-haul flights operate from 2B. So with more gates and bigger planes (with more seats) in 2B, 2B has many more passengers departing and arriving than 2A.
How do these majority of passengers get to their 2B gates? Well, while Terminal 5 (as well as many modern airports like Hong Kong) use an automated people mover to efficiently move passengers to far away buildings and gates, Heathrow forces all 2B passengers to walk the long journey under the tarmac from 2A to 2B. So if you are a Singapore Airlines A380 Suites passenger on a $20,000 ticket, you still need to schlep all this way along with the thousands of other 2B passengers.
Both of my flights last weekend used 2B, as, oddly, Austrian is about the only European airline to use 2B rather than 2A. We were surrounded by Singapore Airlines, EVA Air, ANA and Air China operating wide-bodies to Asia in 2B both times. I have to hand it to Heathrow, the plane spotting is fantastic.
The walk
Here's the journey from landing at 2B and then walking all the way under the tarmac to the UK Border.
Once you've exited the plane you go up above departures…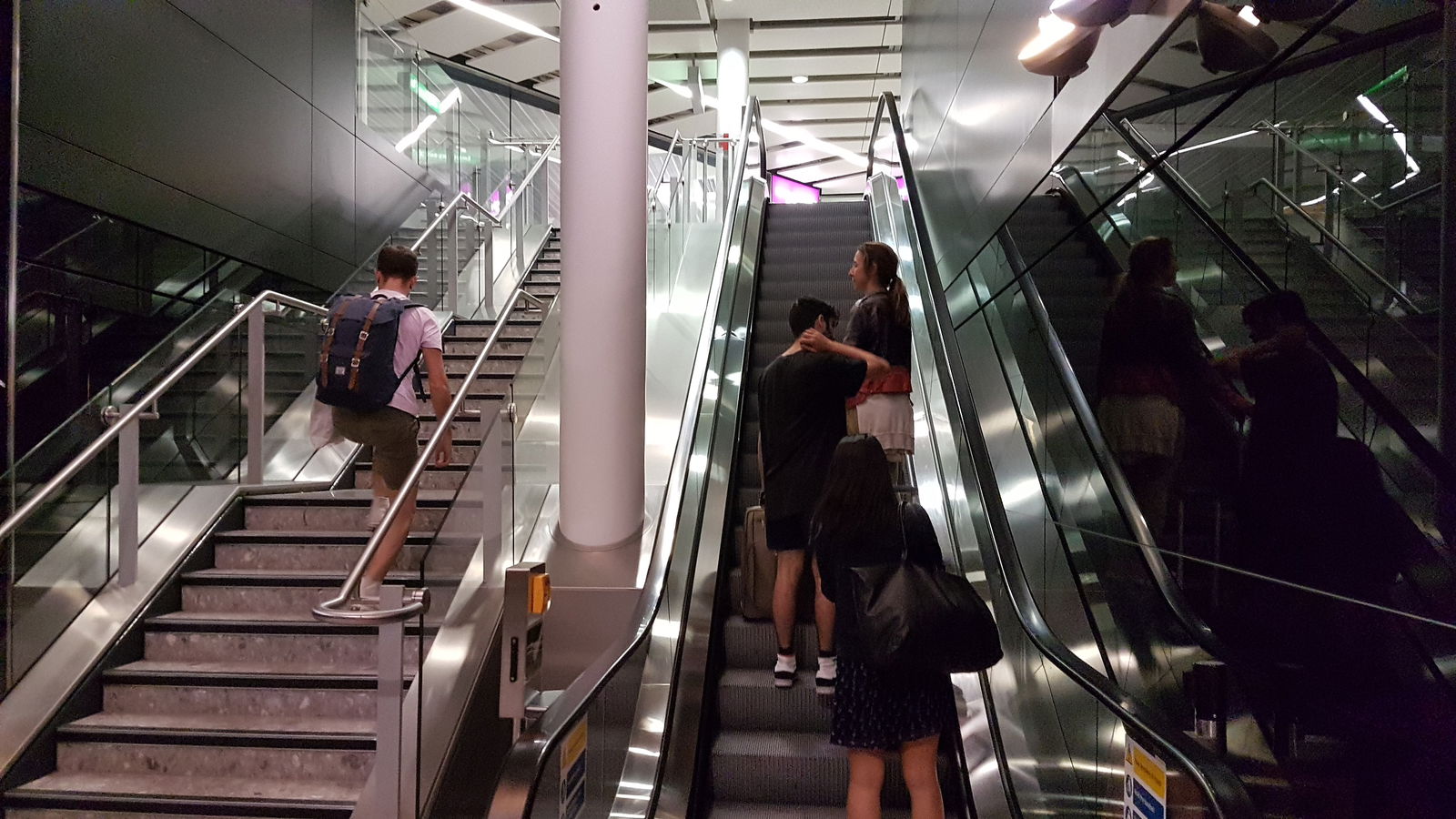 Then you walk to the centre of the satellite terminal…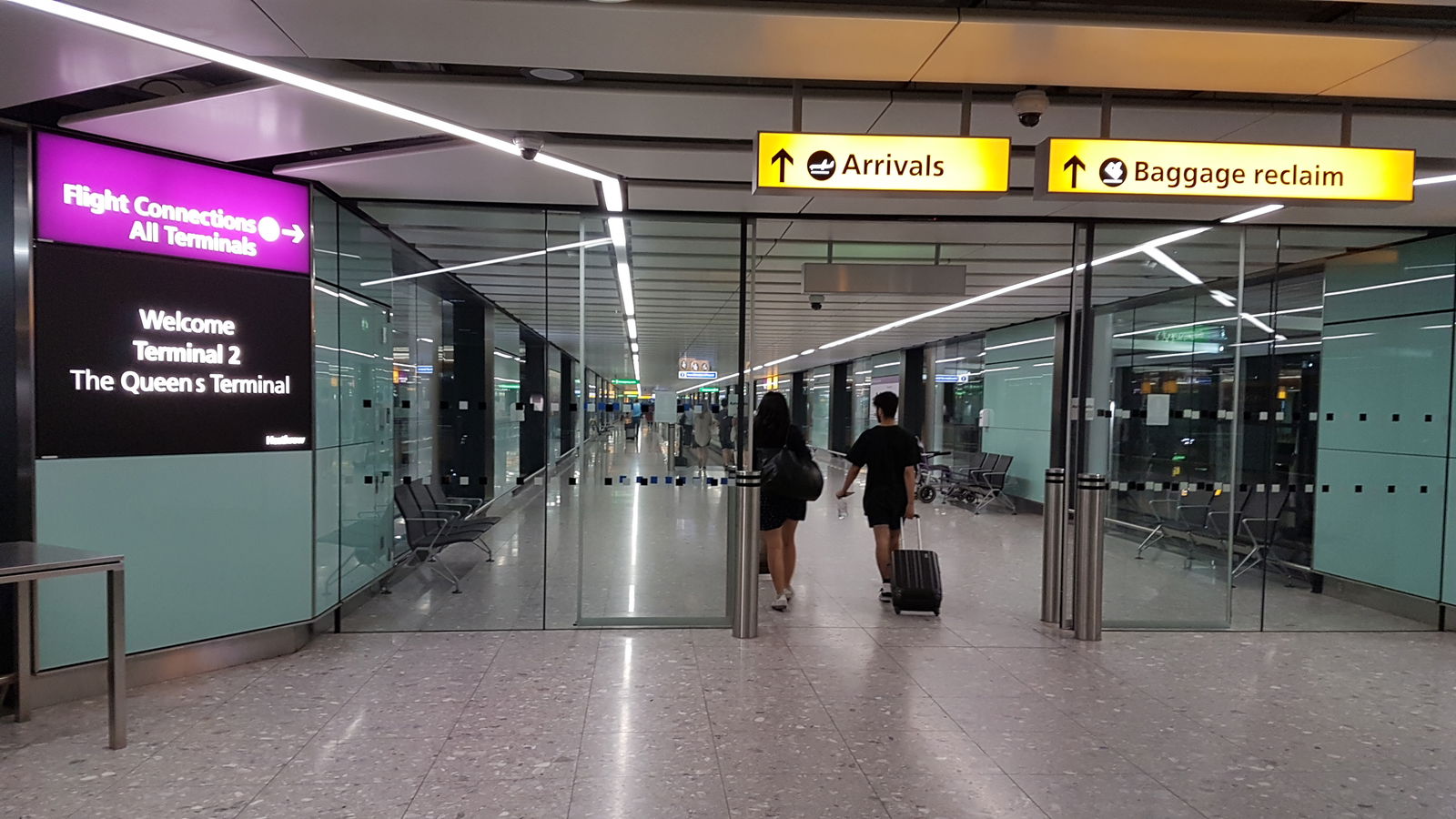 Which takes some time in itself…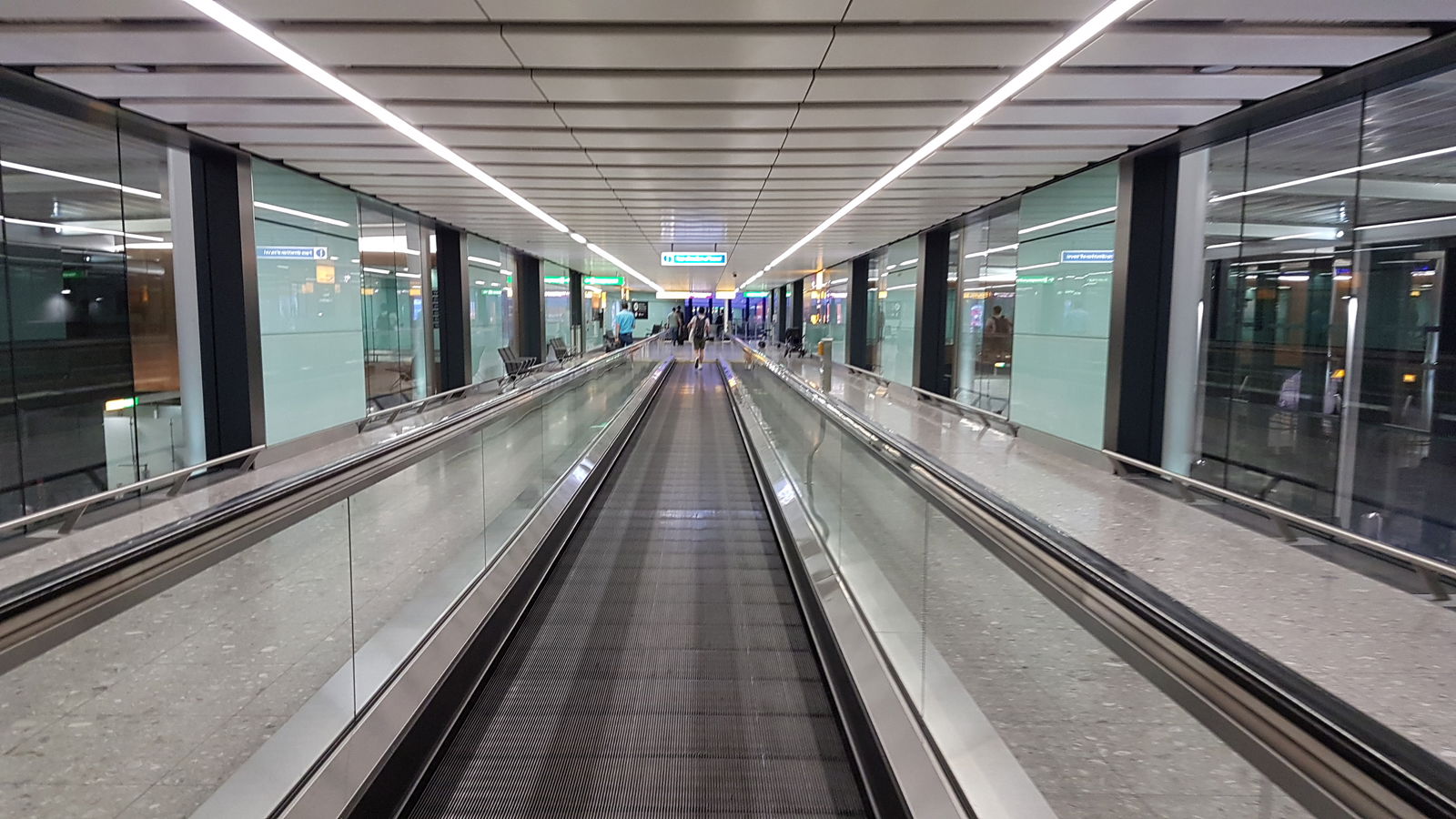 Then a long escalator down past departures, below the tarmac…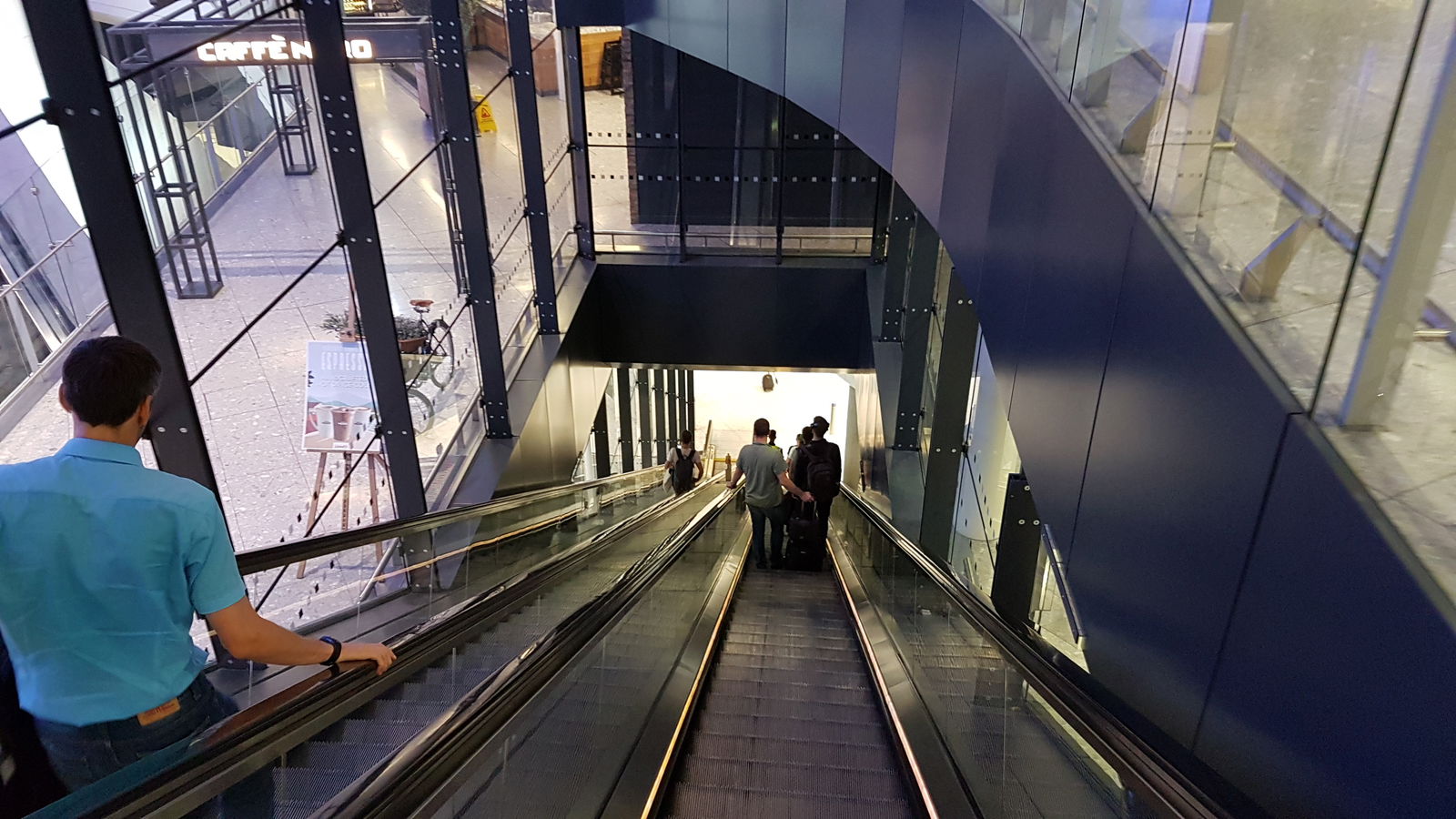 Then, once underground you choose between arrivals and transfers…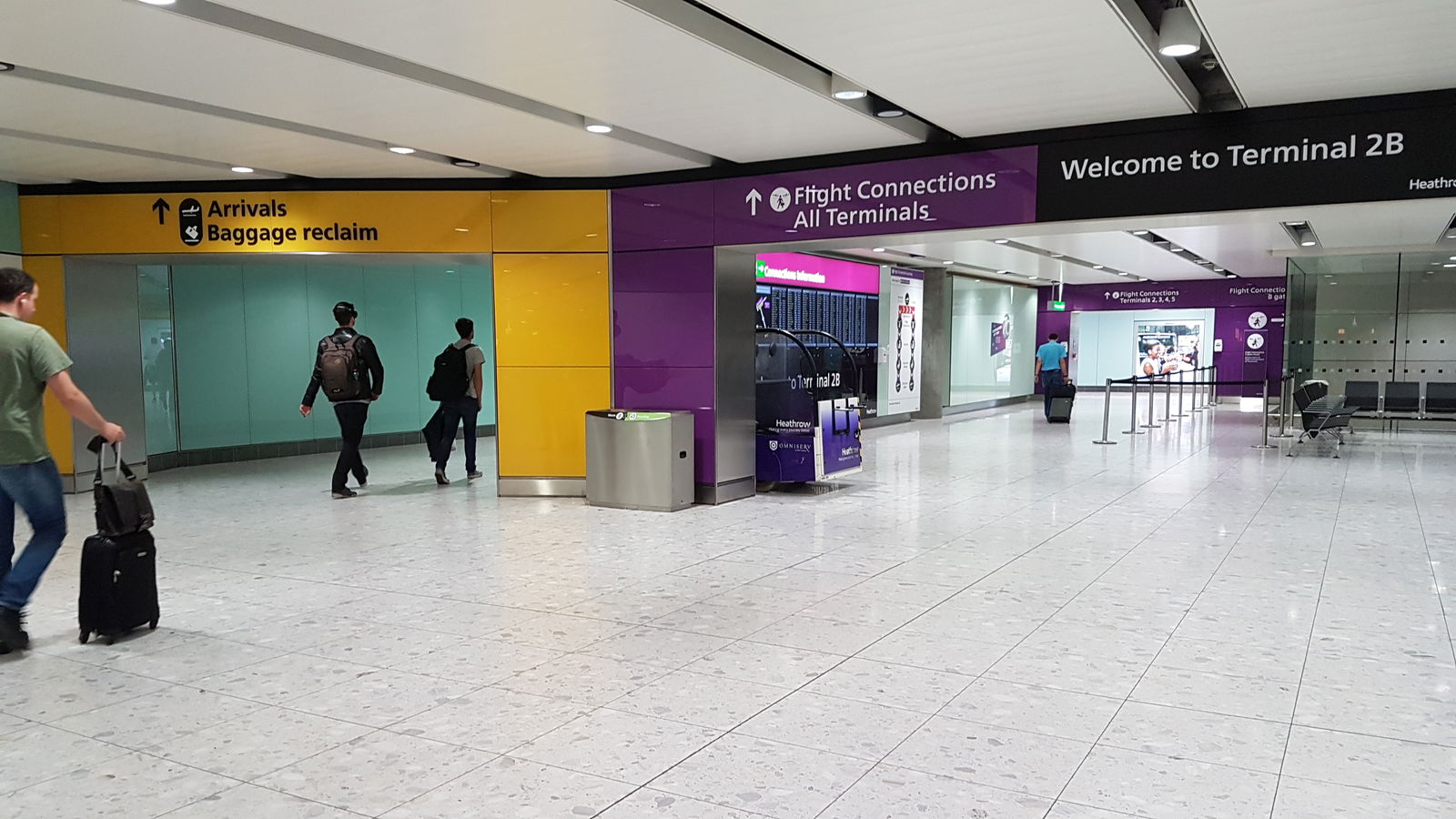 Then you begin the long walk under the tarmac. The walk is so long you cannot even see the other end. The travelator on the right of course wasn't turned on…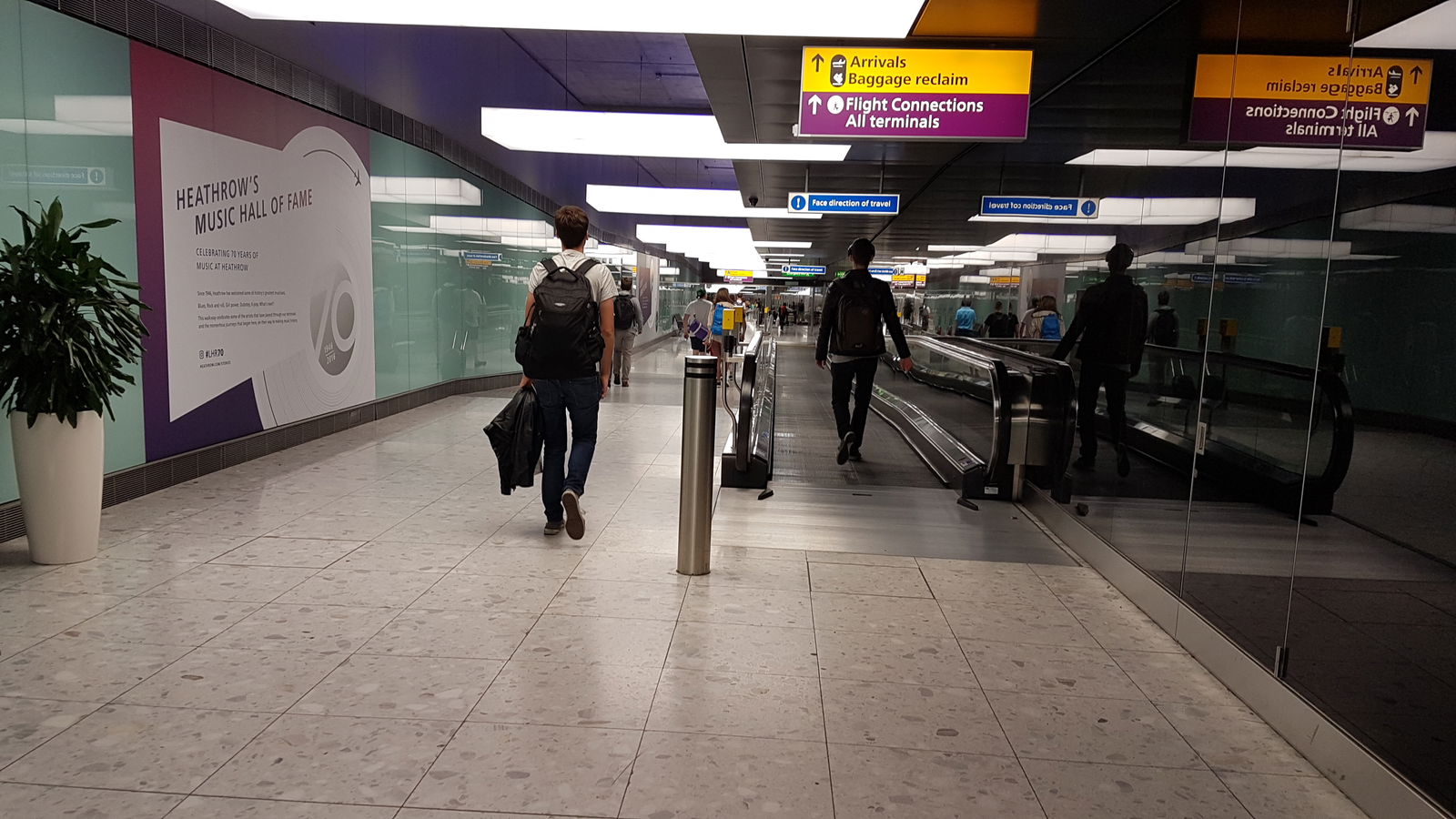 And then there's another travelator and more walking…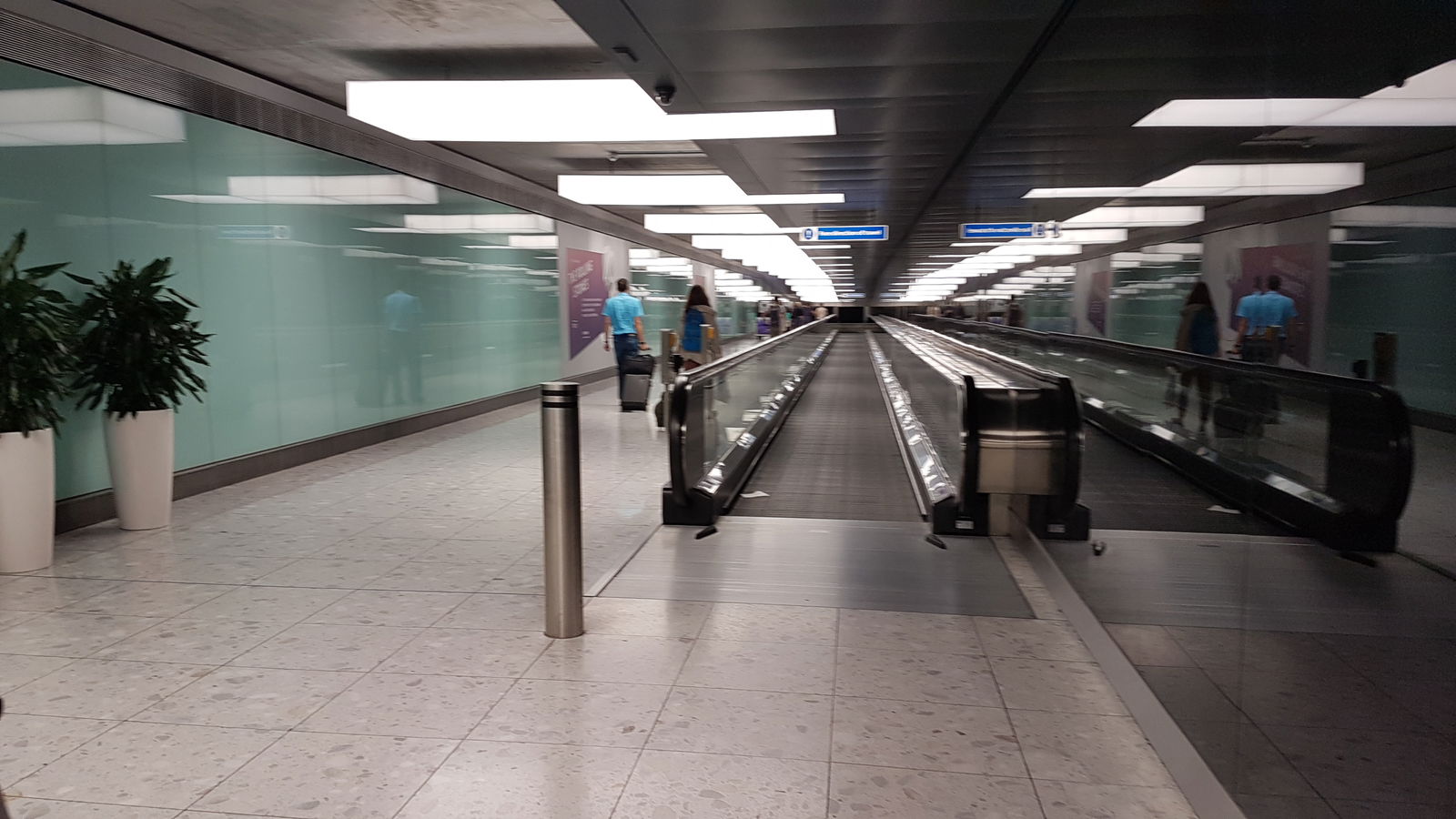 Then another large open space…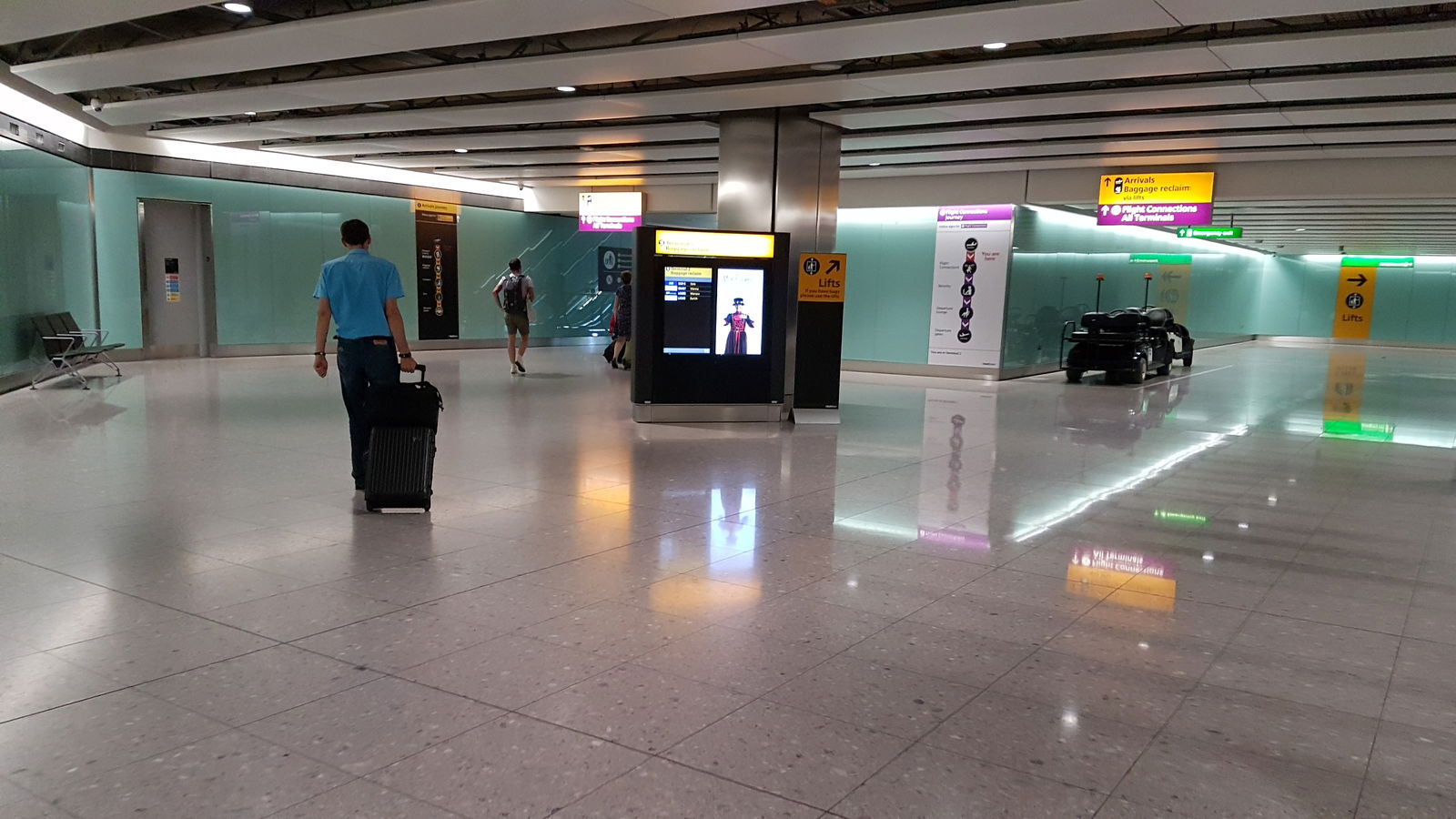 Then up a long escalator…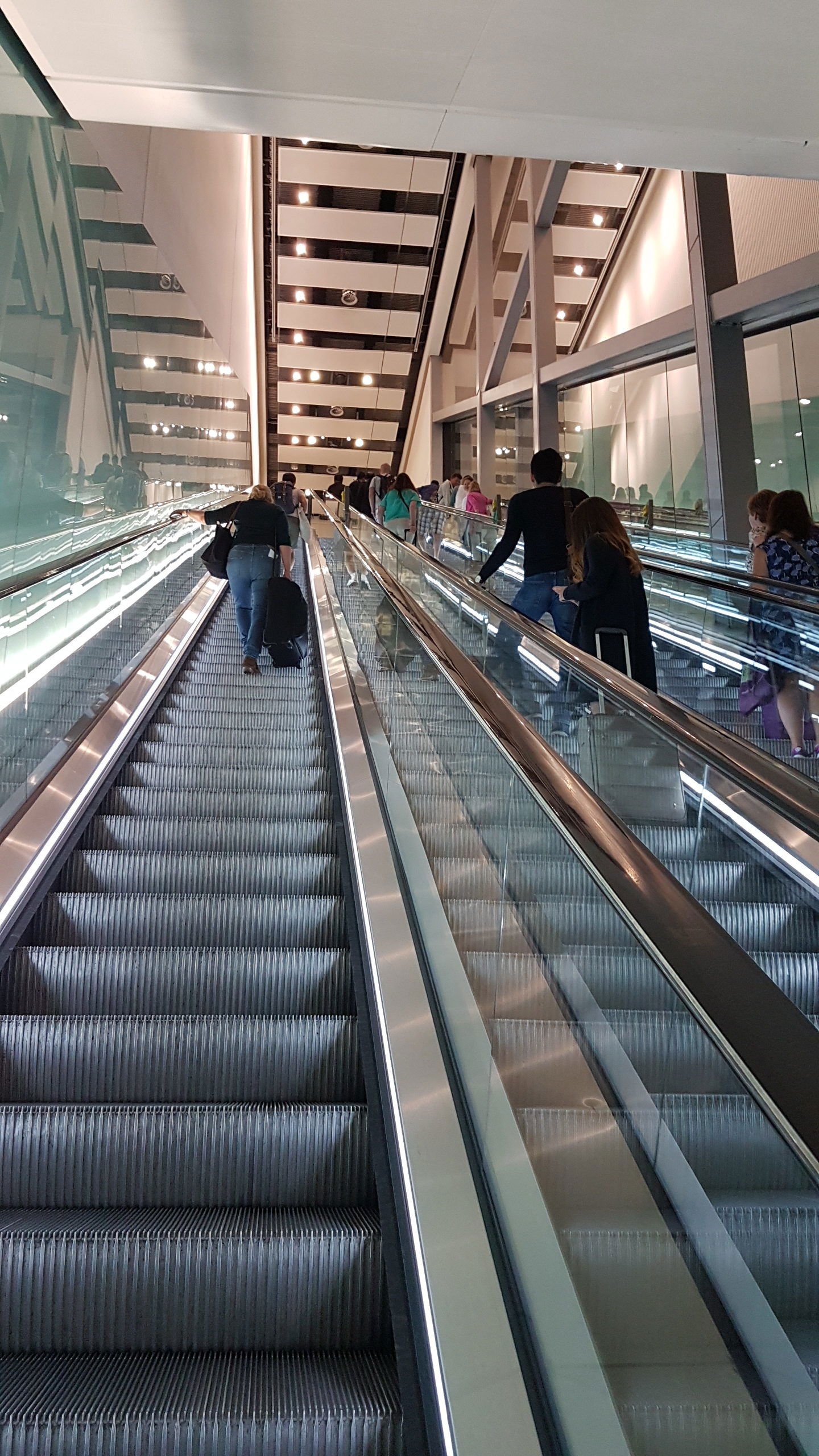 Around a few more corners and then you are finally at the UK Border…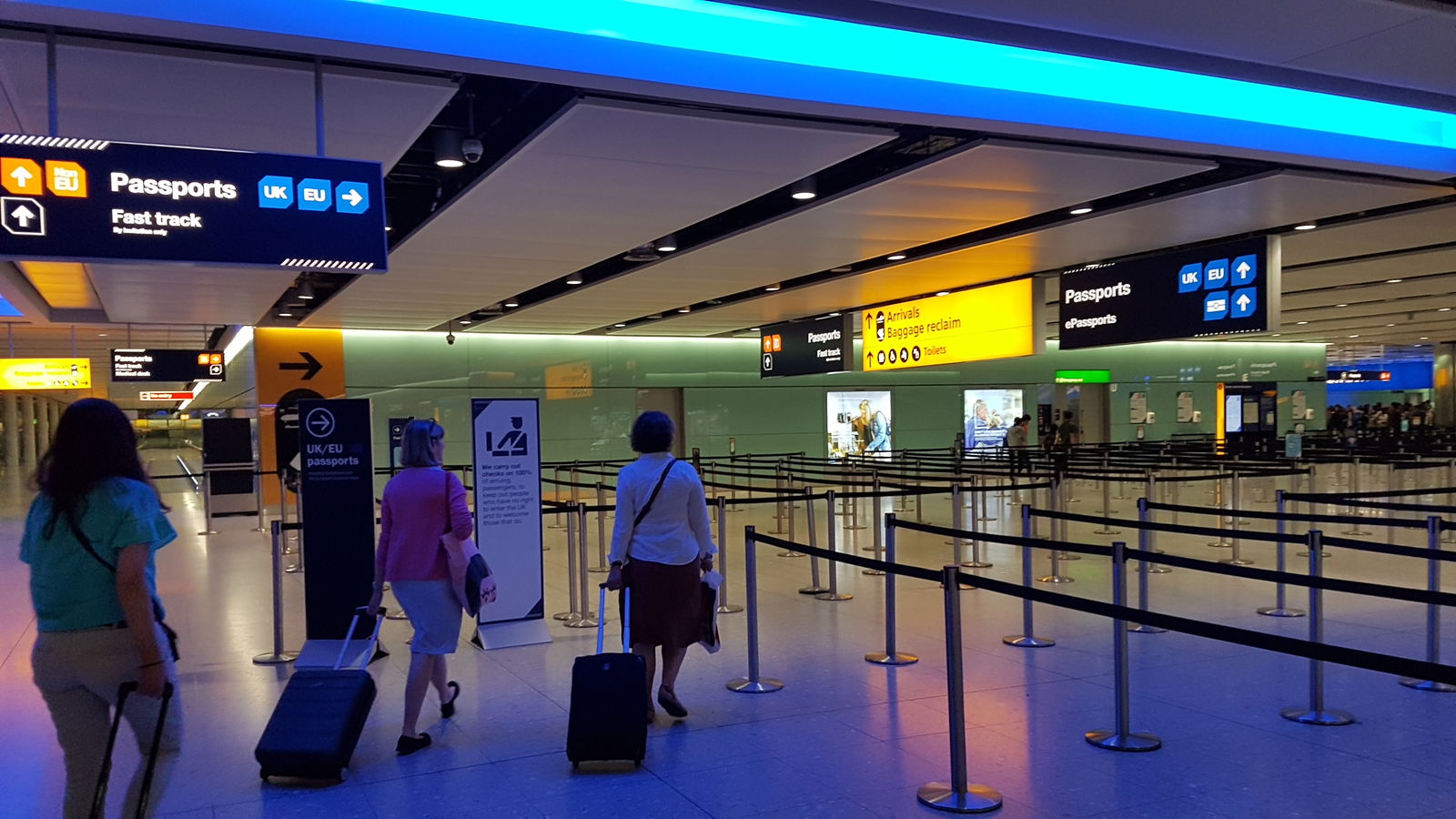 You can see from the photos the terminal was not particularly busy (we landed quite late at night), but the walk felt like it was at least half a mile and took 15+ minutes.
To be clear, there is a lot more room in the satellite terminal, and there would not be room for all these wide-bodies at the main terminal. But why don't they make it easier for so many passengers to get to their gates?
I know Terminal 5 has an extra building ('5C'), but it seems bizarre that they built a people-mover to move passengers from 5A to 5B back in 2008, yet six years later when building Terminal 2 they didn't think it necessary to build something similar to move passengers from 2A to 2B?
Bottom line
I do enjoy Terminal 2, but it baffles me that there was no people mover installed in a terminal that is only a few years old, especially when the majority of passengers have to use the 5B satellite terminal and take the long walk under the tarmac, both ways.
I had to laugh when I saw that a Eurowings budget flight to Berlin was using the most convenient gate next to security in the main terminal, while a Singapore Airlines A380 was way over in the distance.
I'll continue using Terminal 2 for European flights from 2A, but would be hesitant to use it for any flights to or from 5B again because it is a LONG walk and is not pleasant.
I imagine there has to be a good reason for this, so does anyone know what it is? Is it because Terminal 2 has 'only' one satellite building while Terminal 5 has two, was it a budget thing, or something else?