Last weekend I headed out to Heathrow, but for once did not head into a terminal. Instead I made my way to the nearby Thistle Hotel, where a very special event was taking place for any fans of aviation.
Heathrow Terminal One ceased operations several years ago, and has remained vacant ever since. Bit by bit, the unique contents of the terminal have been removed and sold off via public auction. Anything that could be removed from the terminal and sold off was, from directional signage to (used) recycling bins. They had even repurposed air-conditioning vents into bespoke desks.
If you are interested, there are photos of every single item individually.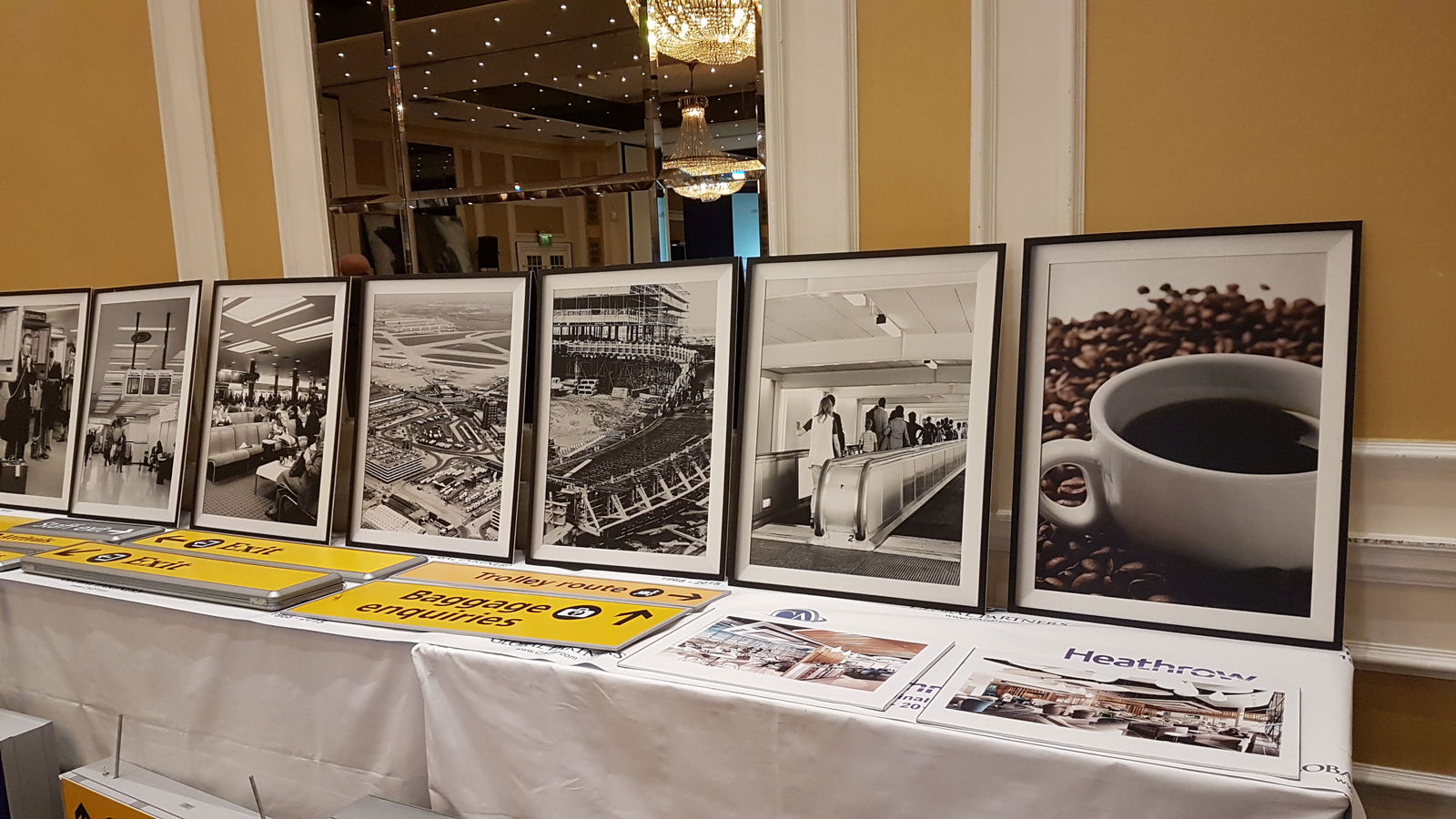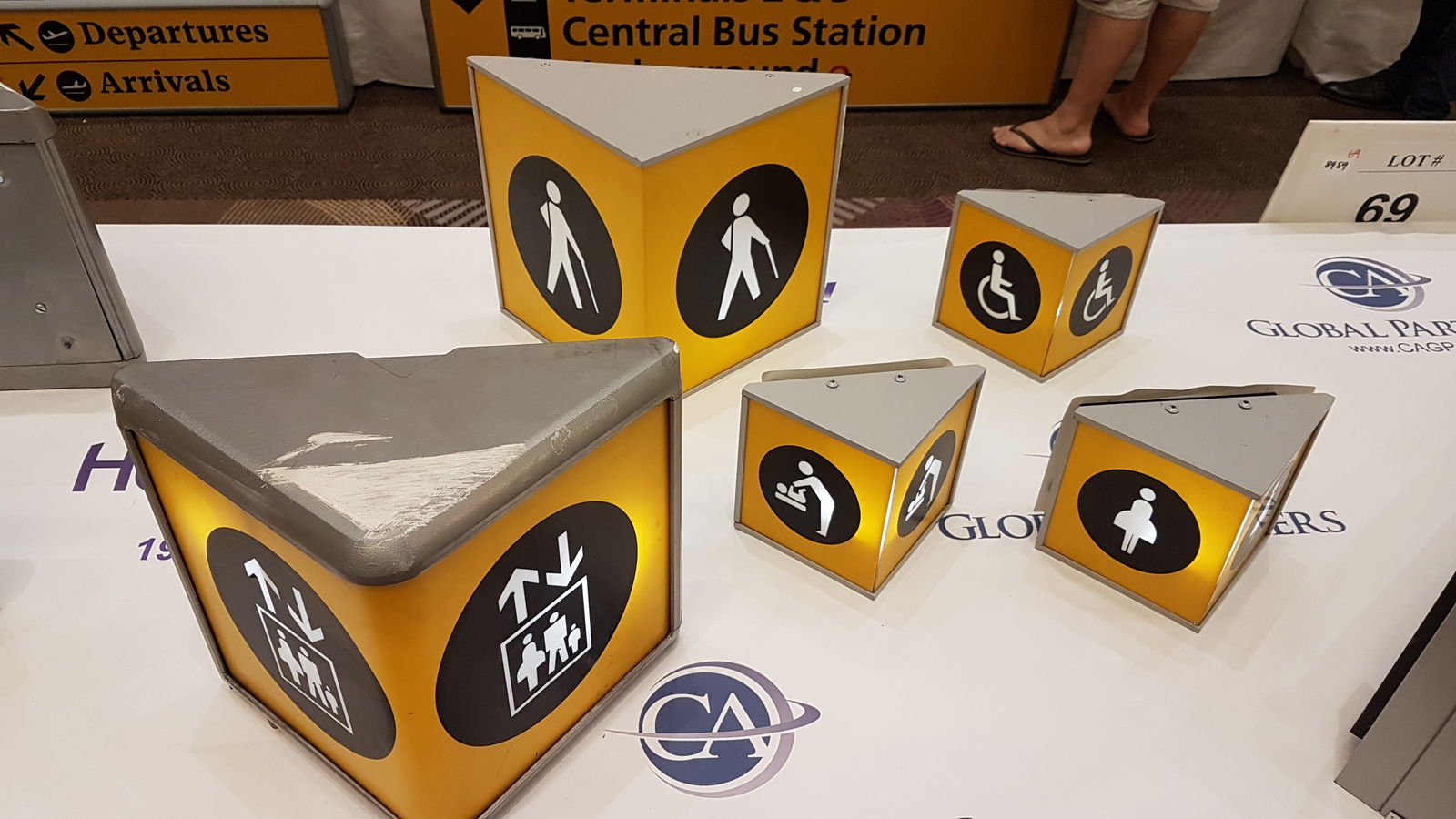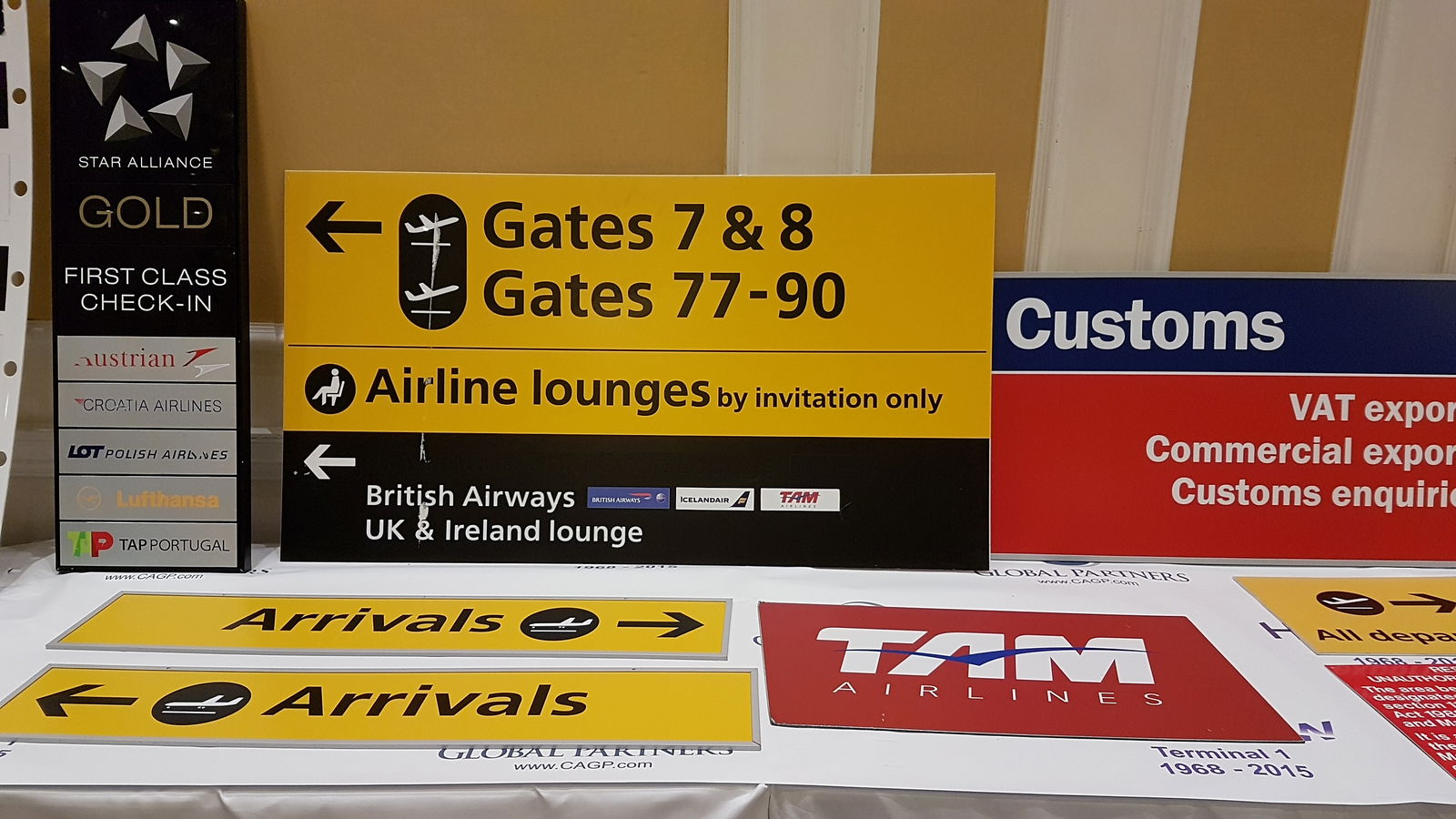 Along with a mixture of aviation memorabilia, there were some truly bizarre items there that would only be sought after by extreme enthusiasts. Things like 'nothing to declare' customs doorways, gate lounge chairs, and even bathroom signs.
The auctioneer explained that anything of potential value that could be removed and sold, was.
It was really fascinating to see the range of items for sale, and it brought back some very fond memories of travels I have had, and airlines that no longer operate. While there were fewer than 100 people physically in the room to participate in the auction, we were told there were around 3,500 bidders watching the auction online.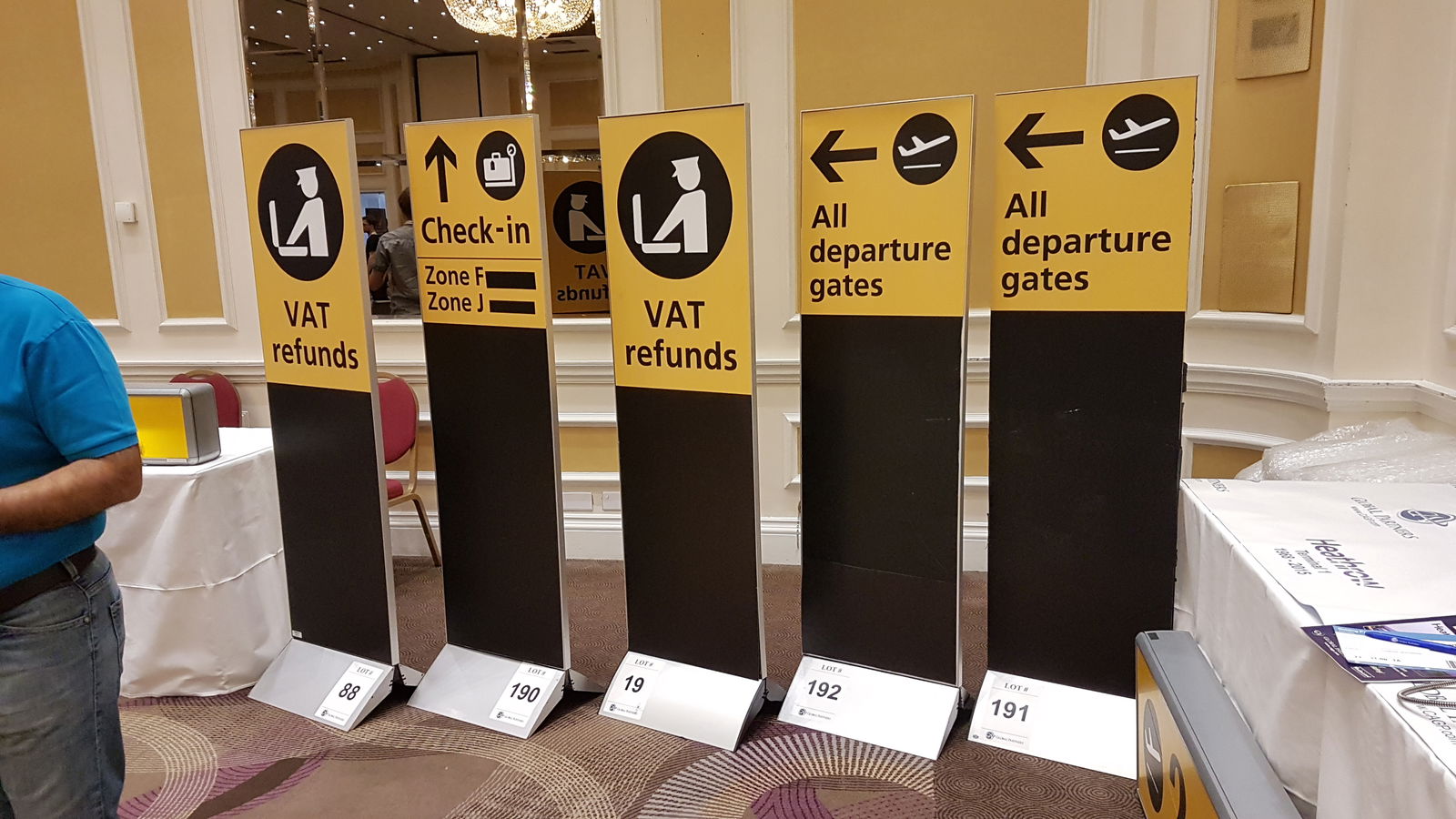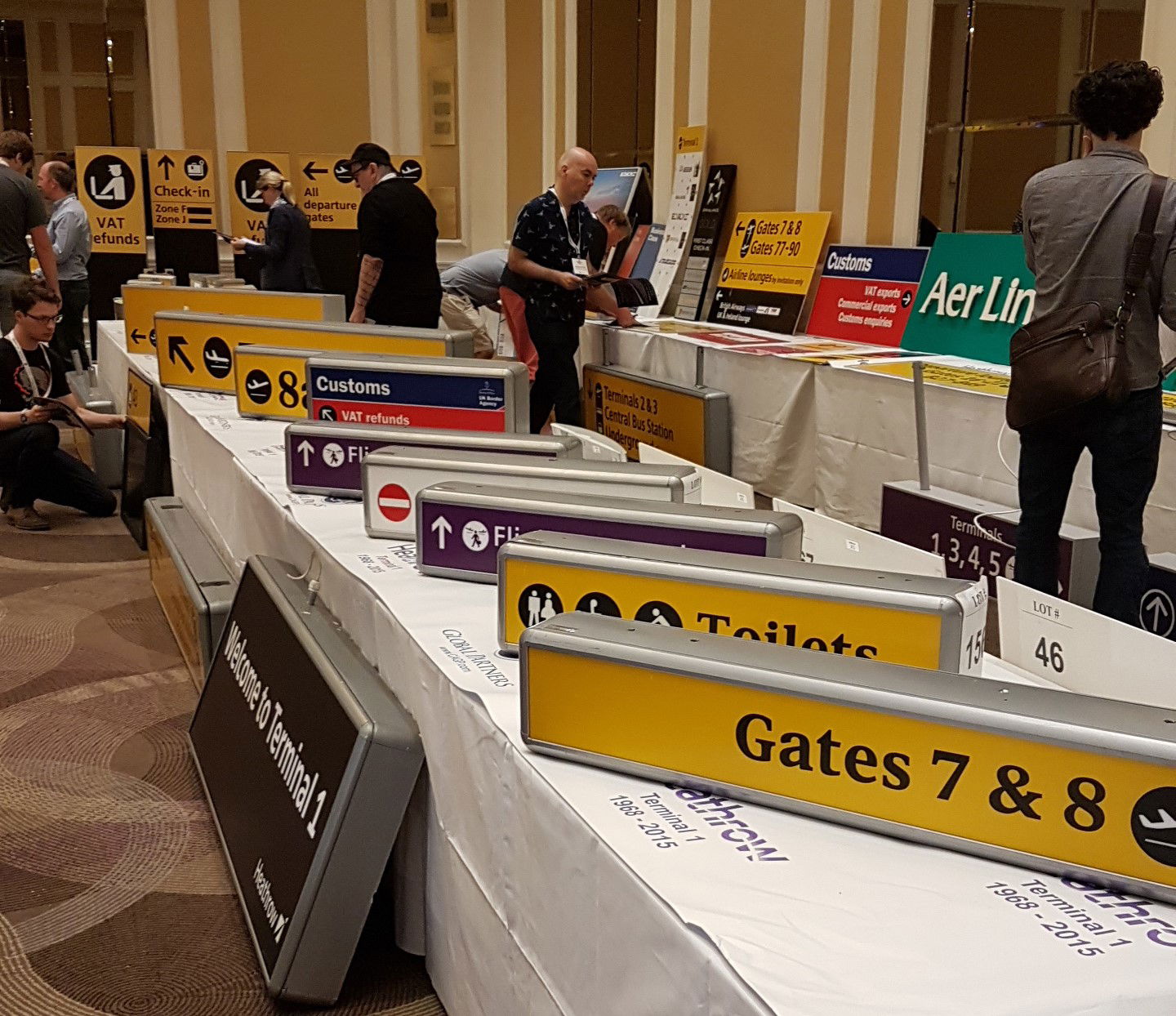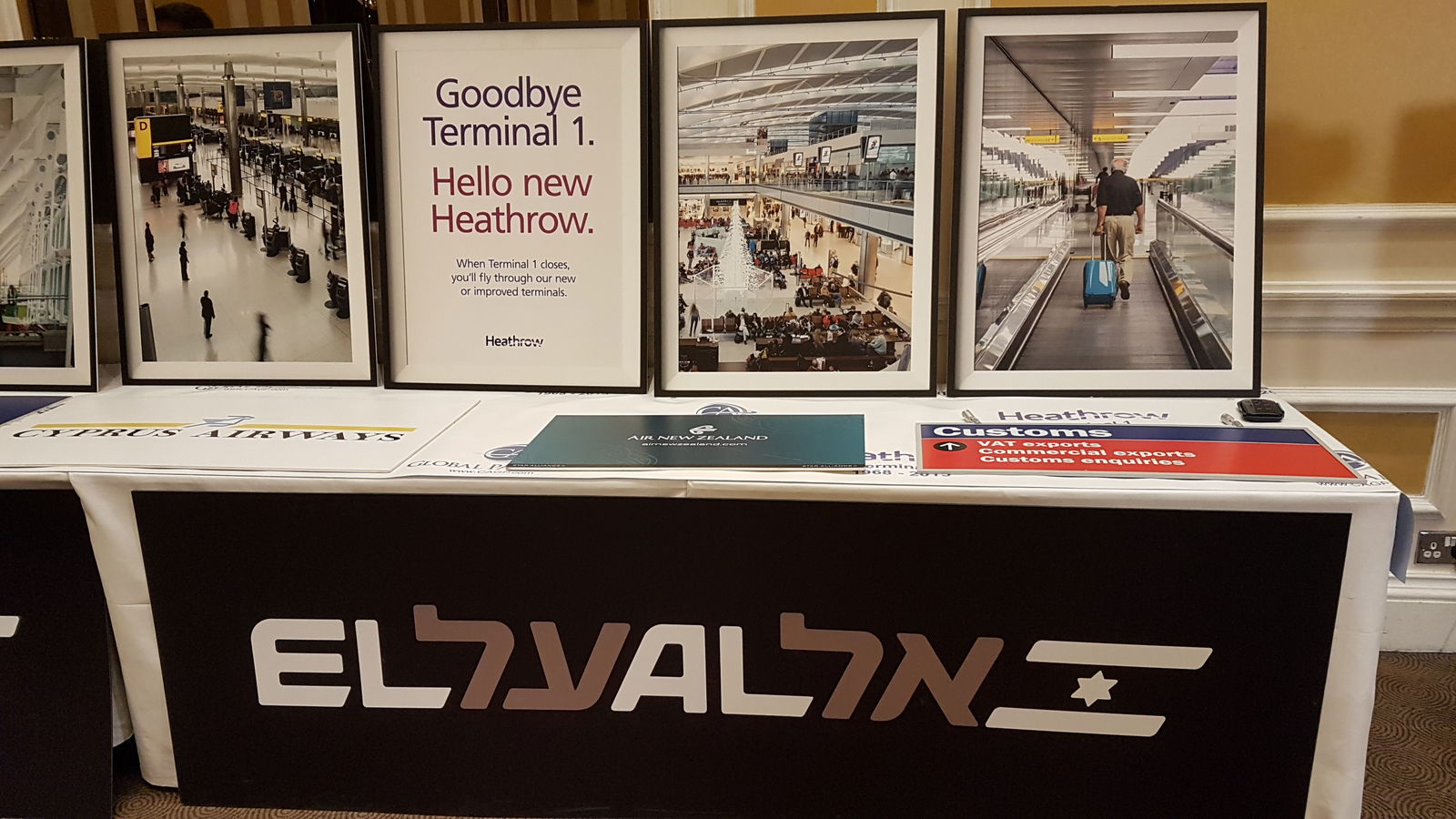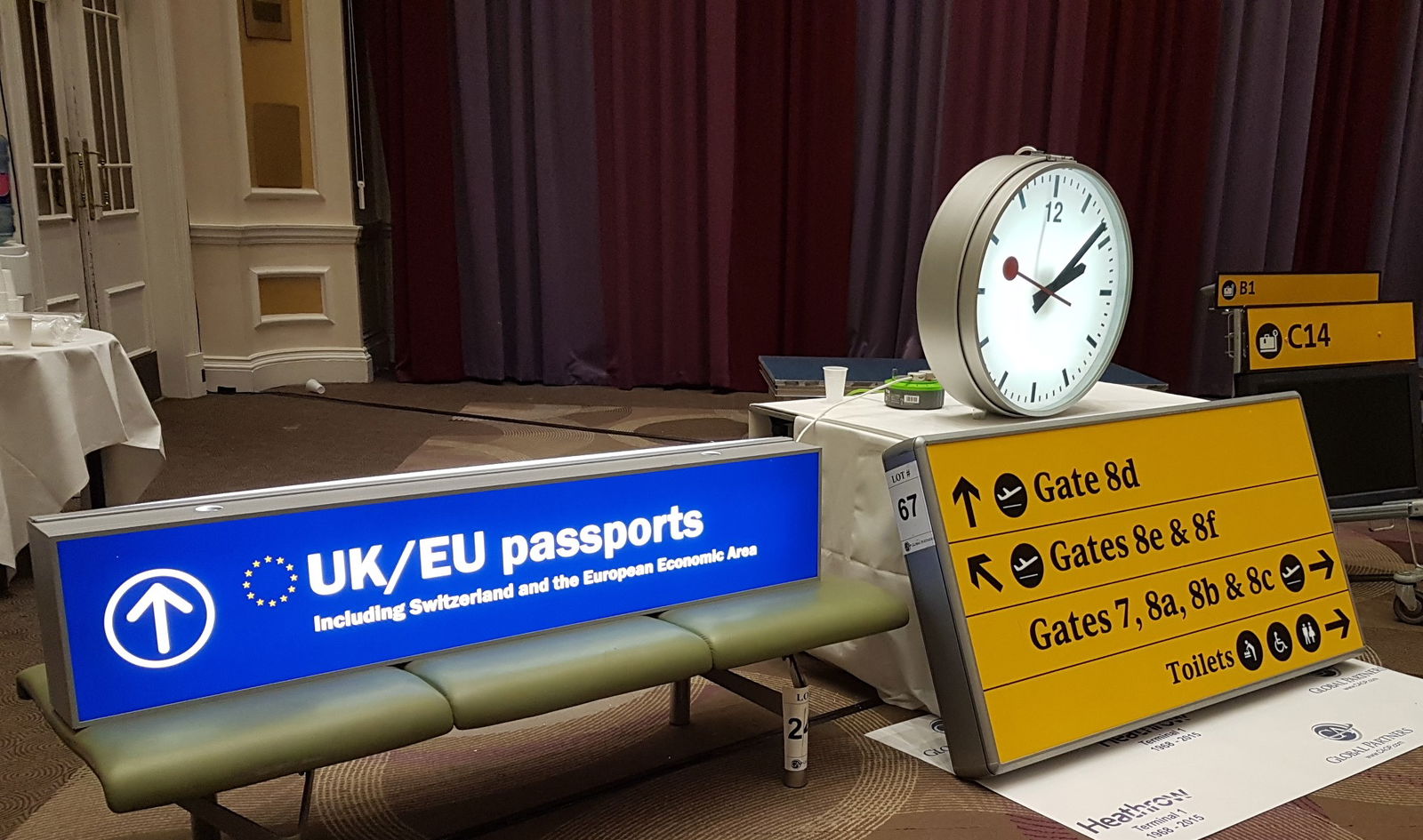 The auction staff (both those handling registration and the auctioneers) were welcoming, and seemed very excited to be running such a unique event. The bidding cards were cutely labelled as 'boarding passes.'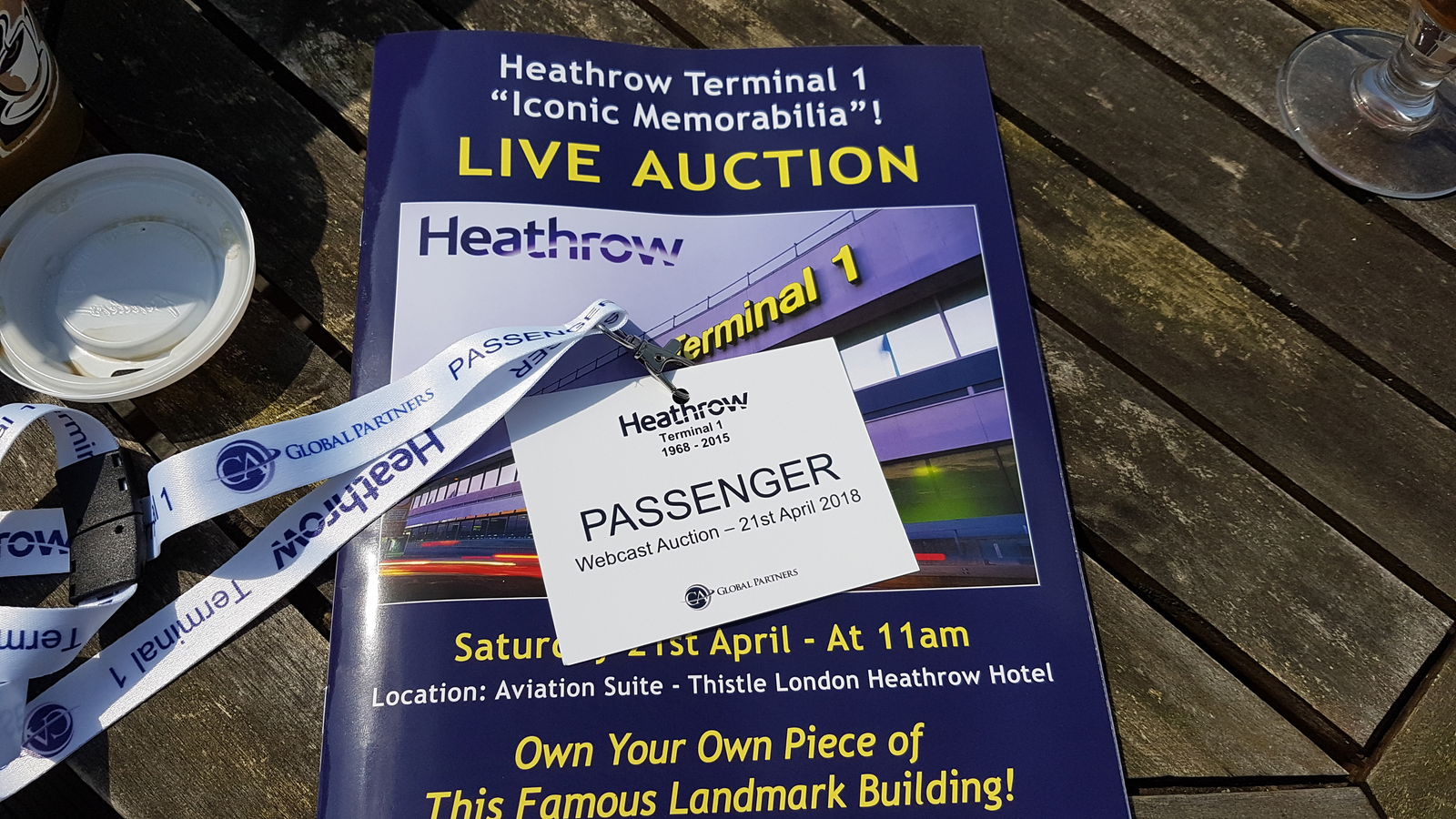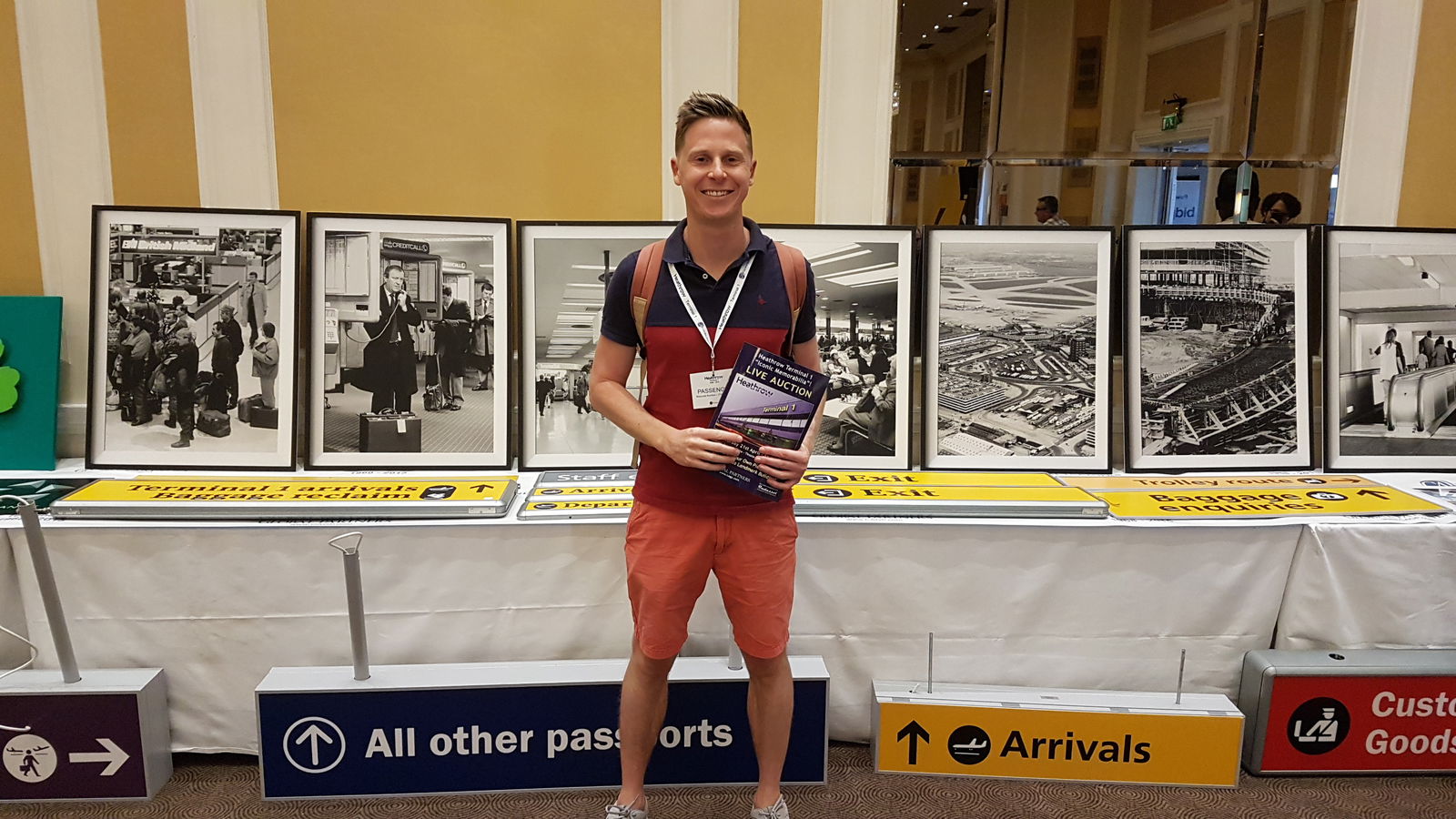 Of most interest from the buyers were the large analogue terminal clocks, each of which sold for several thousand pounds.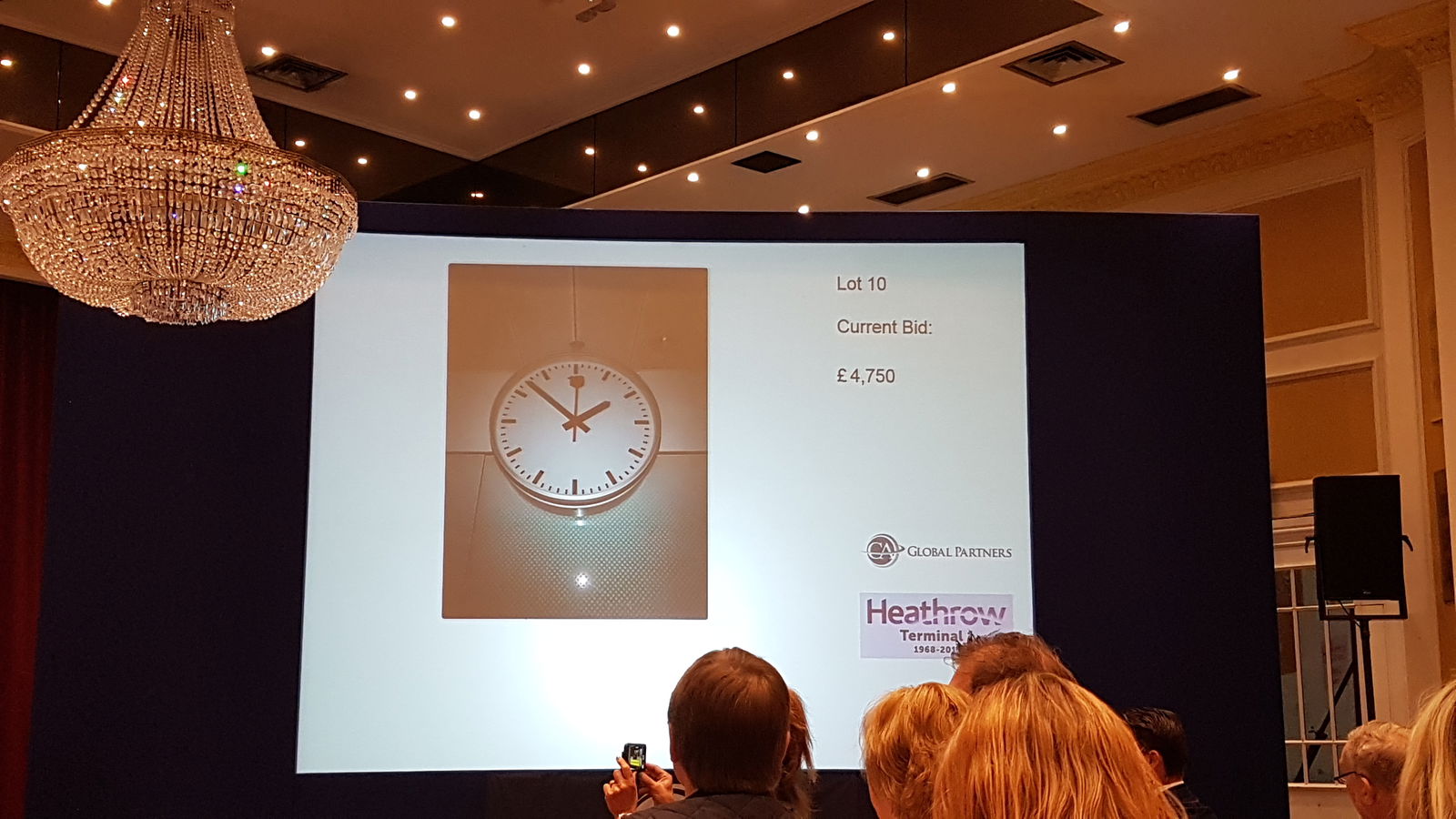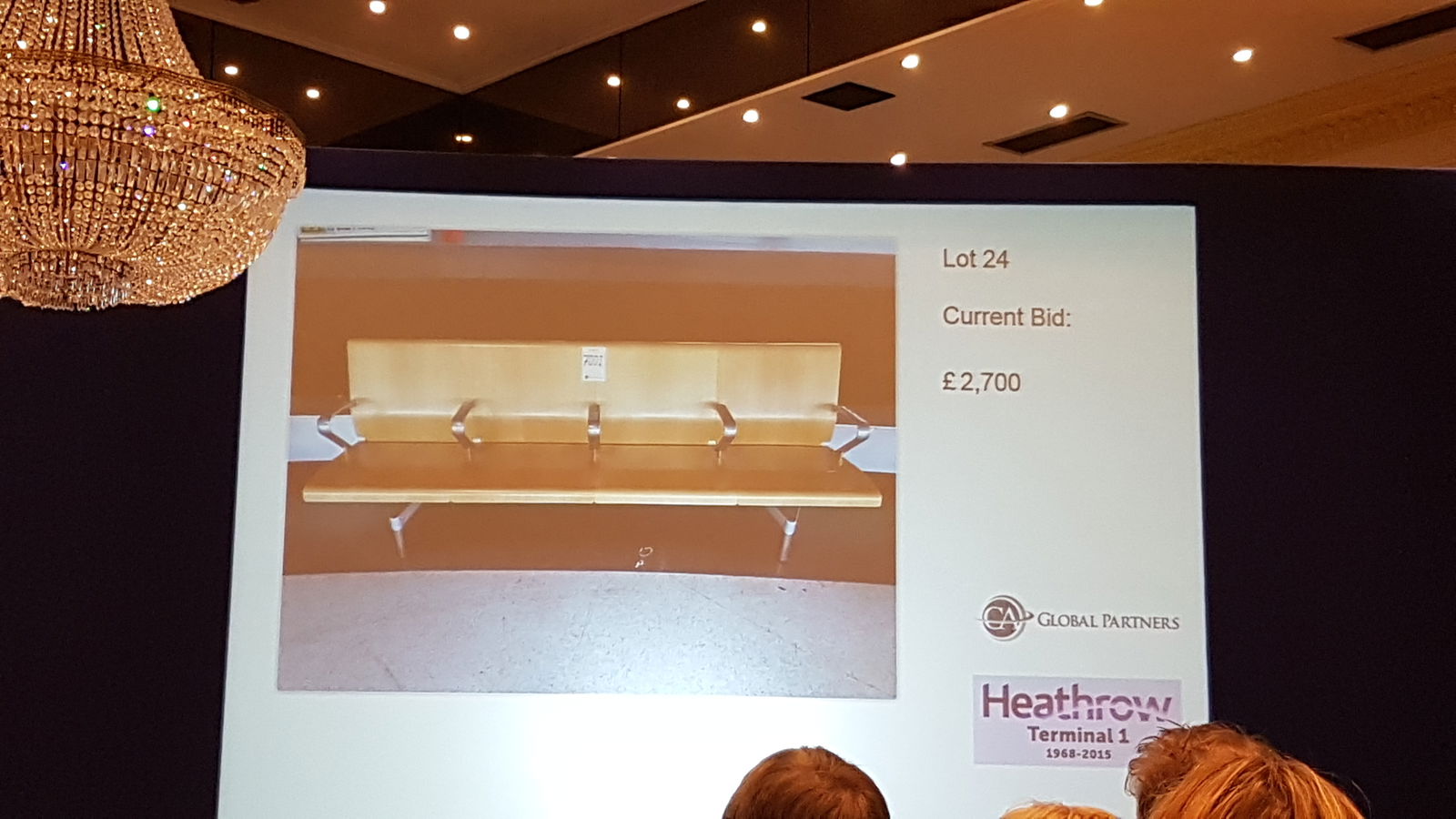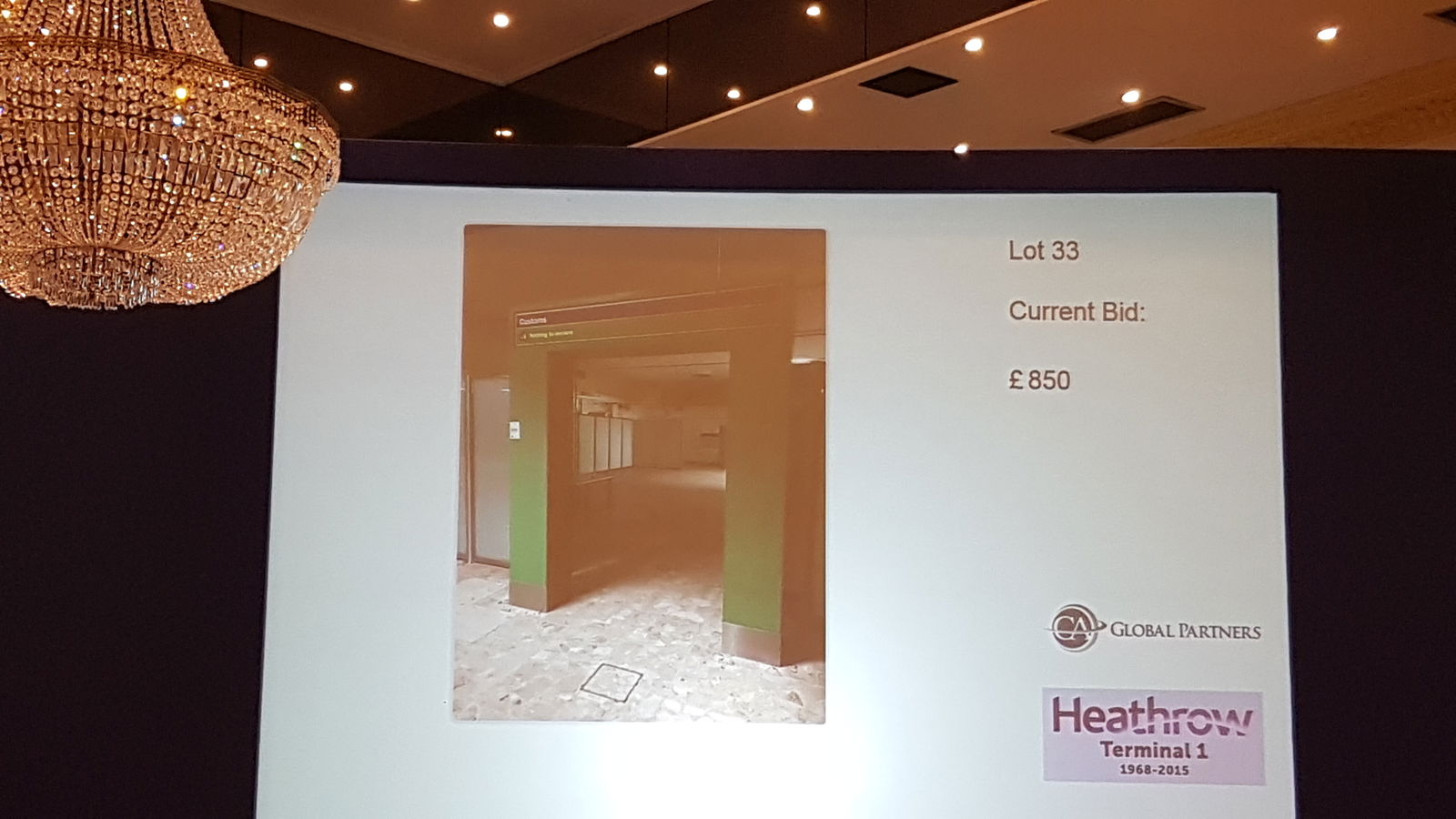 The iconic 'Terminal 1' outdoor signage was possibly the highest priced item at over £6,500 (I did not stay for all 300 lots). The auctioneer asked the winning bidder in the room where this iconic item was headed, but her lips were sealed.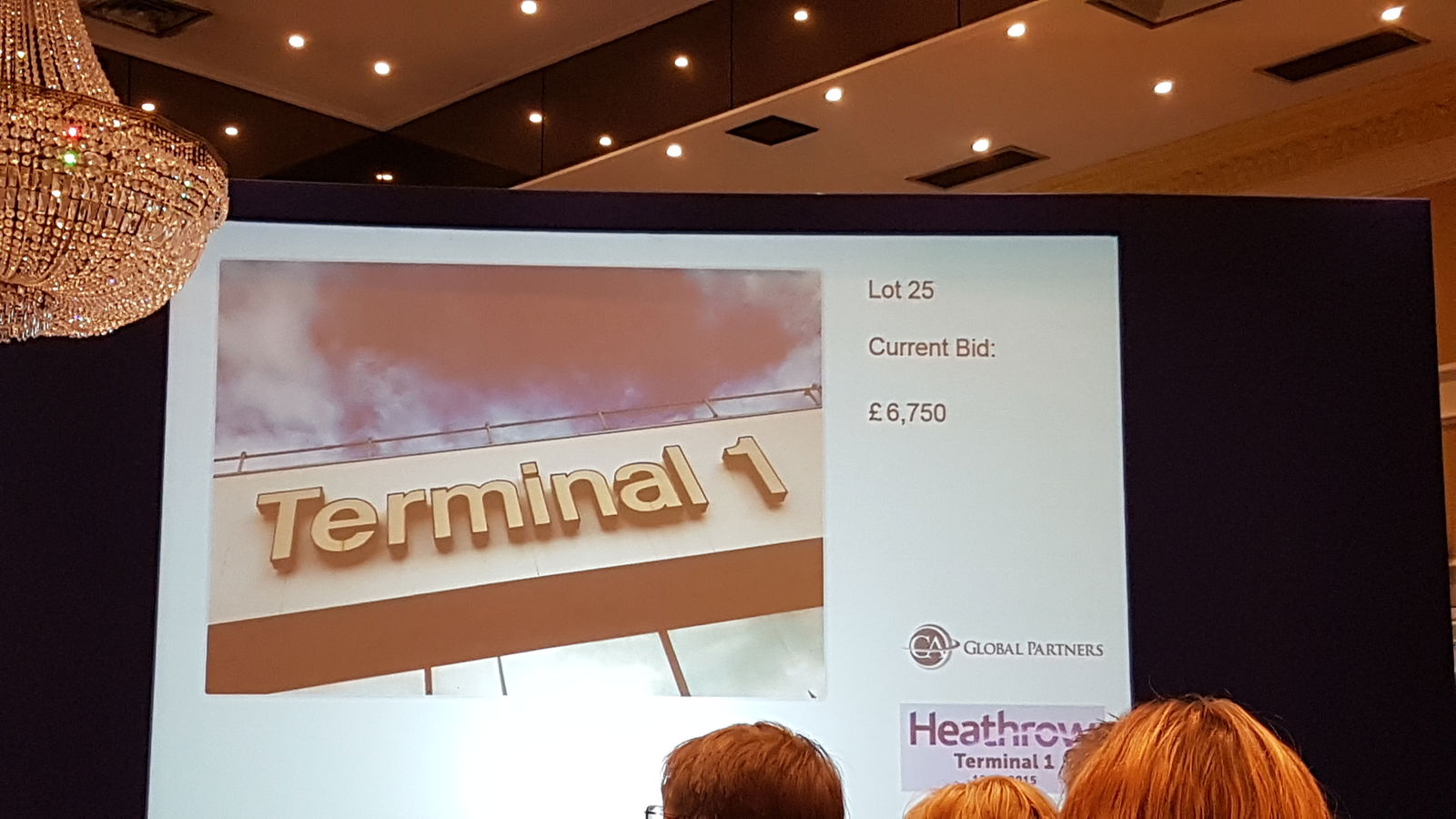 I had my eye on a couple of items, particularly the illuminated 'Gate' signs, but I seriously underestimated the interest from anonymous bidders online. While nothing had a reserve price, the items I was interested in bidding for unfortunately went for 10 times the price I was willing to pay for them.
There was VAT and a 'buyers premium' payable on all items, so almost 40% was added to the final hammer price. Why anyone would want to pay around $1,500 for a used recycling bin is lost on me!
I would much rather spend that money buying miles to redeem for a premium flight somewhere!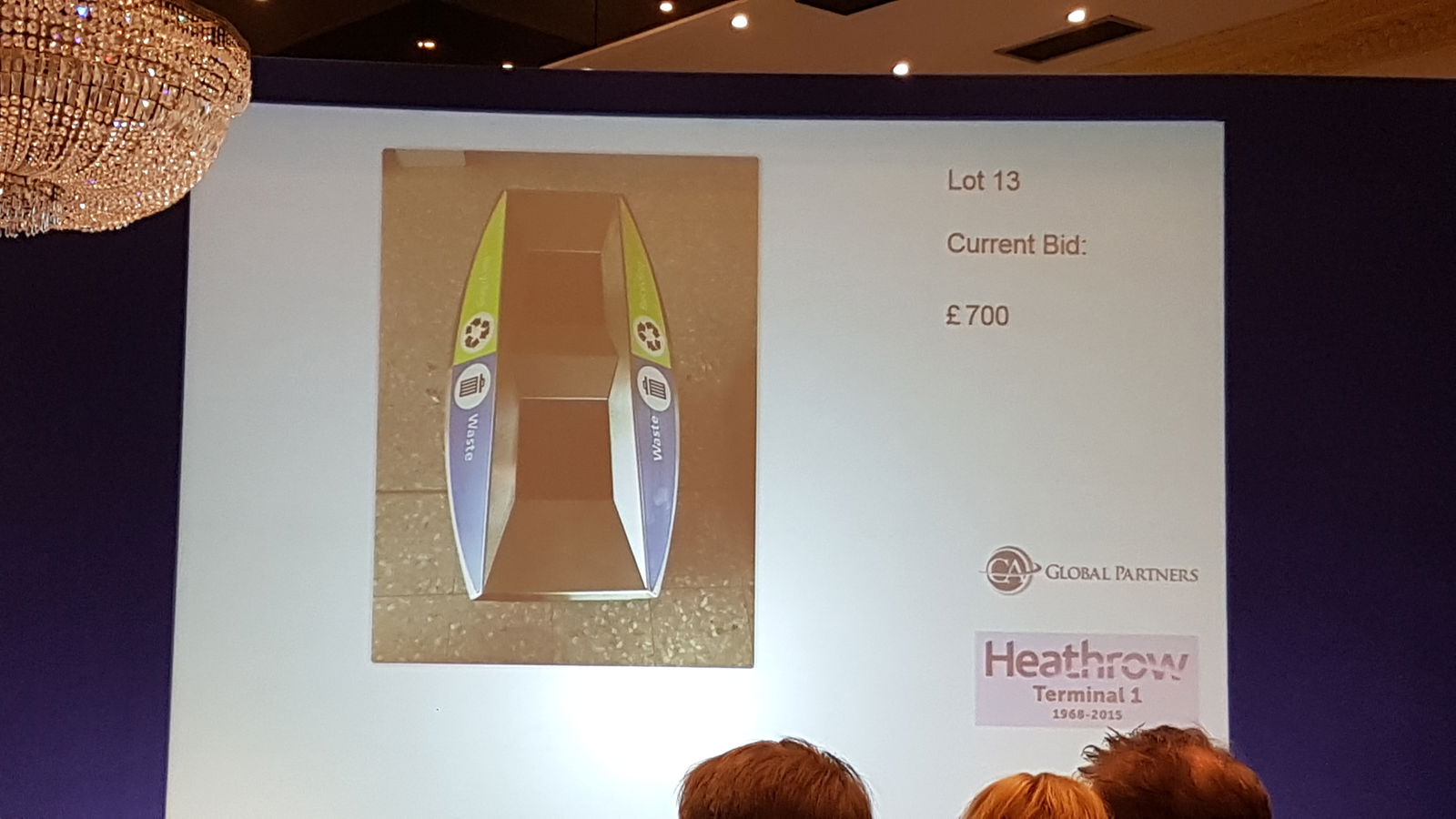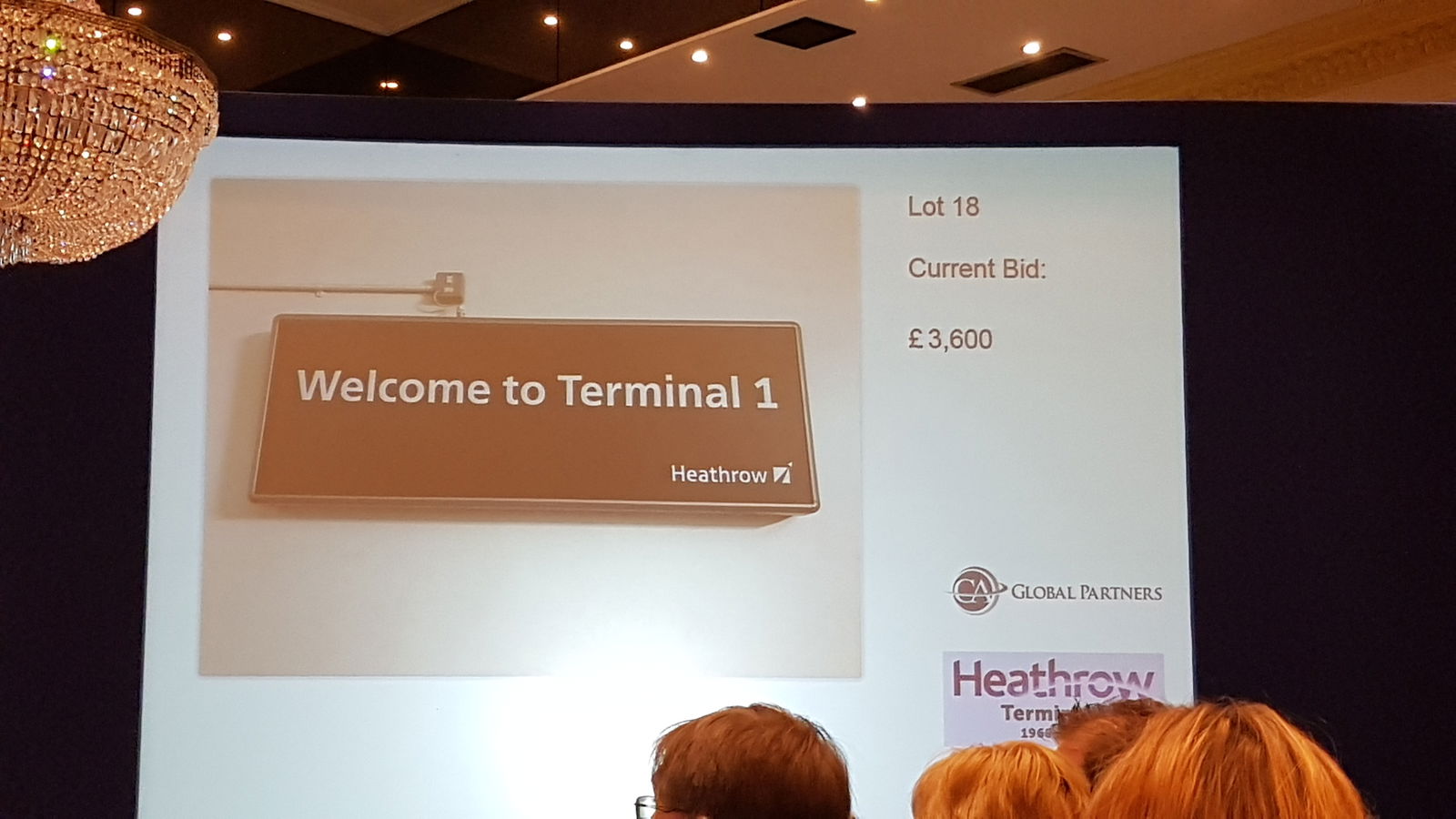 While the auction was interesting to attend, it was slow going given how many bids there were for each item. After 2 hours they had not even made their way through one third of the items.
Realising we couldn't really afford anything there anyway, we headed off, and noticed a sign on the way out for the hotel's viewing deck.
We headed upstairs to a huge outdoor terrace, and this was easily the best part of the day. It was a spectacularly sunny London day and the viewing deck was perfectly positioned — facing the runway where all Heathrow-bound planes were landing that day, every 30 seconds like clockwork.
Enjoying a cold beer in the sun with all manner of planes constantly landing right in front of us was heaven, and I could have stayed there all day. I'm not a hardcore #avgeek but managed to catch several A380s from British Airways (as well as their 747s), Qatar, Emirates, and Etihad, as well as some of the less frequent visitors to Heathrow, like Air New Zealand's once-daily 777 and Air Serbia's A319.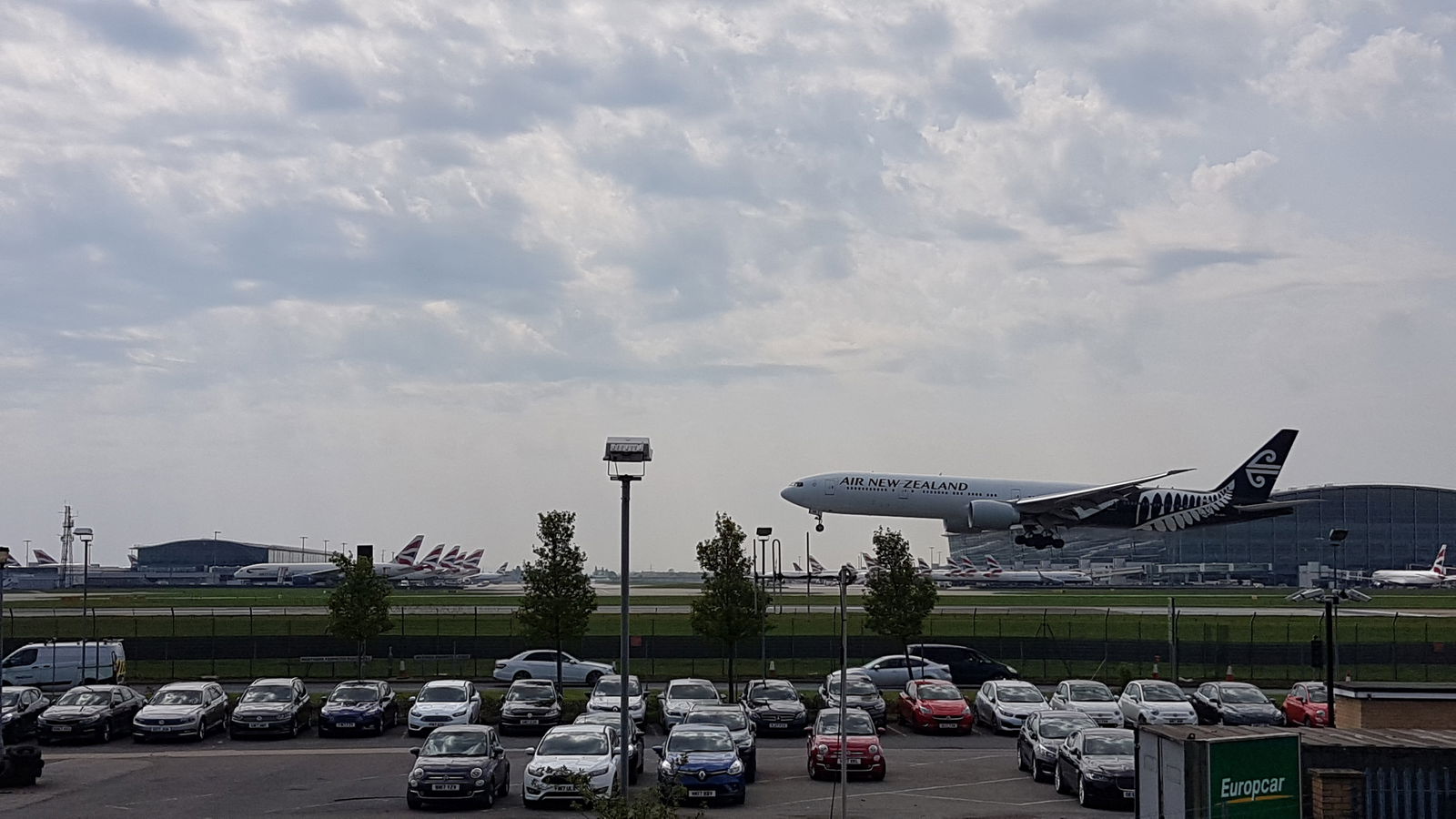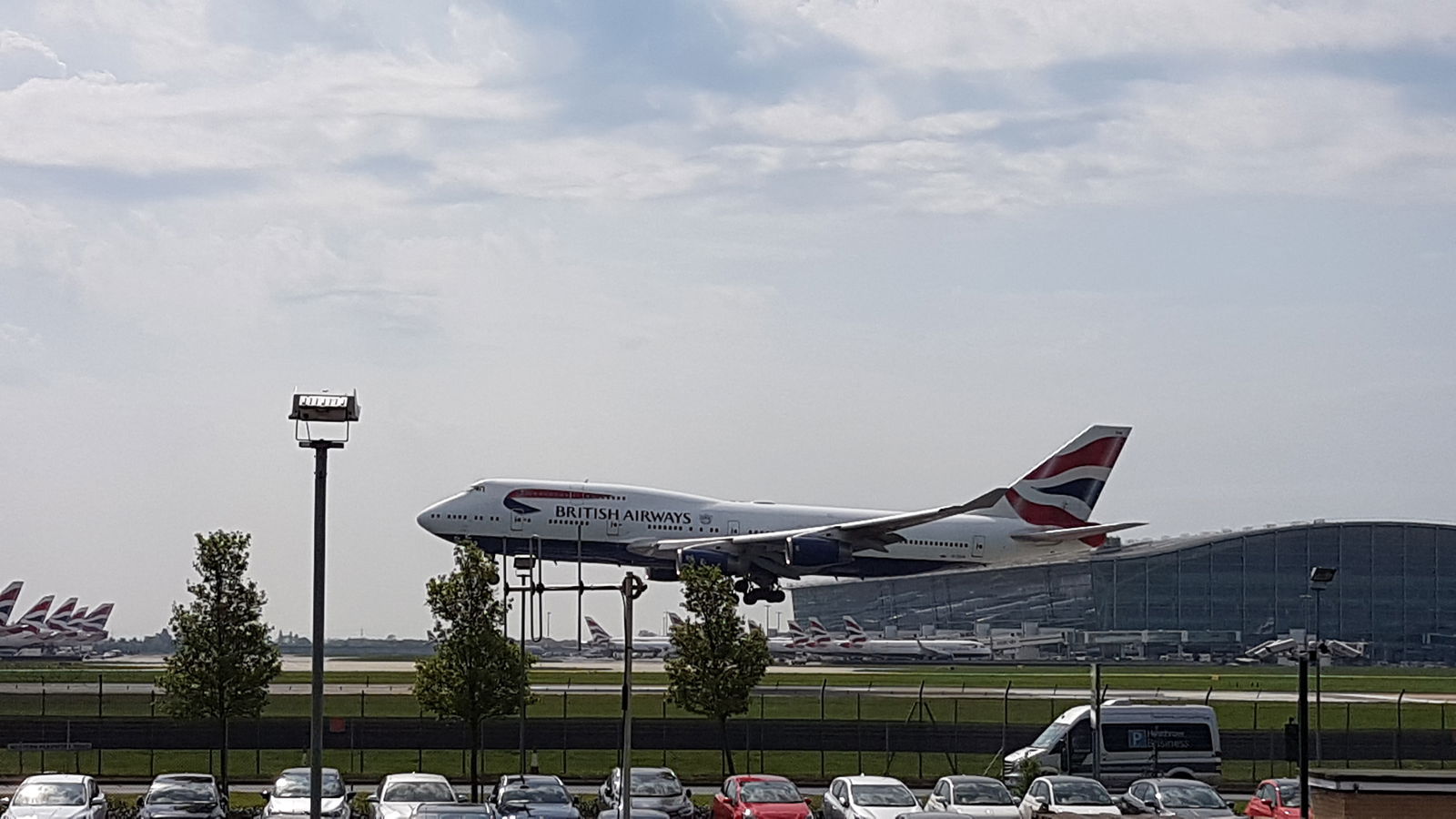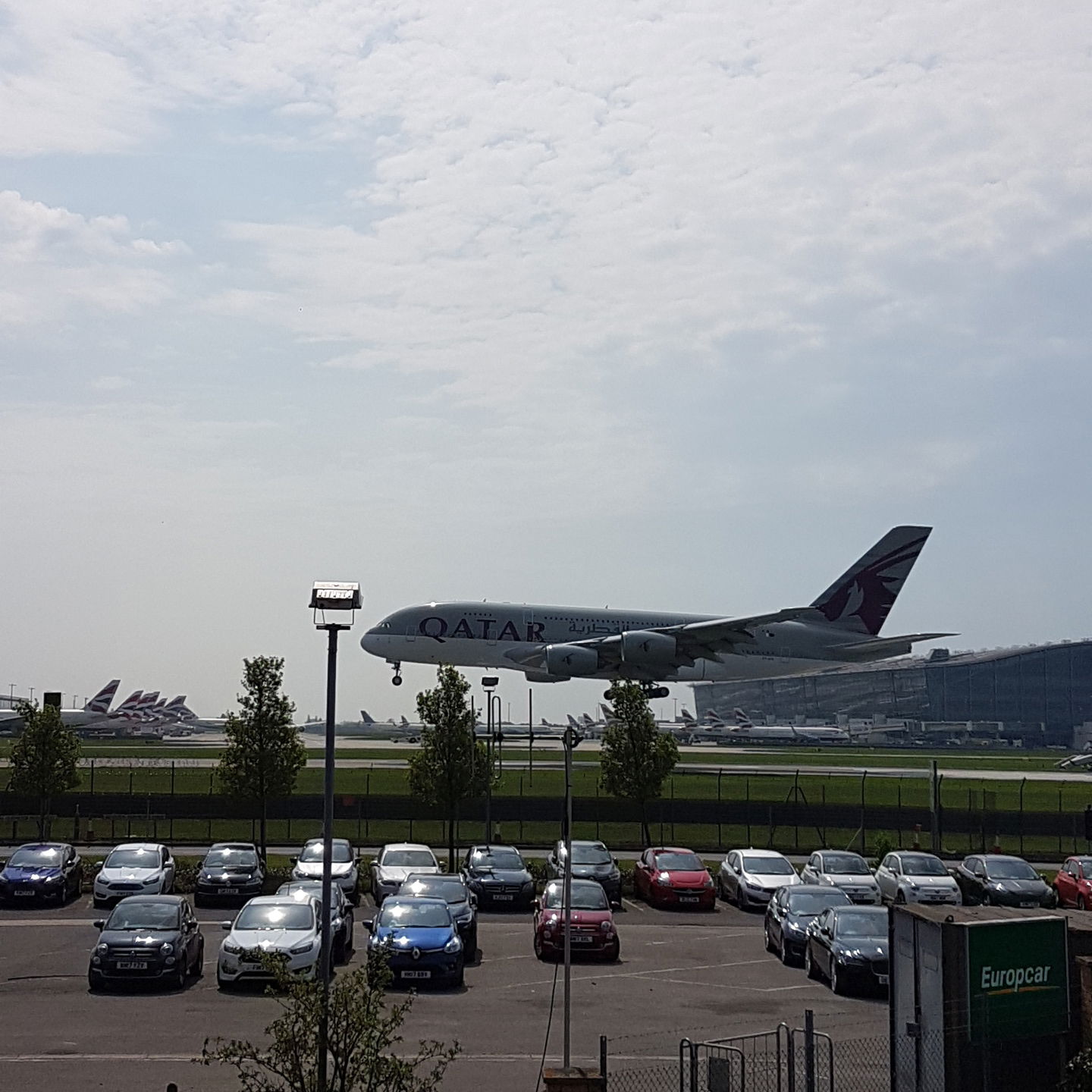 Bottom line
This was a really enjoyable day out, both for the uniqueness of the auction items (and the amount some people are willing to pay for them!) and the fantastic viewing deck at the Thistle Hotel.
If you have a few hours to kill landside at Terminal 5 and it is a nice day, you can take the driverless pod cars to the car park from Terminal 5, which is right next door to the Thistle Hotel. The staff are perfectly happy to let people plane spot all day, provided you buy the occasional drink or snack from the bar.
If you ever have the chance to attend an auction like this I would highly recommend it. I understand there will be future Heathrow Terminal One auctions, as they continue to strip the building.
Did any of you guys buy anything, in person or online?