Bloomberg ran an interesting article yesterday about Hawaiian Airlines, and specifically about how they're considering the A380 and how they eventually want to expand to London.
Could Hawaiian order the A380?
Well, there's no denying that A380s could probably be had for pretty cheap at this point. Not only is Airbus slowing down production, but Singapore Airlines will be returning their first A380 to their leaser next year, as they've decided not to keep the plane. While cash strapped airlines like Malaysia have been trying to offload them, this is a pretty big blow for Airbus.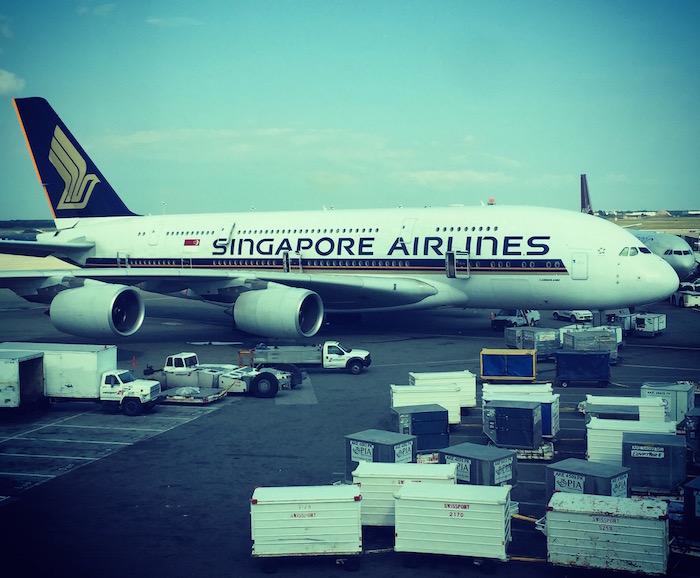 So is there room for Hawaiian to add the plane to their fleet? The airline's CEO claims that they're "looking seriously" at whether the plane may have a role to play in their network:
Dunkerley, 52, said the airline is looking seriously at whether the Airbus A380 might have a role to play within its network, especially on routes such as those from Honolulu to Los Angeles and Tokyo, which it serves with smaller wide-body planes six times and three times daily respectively.

The argument for using the superjumbo, which might be available on attractive terms either from Airbus or, soon, in the second-hand market, isn't conclusive and Hawaiian needs convincing of the business case, Dunkerley said.
Right now their biggest plane is the A330, so I have a hard time imagining they could make an A380 work. Perhaps it could make sense to Los Angeles and Tokyo, as mentioned above, but even there it seems like they're better off operating multiple frequencies, with schedules that work for all passengers. Operating a single flight with 500+ seats would probably lower yields quite a bit.
But who knows, if the plane can be had on attractive enough terms, maybe it could make sense.
However, overall Hawaiian seems to be headed in the opposite direction, as they're focusing more on smaller planes that are fairly long range, like the A321neo, which they're taking delivery of next year.
Hawaiian to Europe?
Hawaiian's CEO also seems to have the goal of launching flights to Europe, and specifically to London. However, a couple of years ago the airline swapped their A350 order for A330neo aircraft instead, which aren't quite as long range. So they're not sure if they'll have the range to operate those flights:
Flights to London are a goal but may be at the limit of what's attainable after the carrier swapped its order for Airbus Group SE A350-800 jets to the shorter-range A330neo in 2014, Hawaiian Holdings Inc. CEO Mark Dunkerley said in an interview Wednesday.

"We certainly hope the answer is yes but we don't have all the information we need," he said. "It's going to depend on what our final seating configuration is and therefore the weight of the Neo and its exact performance and statistics when it's actually built."
Honolulu to London is ~7,200 miles, so it's a long stretch. The economics of ultra longhaul flights are tough, especially in a leisure market like this. Presumably the flight would be low yield and targeted primarily at tourists, so I'm not sure how they'd make the numbers work on that.
There are rumors that Swiss airline Edelweiss will launch flights between Zurich and Honolulu, perhaps as early as the end of this year. The airline will be taking over some A340-300 aircraft from Swiss over the coming months, so those could be used for the service. However, that's all speculation as of this point.
I'd also be fascinated to see how Edelweiss hopes to turn a profit flying the gas guzzling A340-300 on a ~7,600 mile leisure route…
Bottom line
I'm fascinated by the business side of the industry almost as much as the miles & points side. Naturally when I saw an article about a Hawaiian A380 I had to stop and read. Personally I can't imagine Hawaiian will take delivery of an A380, and I'm even surprised that they're "looking seriously" at it, given that overall they're headed the direction of smaller, more fuel efficient, and long range aircraft. For an airline like Hawaiian, the A380 could kill their yields, and that's not something they want to do.
I'm also curious to see if we actually see flights between Hawaii and Europe. It would be an interesting new market, though given that it's an ultra longhaul leisure market, I have to wonder how airlines hope to turn a profit operating it.