A couple of days ago I wrote about Delta's policy change whereby it's no longer possible to upgrade Premium Economy tickets on Air France to business class using Delta SkyMiles or systemwide upgrades. Well, it looks like this change could be worse than we expected. Much worse.
Up until now the business class award availability that Air France gave their own Flying Blue members access to matched what they gave their partners access to. That means if Air France Flying Blue showed "Classic" business class award availability, Delta SkyMiles members could redeem their miles for that at the "low" level.
For example, per the Air France website, here are the dates next April/May with saver business class award space between Los Angeles and Paris: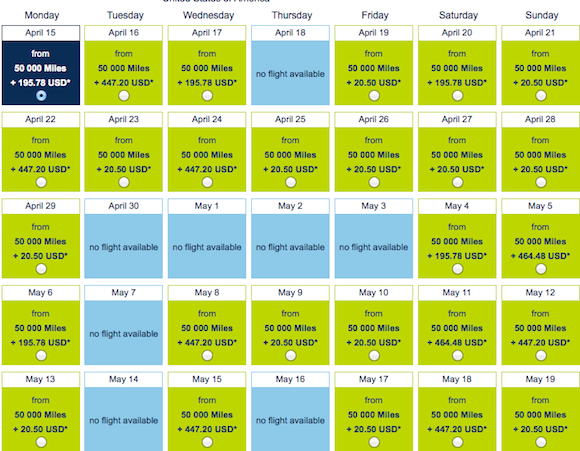 Just to further prove the example, let's select April 24 and take a look at the option:

As you can see there's a business class award seat on the nonstop. However, when searching on delta.com or ExpertFlyer, the space doesn't show up at all.

Interestingly some space shows up after June 1 of next year, though I don't see a single Air France business class award seat on any transatlantic route between now and then. Not a single one.
Back in March Delta had an IT issue whereby they couldn't display Air France transatlantic business class award space. That was eventually resolved, though it came at a cost. Air France award availability was never as good after the "IT glitch" as it was before. And the other thing that makes that different than this is ExpertFlyer still showed the business class award space throughout the "IT glitch," which they're not showing now.
So could this be an "IT glitch?" Perhaps, though I suspect there's a lot more to this. I think there are (at least) two practical explanations:
Air France will no longer release any business class award space to Delta SkyMiles. This is entirely possible and well within their rights, and it would be the biggest blow to the SkyMiles program on the award redemption side in a very long time.
Air France plans on only releasing a sub-set of their award availability to Delta SkyMiles members, and in order to make that happen they're having to temporarily block all redemptions as they get their systems figured out.
I'm fairly confident this isn't just a harmless "IT glitch." If either of the above explanations is the case, it would be a huge blow to the SkyMiles program. And the timing of this is funny, because just a couple of hours ago I made the following prediction (without even considering this "IT glitch"):
And while I hate to do this, let me make a prediction. I'd be willing to bet we'll see a trend over the next few years whereby non-US airlines increasingly release award space exclusively to their own members. At the end of the day there's such an inequality in terms of the number of outstanding miles between the US and the rest of the world, given the huge number of miles earned through credit cards in the US. Not only do I think foreign carriers will think their premium cabins are too accessible (especially due to US airlines often selling miles cheaply), but they'll also feel like their own members are at a disadvantage, and more may go the route of Lufthansa. Not something I'd like to see happen or that I have inside knowledge on, though if I were a betting man…
So neither scenario would surprise me. What do you guys think?