Delta SkyMiles are referred to as "SkyPesos" for a reason. In most instances they're worthless for award redemptions on Delta, though their partner Air France does release quite a bit of award space. While they're not the best airline in the world, at least it seems SkyMiles are relatively useful for travel to Europe, since they release nine business class award seats on many flights.
However, the past few days I've noticed that Delta seems to be blocking a majority of the space Air France releases. I'm finding this space both by using Expert Flyer and Air France's Flying Blue website, which in the past have matched the award space that Delta has access to.
I'll assume it's a system glitch, but I see virtually no award space, in particular in business class.
For example, take a look at these Air France flights from Paris to Washington Dulles, where both flights have at least nine business class award seats:

However, when you go to delta.com, they only show coach space for those flights: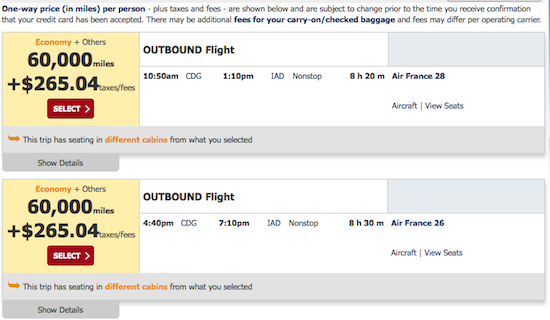 I'm going to assume this is a system glitch as opposed to something intentional on the part of Delta or Air France, though I hope it's fixed soon. In my experience there's no way to get around the "blocking," even by calling the SkyMiles award desk (not that they're usually that helpful).
Anyone else running into similar issues?