Update: In 2020 Hainan Airlines discontinued flights to Mexico.
Hainan Airlines has just formally announced that they'll be launching nonstop flights between Beijing and Mexico as of March 21, 2018. The flight will operate 3x weekly from Beijing to Mexico City via Tijuana, with the following schedule, per @airlineroute:
HU7925 Beijing to Tijuana departing 5:10PM arriving 2:25PM
HU7925 Tijuana to Mexico City departing 4:25PM arriving 9:30PM
HU7926 Mexico City to Tijuana departing 11:30PM arriving 12:45AM (+1 day)
HU7926 Tijuana to Beijing departing 3:45AM arriving 8:05AM (+1 day)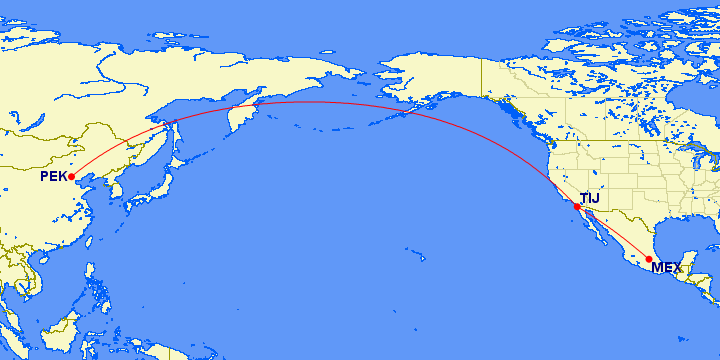 Hainan Airlines intends to operate the route using a Boeing 787-8, featuring 36 business class seats and 177 economy seats. The flight should be bookable in the coming days.
There are a few things about this route that are especially noteworthy. First of all, this is the first nonstop flight from China to Latin America on a Chinese airline. There are already some Chinese airlines flying to Latin America (China Southern flies from Guangzhou to Vancouver to Mexico City, Air China flies from Beijing to Montreal to Havana, and Air China flies from Beijing to Madrid to Sao Paulo), though this is the first nonstop link between the two countries on a Chinese airline.
The only other Asian airline operating direct to Mexico is ANA, which began that daily flight in early 2017.
It's also interesting how little lead time Hainan is providing on this new route, as they're launching it in a matter of weeks. This is quite common for Chinese carriers as they expand rapidly, and don't have issues operating routes at a loss in the short term.
Hainan is making the stop in Tijuana because the 787-8 couldn't operate the flight nonstop in both directions. That's because Mexico City Airport is at a high altitude, which impacts the takeoff performance of the plane. The direct distance between Beijing and Mexico City is 7,740 miles, and the stop in Tijuana adds only 68 miles to the direct distance of the journey.
While the stop in Tijuana is primarily intended as a refueling stop, I believe Hainan Airlines will have pick-up rights there, so you should be able to fly between Tijuana and Beijing on Hainan. Thanks to the Cross Border Xpress, it's quite easy to get between San Diego and Tijuana Airport, so this flight could potentially be interesting for those living in the San Diego area.
I'm curious to see how Hainan does on this route. An airliners.net user notes that Mexico is pretty transparent in publishing passenger numbers, and in the 226 flights that China Southern has operated between Mexico City and Guangzhou (via Vancouver, with pick-up rights there) since launching the route, there have only been a total of 8,877 passengers on the sector from Mexico City to Vancouver, which translates to an average of 39 passengers per flight. That's not exactly an impressive load factor for a 787.
How do you think Hainan will do on their new nonstop route to Mexico?