Frequent travelers to the United States are probably familiar with Global Entry, which allows enrolled members to get expedited immigration at US airports. However, applying for Global Entry is a bit of a process, and there's a cost to participate.
If you don't want Global Entry (or aren't eligible), your next best option is Mobile Passport Control. This is sort of a hidden program, which can significantly cut down your wait times at US immigration. In this post I wanted to talk about how this works, as I used it for the first time yesterday (while going through immigration with my son, who doesn't quite have Global Entry yet).
How Mobile Passport Control works
Mobile Passport Control (MPC) is a free app that allows travelers to submit their travel document, photo, and customs declaration information, before they arrive at the immigration checkpoint at a US airport.
Travelers just have to download the app, which is available for Apple and Android. The idea is that the app streamlines the traveler's entry process to the United States by reducing passport control inspection times and overall wait times.
Those who use MPC can access a separate immigration screening checkpoint. Really that's the biggest advantage — because not many people use this program (as of now), the wait times are generally much shorter than the standard wait times.
There are some important things to be aware of, as you'd expect:
MPC is available to US passport holders and permanent residents, as well as Canadian passport holders
MPC is available in 48 locations, including at 33 US international airports, 11 Preclearance locations, and four seaports
There's no pre-approval required to use MPC; you just have to complete a customs declaration through the app every time you enter the United States, and then you'll be given a QR code that you show the immigration officer
Those who use MPC don't have to complete a paper immigration form, or use a kiosk where they make their declaration; however, they still have to talk to an immigration officer (like other passengers), but in theory the process should be faster, and you shouldn't be asked as many questions
Mobile Passport Control app: step-by-step guide
The Mobile Passport Control app couldn't be much easier to use. I'd recommend downloading the app prior to boarding your flight to the United States, and completing the basic requirements. Then you have to submit your customs declaration after you land in the United States (within four hours of when you intend to clear immigration).
Once you download the app, there are several pages explaining how the app works, plus you have to agree to a disclaimer statement.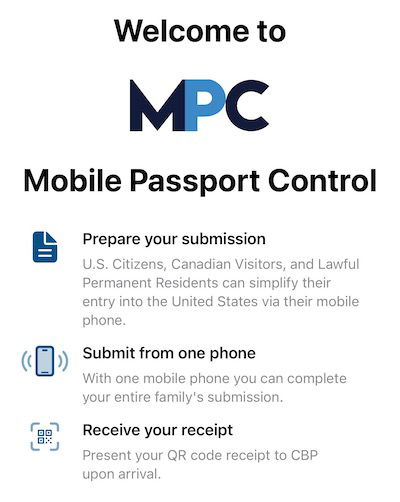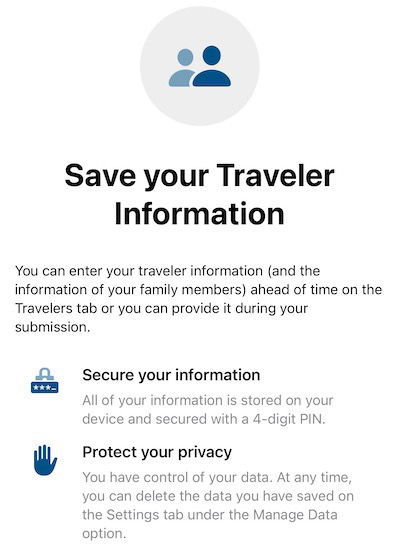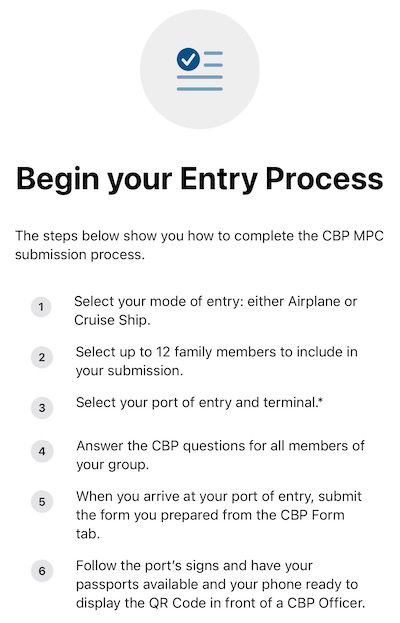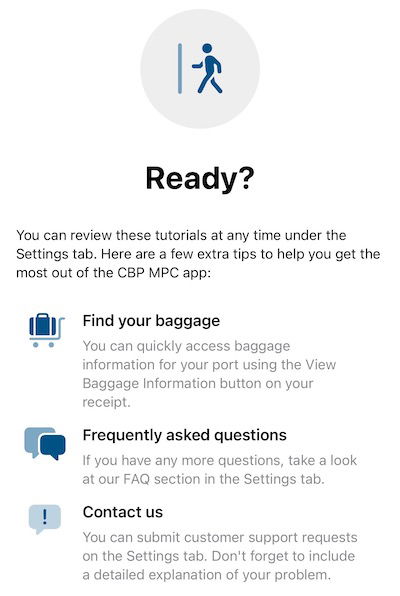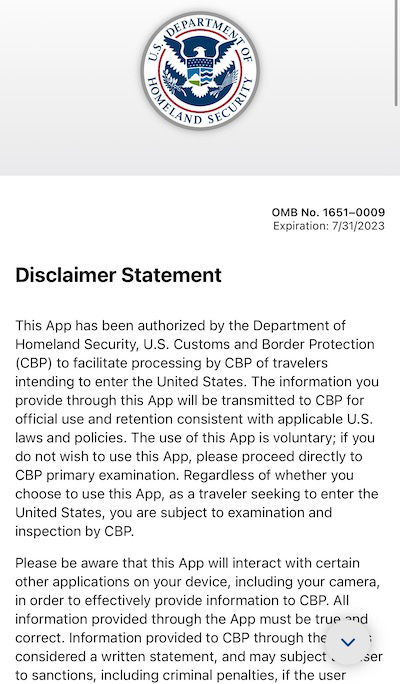 After that you can go through steps required for a particular entry to the country. Note that you can use one app to submit your application for multiple people in the same family. Furthermore, you can save the passport details in the app for multiple trips, eliminating the need to submit all of this information each time (though you do need to make a customs declaration each time).
To start the process, you'll have to state which CBP port you'll be arriving at, and they all show on a dropdown menu.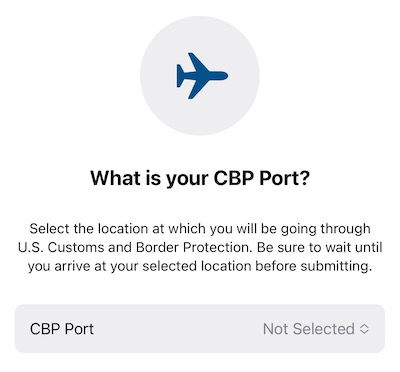 At that point you'll have to select the travelers who will be entering the country. If you've already saved people to your profile, they'll show on that page. Otherwise you can start from scratch, which just requires scanning the document, and then all the information will be auto-populated.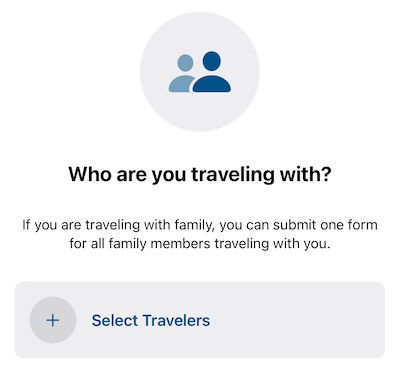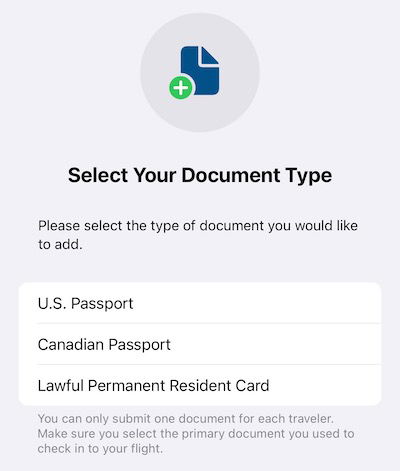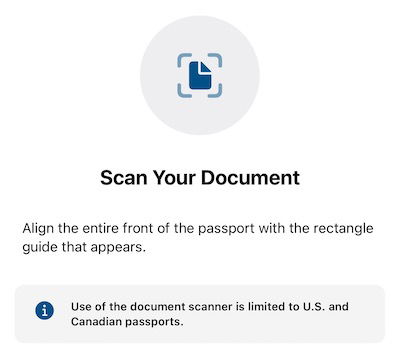 You'll then need to capture traveler photos. This doesn't need to be a passport-quality photo, you just have to follow some very basic guidelines, like removing hats and sunglasses, and making sure only one person's face is visible.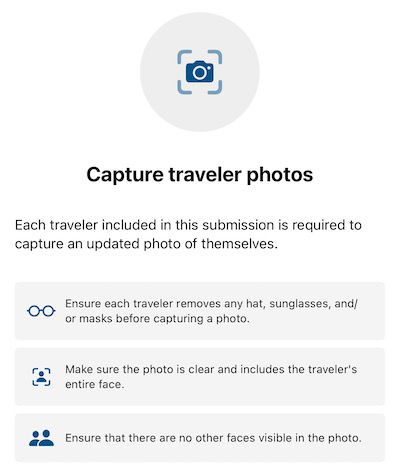 The above can all be saved to your profile. However, what you do need to complete with each trip is answering six standard CBP declaration questions.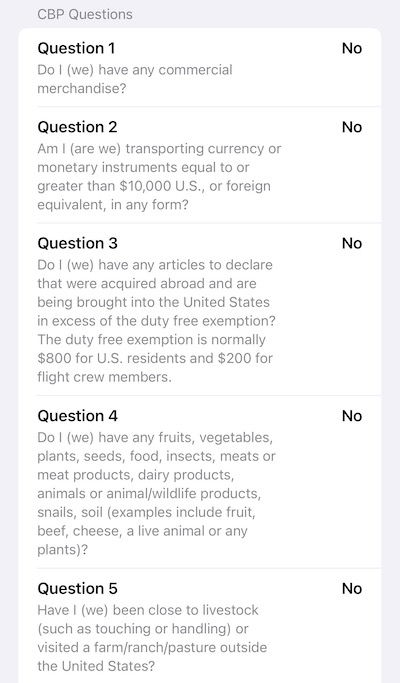 You'll only want to submit this when you arrive at your point of entry in the United States. The app asks you to submit this once you've arrived at the airport, though in reality you have up to four hours to go through immigration from the time that your application is submitted.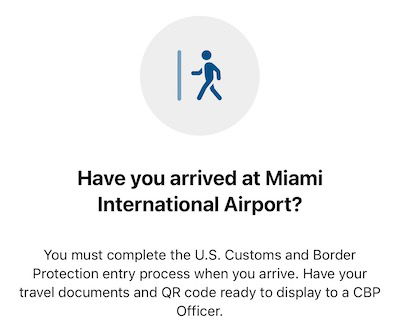 Once you submit your document, you'll be given a receipt with a QR code, which you'll need to scan when you see an immigration officer.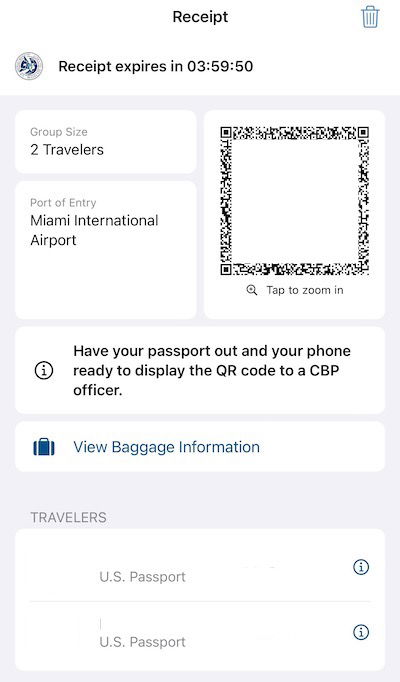 How Mobile Passport Control works at the airport
Once you land at your US point of entry and arrive in the immigration hall, look for the Mobile Passport Control signage. This will bring you to an area separate from the standard US immigration line.
You still need to queue to see an immigration officer, and when you get to the officer, you'll see a scanning device where you should scan your QR code. The benefit is that this line is usually much shorter, and also that you generally won't be asked as many questions (since you've already answered some questions via the app).
When I went through the MPC lane yesterday at Miami Airport, the wait was about five minutes, while the general immigration line looked much longer. The main benefit of MPC isn't even the time savings from getting some of the work done in advance through the app, but rather just having access to a shorter line.
Is Mobile Passport Control a Global Entry alternative?
Mobile Passport Control isn't as good as Global Entry, plain and simple. With Global Entry there's almost never a wait, you just have to look at the camera, an officer acknowledges you, and then you're usually sent on your way. The Mobile Passport Control experience isn't as seamless. However, it's the next best thing.
There's no enrollment cost, using the app takes maybe a few minutes to set up, and then with each trip it just takes a minute or so to answer the declaration questions. Getting access to a special immigration line for that is awesome, as it could potentially save you a significant amount of time.
Of course like many things in life, I imagine that as this app becomes more popular and well know, it will also become less useful. After all, when everyone gets access to a special lane, no one gets access to a special lane. 😉
Bottom line
Mobile Passport Control is an awesome free app that can save you time at US immigration. The app is easy to use, and allows you to submit your documents and customs declaration prior to speaking to an immigration officer. Most valuable of all, those with MPC get access to a special lane at immigration, which is typically much shorter than the standard one.
While I'd still recommend Global Entry, those who don't have it should use MPC if they're eligible.
Have you ever used Mobile Passport Control before? If so, what was your experience like?