Hopefully I don't get a police summons for this post.
Garuda Indonesia's horrible handling of a vlogger sharing his experience on a flight isn't the only thing that's totally whacky at Indonesia's national airline.
Garuda Indonesia is a mess
This is nothing new, but up front it's probably worth noting that Garuda Indonesia's management is a mess. This seems to be the challenge with so many airlines that are government owned, where no one seems to know whether they're supposed to be operating as a for-profit company, or operating in a way that maximizes prestige.
It takes time to build up a route
When an airline enters a market it takes time to build up demand. Routes aren't typically going to be profitable from day one, and in particular it's important for an airline to be consistent and reliable.
If an airline gets a reputation for not offering consistent service, that can harm their presence in a market. After all, passengers value reliability above all else.
That brings us to Garuda Indonesia's London route.
Garuda Indonesia's London madness
Garuda Indonesia has been flying to London most recently since 2014… sort of. I don't think I've ever in my life see an airline be so inconsistent and indecisive in the service they're offering.
What am I talking about?
In 2014 Garuda Indonesia relaunched flights to London Gatwick, following the route being suspended for many years; they operated this route via Amsterdam, as a fifth freedom flight
In 2015 Garuda Indonesia switched this flight from London Gatwick to London Heathrow, after securing a slot there
The flight then operated via Singapore, until 2017, when the flight started being operated nonstop in the eastbound direction
In October 2018 the airline suspended the London route altogether
Then the airline announced that they'd relaunch nonstop flights between Jakarta and London as of November 2018, using a 777
Then the airline announced that they'd actually operate the route via Singapore in both directions, using an A330
Then in January 2019 the airline began operating a triangle route, from Jakarta to London to Bali to Jakarta
Then in May 2019 the airline announced they'd cut service to London altogether
In June 2019 they stopped accepting reservations on the London route, only to reopen reservations days later
Effective immediately the airline will operate the route from Bali to Medan to London, with that stop in both directions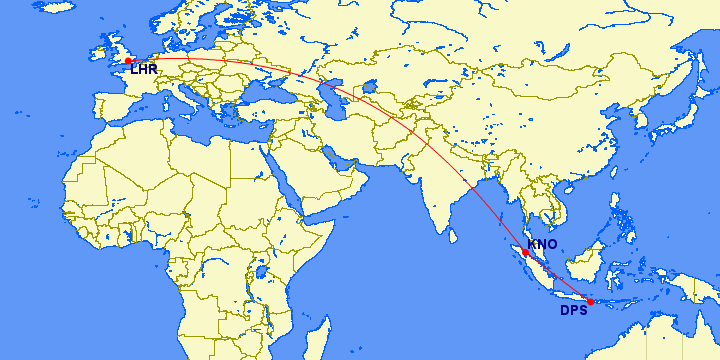 In other words:
If someone wants to travel between London and Jakarta they'd have to make two stops, meaning the travel time on Garuda Indonesia is significantly longer than on other airlines
Even if you're traveling between Bali and London, Garuda Indonesia's "direct" flight only offers the sixth fastest travel time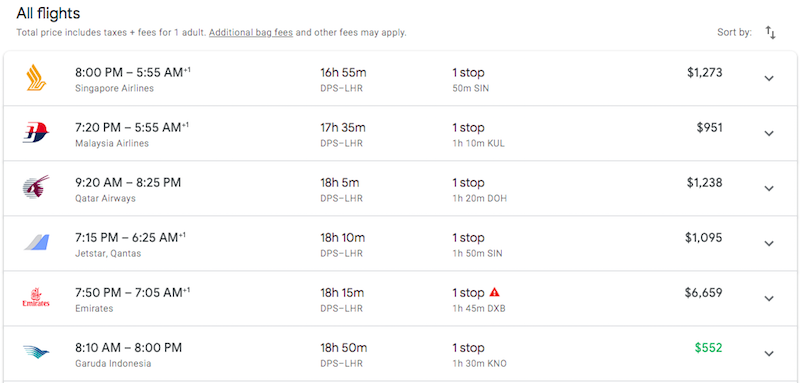 On the plus side, they do have a monopoly on the Medan to London route, so… yay?
Bottom line
I don't have the slightest clue what Garuda Indonesia is thinking here. For one, changing up your route every few days/weeks/months gives consumers zero confidence in what they're booking.
If I had to fly between London and Indonesia I wouldn't book Garuda Indonesia because I couldn't trust they'd actually operate the route they say they do. They have about as much consistency on this route as WOW Air had with their operations in their last few weeks of existence.
But beyond that, their logic here is just so bad:
To make ultra long haul flying work on a network airline, you need premium traffic
Presumably there is some demand between London and Jakarta for premium traffic, but at this point no one will fly Garuda Indonesia because that would require two stops, or one stop on separate flights with poorly timed connections
So instead they're operating a leisure route, between London and Bali, but they're not even doing that best, since other airlines offer shorter travel times
If London to Jakarta and London to Bali don't work nonstop, then I think that's the point at which it's just time to cut a route, no?