Starbucks has been offering all kinds of great promotions in conjunction with Visa Checkout this year, giving customers opportunities to purchase gift cards at a discount.
In May they offered a $10 bonus card when purchasing a $10 Starbucks gift card, and in August they offered a $5 bonus card when purchasing a $10 Starbucks gift card.
Is Starbucks coffee my favorite in the world? Of course not. But I still go to Starbucks all the time, as they have stores in so many places, and offer a remarkably consistent product. So to me a Starbucks gift card is almost good as cash.
Well, Starbucks and Visa Checkout have teamed up for yet another promotion, this time when using the Starbucks app to purchase a gift card with Visa Checkout. If you buy a $10 Starbucks gift card you can receive a $10 bonus card. Here's how the promotion works:
Download the Starbucks app and create an account
Load $10 to the Starbucks app with Visa Checkout (sign in/sign up link below)
Receive your $10 eGift within 5 days courtesy of Visa Checkout
The promotion is valid through September 30, 2016, or "while supplies last." Unfortunately since you only get the $10 bonus card after the fact (within five days of your purchase), you won't know for sure at the time of purchase whether you qualify.
That being said, if you take part in the offer today, I have a hard time imagining you wouldn't qualify. Past promotions have had similar terms, and I've always gotten the bonus.
This is valid for new and existing Starbucks members, including those who already have the app. When you log into the app, just click the "Pay" button, and then on the next screen click the "Reload" button. There you should be given the option to select how much you want to reload onto your account, and also to select the payment method (either by clicking "Add Payment Method" or by clicking on the existing payment method on file).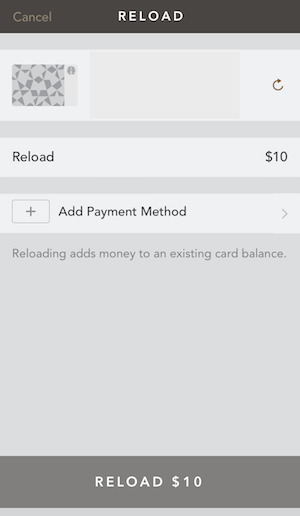 On the next page you'll want to click "Add Card With Visa Checkout," which will take you to Visa Checkout.
If you already have a Visa Checkout account (as I imagine many of you do from having taken advantage of the past promotions), the whole process should take less than a minute. If you still need to register, it might take a couple of minutes.
Regardless, that seems worthwhile for saving $10.
If you're interested in this promotion you'll want to take part as soon as possible, as supplies are limited.
(Tip of the hat to Doctor Of Credit)