Earlier this week, Ben wrote about his recent experiences flying Delta, and the marked difference in quality of service when compared with American Airlines. As expected, the post brought out a flurry of comments, not only because the question of better is always subjective, but because the topic of Delta always seems to bring up a natural conundrum that many frequent flyers face: Do you prioritize the in-flight experience or the ability to redeem miles?
With Delta, the two goals may appear to be in direct conflict with one another. And I'm not saying that Delta is perfect – one need look no further than their recent system crash for confirmation of that – but they do seem to offer a consistently better in-flight experience for many of their customers. Ben has written about this topic. So has Tiffany. And Nick. And I'm sure I'll weigh in soon enough myself.
Anyway, I'm not here today to debate the merits of Delta, so much as I'm here to provide some consolation to those road warriors who have consistently prioritized their in-flight experience over their mileage net worth.
No, there isn't a super-secret backdoor way to Cathay Pacific First or Singapore Suites, but there are some halfway decent redemptions and features, if you know where to look. Here are five that particularly stand out.
An easy-to-navigate search tool
First and foremost, mileage currencies of any kind only hold value when they're actually usable. To their credit, Delta's award flights are always easy to search – if not always particularly valuable. Their calendar shows the best availability, day by day, including taxes and fees, for up to five weeks.
In a way, Delta's award calendar kind of makes me think of what online dating is probably like these days – you might get rejected immediately, but at least you know where you stand: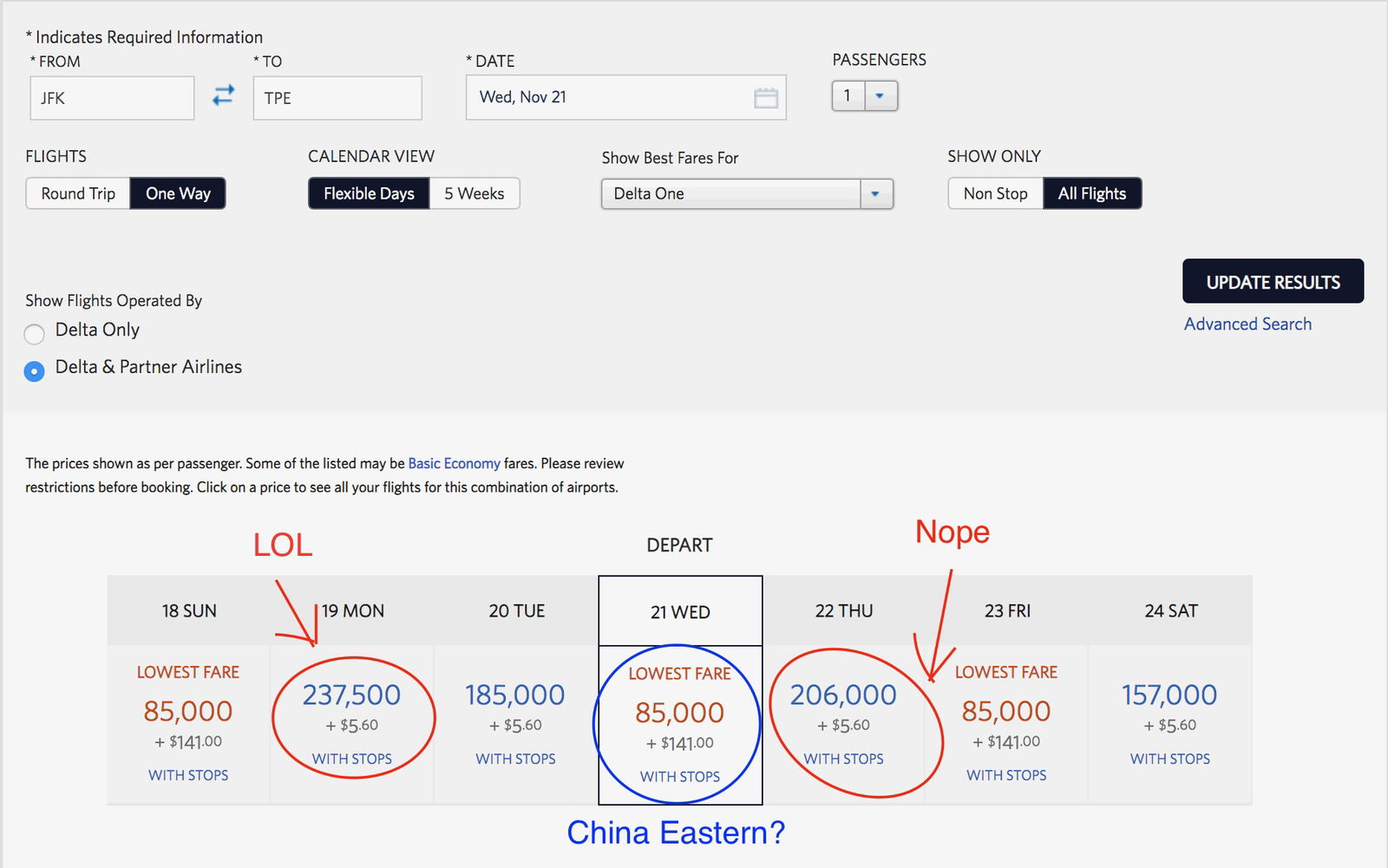 Even with their five-week award search being somewhat buggy on their new website, their one-week calendar is easy enough to navigate (if not always the bearer of good news):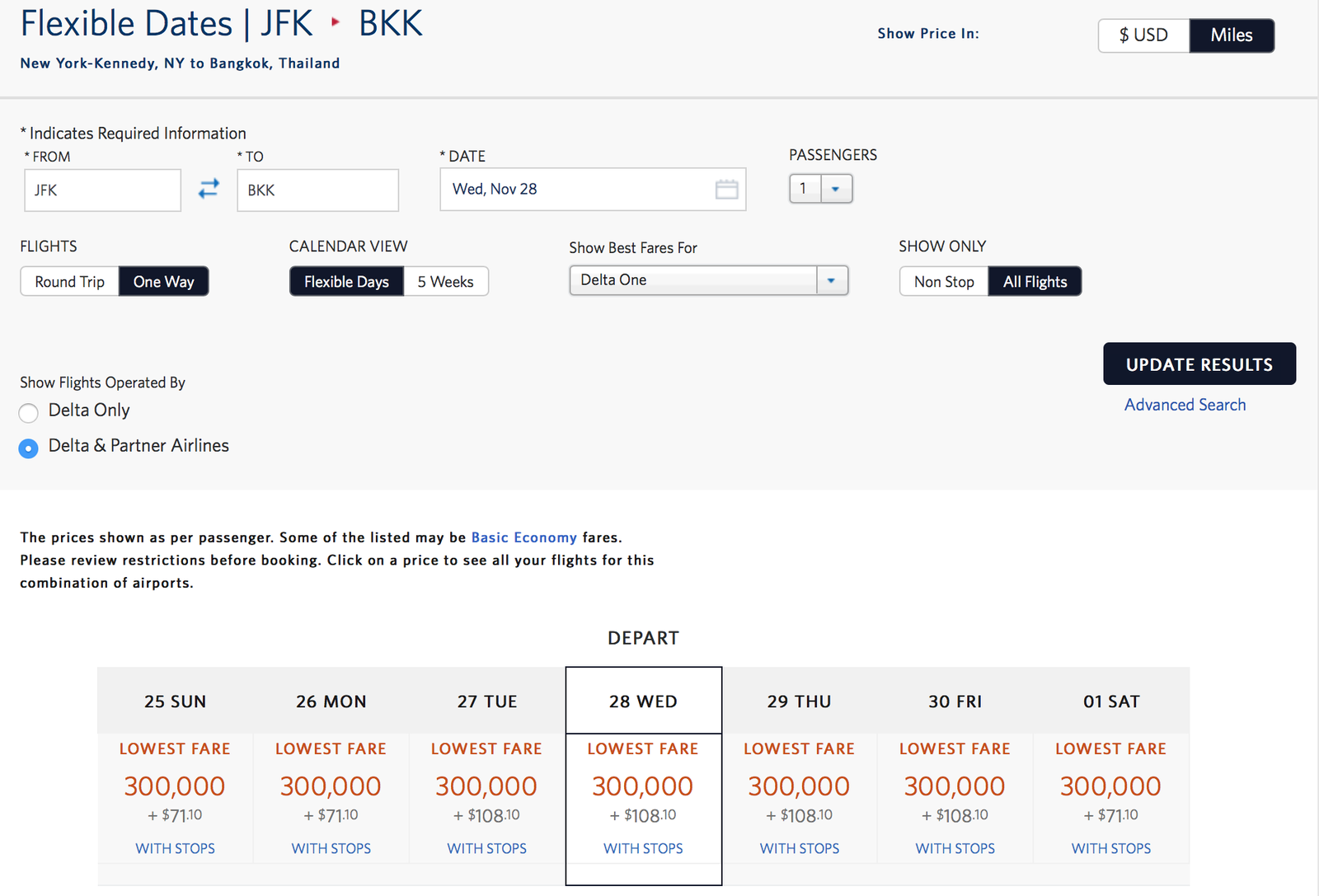 And award searches on the app, while not quite as robust, are pretty easy to navigate no matter what your ring size measures: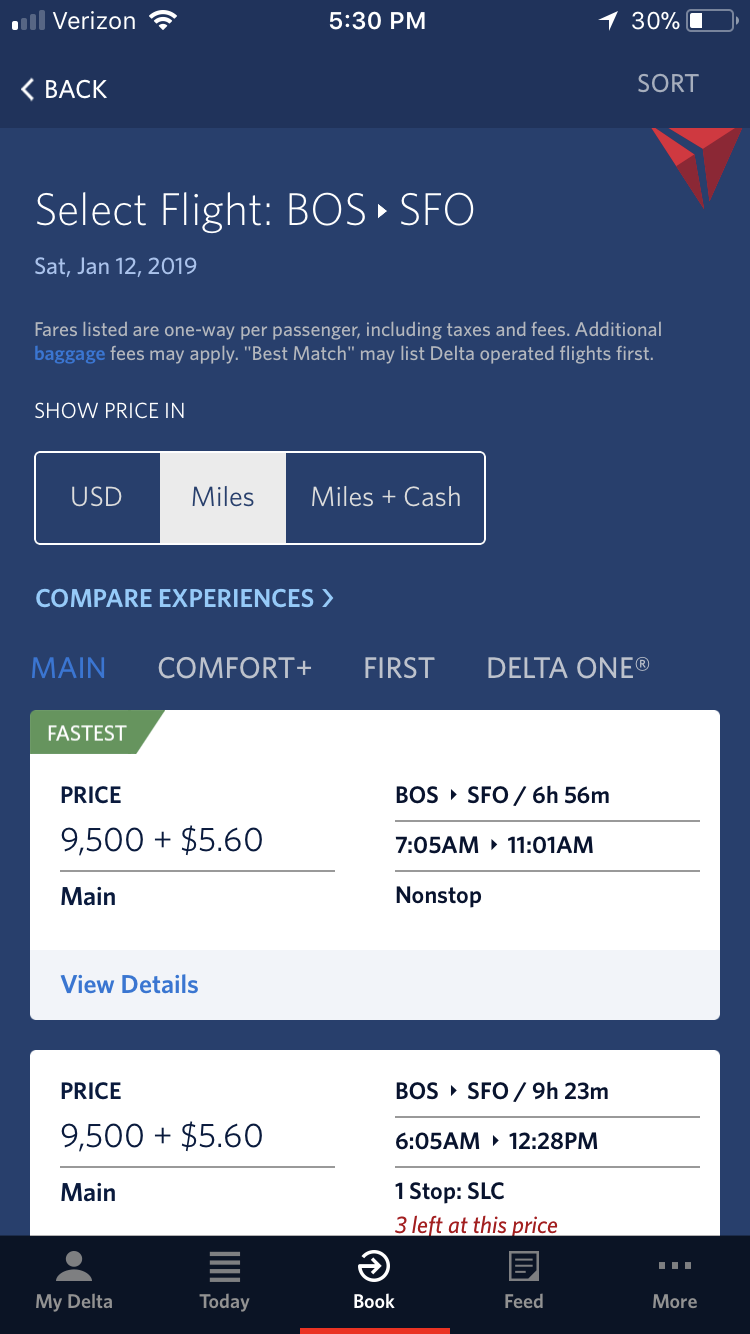 If we're comparing apples to apples with the big three airlines, in all fairness, United's search is pretty comparable – and they'll provide every possible combination of Star Alliance flights on offer: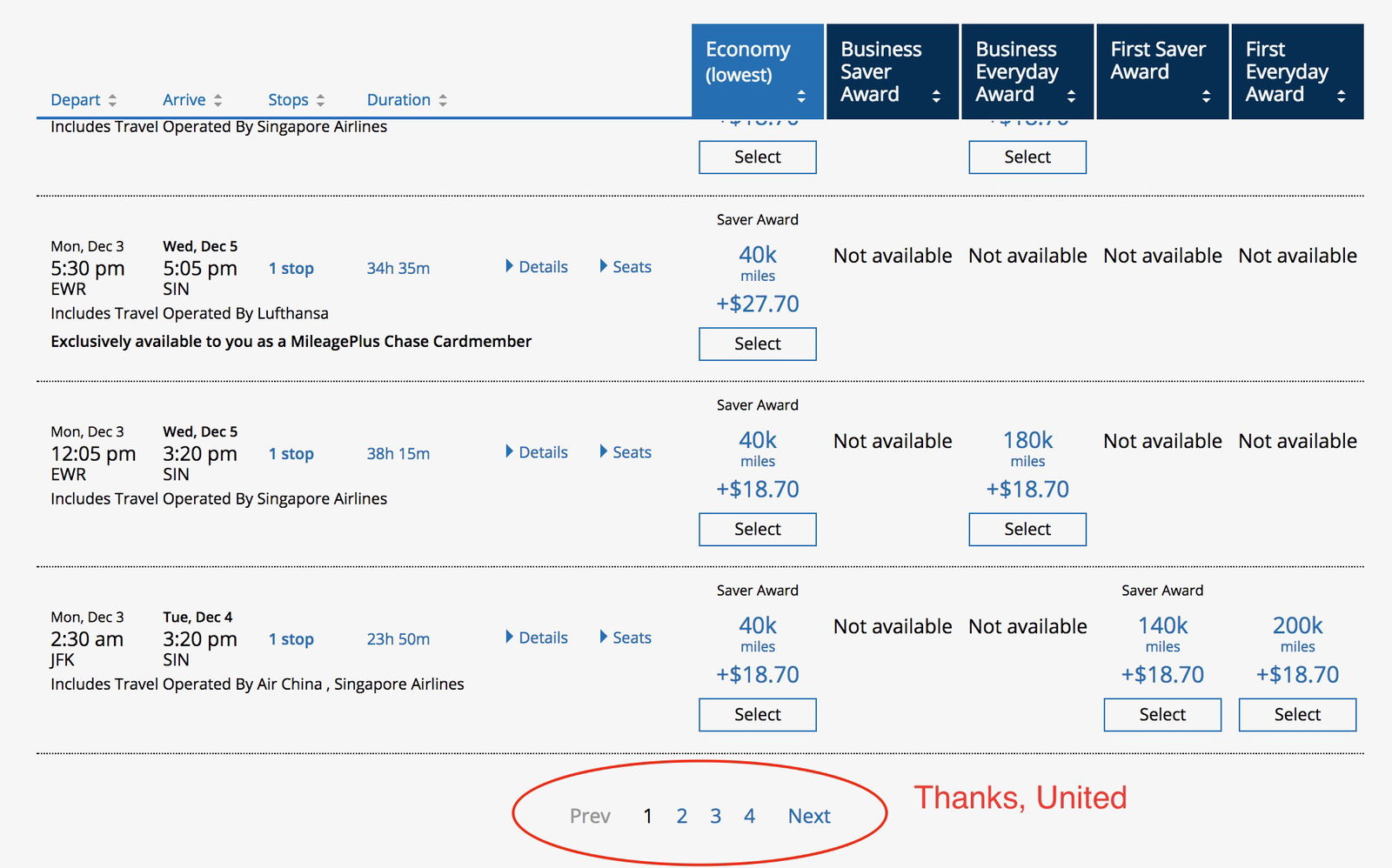 But anyone who has ever opened up the American Airlines, British Airways, Japan Airlines, and Etihad Guest websites in side-by-side tabs while waiting on hold for an hour with an AA agent and pouring themselves a stiff drink knows that searching for AAdvantage award availability can be nothing short of painful.
And don't even bother trying to search for awards on the AA app, because you can't.
So Delta has an edge here, at least when it comes to their award search technology.
Last-minute international awards
While Delta's last-minute domestic "SkyMiles Deals" page may leave something to be desired (read this first if you're thinking of booking) they do often have intriguing deals for international flights — particularly in economy.
Their current award sale features deals for as little as 46,000 SkyMiles from the U.S. to South America. This isn't bad – and previously, we've seen 50,000 SkyMiles round-trip from the U.S. to Australia, and even lower fares to Europe.
Now, I know that some of us are just here for the champagne and caviar, so these particular awards might not float your boat. But I do want to remind you that when it comes to long-haul economy, you could be doing far worse than Delta's Main Cabin. Their 777s remain in the desirable 9-across configuration, their food and drink are plentiful (if not always particularly appetizing), and their in-flight entertainment selection is abundant enough to keep you prepped for both the Academy Awards and the Emmys.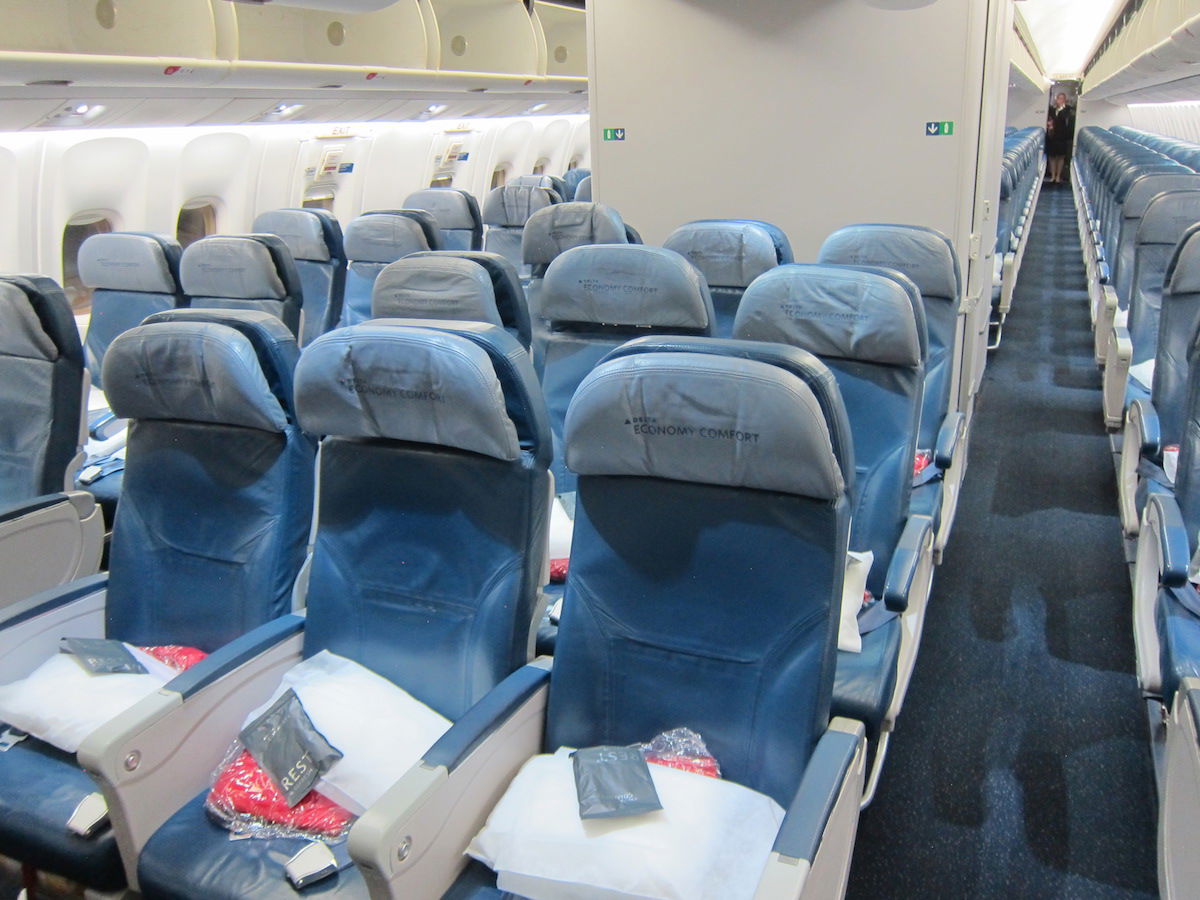 Best of all, they're pretty transparent about these award sales and often release space in droves – I've gotten itineraries to price out for as many as nine tickets at a time. So while this may not be the glamor redemption, it sure is serviceable if you're looking to move people large distances en masse.
And if last second award bookings are your thing, it's worth noting that Delta does not charge close-in ticketing fees, regardless of status. The same can't be said of United or American.
Business class to Asia for 85,000 SkyMiles
Depending on your travel patterns, this is probably one of the most high-value redemptions you can get for SkyMiles. And while some of these awards book on the less desirable mainland Chinese carriers – like China Southern and China Eastern – there are some better options available if you know when, and where, to look.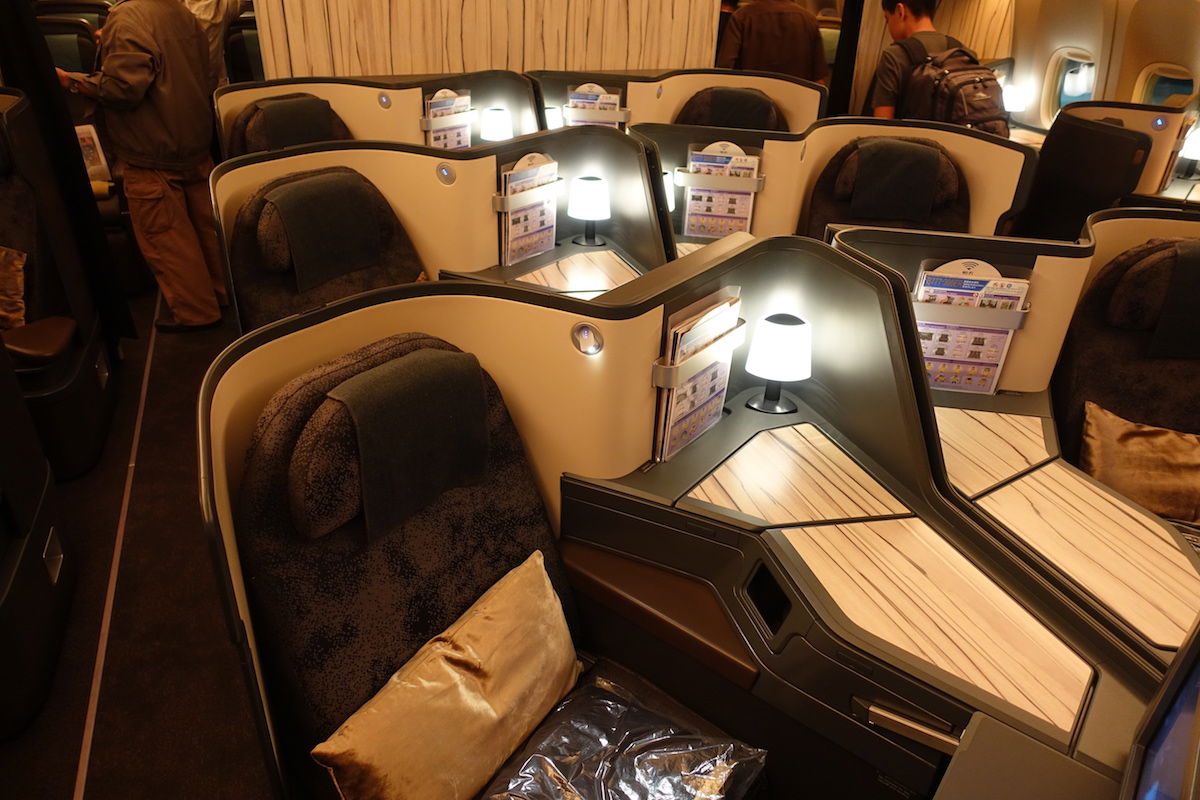 For example, if we're using the same mid-November example, China Airlines has award availability on their SFO-TPE flight almost every day: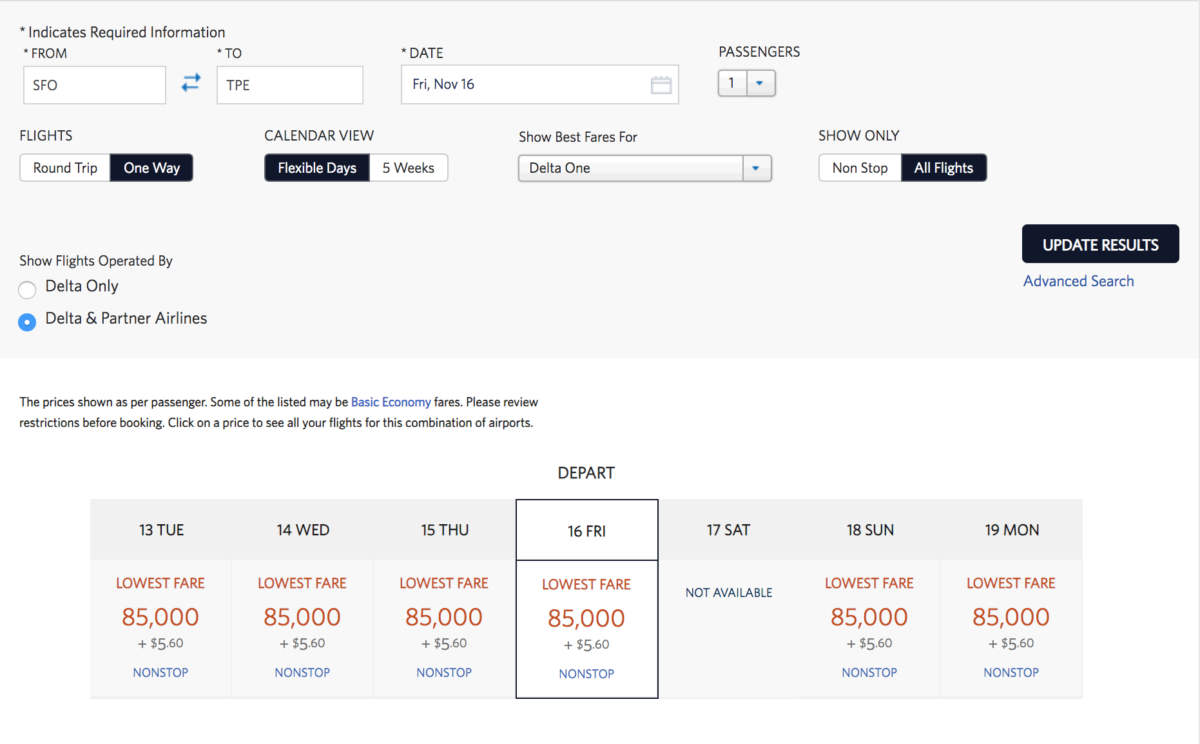 As a matter of fact, this option seems to be pretty consistently available throughout the year.
That said, if you're looking for onward travel in Asia, the China Airlines flight appears to go away. While award availability may look good at first glance…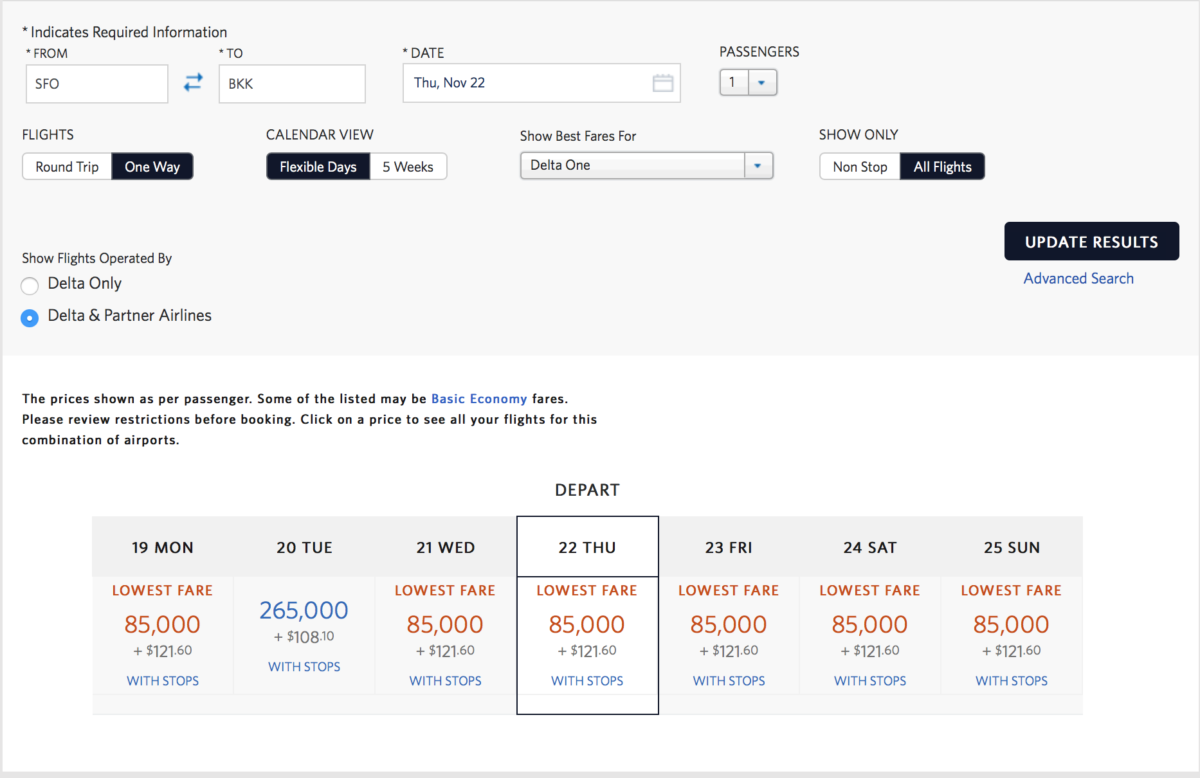 …you'll notice that the taxes and fees jump up from $5.60 to $121.60.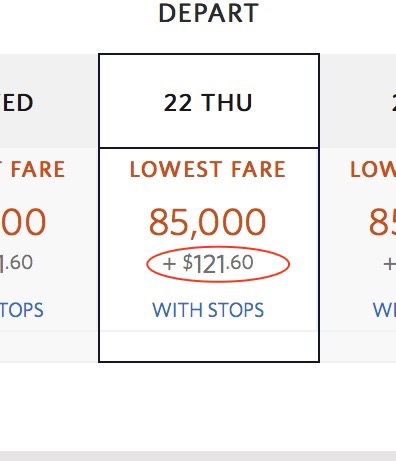 These higher surcharges are a dead giveaway that the flight is operated not by China Airlines, but by one of the less-desirable Mainland Chinese carriers.
The good news is that these connecting award tickets on China Airlines often can be booked by calling the airline directly. And if all else fails, I've also had luck finding award availability out of Vancouver's YVR, which may be helpful if you're Seattle-based or don't mind the positioning flight: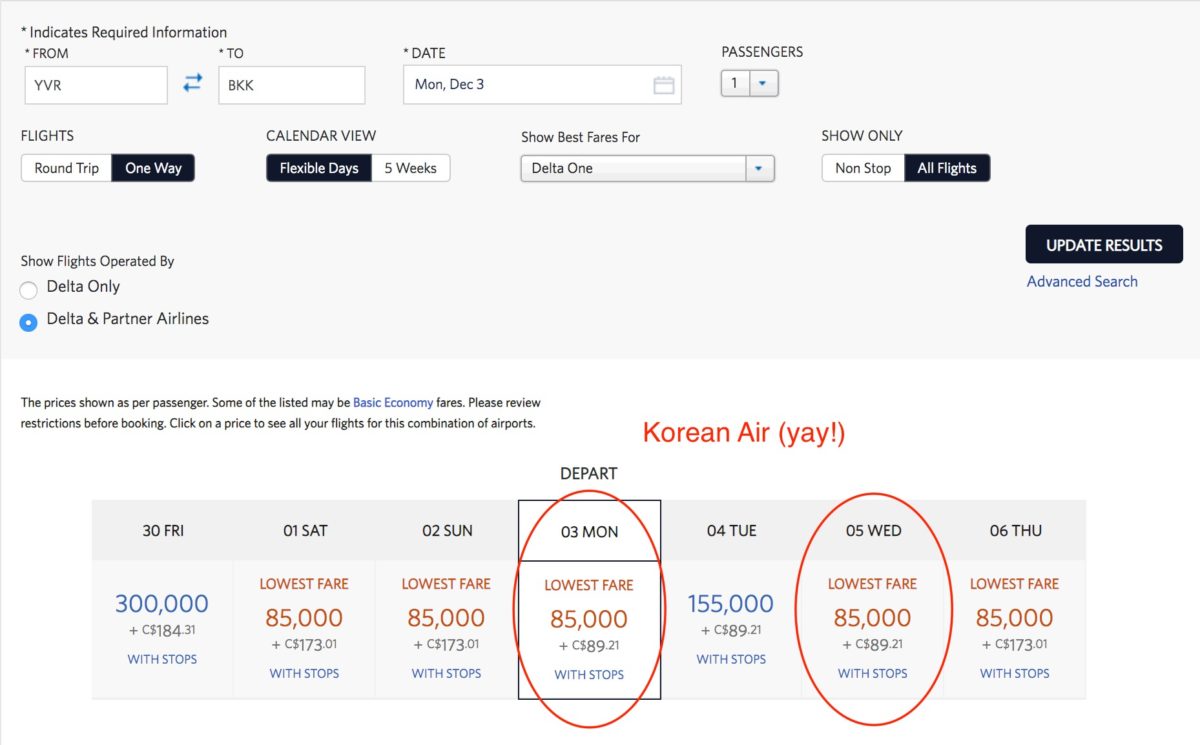 Finally – and I know that this isn't realistic for many of us – award availability skyrockets when you book as far out as possible. Even the elusive JFK-Seoul unicorn route on Korean Air's business class opens up if you book far enough in advance: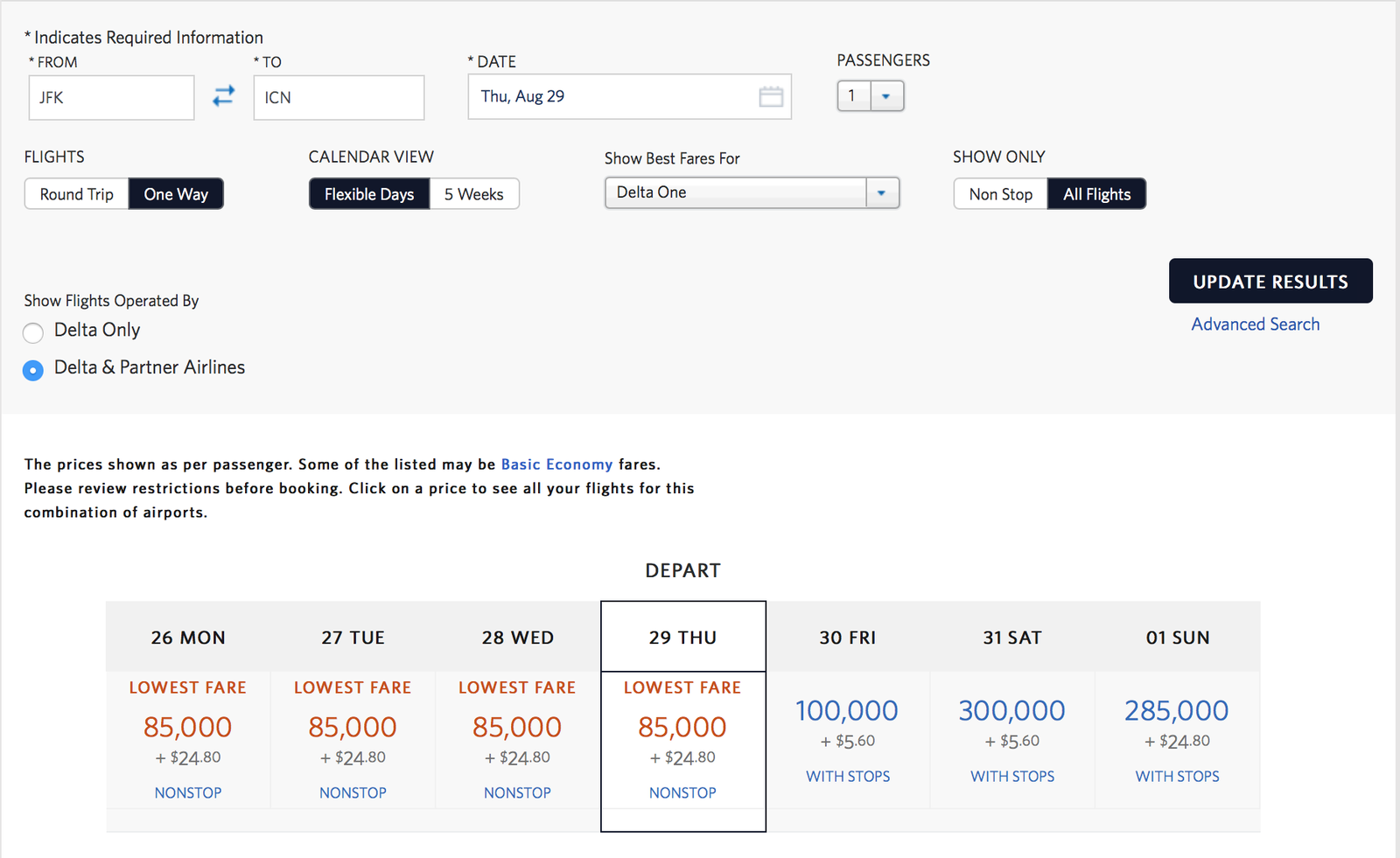 So while it's not always intuitive, there is still decent award availability to Asia if you know where to look. Just make sure to check your tickets once you get the confirmation email.
Intra- (east) Asia business class awards
It's no secret that SkyTeam is, in many ways, the "leftover" airline alliance – we're not exactly getting a massive demand for tips on how to redeem miles for business class awards on Air Europa or Saudia. But SkyTeam's greatest hits seem to be highly concentrated in East Asia, and include the likes of Korean Air, Garuda Indonesia and China Airlines.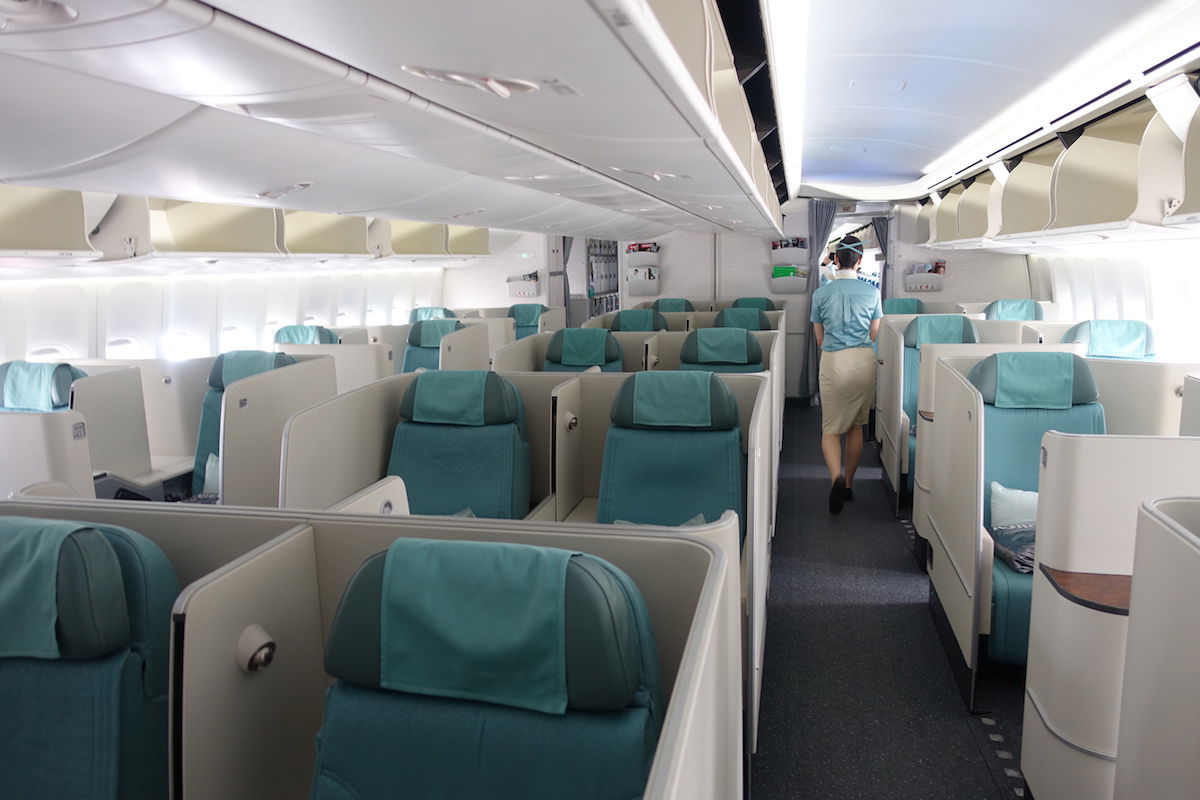 While award redemptions on these airlines may be tough to find to and from the U.S., there is no shortage within Asia. For example, here are some one-way business class redemptions from Tokyo to Singapore for next week, which price out at 40,000 SkyMiles and 3,210 Japanese Yen (about $28 USD):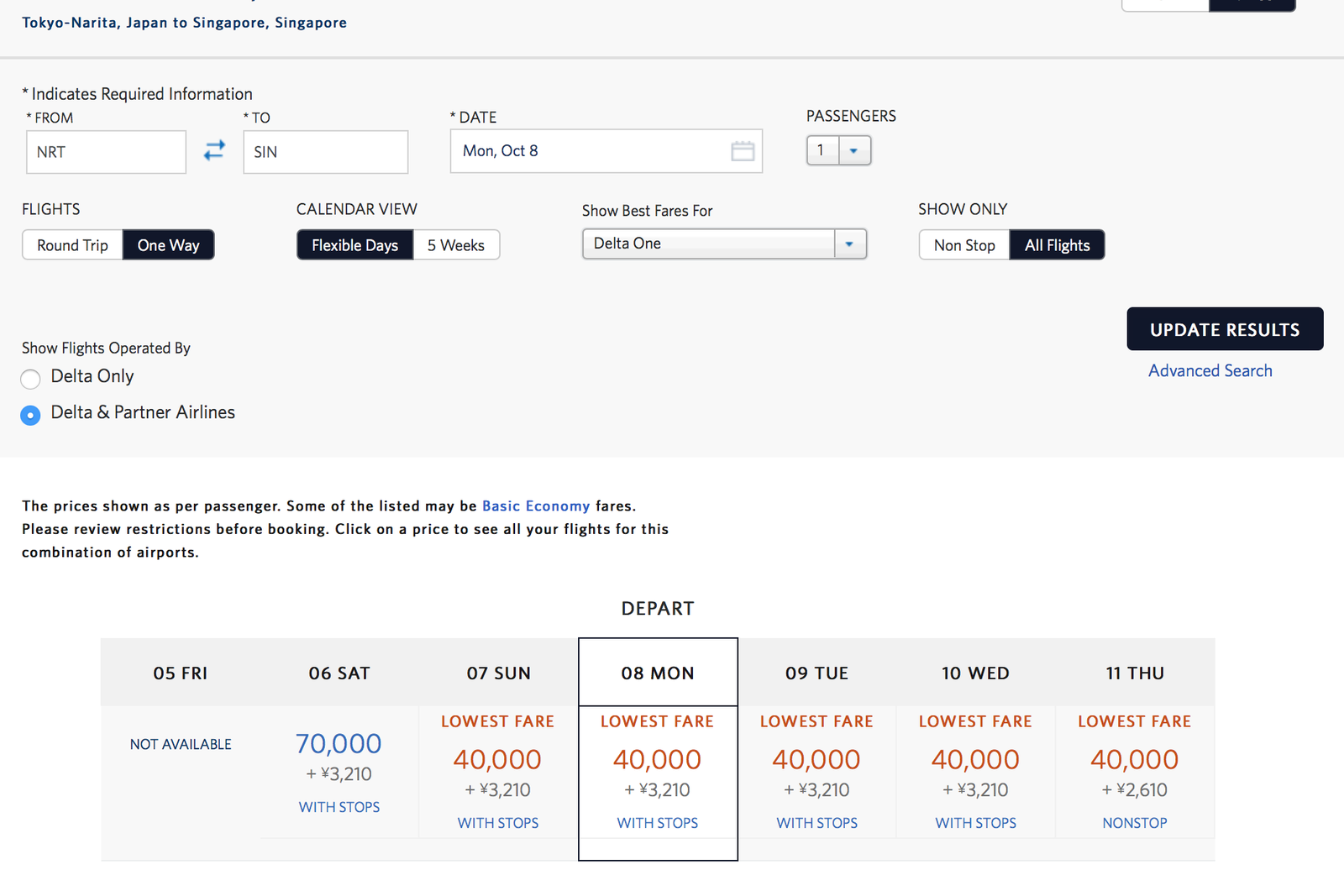 Just to provide another example, here is a sample search for early November flights, from Seoul's Incheon airport to Bali: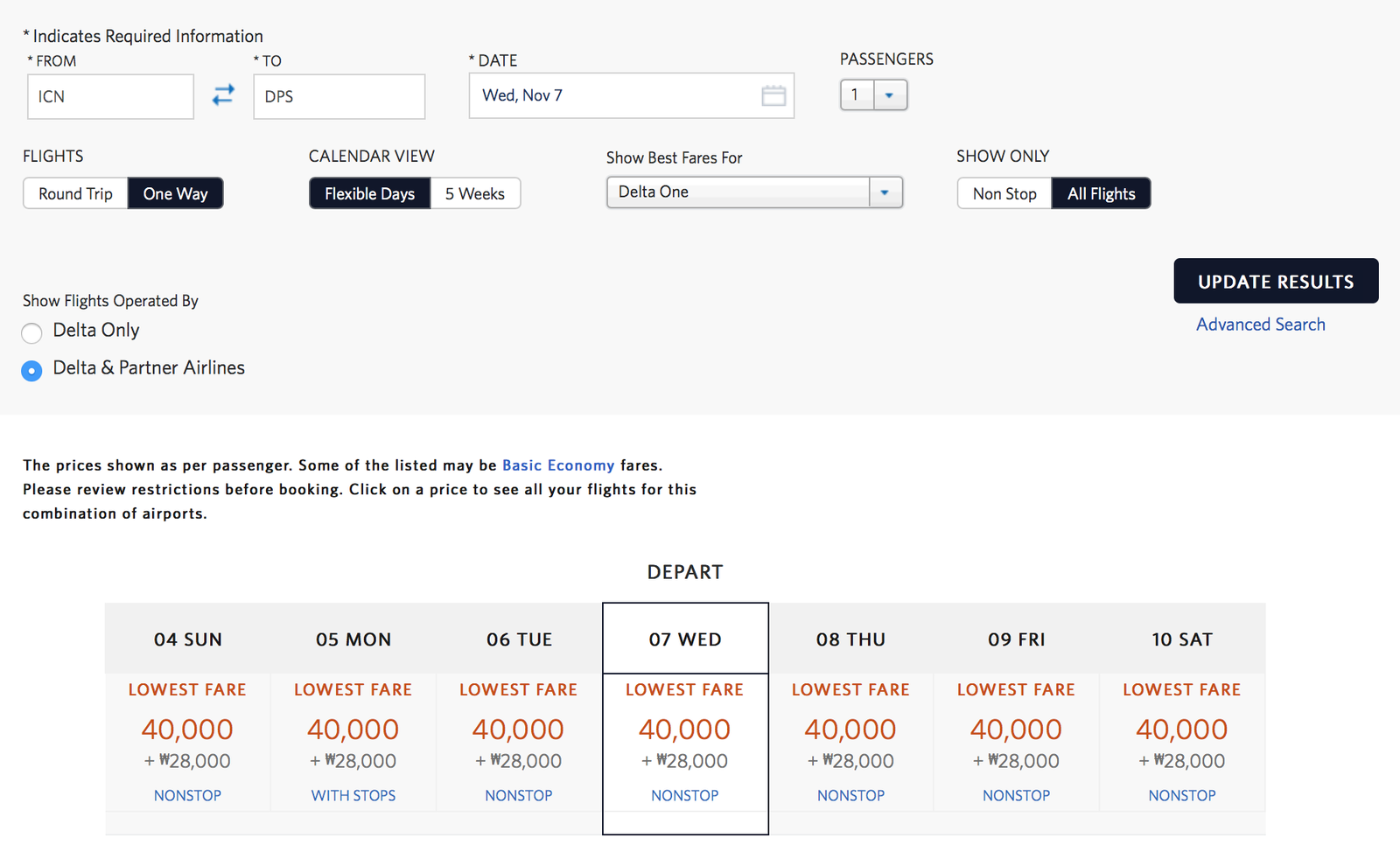 Be sure to select the nonstop option in order to experience Garuda Indonesia's business class – and to avoid the connection in Guangzhou on China Southern.
It's definitely worth noting that a lot of these products will offer regional cabins and service, which won't quite compare with their flagship products, but there are far worse ways to spend 40,000 SkyMiles than for seven plus hours in Garuda Indonesia's business class.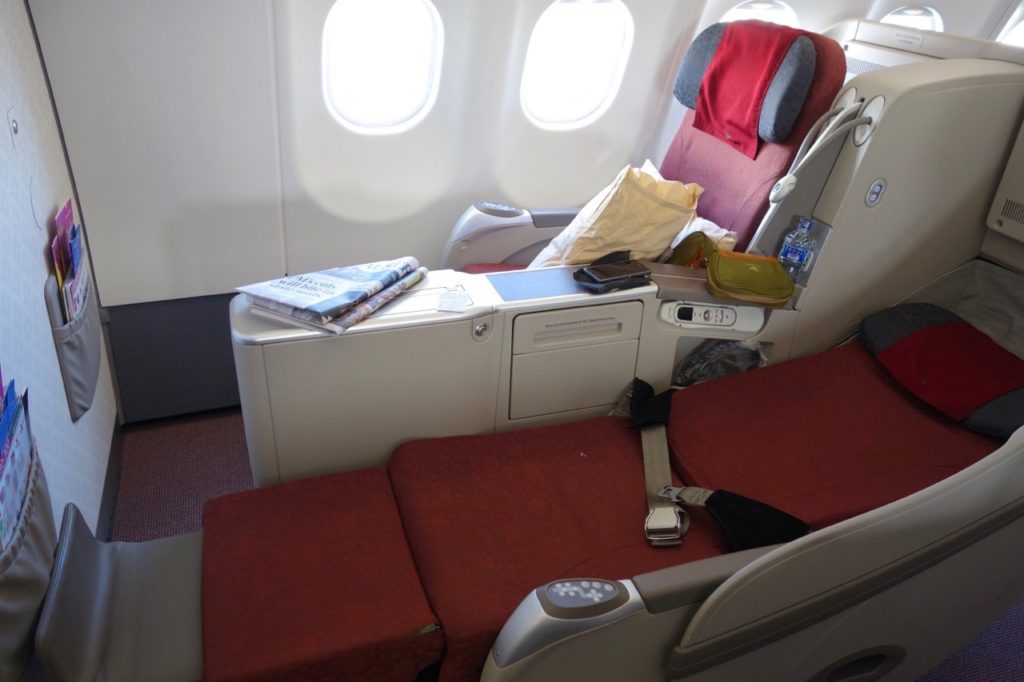 Especially when compared with intra-European business class.
Anyway, this 40,000 number for one-way business class seems to hold true throughout East Asia, and seems to be readily available regardless of search date.
Long-haul business class outside of the U.S.
While these awards will really only help a certain percentage of readers, this is where things start to get really interesting. Because when you search for SkyTeam flights through Delta's site that originate and terminate just about anywhere in the world outside of the U.S. (and Canada), it's almost like SkyMiles becomes a completely different program.
Like, "Don't tell Ed Bastian" different.
For example, here's an incredibly popular route – Sydney to London's Heathrow (LHR). I decided to really test out how the chips would fall, and selected one of the most popular weekends of the year – the weekend after New Year's Day.
And while the weekend itself is blacked out, the Friday before, the Monday after, the Tuesday after, and the Wednesday before, are all available for 90,000 SkyMiles one-way in business class: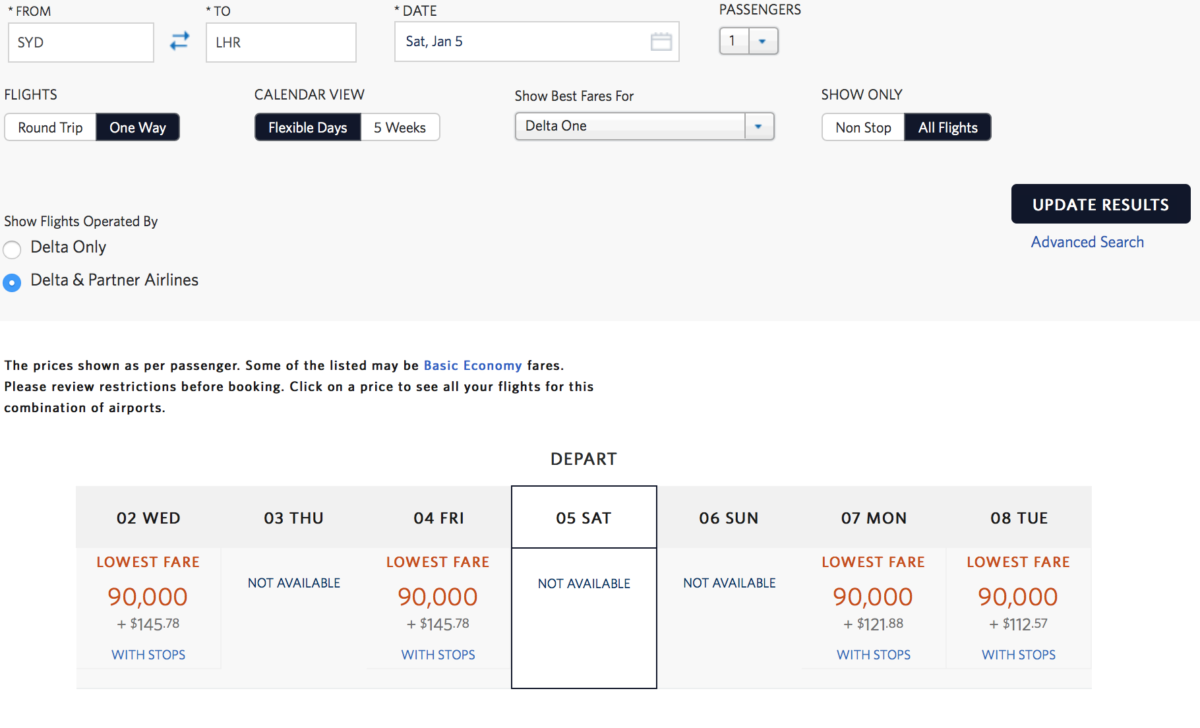 Sure, most of the itineraries above involve two connections, and a leg on China Southern, but you're looking at 90,000 SkyMiles for one-way business class for an incredibly popular itinerary.
On one of the busiest travel weeks of the year.
For what is, ostensibly, saver level pricing.
(Side note: one will never know what the term "saver award" on Delta truly means, thanks to their lack of award chart, but this seems to come pretty darn close).
I can't even get economy SkyMiles awards from South America to the U.S. to price this low for that week.
Just for fun, let's look at another example. Here is Auckland to Zurich in February because 1. It's ski season in Switzerland (but not in New Zealand) and 2. It's fun to check out an A to Z itinerary: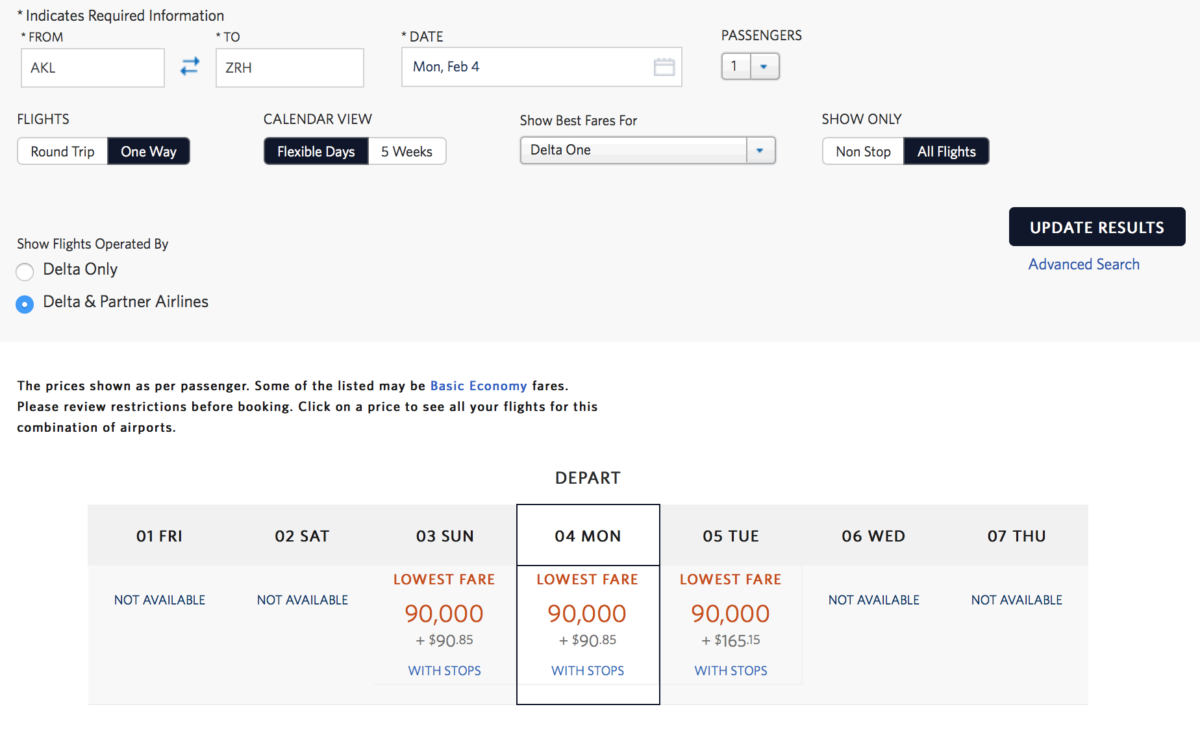 Again, you are looking at two connections – and again, flights all price at 90,000 SkyMiles for one-way in business class.
In case you're wondering (and I'll spare you the screen shots, but you can search for yourself), the same price holds true on direct flights from Paris' Charles de Gaulle to Santiago, Chile. Flights from Heathrow to Singapore drop to 80,000 SkyMiles (aside from Christmas week) and flights from Australia to Southeast Asia consistently price at 70,000 SkyMiles for one-way business class.
In summary, SkyMiles can provide greatvalue if you have no need to set foot in the U.S.
I know that this doesn't help much if you're based in Atlanta or Cincinnati, but if you're an expat sitting on a stockpile of SkyMiles, or you know you have an itinerary that doesn't originate or terminate in the U.S., you may have some options that you weren't even aware of.
Bottom line
Look, if you're searching for easy-to-redeem saver availability out of New York in business class on Thanksgiving week, or fulfilling a lifelong dream of caviar and duvets in the sky, you'll have to look elsewhere. And I certainly don't expect any American, United, or Alaska (jealous!) loyalists to jump ship just for the SkyMiles.
I'd also be remiss if I didn't mention somewhere in here that flying Delta doesn't have to mean earning miles exclusively with Delta. From sign-up bonuses to shopping portals, there are plenty of other ways to rack up miles quickly. Heck, I've even traded in my Delta Platinum American Express card for my Chase Sapphire Reserve when booking Delta flights, thanks to their generous trip delay coverage and triple points for travel purchases.
All that to say that airline loyalty programs don't necessarily have to equal airline mileage currencies.
But if you're already wed to Delta and looking for a decent use of those SkyMiles sitting in your account, there may be some options out there worth a second look.
And searching for award tickets from Europe to Australia sure beats kvetching about 300,000 SkyMiles one-way awards.
What are your favorite uses of SkyMiles?