Passport Plum wasn't the only change that Delta made this month – over the past week, they've started to roll out a new delta.com website. As you can probably expect, like with any new website, the transition has been far from perfect.
Interestingly enough, this seems to be more of a rollout than a flat-out change, as the website is operating both on the new and the old interface, depending on which internal page you are on.
I imagine this will change over time, but in the meantime, there are no shortage of bugs to be found. Below are five issues that I've run into in my brief time with the new interface – and the best workarounds that I've found (where possible).
So, in no particular order…
Issue #1 – Where is the old booking screen?
Okay, this first issue isn't so much a bug as it is a question of personal preference, but anyone who works in software (or uses software, for that matter) knows that interface matters. When you go to book a flight on the new Delta site, it opens up this view on the home screen:

If you open up the "Advanced Search" options, it looks like this:

Not necessarily awful, but it takes some getting used to.
If you find yourself pining for the old booking screen, there is a way to get it back. First and foremost, you can access the old booking screen here and bookmark it.
But I imagine you may want to access the link internally for the website as well. You'll find that if you click on any of these options, you will be held captive on the home screen:

But if you hover over any of these options, you will be taken to a host of internal links:

Simply hover over any of these options and click on any of the links below:

And you should be taken back to the old Delta website that we know and love (or at least tolerate).

If you click on the "Book a Trip" link, you should be redirected to this page, which should look familiar, save for a few color changes: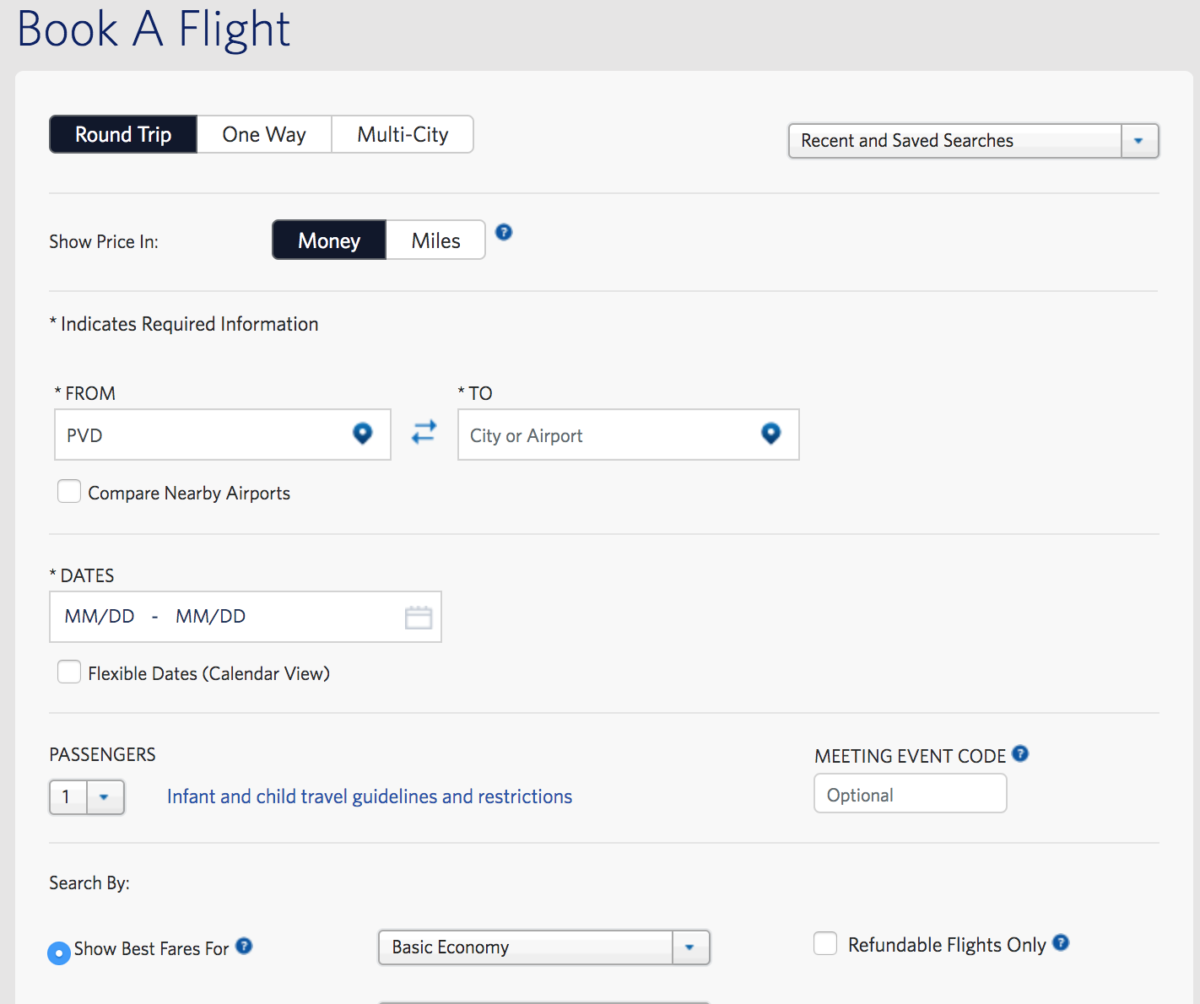 So if you find that you are allergic to interface changes, this should help at least relieve some of that stress.
Issue #2 – How do I register a comment/complaint?
One my favorite features of the old Delta website – and Delta as a whole – has been their incredibly easy process for registering a comment or complaint. I've had a lost passport returned to my house, I've had bonus miles issued in a matter of hours when I've had a delay or cancellation, and I've even had agents proactively look up the SkyMiles accounts for my travel companions when an issue has impacted all of us.
(And yes, I give lots of love for the good experiences, too!)
Their form is pretty intuitive, and they used to make it really easy to find in the top right corner of the home screen:

But unfortunately, with the new website, the link is nowhere to be found.

Right now, the quickest way to access this link is to follow the instructions from issue #1, until you are redirected to Delta's old website, where you should, once again, be able to access the link from any of the internal pages:

It's still unclear whether this link will be accessible once the whole site converts to the new format, but you should still be able to access Delta's comment/complaint link here.
Issue #3 – "My Delta" doesn't take you to anyone's Delta
Again, this is more of an annoyance than a completely broken system, but you may have found that when you log into the new Delta website and click on your name on the top right corner, you are redirected to something that looks like this: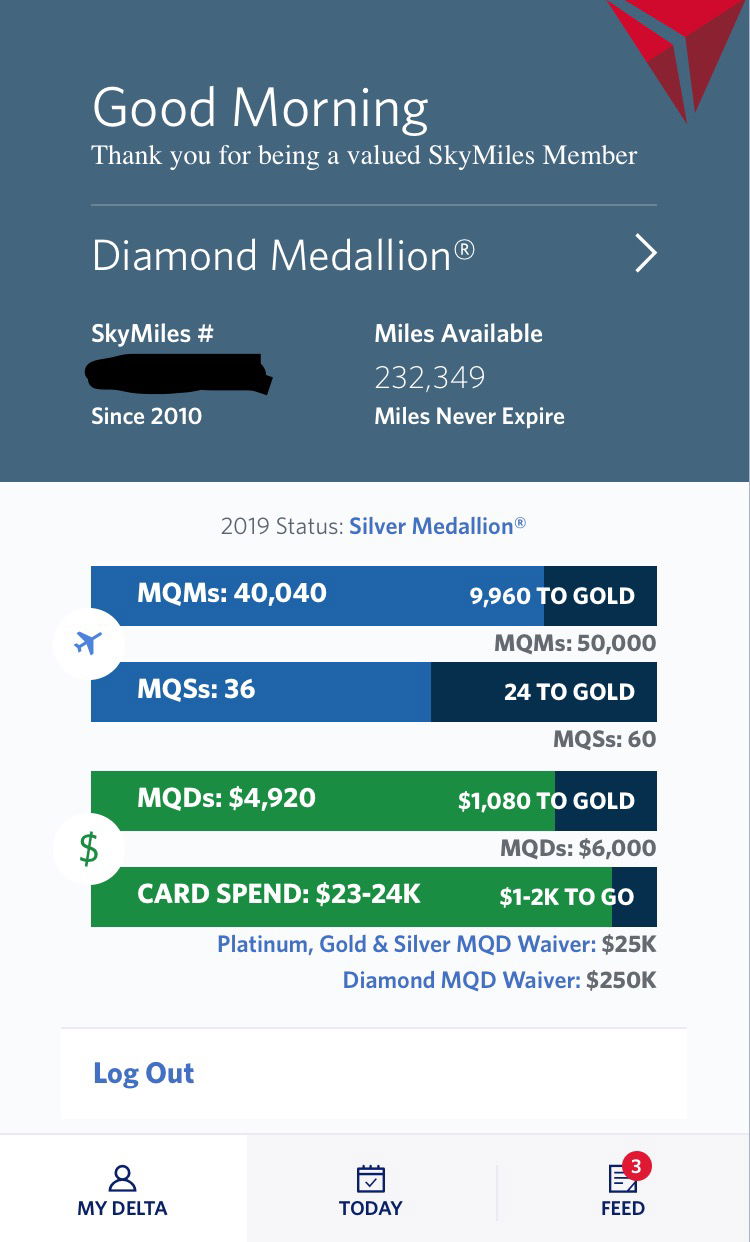 This is nice and all, but when you click on the "My Delta" link in the bottom lefthand corner, it keeps you right where you are and doesn't redirect you to the main "My Delta" page.
If you click in this area: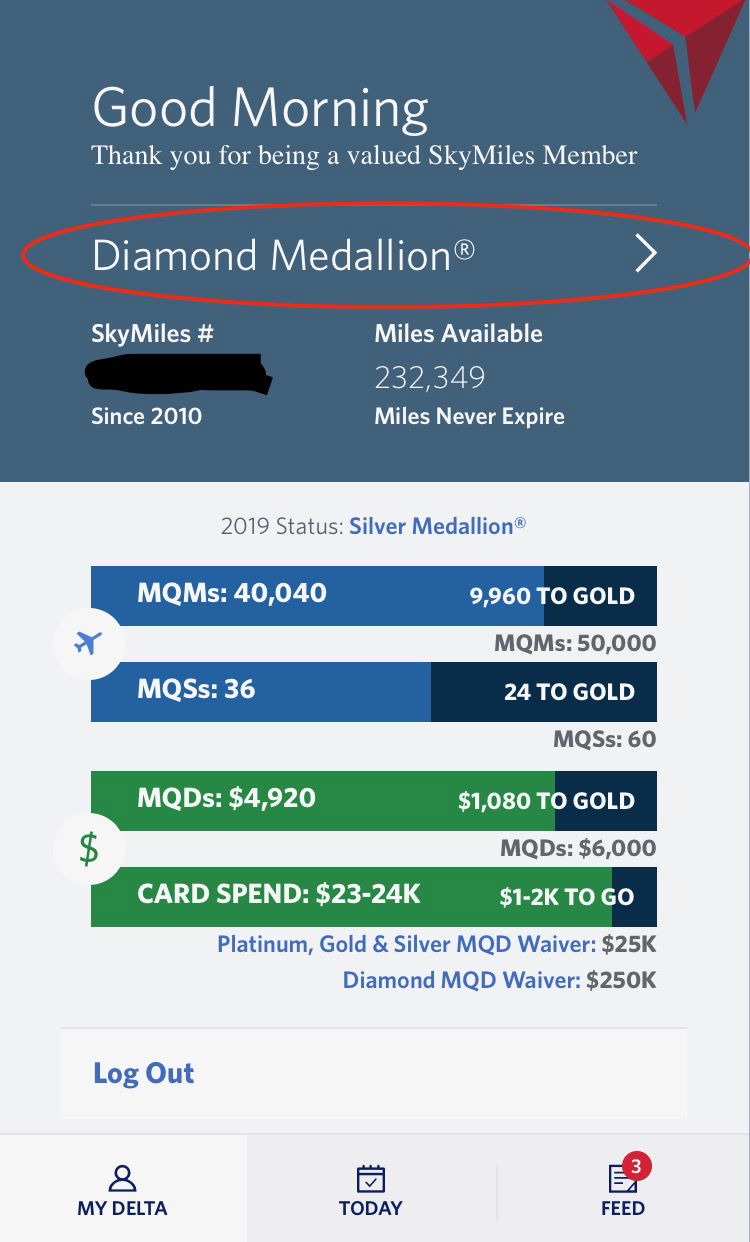 …you will be redirected to the main "My Delta" page.
You can also access the My Delta page here.
Once you're there, things should look like they used to…for the most part.
Issue #4 – Where have my MQMs gone?
This is a fun one that I've been seeing recently. Part of the thrill (or chagrin, in some cases) of maintaining elite status is the fun of tracking your progress (much like what we see in the pictures above). However, some of you may have seen something like this when you've logged into your My Delta page (below is a screen shot of my husband's account showing this issue):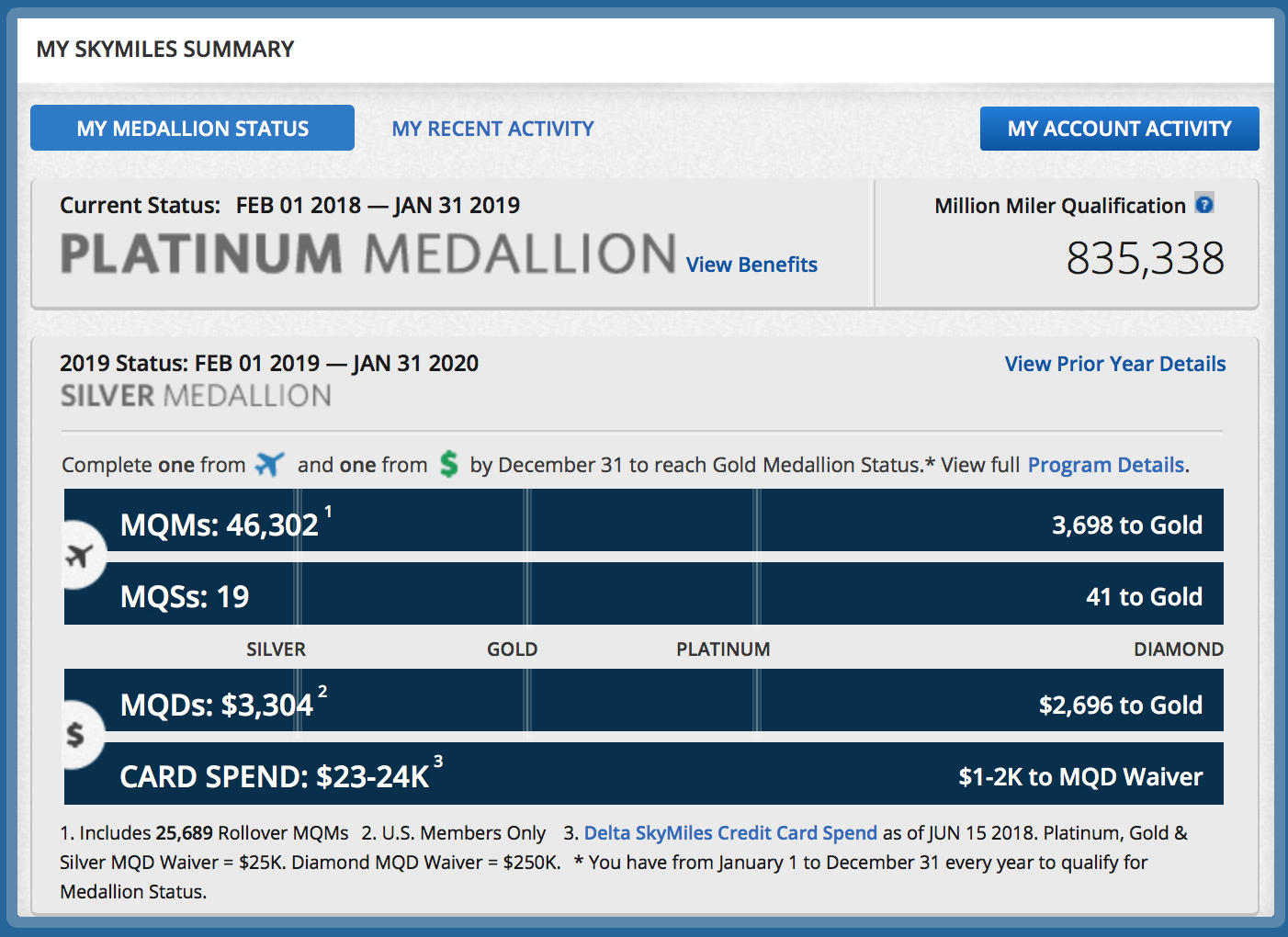 While the information is still there, the blank bar graphs may be disconcerting.
Here's what you need to do – simply click on any other link on the website, and then click the "back" button on your browser. This should fill everything back in and fix the chart: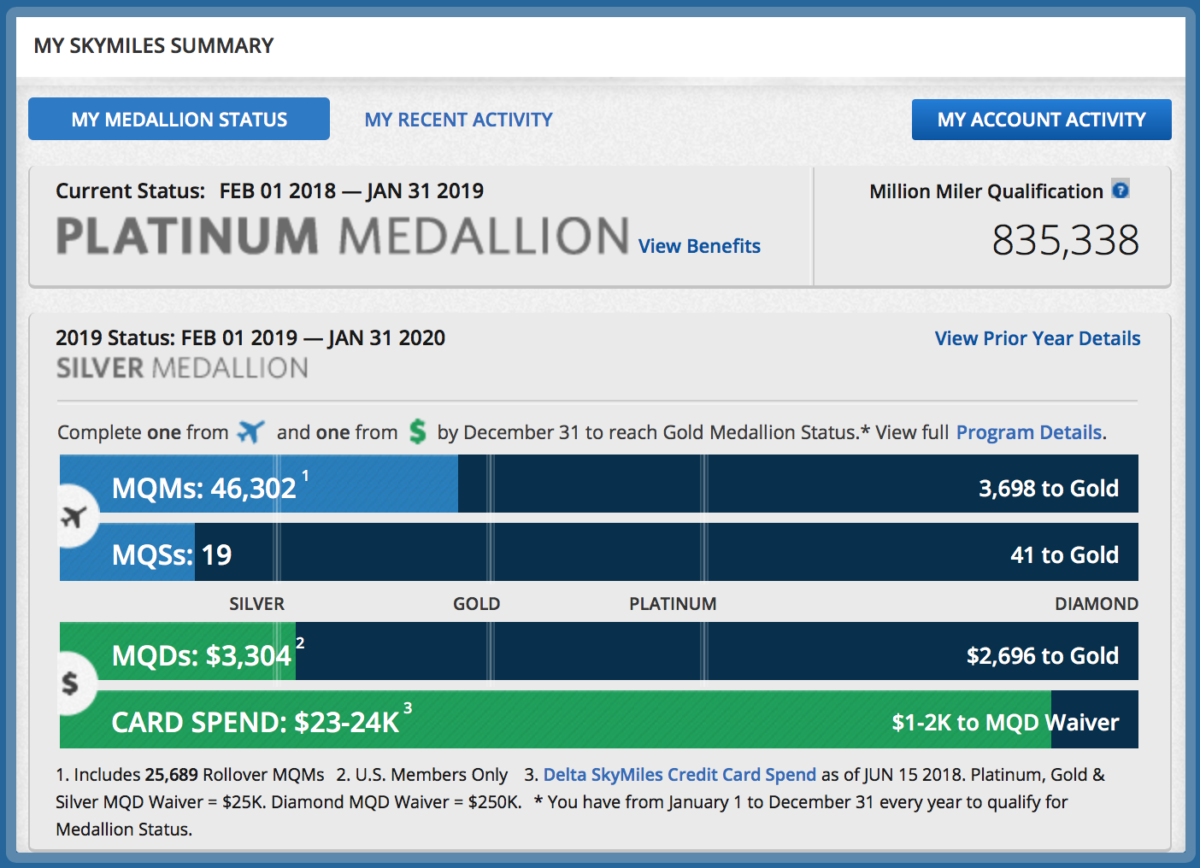 So while my husband probably won't be qualifying for anything based on his individual segments flown, at least we get an accurate snapshot of his progress.
Issue #5 – Help! Where do I get help?
Similar to the Comment/Complaint section, the "Need Help?" section has visibly disappeared from the website's header. Here are three different ways to access the help area, now that it's hidden away:
Scroll down to the bottom of the screen, where the new "Need Help?" section lives:
OR
Follow the steps similar to those from the Comment/Complaint section, and locate the "Need Help?" section where it was before:

OR
Follow this link to get to Delta's help section
So, to recap…
If you're looking for the links to any of these pages, here they all are in one place.
You will probably want to be logged in to your Delta account before clicking on the links, as they may or may not redirect you otherwise (I've had mixed luck on different browsers, so it's probably easiest just to stay logged in).
Okay, this is helpful, but I'm still frustrated with the new site. What can I do?
If you're still finding that you're struggling with the new website, I can pretty much guarantee that there is at least one change that you will like. They've added a "website feedback" section at the bottom of the footer:

If you click on it, you'll see this window: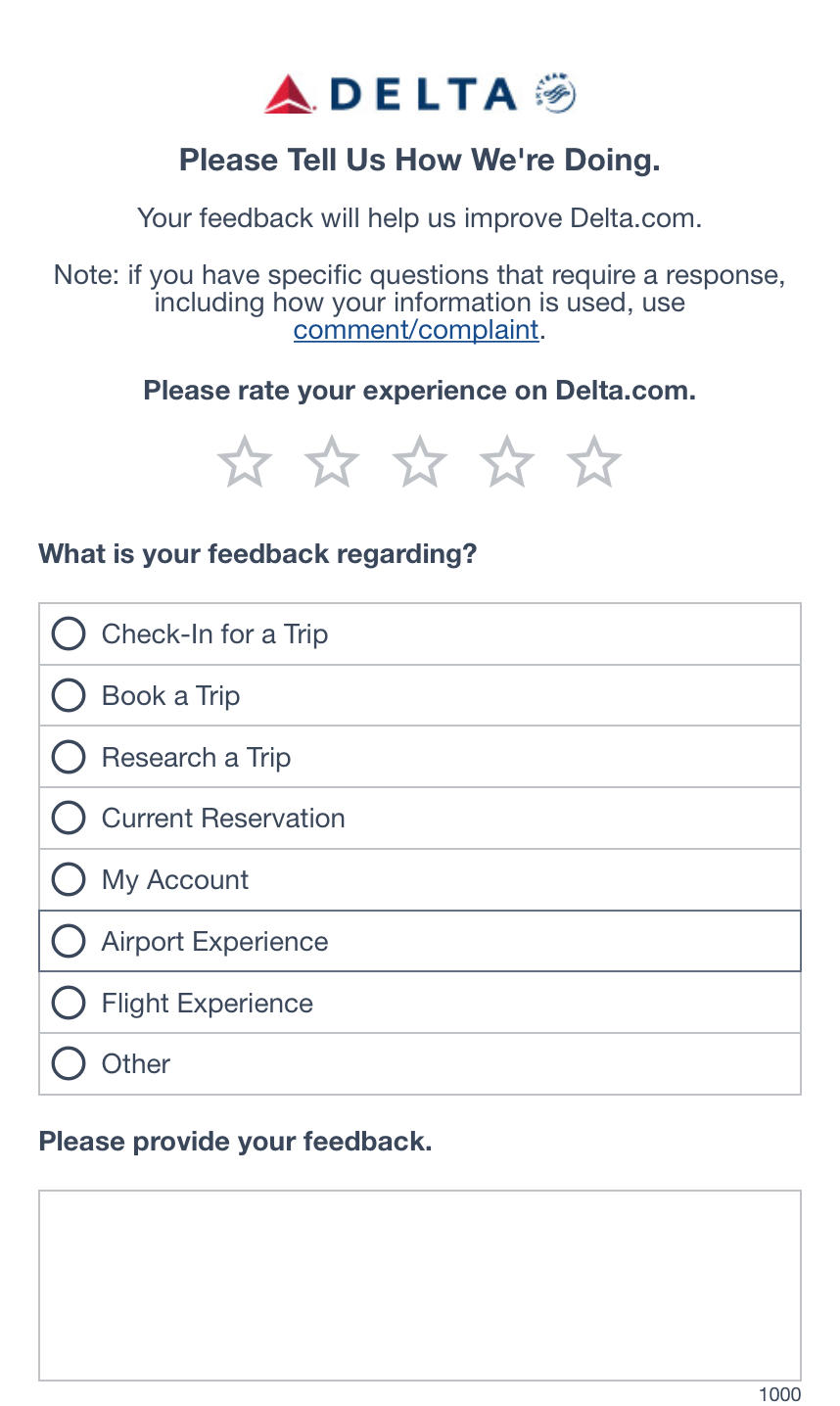 So if you're having issues of any kind, be sure to let them know. No guarantees on the effectiveness of this feature, but at least it's there.
Bottom line
While the bugs will hopefully get fixed (and if you are having bugs, please tell them!), the new interface is probably here to stay. Hopefully some of these workarounds help to ease the pain, at least until we get used to the new and fully developed delta.com.
What do you think of Delta's new website? Have you run into any issues? What solutions have you found?