Back in April, EVA Airways announced that they'd be joining the Star Alliance as of June 18, 2013, which is tomorrow. This is pretty exciting news, not only because it strengthens Star Alliance's Asian network even further (as if they needed that), but because they have one of the best transpacific business class hard products out there, similar to the one offered by American and Cathay Pacific.
Anyway, EVA Airways actually already has a reciprocal agreement with United, so for a long while now you could redeem United miles for travel on EVA Airways. The downside was that the awards weren't bookable online, and you could only search award space via EVA's horrible website, a process I outlined here.
Anyway, if you have AviancaTaca Lifemiles, it appears as if you can already book EVA awards with them. When you go to do an award search, EVA should already show up in the drop down menu.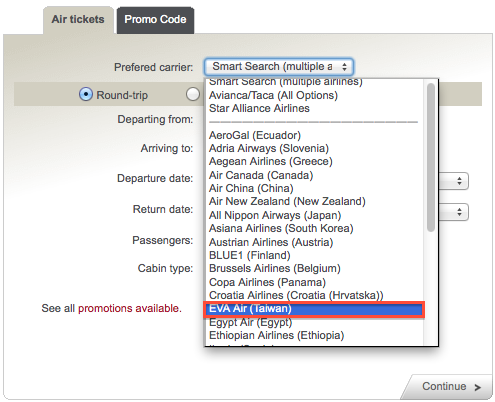 Just do a search as you usually would, and you'll be impressed by how good EVA award space is. It's readily available, and I expect it will begin to decrease quickly as these awards start becoming bookable with more Star Alliance carriers, and especially as they become bookable online. But many flights have at least two business class award seats, even on their premium routes.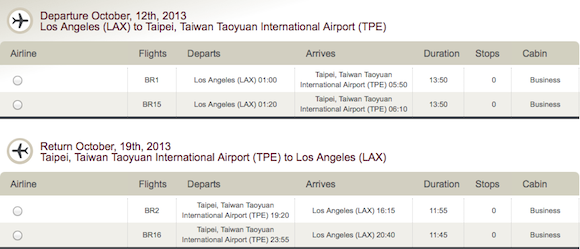 As a reminder, the new product is only available on the 777-300s, and not on the 747s or A330s, so choose accordingly. Also, when you book the 777, you'll want to be sure it has the following seatmap: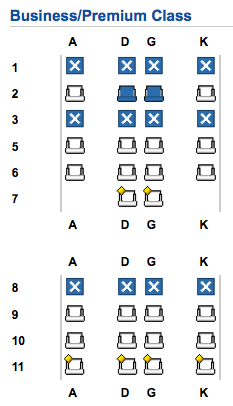 Anyway, I'm most excited to redeem US Airways miles on EVA. Taiwan is considered "North Asia," so business class roundtrip between the US and North Asia is just 90,000 miles. You can also route via Europe, and keep in mind EVA flies to Paris and London on the new product (via Bangkok, oddly), and also flies the new product to Los Angeles, New York, and San Francisco. While they also fly to my home airport of Seattle, sadly it's on the 747, so you won't be finding me on that route anytime soon.
Speaking only for myself, I'm actually most excited to fly EVA on their Hello Kitty jets. I just can't decide whether I want to fly Speed Puff, Happy Music Time, or Loves Apples. One thing's for sure — I'll be checking in at the Hello Kitty Kiosk.

(Tip of the hat to Canadian Kilometers)