It looks like the EVA Air 777-300ER flight this past Friday morning from Los Angeles to Taipei had quite a bit of excitement, and it wasn't the pilots' fault… at least not initially.
The weather in Los Angeles wasn't good, and the 777 was departing towards the east (rather than towards the west, out over the ocean). The pilots read back the instructions they understood from ATC, which ended up being incorrect, though ATC didn't correct them. Then ATC was shocked when they saw the plane was headed in the wrong direction, though it took the pilots over a minute to correct their course, putting them on a heading towards a mountain range and an Air Canada plane. Per ABC7:
That sent the airliner toward the mountains above Altadena, as well as toward the flight path of an Air Canada plane that had just taken off.

Audio traffic indicates the same controller realizing the problem and telling the airliner to "Stop your climb" and several times to head southbound.

"EVA 015 Heavy, what are you doing? Turn southbound now, southbound now. Stop your climb," the frustrated controller says after the plane apparently does not heed her initial instruction.

Several times the controller tells the pilot to head south. More than a minute later, she is still trying to get him to change direction.

The EVA crew eventually pulled up and got onto the right flight path.
Most concerning is that the flight apparently just missed a mountain range by a few hundred feet. Per JACDEC:
According to ADSB tracking data, flight BR 15 barely cleared the mountaintops and was flying just south of Mt. Wilson Observatory (5,715 ft) at an altitude of about 6,250 ft. before the flight gets back into safe airspace. The Boeing 777-300 then picked up its assigned route and landed safely at Taipei 14 h 17 min later.
The FAA is formally investigating this, so I'll be curious to see what comes of the investigation. Based on the ATC transcript, though:
The controller told the pilots to turn to a heading of 180, though it didn't seem to transmit whether it was supposed to be a left or right turn
The pilots repeated that they should turn left heading 180, and they weren't corrected (it appears they were supposed to turn right to that heading, so if ATC had been paying attention to their read back, this could have been avoided)
The air traffic controller uses a lot of non-standard phrases — rather than telling the plane to turn to a specific heading, the controller says "what are you doing? turn southbound," so it's possible there was something lost in translation
Per Flightradar24, here's the flight path the plane took on departure: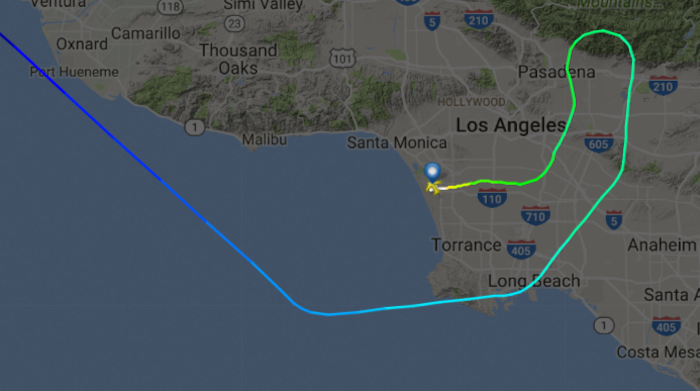 Fortunately, everything ended without incident, though it seems this was a fairly close call, given that the plane apparently only cleared a mountain by about 500 feet.
(Tip of the hat to Andrew B)