American AAdvantage miles can be redeemed for travel on Etihad Airways and Qatar Airways. Flying on them is among my favorite uses of AAdvantage miles, and both airlines are reasonably good about releasing premium cabin award availability (though it can vary based on route, season, etc).
So all else being equal, which is better — Etihad or Qatar Airways longhaul business class?
Admittedly there are many variables here, as both airlines fly several types of planes, with products varying by plane. Furthermore, they operate different routes, so this is perhaps most useful if you're connecting, and not originating or terminating in Abu Dhabi or Doha.
With that in mind, which airline would I choose in business class? Here are my thoughts, in very general terms:
Seats: Plane Dependent
This is probably the trickiest category to judge, as the airlines have so many types of seats. In general, Etihad has staggered business class seats throughout most of their longhaul fleet.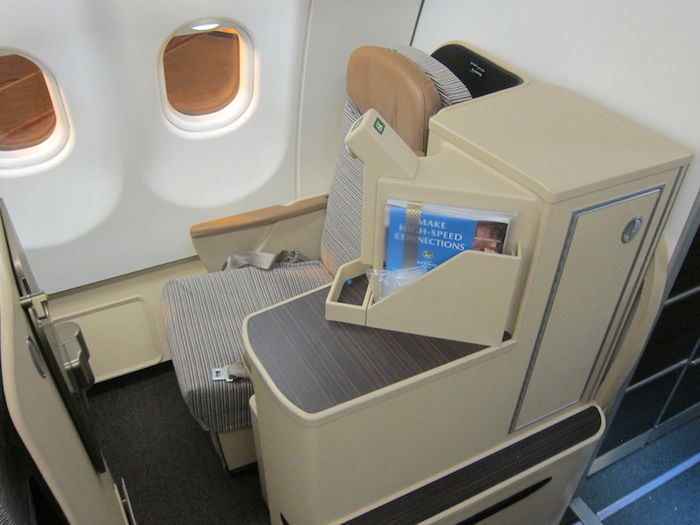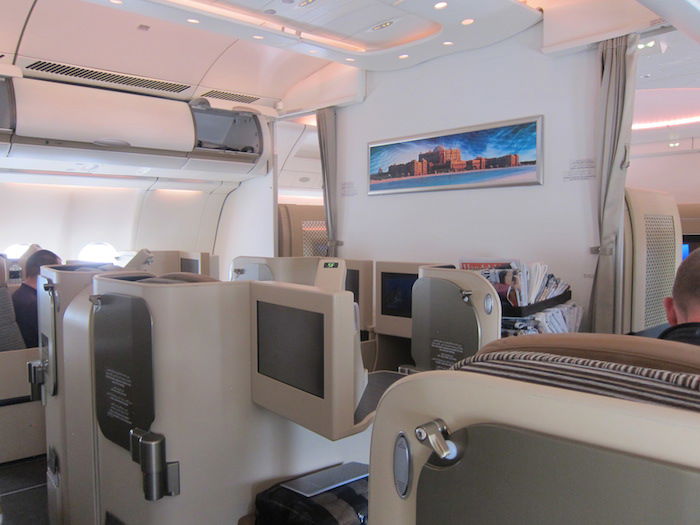 That's the case on their A330s, A340s, A380s, 777s, and 787s. The A380s and 777s have more modern products, but it's the same general design.
Meanwhile Qatar Airways has a huge variance in their products.
On their A330s and A340s they have angled flat seats, which I'd absolutely avoid (fortunately they mostly don't fly these on "true" longhauls). That being said, they are starting to reconfigure their A330s with reverse herringbone seats.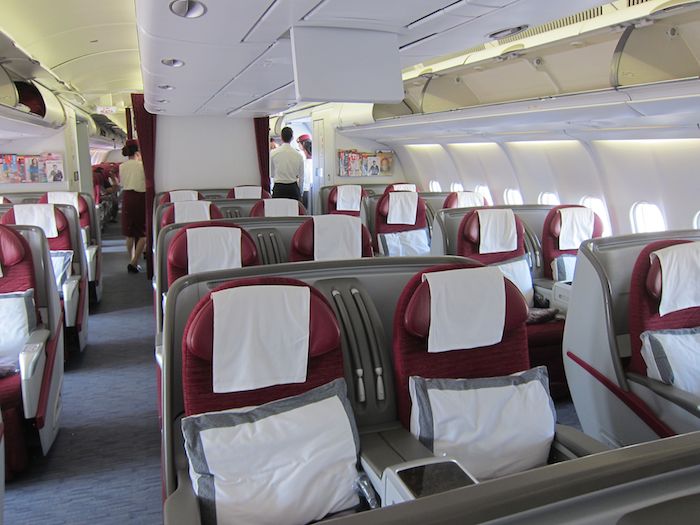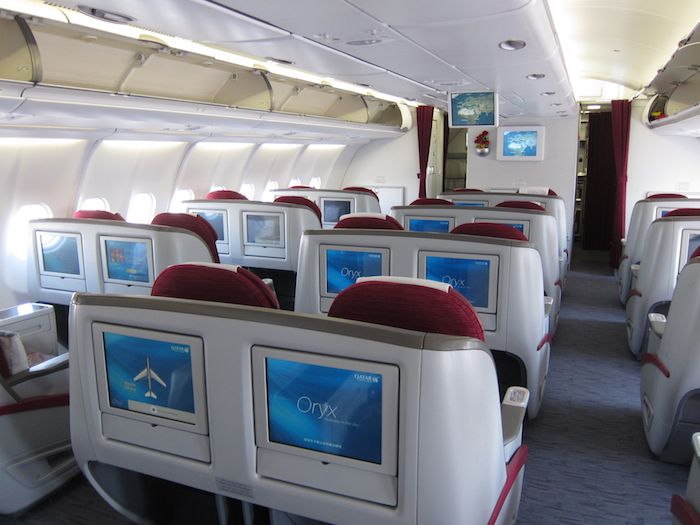 Meanwhile the 777s have fully flat seats, which are spacious and comfortable, but you still have a seatmate in all cases.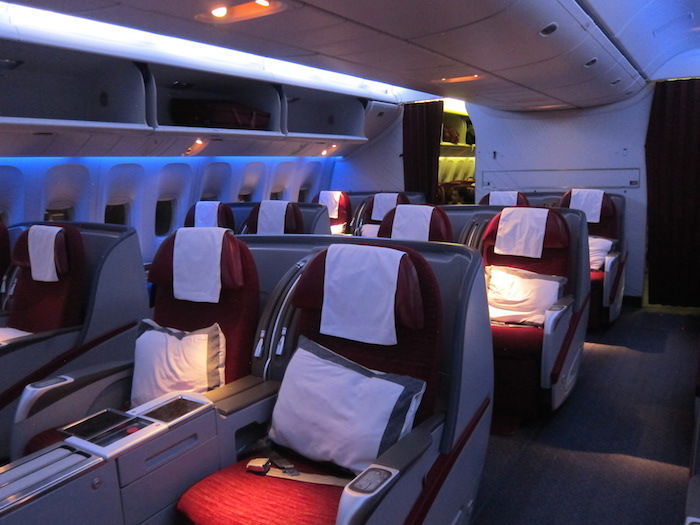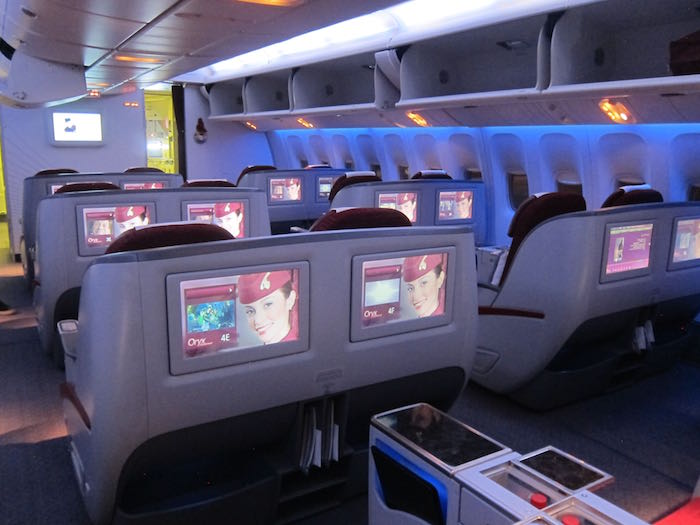 Meanwhile the A350s, A380s, and 787s have reverse herringbone seats, which are fantastic, probably my favorite hard product out there.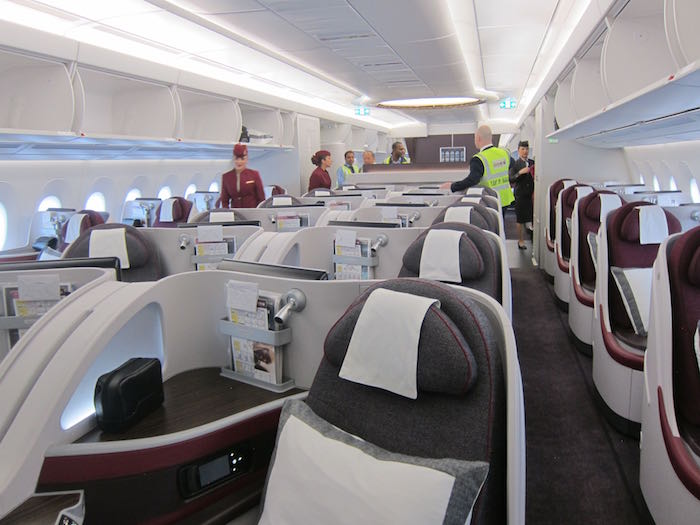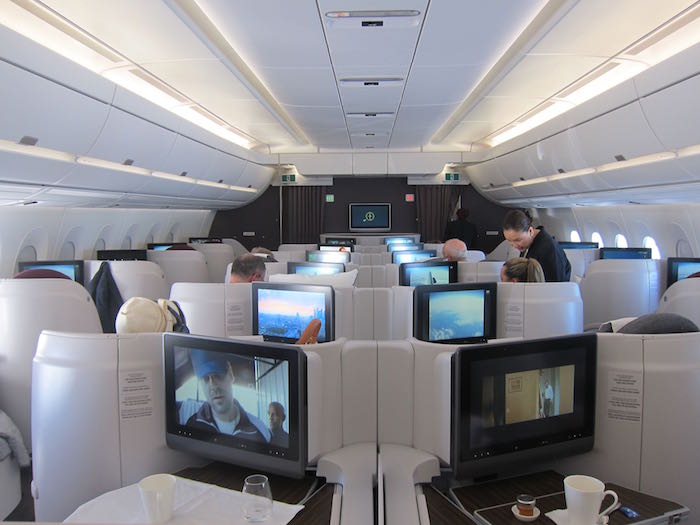 So if I were to prioritize hard products, I'd go in the following order:
1st choice: Qatar Airways A350, A380, or 787
2nd choice: Etihad Airways A380 or 787
3rd choice: Etihad Airways A330, A340, or 777
4th choice: Qatar Airways 777
5th choice: Qatar Airways A330 and A340
Keep in mind that most of Qatar's US routes are operated by 777s, though with Qatar's US expansion next year, we're finally seeing some A350s enter service to the US.
Food: Qatar Wins
I find that Qatar's catering is a step up from Etihad's. While Etihad has a dine on demand concept, they do often run out of food, in my experience.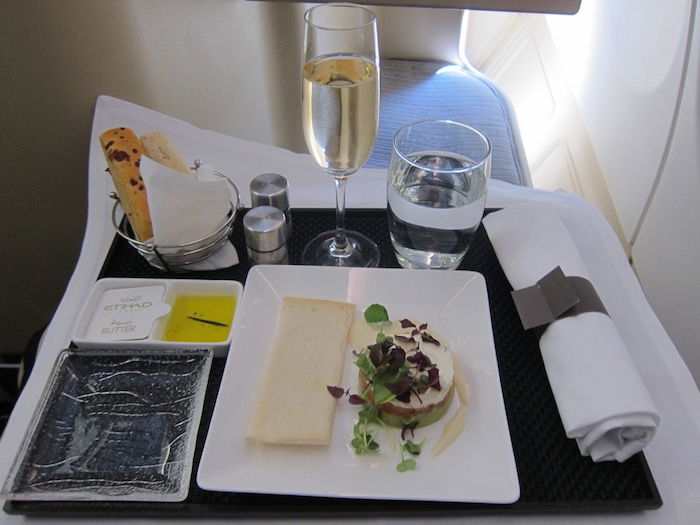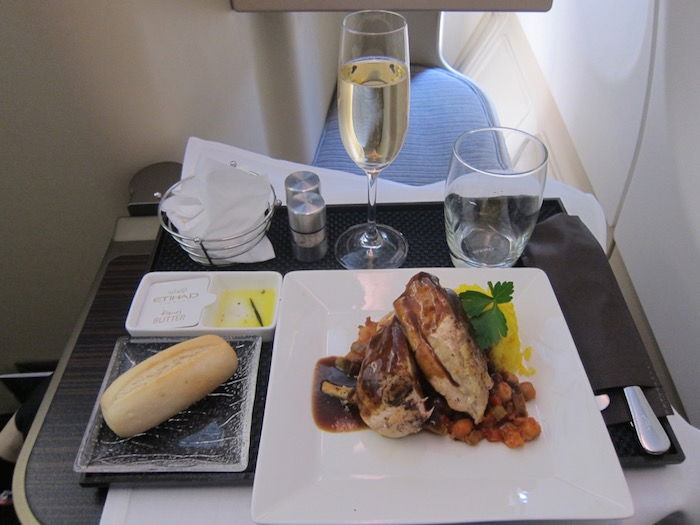 Etihad's food is solid, while I'd say Qatar's catering tends to be exceptional, among the best out there in business class. The food is delicious, and the plating and presentation tend to be exceptional.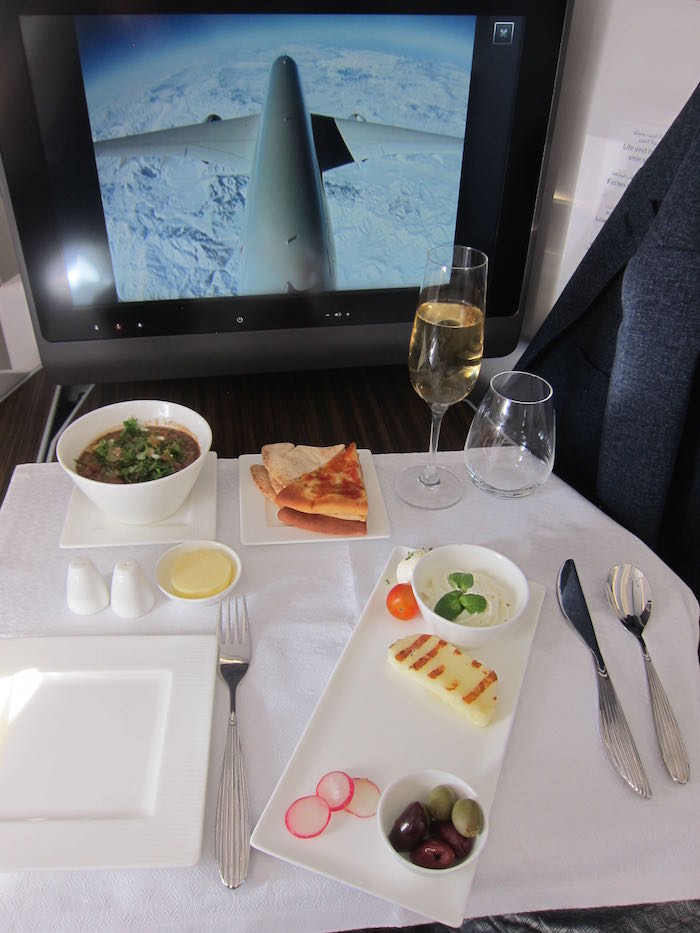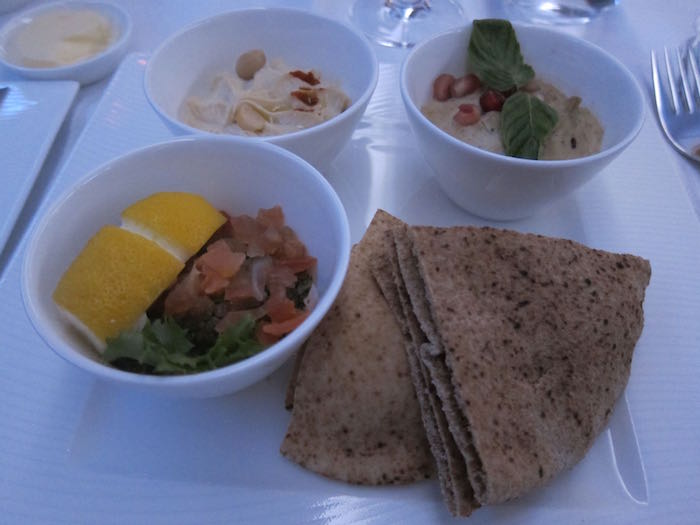 Still, you won't go hungry on either airline (actually, on Etihad you sometimes may). 😉
Service: Etihad Wins
While the Middle Eastern carriers in general have pretty inconsistent service styles due to how diverse their crews are, there's definitely a big difference between Etihad and Qatar crews.
Service on Etihad can be inconsistent, though on a good day you'll get a charming, engaging, attentive crew. At the same time I've also had service on Etihad which was sloppy and disinterested.
In my experience on Qatar, on the other hand, I find that the crews lack personality. Or perhaps more accurately, their personalities are suppressed. Qatar has such strict policies that staff live in constant fear of being reprimanded, much more so than at Emirates or Etihad.
I've just never been "wowed" by service on Qatar, while I've had some great service experiences on Etihad.
Wifi: Etihad Wins
This is an area where Etihad wins hands down. They have Wi-Fi throughout virtually their entire longhaul fleet, and it's among the best international Wi-Fi out there. It's reasonably priced, and offers unlimited data usage at a flat rate.
Meanwhile Qatar Airways doesn't have Wi-Fi on their 777s, which are the backbone of their longhaul fleet. They do have Wi-Fi on their 787s, A350s, and A380s, though it's more expensive and I've never been impressed by the speed.
Wifi is something that's really important to me, so this is something I perhaps prioritize more than others.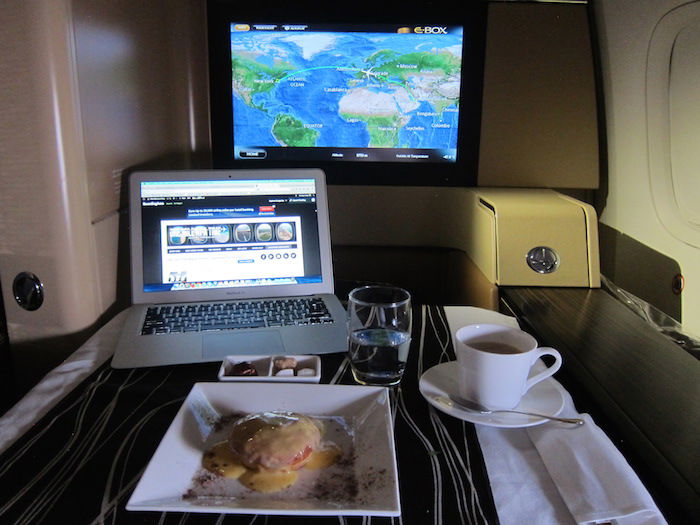 Bottom line
Ultimately if you're able to score an award ticket on either airline, you're in for a treat. Etihad gets the edge for service and Wi-Fi, while Qatar gets the edge for food. The best seat depends on which plane you'd be flying. But truthfully in many of the above cases, the differences are marginal.
I'd say my top pick would probably be the Qatar A350, A380, or 787, followed by any Etihad plane, followed by the rest of the Qatar fleet.
If you've flown Etihad or Qatar business class, what was your experience like? Which airline do you prefer?