One of my three favorite uses of American AAdvantage miles is for travel on Etihad Airways (the others are of course Cathay Pacific first class and Japan Airlines first class!). I have an odd fascination with the Middle East, and if you want to redeem miles to travel there, it's tough to beat redeeming American miles for travel on Etihad (along with Alaska miles on Emirates).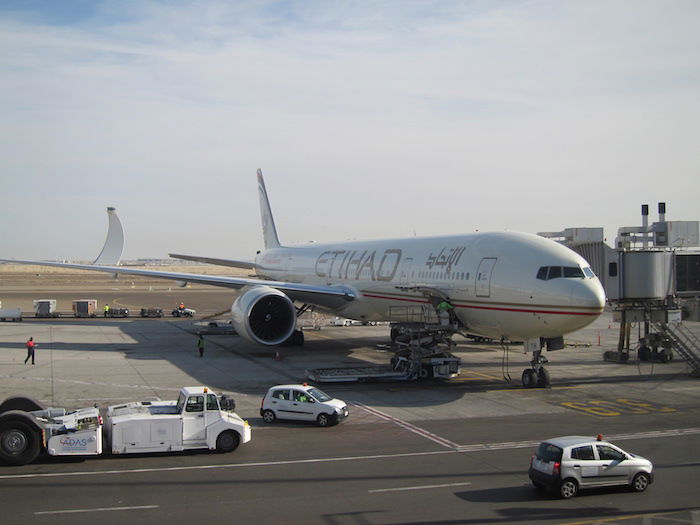 I know a lot of people are especially keen to redeem American miles for Etihad's A380 First Class Apartment, available exclusively on select flights from Abu Dhabi to London, New York, and Sydney.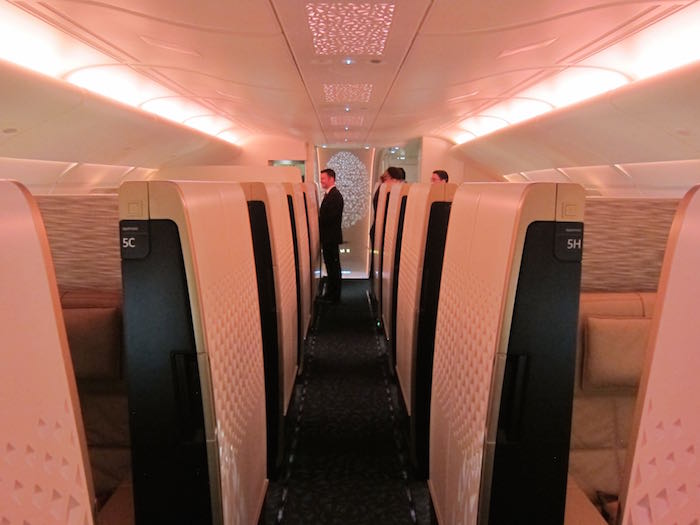 Etihad A380 First Class Apartments
As a reminder, American's one-way first class redemption rates for travel on Etihad are as follows:
US to Middle East: 90,000 miles
Europe to Middle East: 40,000 miles
Middle East to Australia: 60,000 miles
I've written a lot about redeeming American miles on Etihad, though I figured I'd make a consolidated post with Etihad first class award availability trends, as it's something I get lots of questions about. To start, remember that the normal rules for redeeming American AAdvantage miles also apply for travel on Etihad, even though they're not part of oneworld.
Etihad award availability is easy to search
I've written a primer about how to search Etihad Airways award space, so check out that post for more information on searching Etihad award space. Etihad awards aren't bookable through American's website, so you'll want to find award space through Etihad's website, and then book with American by phone.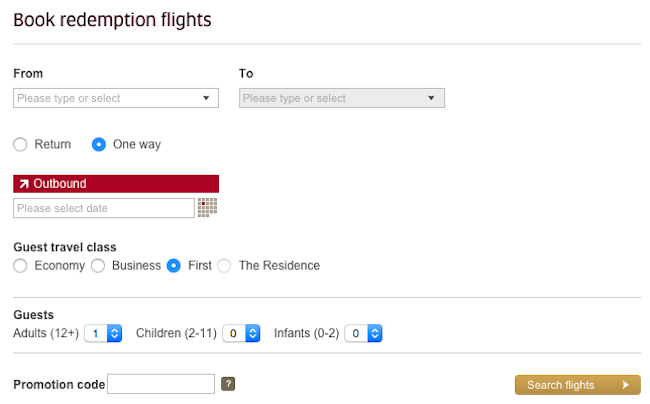 You'll need to find "GuestSeat" availability for it to also be bookable through American. If only the higher levels of awards are available, those wouldn't be bookable through American (they're the equivalent of "standard" level awards).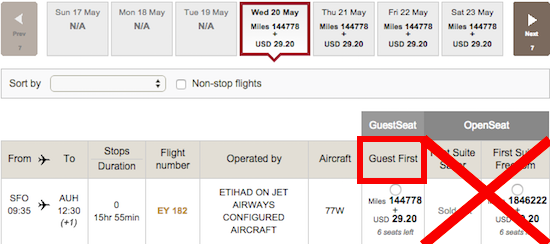 In almost all cases GuestSeat availability should match what American has access to. In the event that Etihad's site shows two seats but American agents can only see one seat by phone, use the trick explained in this post — basically request the first seat and put it on hold, and then the second seat should open up as well.
Etihad is very inconsistent with award space
Before I talk too much about specific Etihad award trends, it's important to understand Etihad is extremely inconsistent with releasing award space. Not just on specific dates, but actually over weeks at a time.
To give an example, American can start booking Etihad first class award seats ~331 days out. Sometimes Etihad won't show a single award seat on a given route 10-11 months out. And then sometimes if you check back a week later, every single date has award space.
So with Etihad more so than with just about any other airline you'll want to check back frequently if your desired award space hasn't yet opened up. That doesn't just apply close to departure, but even months in advance.
Etihad makes at most two first class seats available in advance
As a general rule of thumb, Etihad won't make more than two saver level first class award seats available at a time in advance. The same applies for business class. There are of course exceptions, but in general don't expect more than two seats when booking way in advance.
For example, take the below flights between Paris and Abu Dhabi for next year, which have two first class award seats per flight: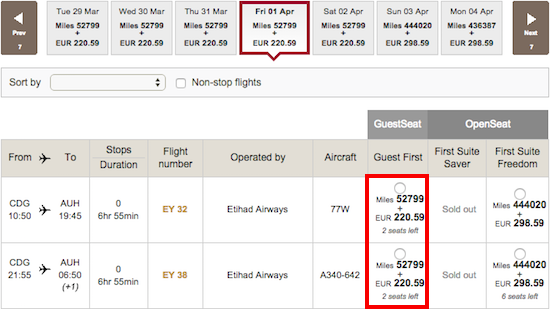 To be clear, that's not to say that two seats will be available in advance on all flights, but rather that you won't see more than two seats. In many cases you won't see any seats in advance, and then they'll suddenly appear (as explained above, regarding Etihad being inconsistent with award space).
For example, the US routes seem to have almost no availability at the moment when booking 10-11 months out, despite the cabins being wide open: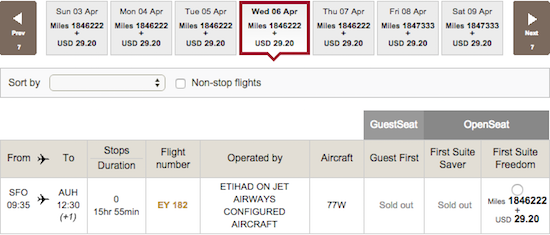 That could change again any day.
Etihad releases lots of last minute award space… inconsistently
Etihad does make a great amount of first class award space available close to departure. The problem is that they're very inconsistent. Sometimes they release the space a month out. Sometimes two weeks out. Sometimes a week out. Sometimes a day before departure.
As a general rule of thumb it's quite easy to predict if Etihad will open up space… it's just tough to predict when they'll do so.
Generally if there are at least four seats still left for sale within a week or so of departure, you have great odds of award space opening up.
But Etihad is also very inconsistent. I've seen flights with five seats for sale where all five seats become award seats, and I've seen flights with six seats for sale, where there's not a single award seat even the day before departure.
So you can expect up to two seats in advance, and then in many cases even more than two seats close to departure.
At the moment Etihad's trend seems to be that they're making all unsold first class seats available for award travel within 24 hours of departure.
For example, today's Los Angeles to Abu Dhabi flight has three first class seats for sale, and all three are available as awards: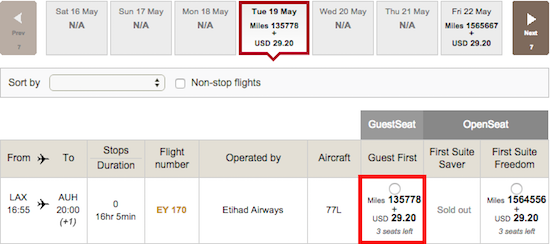 Meanwhile tonight's New York to Abu Dhabi flight has three first class seats for sale, and all three are available as awards: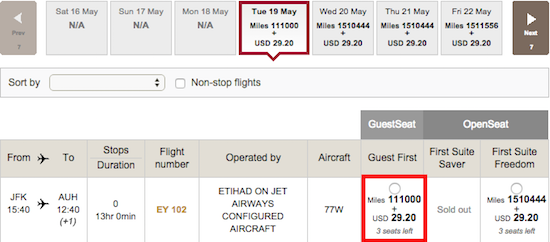 Tomorrow's Dallas to Abu Dhabi flight has three first class seats for sale, and all three are available as awards: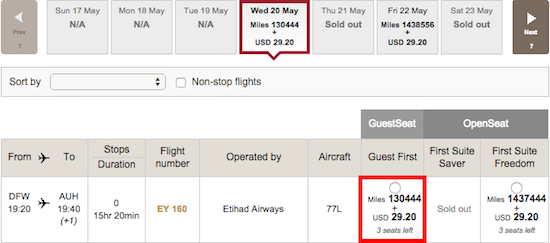 Tomorrow's San Francisco to Abu Dhabi flight has six first class seats for sale, and all six are available as awards: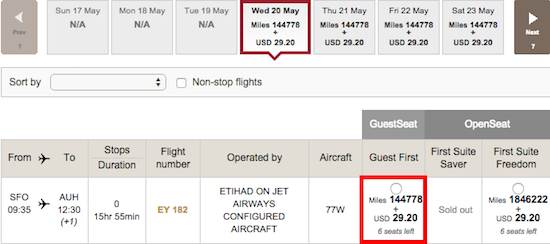 Tomorrow's Washington to Abu Dhabi flight has one first class seat for sale, and it's available as an award: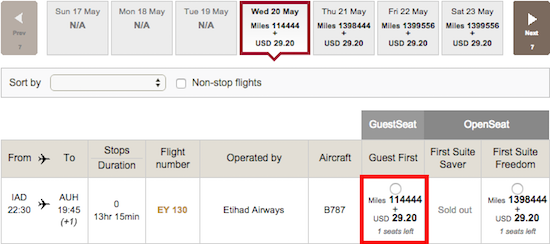 Availability is also quite good last minute for non-US origins and destinations, though the patterns are a bit different: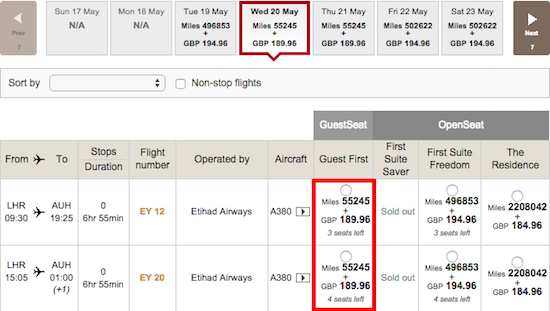 At this very moment the only reasonably reliable trend is that within a day or two virtually all unsold seats also become award seats.
Etihad is aggressive with selling first class upgrades
Why doesn't Etihad open up last minute first class award seats in some cases? Because Etihad is extremely aggressive with selling upgrades to first class (the same applies for business class upgrades from economy). Not only do they sell them in advance (much like what I experienced with SriLankan), but they also often offer them at check-in.

That's why it's not unusual to see an Etihad cabin wide open a couple of days before departure, and then it ends up going out completely full.
Which Etihad plane do you want to fly in first class?
Etihad operates a few types of planes on their US routes:
The 777-200LR and 777-300ER have virtually identical first class products. The cabins have just eight seats, spread across two rows in a 1-2-1 configuration. The A340-500 seats are virtually the same, except there are 50% more seats (they have three rows rather than two). So I'd have a slight preference for the 777 over the A340, since service should be a bit more personalized.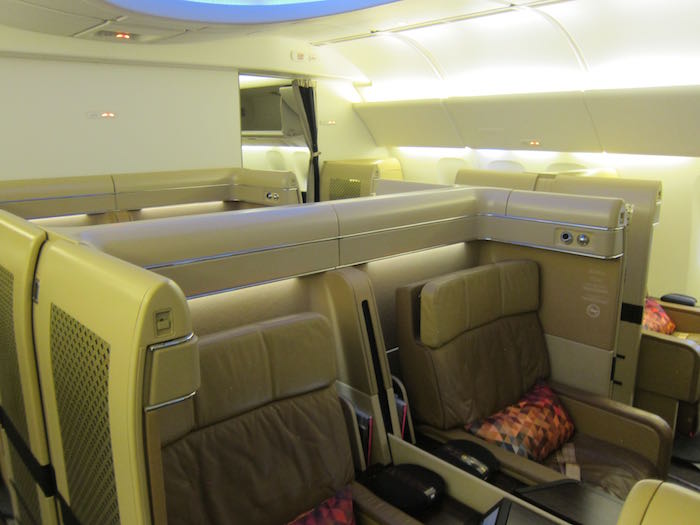 Etihad first class cabin 777-300ER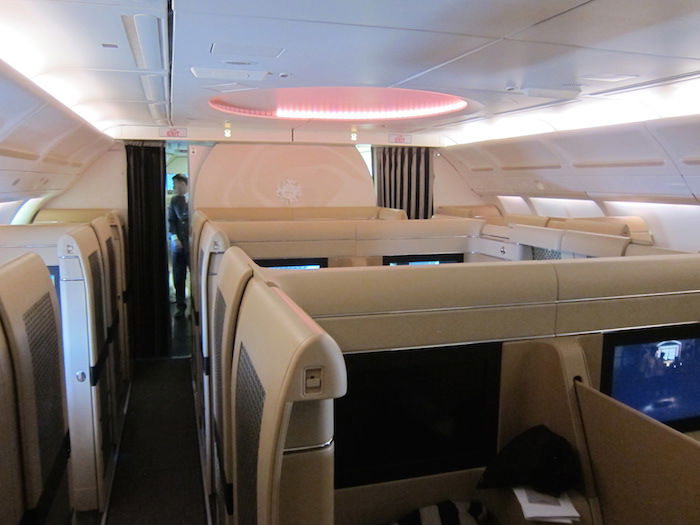 Etihad first class cabin A340-500
Meanwhile my last choice on Etihad would be their ex-Jet Airways 777-300ERs. These are operated on all flights to San Francisco and select frequencies to New York City. These are Jet Airways planes, so the product is very tired, though they still have fully enclosed first class seats.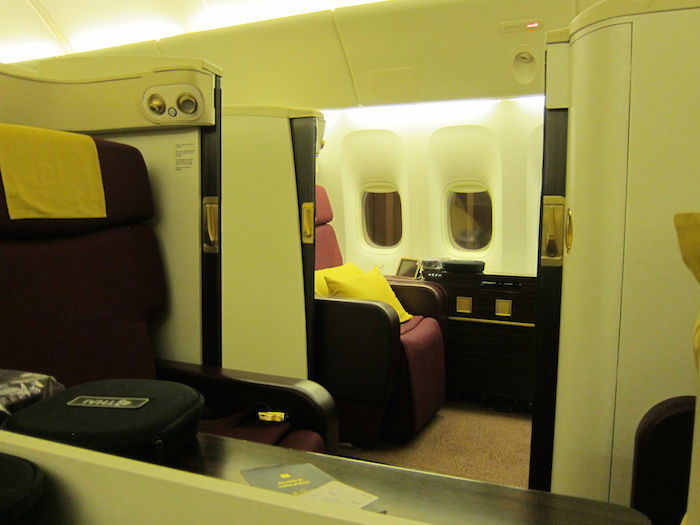 Jet Airways first class cabin 777-300ER (operating on behalf of Etihad)
Etihad's 787s are brand new, though the product is potentially a bit tighter, given that they still have four first class seats per row and the cabin is narrower than the 777's. While the cabin is slightly wider than A340's, reports are that the seats themselves feel a bit tighter. I'm not sure I'd actually choose the 787 over the 777 or A340, aside from the novelty of flying it.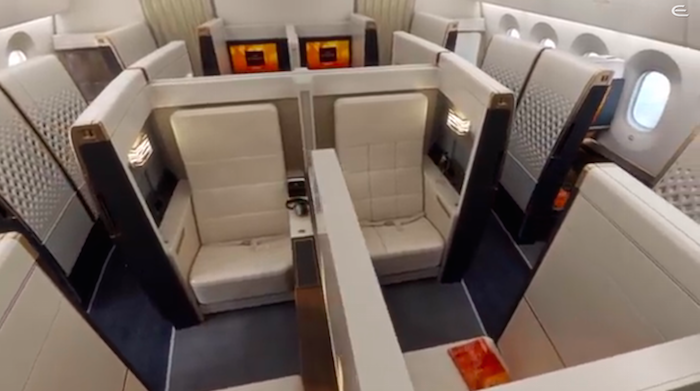 Meanwhile the A380 is of course the crown jewel of the fleet, given the First Class Apartment, onboard shower, etc.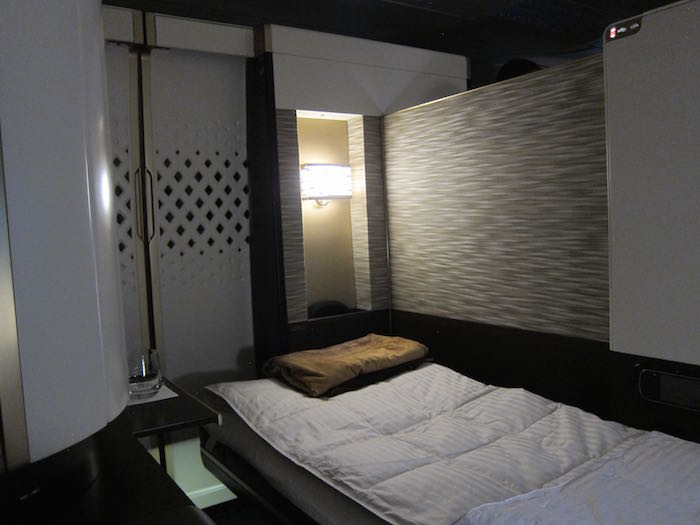 Bottom line
As of now Etihad first class remains pretty wide open for those looking to redeem American miles. Airlines are slowly but surely headed the direction of closing up premium cabin award seats to members of partner airlines, so if you haven't flown Etihad first class, I'd absolutely give it a try. And it shouldn't be too tough to book regardless of whether you're booking far in advance or close to departure, using the above tricks.