About a week ago I wrote about my experience flying Etihad Airways first class from Abu Dhabi to New York. As I noted: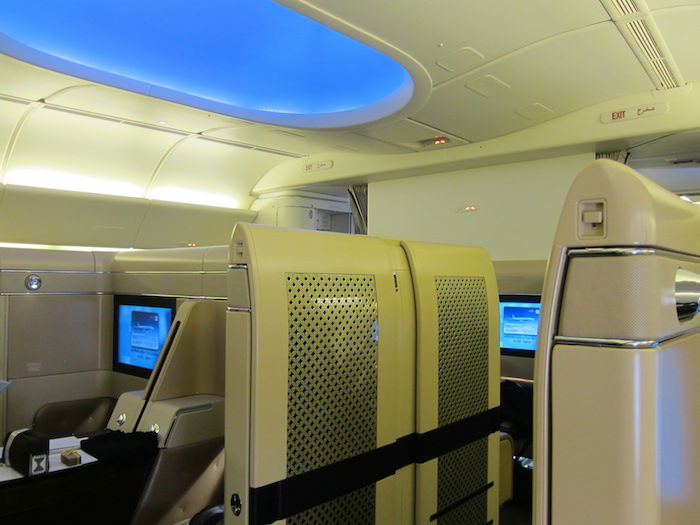 Etihad 777-300ER first class

I actually wasn't going to write the airline about it. I tend to think that nowadays enough people read the blog so that the strongest "feedback" I can give is by writing about it here. If the airline takes note, great. If they don't, that's fine too.
But in this case Etihad's social media team asked me to email them with my issues on the flight, so I did. Several readers asked me to share the response once they emailed me back. I heard back from them today, and here's the response:
Dear Mr Schlappig,

Thank you for your correspondence.

Etihad is very conscious of the importance of both our ground and in-flight services in building repeat custom. This is why, we regret that you were left with negative impressions of the services you have received whilst traveling with us from Abu Dhabi to New York on 03 September.

Naturally, the events you described were not what we would want our valued guests to experience.

I am concerned that you found cause for complaint with our meal service. Needless to say, I can fully appreciate your disappointment. The meal service is an integral part of the enjoyment of the flight and your choices and requirements are essential to its fulfilment.

It is disappointing to learn that we were unable to serve you with your preferred In-flight meals.

Whilst we do our utmost to meet specific requests, we are sometimes unable to do so because of previous Guest selection.

Limited storage space prevents us from carrying as wide a choice of meals as we would like. However, shortages of particular meals are monitored and when a trend is noticed, the catering ratios can be adjusted for future flights.

Suffice to say, we care about the quality of our service and we work hard to get each one exactly right, not least by paying close attention to our customers' views.

Our customer's comments are one of our best guidelines in evaluating and improving our service and product range. We are constantly looking to improve and make our catering more attractive to our guests, and it is our policy to follow-up on all customers' comments and incorporate them into the operational and service reviews. Although of little comfort to you at this point, I have forwarded a copy of your feedback to the Relevant Catering Manager for his information and consideration in future product improvements.

Additionally, your concerns with the preclearance facility for US bound flights in Abu Dhabi have all been noted. These issues have been documented and passed on to the Senior Managers for the inclusion in the service reviews of the relevant department.

We are always eager to optimize our product and services based on the feedback of our passengers positive or negative and have taken well note of your comments.

Mr Schlappig, we do value you as our guest and we are extremely sorry that your expectations were not met by us on this occasion. We would welcome the opportunity to have you on board Etihad as our guest in the near future and to this end, without admitting any liability, we would like to offer to add 10,000 Etihad Guest miles as a way of saying how sorry we were for the inconvenience described. These miles can be utilised towards future Etihad flights and/or any of the thousands rewards available on the Etihad Guest Reward Shop. I trust that you will accept them as an extension of our apology for your experience on this occasion.

Your support is appreciated and I hope you will continue to choose to fly with Etihad Airways and offer constructive feedback, as this lets us know where we are getting things right, and where there is room for improvement.

Yours sincerely,
[Name]
Guest Affairs Officer
My only thoughts are that they're confusing "preferred inflight meal" with food in general. Two very different things. I don't think expecting a second meal on a 14 hour flight would be considered a "special request" in most circles. 😉
And I do find it amusing that rather than offering miles as a "gesture of goodwill," they offer it "without admitting any liability."
Anyway, just posting this since many of you asked for me to. I wasn't exactly expecting major changes or anything other than the cookie cutter acknowledgement of issues.
There you have it…