On Wednesday I wrote about my rather disappointing flight on Etihad Airways in Diamond First Class from New York to Abu Dhabi. Long story short the seat and entertainment were top notch, while the service and food were subpar. I was quite looking forward to my return flight, to see if the outbound was an exception or the norm for Etihad Airways.
While I'll save most of the details for the trip report, I figured I'd share a few highlights.
First of all, Etihad Airways offers a chauffeur service for first and business class passengers, so I had prebooked and confirmed the service for 7:30AM from the InterContinental to Abu Dhabi Airport. I was in the lobby at 7:15AM, figuring the driver would be there early or at least on-time, though he ended up pulling up to the hotel at 8:10AM. That's right, he showed up 40 minutes late and didn't call me or the hotel even though they had my number, and didn't even apologize when he made it to the hotel. Utterly unacceptable.
The lounge itself was quite nice. It wasn't the Lufthansa First Class Terminal or Thai First Class Lounge & Spa, but it was nice. I mentally prepared myself for the flight by downing as many mimosas as I possibly could, figuring it would lead to a more enjoyable flight even if the crew was less than stellar.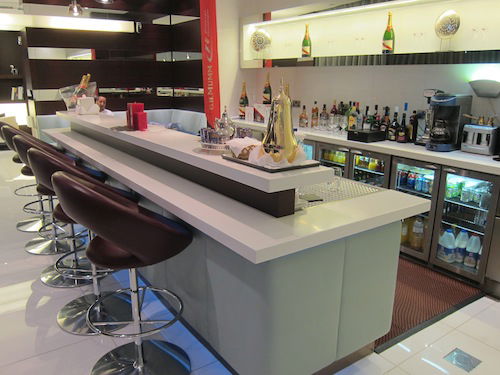 The lounge boasts a Six Senses Spa where they offer first class passengers 15-minute treatments. I went for a back massage, which was honestly the best 15-minute massage I've ever had. I gave the guy all the Dirham I had left as a tip (~$20USD), which based on his reaction must've been the biggest tip he has ever received.
The flight itself was interesting. While all 12 first class seats were occupied on the outbound flight, only two of the 12 seats were taken on the return flight. That meant I had my own "personal" flight attendant. There were two flight attendants working first class. There was a Middle Eastern lady serving the other passenger, and then the food and beverage manager, a French Italian guy, was serving me.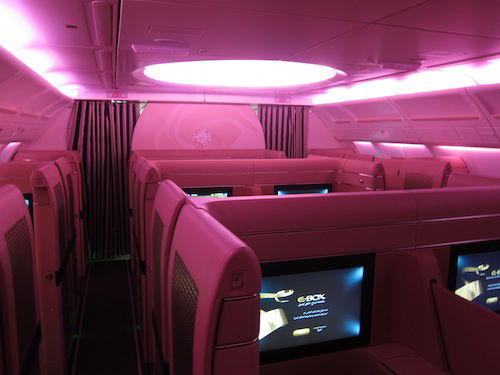 He was friendly and professional enough, in his own way. He addressed me by my first name at every interaction, which I suppose is better than the outbound where I wasn't once addressed by name.
Once again the service was a bit sloppy. He served me an amuse bouche and I asked him what it was (keep in mind he's the food and beverage manager onboard), and he responded with "I think it has potatoes in it."
On several occasions I ordered things and they weren't delivered (drinks, dessert, etc.). Whenever I was served anything it also took 15-20 minutes after I was finished before it was cleared.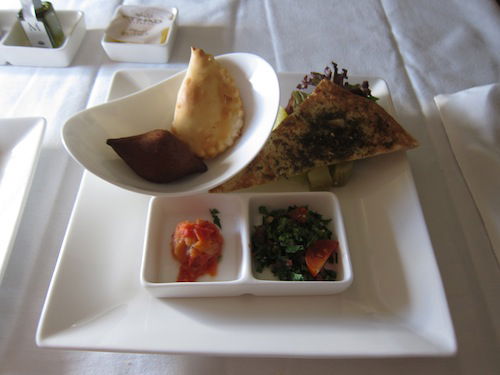 This isn't Singapore Airlines where the flight attendants walk through the cabin every five minutes throughout the flight to see if anyone wants anything.
Instead, after the meal service the flight attendant told me to push the call button if I wanted anything and he'd be by immediately to take care of me. And that was indeed the case, which I have no problem with, since my expectations were at least managed well.
The meal service itself was much better than on the outbound, but still far from extravagant (no caviar, etc.). It's odd that they have a menu for the first meal service, but after that only serve food from the "dine anytime" menu. I suspect the crew was well fed, because when I wanted to eat pre-arrival most of the options were already gone, despite there only being one other passenger. Just about the only option they had left was a chicken sandwich. Now that's what I call gourmet international first class cuisine! 😉
The chocolate fondue dessert after the first meal service was pretty great, though.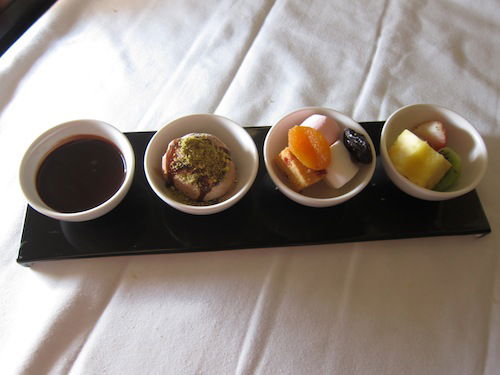 So the seat and entertainment were again amazing, the food was good, and the service was fine. I think Etihad's attitude can be summed up pretty well with the interaction I had with the flight attendant before landing. He came to my seat and mentioned there was a comment card and said that if I enjoyed my flight he'd appreciate if I could fill it out, though said that if I didn't enjoy my flight I didn't need to fill it out. Nice to see Etihad is looking for honest feedback!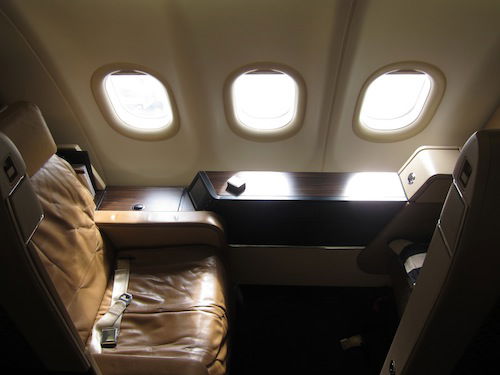 More details to come with the trip report, of course. So I guess to sum it up, Etihad is awesome when it comes to their "hard" product, not so awesome when it comes to their "soft" product.