Update: Read my full Etihad Business Class 787 Washington To Abu Dhabi review.
Hello from Abu Dhabi! On Tuesday night I flew Etihad business class on the 13 hour flight from Washington Dulles to Abu Dhabi. The flight was operated by their 787-9, which features their new Business Studio product, also available on their A380s.
I was keen to try this product, given that it's a type of seat I haven't yet flown. I recently reviewed Emirates' A380 business class product between Dubai and Los Angeles, so was curious to see how Etihad's flagship business class product compared. While I've flown Etihad's business class before, this was my first time trying their new product.
Etihad's 787-9 business class cabin is intimate, and has just 28 seats in a 1-2-1 configuration. There are two rows in the forward business class cabin, and then five rows in the rear cabin. The cabin is stunning in terms of the design, though that's tough to capture, given that they kept the cabin dark, and had bright screens.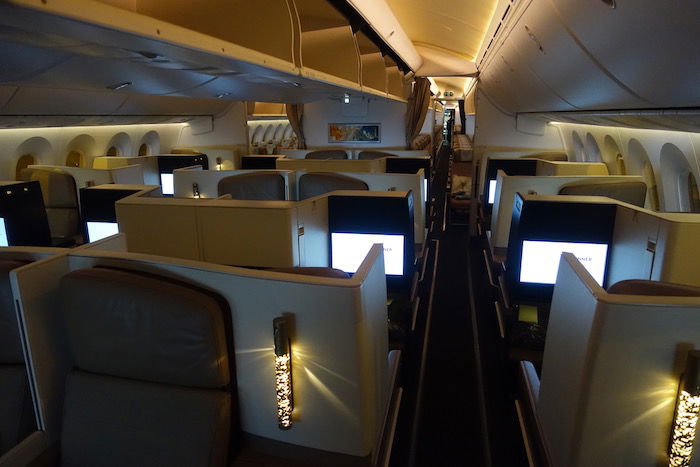 Etihad's Business Studio is in a staggered configuration, so seats alternate between being closer to the aisle and being closer to the window. In many ways the product is similar to the staggered configuration they have on other planes, except this product is much more advanced. Furthermore, in this cabin seats alternate between being forward facing and rear facing, in order to maximize the efficiency of the configuration.
I was lucky enough to snag a "true" window seat, which had an incredible amount of privacy.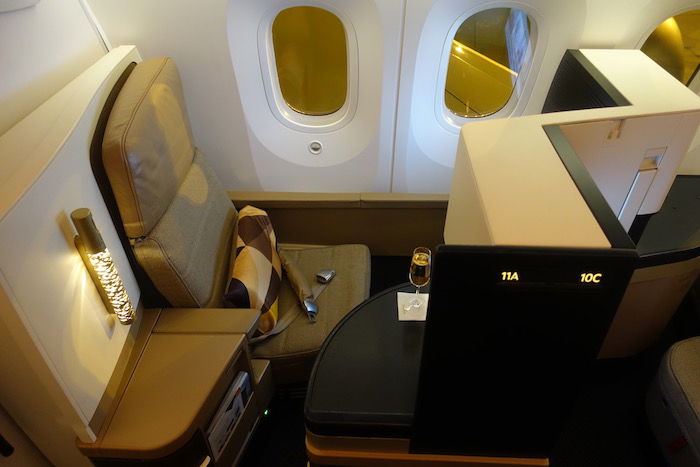 I was really impressed by the seat's design — there was plenty of storage, all the controls were conveniently placed, and most importantly, the footwell was large. My biggest complaint with some staggered configurations is that there's not much room for your feet in bed mode, but that wasn't an issue here. I'd say this is one of the world's three best business class seats, so very well done, Etihad.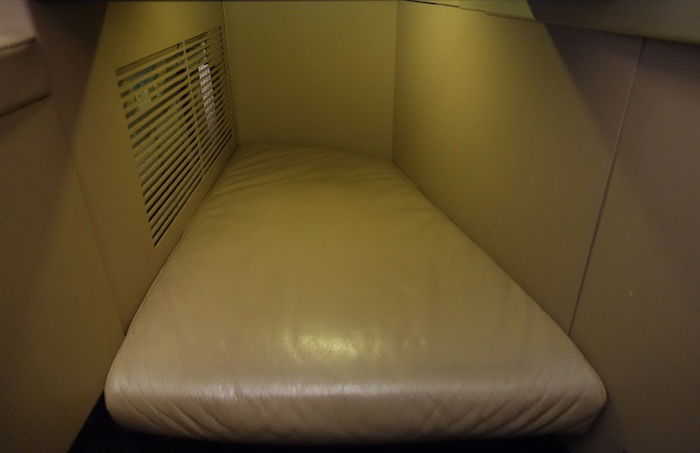 My one complaint about the seat quality is that I found the seat to be really hard — I wish it had better padding.
In terms of amenities, there was a solid amenity kit with earplugs, a toothbrush and toothpaste, socks, hand cream, etc.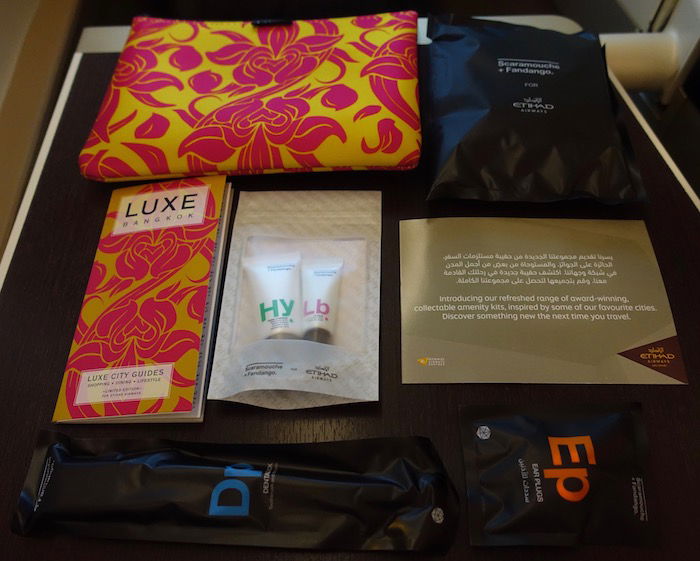 There were also pajamas and slippers, which was a pleasant surprise.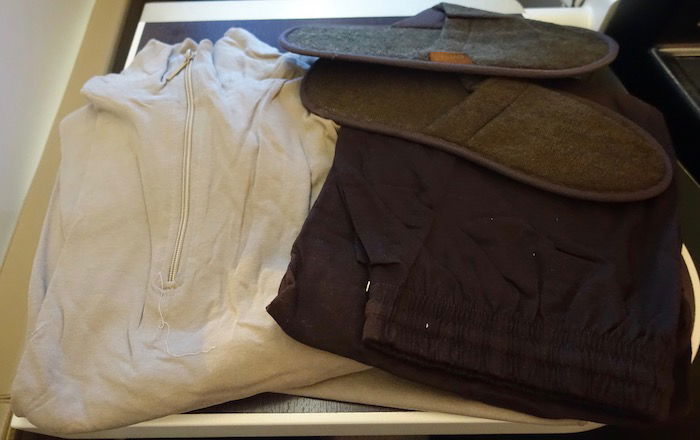 The pillow and blanket were fine, though somewhat disappointing. I wish Etihad had proper bedding. While the blanket was comfortable, the pillow was firm and fairly small. United continues to have the best bedding of any airline in the world in business class.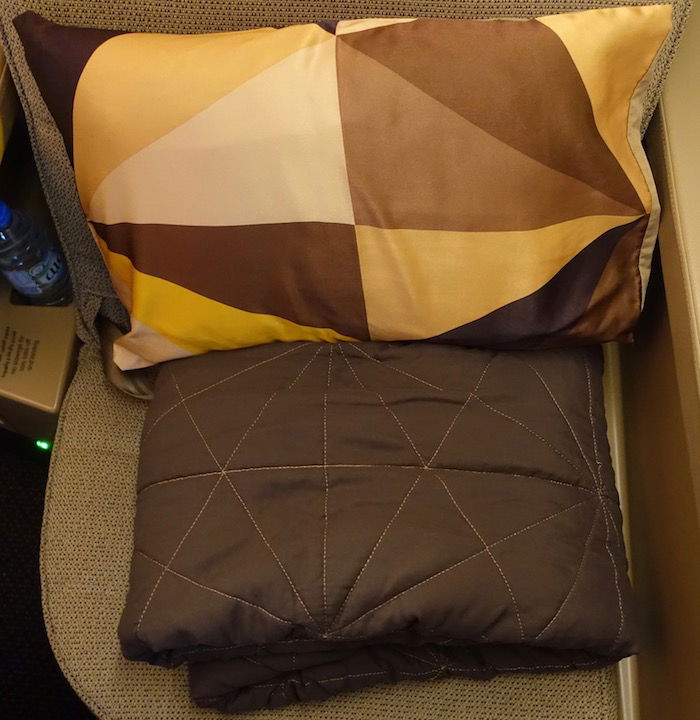 I was very impressed by the meal service. For one, they didn't run out of food, which I often find to be a problem on Etihad. Everything I ordered was available on demand. Emirates doesn't offer dine on demand in business class, while Etihad does, so that's an area where they have an edge
The food quality was good, though I wouldn't say it was a memorable meal. To start I had the mezze.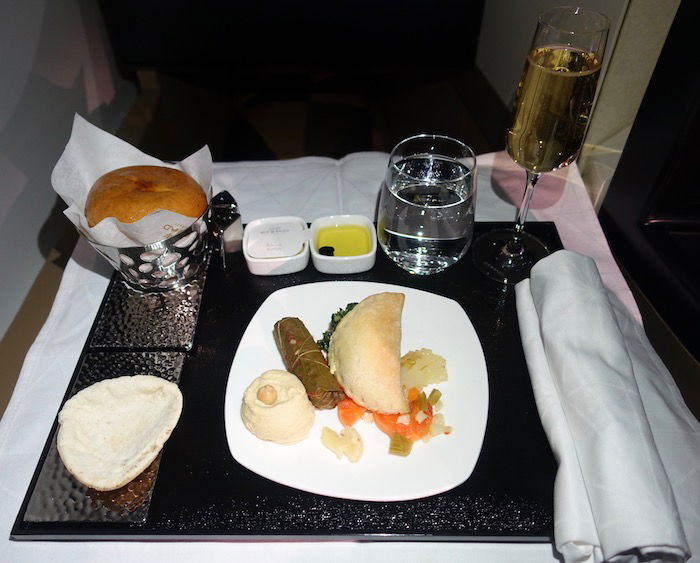 For the main course I had the Indian vegetarian dish, consisting of aloo gobi masala.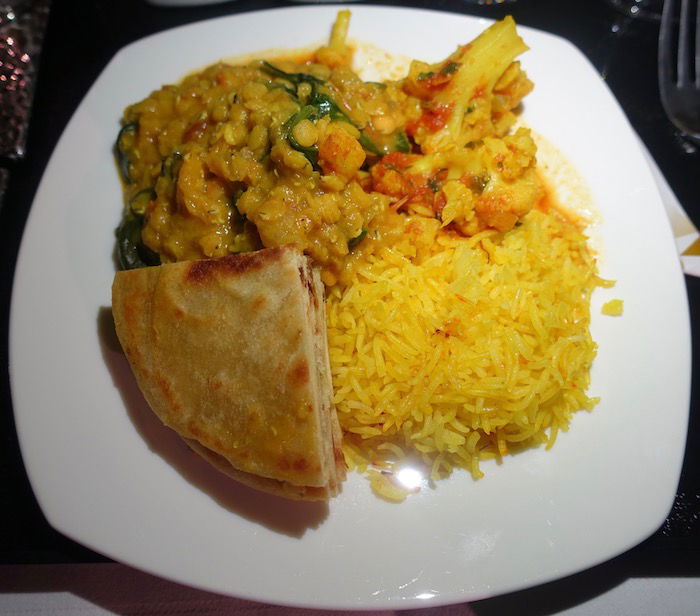 Then I had a cheese course.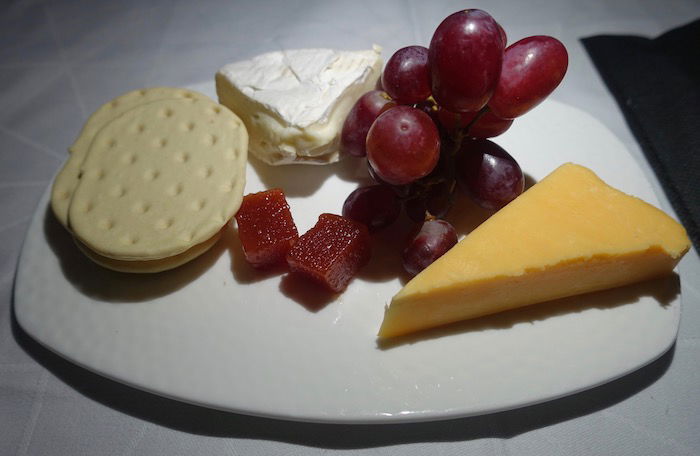 Then finally a delicious dark chocolate mousse cake for dessert.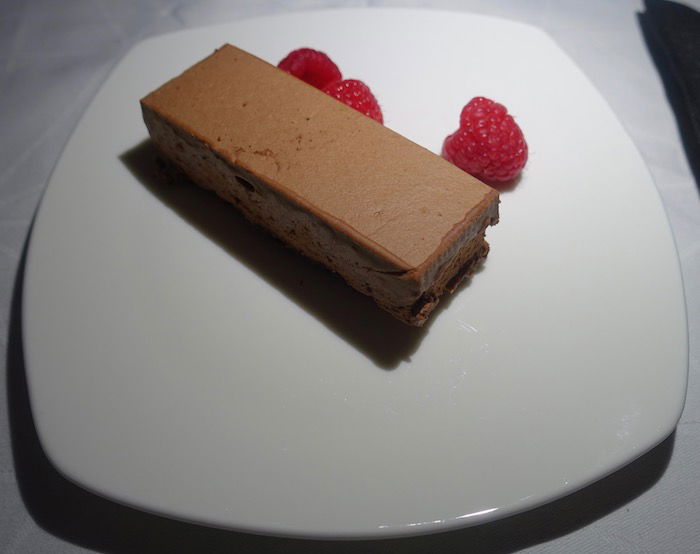 My biggest complaint about Etihad is typically the inconsistency of their crews. They have some great crews and also some pretty disappointing crews. I find that service is more variable than on just about any other airline.
Well, I won the crew lottery on this flight for sure, because I had an incredible Korean flight attendant taking care of me. Joo was sweet, attentive, and hilarious. I received better service on this flight in business class than I usually receive on Etihad in first class.
The issue is that you can't plan for great service on Etihad, because I could have just as easily had a sub-par crew. Joo was so good, however, that I sent an email to customer service during the flight thanking her for the great service. What a gem.
In terms of entertainment, Etihad has an extensive on demand selection with lots of great movies, TV shows, etc. More importantly, Etihad's 787s offer Wi-Fi for just $21 for the entire flight, which is a great deal. The Wi-Fi was fairly fast as well. Fortunately since I was flying from the US to the Middle East (rather than the other way around), I could use my laptop during the flight.
Etihad Business Studio bottom line
I was very impressed by Etihad's Business Studio experience. Their hard product is top notch, and if you can snag a "true" window seat, it's a pretty unbeatable experience.
I also liked the food, how well the dine on demand menu was executed, and the exceptional flight attendant that I had taking care of me.
If this experience were typical of Etihad, I'd say their business class blows away Emirates' business class and is among the best in the world. However, do keep in mind that Etihad crews are inconsistent, and the dine on demand menu doesn't always work out this well, as they do often run out of food.
If you've flown Etihad's new Business Studio, what was your experience like?