Ethiopian is one of Africa's fastest growing airlines, and from an outsider's perspective they seem to almost be taking an Emirates-esque approach towards growth, trying to make Addis Ababa a hub for connecting flights between other points in the world (Addis Ababa's Airport is nothing like Dubai's Airport, however).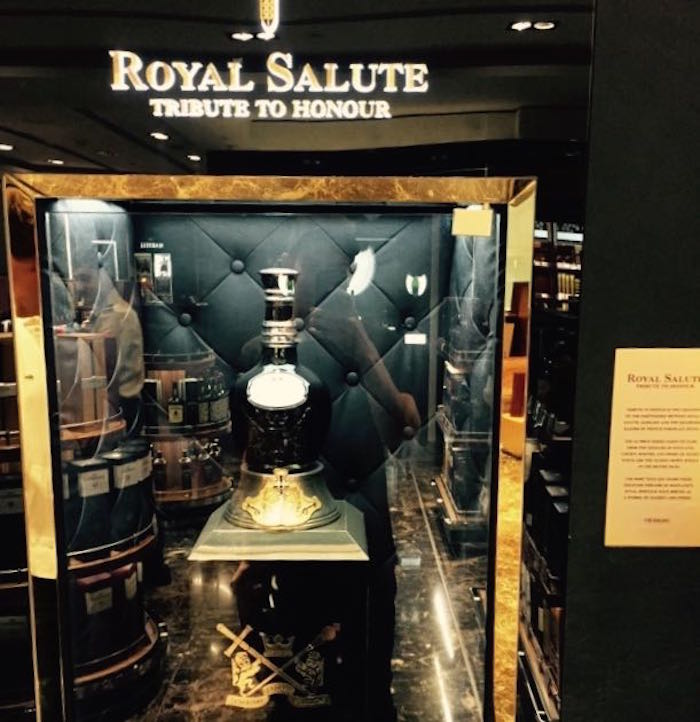 Duty free shopping at Dubai Airport (that's a $200,000 bottle of scotch)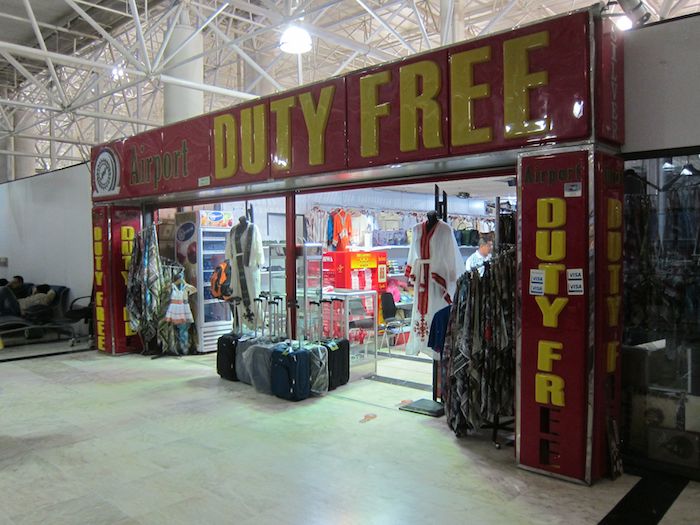 Duty free shopping at Addis Ababa Airport
The one challenge standing in their way (aside from their location, which isn't all that convenient unless you're connecting to Central or East Africa), is that Addis Ababa is at a high altitude, meaning the airline is heavily restricted in terms of maximum flight length due to the challenges of taking off at such a high altitude.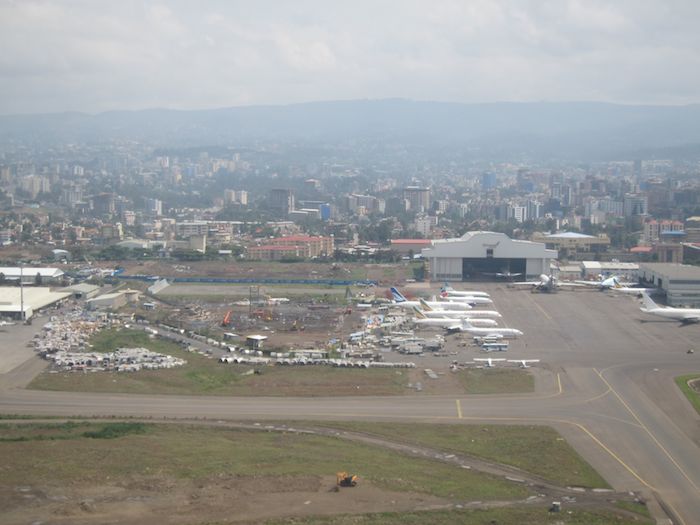 Taking off from Addis Ababa Airport
Ethiopian's current North America destinations include Los Angeles, Toronto, and Washington DC: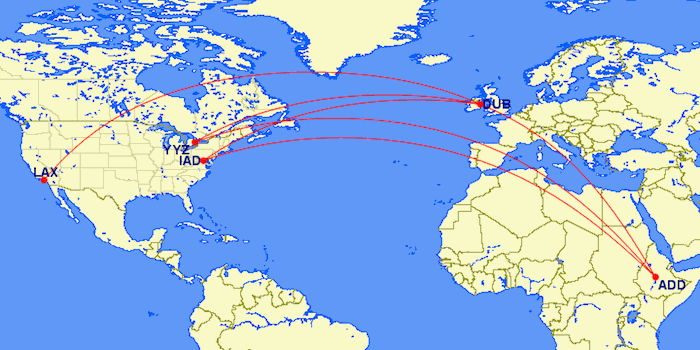 Ethiopian's current routes to North America
Interestingly Ethiopian is planning some further US expansion. Per the CAPA Centre for Aviation, Ethiopian will be adding flights to New York in June 2016, and is considering launching flights to Chicago and Houston in 2017.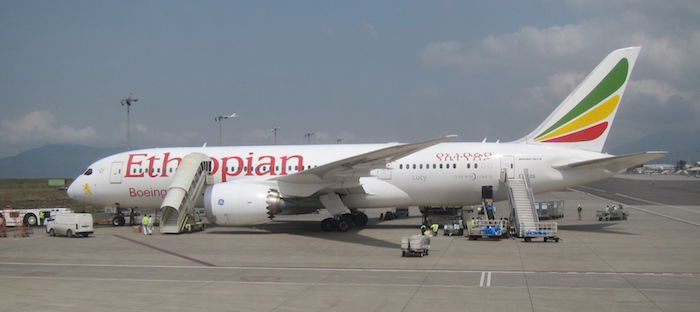 Ethiopian 787
Not surprisingly, all the cities they fly to in North America (and are considering flying to) are Star Alliance hubs, which allows them to not just serve local markets, but also connecting passengers. My guess would be that Ethiopian's new flight to New York would be to Newark Airport rather than Kennedy Airport, though I could certainly be wrong.
That's some impressive growth from an airline which has doubled their longhaul fleet in just four years, and plans to double it again in the next 10 years.
The interesting question with Ethiopian's North America growth is whether they'll continue to use Dublin as a connecting point for these flights. While it seems to be necessary as a fuel stop on westbound flights, could Ethiopian actually find a market in serving passengers traveling between the US and Dublin?
Ethiopian has not yet decided if it will serve its three planned new US destinations non-stop eastbound or with a stopover in both directions, which would enable it to take advantage of fifth freedom traffic. "We are now measuring the size of the traffic whether it makes sense to fly direct from or need to stop in Europe," Mr GebreMariam said. "If the market is not big enough to begin with then we can stop both ways in Dublin."
Ethiopian has apparently been doing well on their new Los Angeles to Dublin flight, having achieved load factors of 75-80%:
The new Addis Ababa-Dublin-Los Angeles flight has performed well since it was launched in Jun-2015, giving Ethiopian confidence it can succeed in other Dublin-US markets. Ethiopian achieved an average load factor on the Addis Ababa-Dublin-Los Angeles route of 75% to 80% in the summer 2015 season with a significant number of passengers embarking or disembarking in Dublin.
Assuming Ethiopian does indeed open up these new routes and actually have pick-up rights in Dublin, it's possible that a majority of their traffic would just be between the US and Dublin.
After all, there's not much additional demand between Dublin and Addis Ababa. They already operate it once daily with pick-up rights, and I doubt demand would triple if they had three (or more) flights a day between Dublin and Addis Ababa.
So if they are indeed largely transporting passengers between the US and Dublin, aren't they guilty of operating in a similar fashion to what the US carriers accuse the "big three" Gulf carriers of? Quadrupling longhaul capacity in 14 years isn't exactly reflective of the market. But of course the US carriers don't feel nearly as threatened by Ethiopian as they do by Emirates, Etihad, and Qatar, so I doubt we'll see them wage that battle.
Bottom line
All things considered I quite enjoyed my flights on Ethiopian, and am excited to see them grow. Their US growth strategy is interesting, especially if they eventually end up operating a mini hub out of Dublin, where much of their traffic might just be for transporting passengers between the US and Europe.
Stopping in Dublin could almost make sense exclusively from an operating cost perspective, as fuel costs are significantly lower operating two ~7 hour flights rather than one ~14 hour flight. So any additional traffic they get would be the icing on the cake. What it comes down to is whether the stop would deter people from booking Ethiopian, especially if they're connecting beyond Addis Ababa.
Do you see a future for Ethiopian essentially operating a mini hub out of Dublin for transatlantic flights?