Ethiopian Airlines has today put a new flight to Houston on sale. However, they're doing this for the third time in the past several weeks, as they ended up pulling the flight the previous two times.
But this time I think it's actually happening — let me explain why.
Ethiopian Airlines' US Network Changes
In late January I wrote about some significant changes that Ethiopian Airlines was supposed to make to their US route network. The airline announced that as of summer 2019 they'd discontinue flights to Los Angeles, and would instead add flights to Houston.
The airline has been flying to Los Angeles since summer 2015, and just couldn't make the flight work. First they operated the route via Dublin, and then recently they switched up the route to instead operate via Lome, Togo, but I guess even that didn't help much.
Ethiopian Airlines' Houston Flip-Flopping
Ethiopian Airlines planned to fly to Houston instead of Los Angeles, continuing their trend of primarily operating to North American destinations that are also Star Alliance hubs. Unfortunately this launch hasn't gone very smoothly:
Originally Ethiopian Airlines was supposed to launch 3x weekly flights to Houston as of June 23, 2019
The flight went on sale as of early April, though by early May the airline pulled availability, making it seem like they were canceling the route before it even launched
Then in mid-August Ethiopian Airlines once again put the flight on sale for travel as of December 15, 2019
Then days later they once again pulled inventory
As of today the airline has once again put the flight on sale, and they've even posted about it on their social media (which they didn't in the past — they just quietly put the flights on sale).
Ethiopian Airlines will launch 3x weekly flights between Addis Ababa and Houston as of December 16, 2019. The route will operate via Lome, Togo, using a Boeing 787-8, with the following schedule:
ET518 Addis Ababa to Lome departing 8:30AM arriving 11:20AM
ET518 Lome to Houston departing 12:40PM arriving 8:20PM
ET519 Houston to Lome departing 4:00PM arriving 11:20AM (+1 day)
ET519 Lome to Addis Ababa departing 1:05PM arriving 9:30PM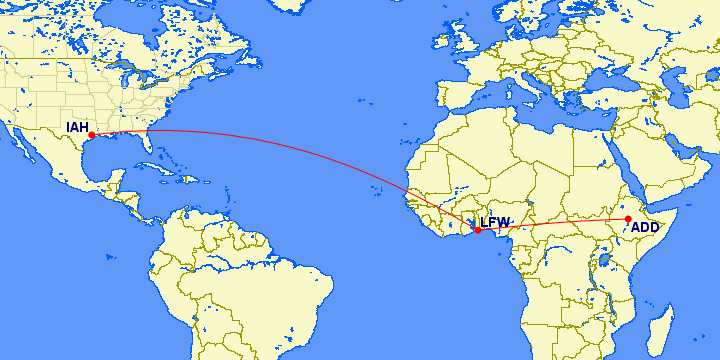 A flight between Addis Ababa and Lome covers a distance of ~2,600 miles, while a flight between Lome and Houston covers a distance of ~6,600 miles.
This route will once again make Houston an airport with service to six continents (meanwhile Los Angeles lost that title when Ethiopian Airlines cut flights).
This Route Has Horrible Aircraft Utilization
As you can see, this route has terrible aircraft utilization. The 787 will sit on the ground in Houston for about 20 hours with each rotation. But that's also why I'm confident that they're serious about the route this time around.
This also sheds some light on why they put the flight on sale and then pulled it several times, as they used radically different schedules each time.
As a point of comparison, here's what the schedule looked like the last time the route was on sale:
ET518 Addis Ababa to Lome departing 9:30PM arriving 12:05AM (+1 day)
ET518 Lome to Houston departing 1:15AM arriving 8:40AM
ET519 Houston to Lome departing 11:00AM arriving 5:00AM (+1 day)
ET519 Lome to Addis Ababa departing 6:00AM arriving 2:30PM
Based on the schedule it sure seems to me like Ethiopian Airlines' focus is on connections in West Africa via Lome, as the airline has a partnership with ASKY. In a way that's surprising, because in the process they've also limited connection opportunities in both Houston and Addis Ababa, all while having bad aircraft utilization. I'm sure they did the math on it, though…
Award Availability Wide Open
The route has plenty of award availability, in both economy and business class. So this is a great option for getting between Houston and Africa with miles.

Ethiopian Houston Flight Summary
Ethiopian Airlines has gone back and forth on this route quite a bit, and this is the third time the flight is going on sale. This time they officially announced the route on social media and have also gone with a radically different schedule, so I suspect it will stick.
Their priority here is clearly connection opportunities in West Africa on ASKY, rather than connection opportunities in Houston or Addis Ababa. It sure seems to me like they're making a gamble here, especially with the plane being on the ground for about 20 hours in Houston with each rotation.
What do you make of Ethiopian Airlines' new flight to Houston?