Earlier in the week I wrote a post entitled "When Airlines Take Actions Based On Your Blog Post." While I always do everything in my power to write fair and honest reviews, it kind of altered my perspective on the impact one of my reviews can have. On the whole I write about more positive experiences than negative experiences, and I certainly know that at times my feedback is passed on to the appropriate sources.
However, I don't think it was ever taken as seriously as it was on China Southern, where several people were apparently demoted due to what I reported on the flight. As I explained in that post, I felt guilty. Not because anything I wrote was inaccurate, but because by my standards the punishment seemed harsh. If I wrote a negative review of a US airline the whole first class crew wouldn't be "demoted," and at worst they'd be called into their supervisor's office to discuss the situation.
But the feedback you guys provided was brilliant, and ultimately I came to recognize that I did all that I could to provide feedback in hopes of China Southern improving, and I have no control over how they try to implement that.
Towards the end of the post I wrote the following:
Along similar lines, I've linked to the "expose" on Qatar Airways, and how easily they fire flight attendants simply by freezing their bank accounts and giving them a one-way ticket out of Qatar. So if I were flying Qatar Airways and had horrible service, should I still write a review about the flight, or should I skip it out of fear of what could happen to the flight attendant providing the bad service?
Reader Christian left an interesting comment in response to this:
Surely you'll never fly Qatar, now you're aware of how they treat their employees? I don't know about you, but I couldn't sit there and write a review, with that in the back of my mind.

You can't just say I don't care about that, I only review the products for 'you guys'. Take a stand and show you care about the people to. Even if Qatar don't.
So forgetting the review for a second, is it "ethical" to fly Qatar Airways?
While we have no way to verify with 100% accuracy the validity of the "expose," it is well documented that Qatar Airways has some of the harshest work rules. And while Emirates and Etihad can have strict rules as well, they're nowhere near as bad as Qatar Airways.
I've flown Qatar Airways before in first class, and actually have flights booked on them to review their 787 business class and new all business class A319 service between Doha and London.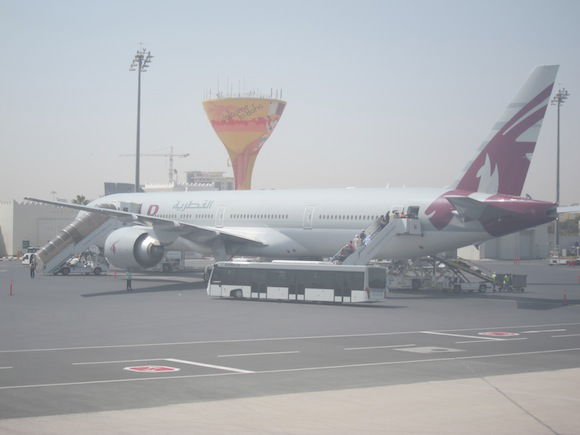 Qatar Airways 777 Doha
But now I'm curious to hear what you guys would do.
Yes, I have strong ethical objections to the way they treat their employees, but at the same time I have strong ethical objections to the way a lot of airlines treat their employees.
For that matter, I have strong objections to laws in lots of the countries I visit, or hell, even to many laws in the US. But at the same time that doesn't stop me from visiting them, since if anything it makes me appreciate the "freedoms" I have more. And I'm not sure where exactly to draw "the line."
So I have two poll questions below. I'm curious whether knowing Qatar Airways' work conditions would impact your willingness to fly with them, and ultimately whether I should just stay away from the airline and not review them because of this?
[poll id="40″]
[poll id="41″]
Can't wait to hear what you guys think! I realize a "yes" or "no" poll probably can't do justice to this question, so would love to hear your thoughts in the comments section as well!