I've been incredibly fortunate to have visited some of the best airline lounges in the world. I'd say presently the two best first class ground experiences in the world are offered by Lufthansa and Thai.
Lufthansa has the First Class Terminal in Frankfurt, which refines the airport experience for first class passengers. You don't even have to visit the terminal anymore, and are instead driven to your plane on the tarmac in a Porsche or Mercedes. It's awesome.
Thai Airways also has an amazing ground experience in Bangkok. While they don't have a separate first class terminal like Lufthansa, they do escort you through the airport from the moment you arrive. As a first class passenger you get a semi-private living room in the lounge and an hour long full body massage in their spa.
While those are hands down the two best first class ground experiences, there are some other airlines that aren't that far behind. I've visited the Qantas First Class Lounge in Melbourne, which was awesome as well, with a really modern design, plenty of seating, a nice restaurant area, and a spa. I was also pretty impressed by Qatar's Premium Terminal in Doha. After those experiences I'd say that the next best ground experience I've had is Virgin Atlantic's Clubhouse, which is surprising given that it's only a business class lounge.
Anyway, Emirates just opened a new Airbus 380 pier in Dubai a couple of weeks ago, and along with that opened a new first class lounge. I've gotta be honest — I didn't have very high expectations. I tend to think the Middle Eastern airlines are high on style and low on substance, so I was expecting much of the same, like gold plated toilet paper and ramen noodles.
After checking in and navigating the airport we made it to the A pier, where the first class lounge is located.
The entrance was impressive and agent friendly. She directed us to pass the desk to enter the lounge.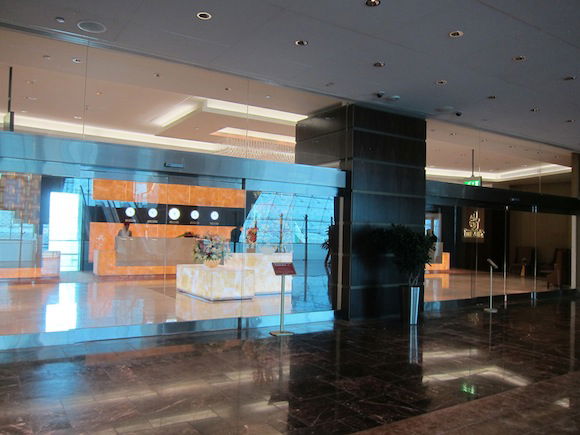 Entrance
After passing the desk I was confused. We must have made a wrong turn, since we found ourselves in a terminal with duty free shops and gates. What the…?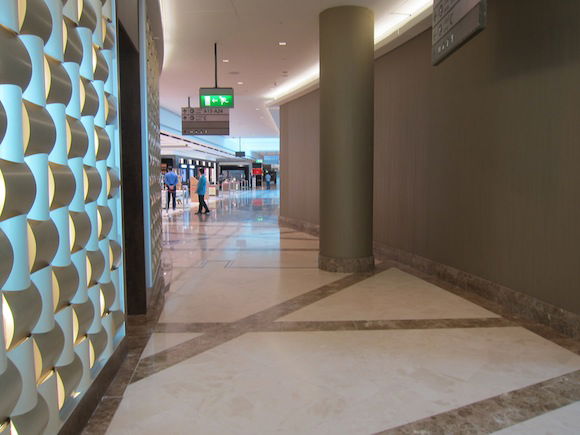 Walkway to duty free shops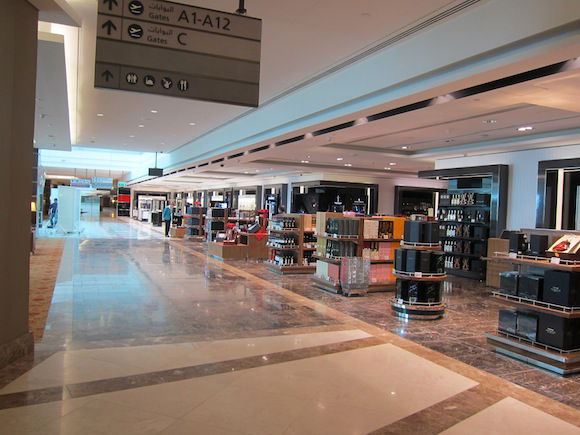 Duty free shops
As it turns out this is probably the most unique lounge in the world. It's essentially a floor dedicated to first class passengers that takes up the entirety of the terminal. You can board each of the Airbus 380 gates directly through the lounge. Business class gets all of level five to themselves, while first class gets all of level four to themselves.
At first I was a bit put off and confused by the whole concept. I mean, isn't this the point at which a lounge simply turns into a really nice gate area? The lounge was massive. Massive. I mean it literally spanned the entire terminal.
Between each gate was seating with a fully stocked bar and buffet.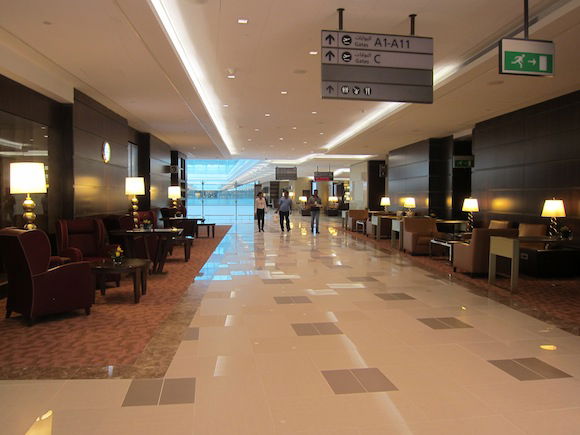 Lounge seating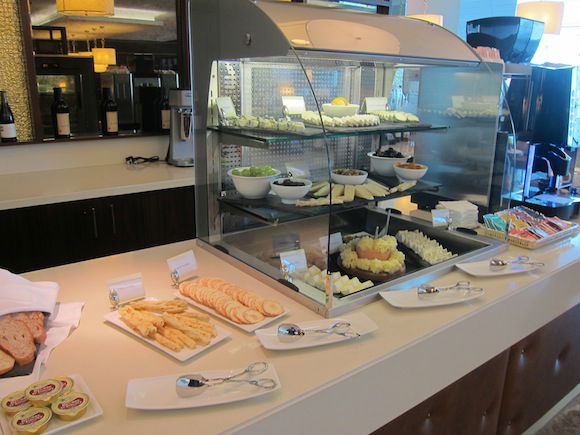 Buffet in each gate area
And the lounge clearly knows the way to my heart. They have "first class nuts" and a choice of water.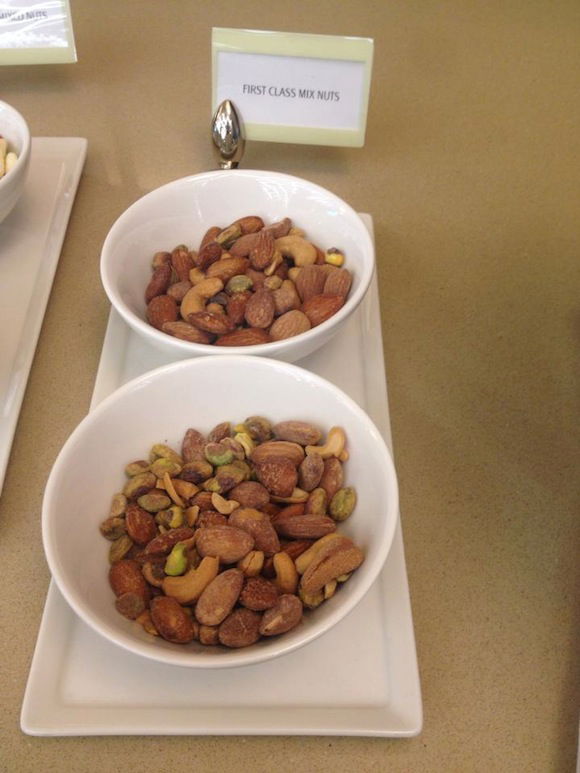 First class nuts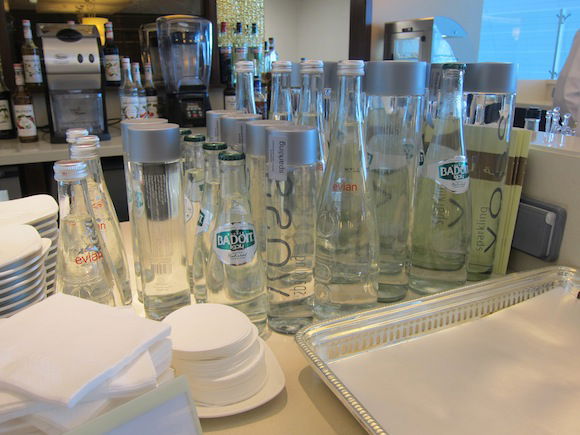 VOSS or Evian? How am I supposed to decide?!
Then the lounge has a bunch of specialty areas, including a fine dining area, general dining area, quiet room, entertainment center, cigar bar, and more.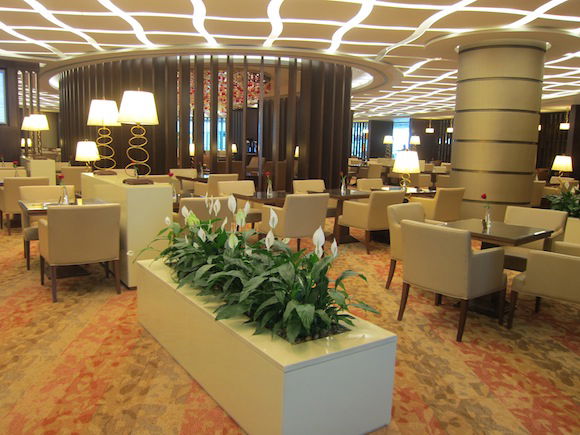 Dining area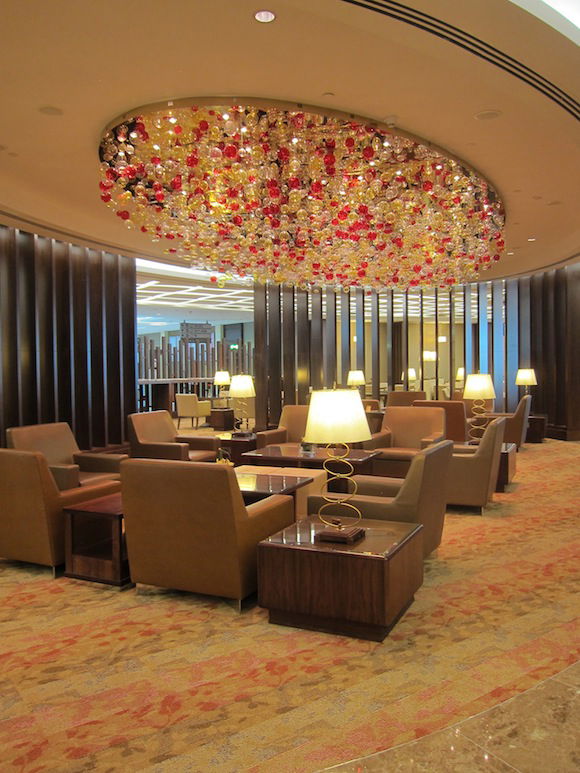 Lounge seating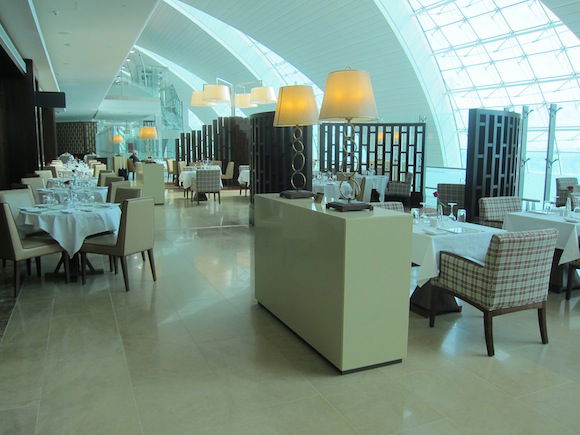 Fine dining area
The fine dining area has both a buffet as well as a menu. I was immediately in love with the service because as soon as I pulled out my camera they opened each serving tray.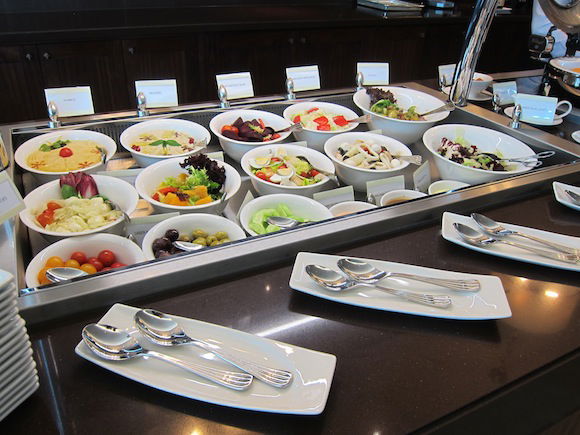 Buffet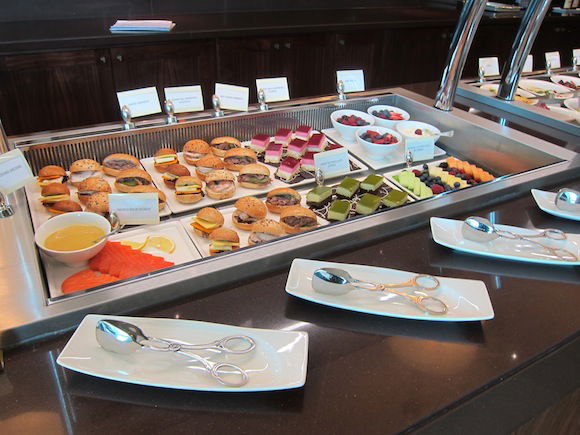 Buffet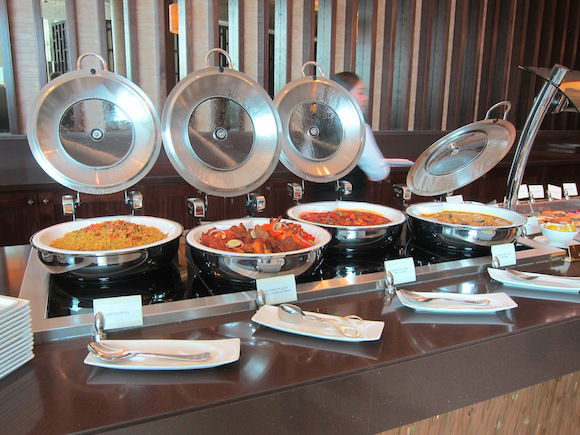 Buffet
And while I don't smoke my dad would love this place, and they do eventually plan on having complimentary cigars there.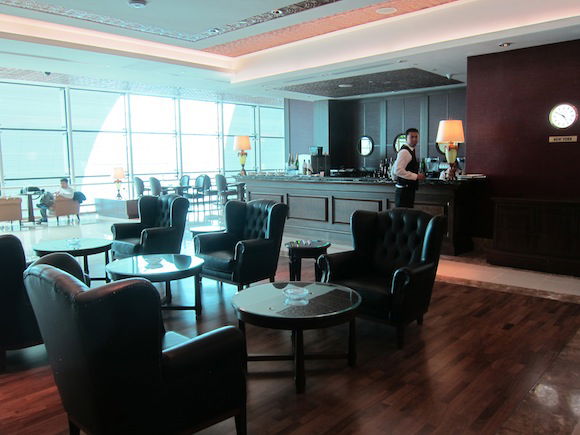 Smoking lounge
Then there was a quiet area with over a dozen comfy seats with pillows and blankets.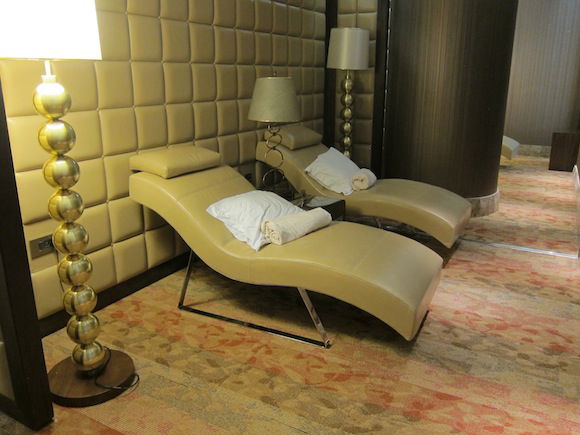 Quiet area
And before I knew it we could board… directly through the lounge!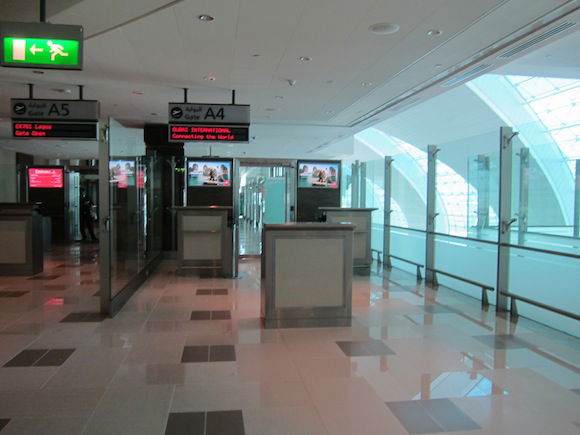 Departure gate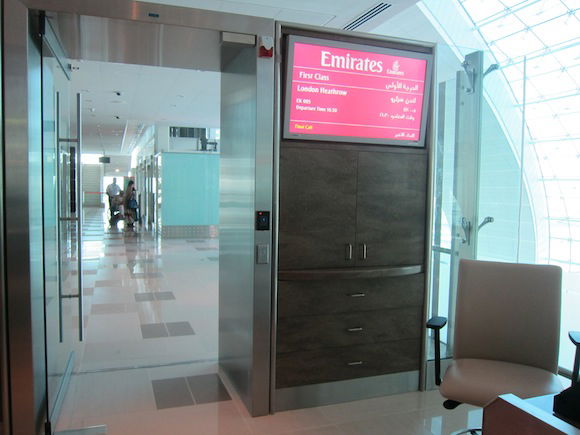 Departure gate
I'll have a lot more pictures and details with the trip report this week. Kudos to Emirates on an extremely innovative lounge. What I loved most is that I suspect this lounge will never be crowded. There are at most 14 first class passengers per flight, and this lounge probably has seating for a thousand. The service was uncharacteristically good for the UAE as well.
I'd say this ranks among my top three lounges in the world after the Lufthansa and Thai facilities. If the first class ground service was a bit more personalized I might even say this lounge has them beat. It would be nice if they walked you from check-in to the lounge (since it is quite a haul) and I think it would be a nice touch if they picked you up in the lounge when it was time to fly. The lounge will also eventually have a spa, though it's not open yet.
Like I said, more details coming later!
In the meantime I'm in a lounge which makes me dream of an Admirals Club. More on that shortly…