Within the past few months I've had the opportunity to fly the "flagship" business class products of both Emirates and Etihad on longhaul flights. I flew Emirates A380 business class from Dubai to Los Angeles, and then Etihad 787 business class from Washington to Abu Dhabi.
These two airlines are fierce rivals, given that their home bases are just an hour-drive apart, so you can just as easily fly into Abu Dhabi if visiting Dubai, and vice versa.
So, which airline offers an all around better business class experience? I figured I'd share my thoughts, though let me add that my sample size is fairly limited, so I'm not suggesting my analysis is true across the board. Furthermore this doesn't reflect the experience on all planes, but rather I'm referring specifically to Emirates' best business class product (available on the A380), and Etihad's best business class product (available on the 787 and A380).
Hopefully frequent Emirates and Etihad flyers can chime in with their thoughts. Here we go, in no particular order:
Seat — Etihad
Both airlines have staggered configurations in business class, though they're vastly different. Emirates has traditional staggered seats, which are comfortable and private, assuming you can snag one of the seats closest to the windows. However, this is hardly an innovative product.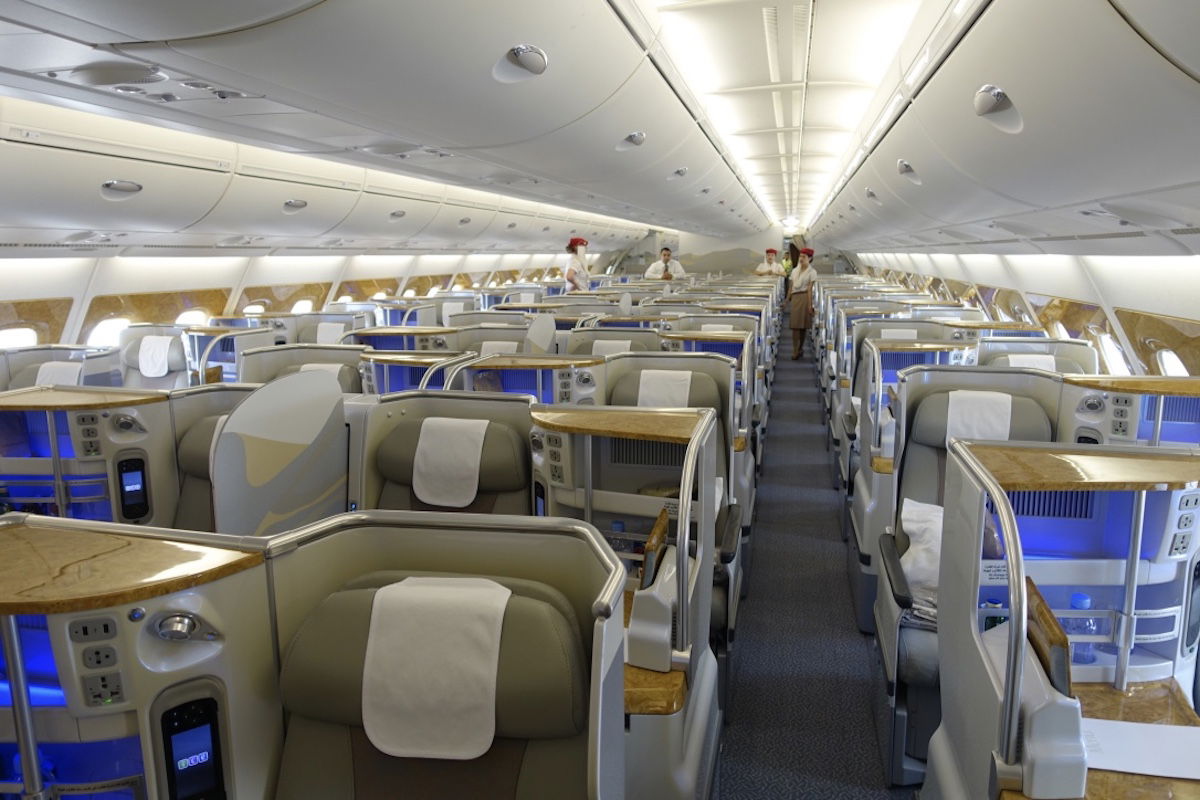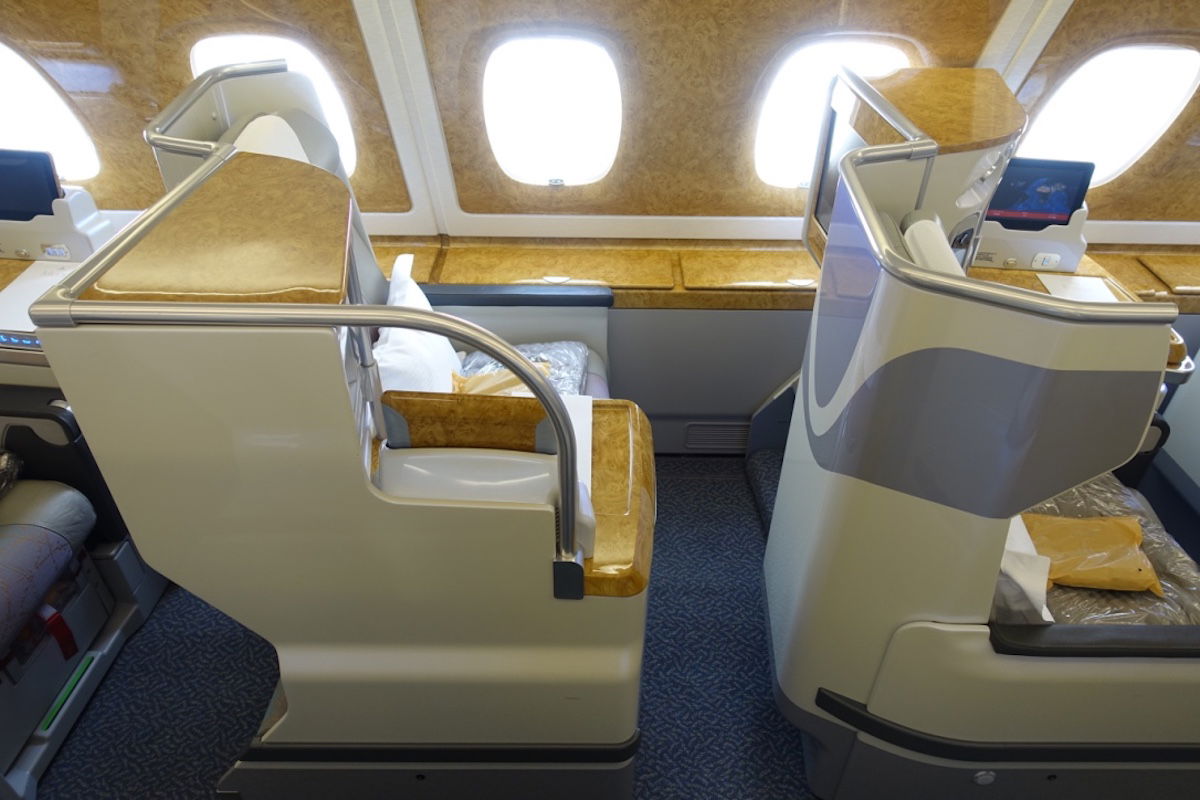 Meanwhile Etihad's new business class product is essentially an evolved staggered configuration. The seats are more comfortable, stylish, and private.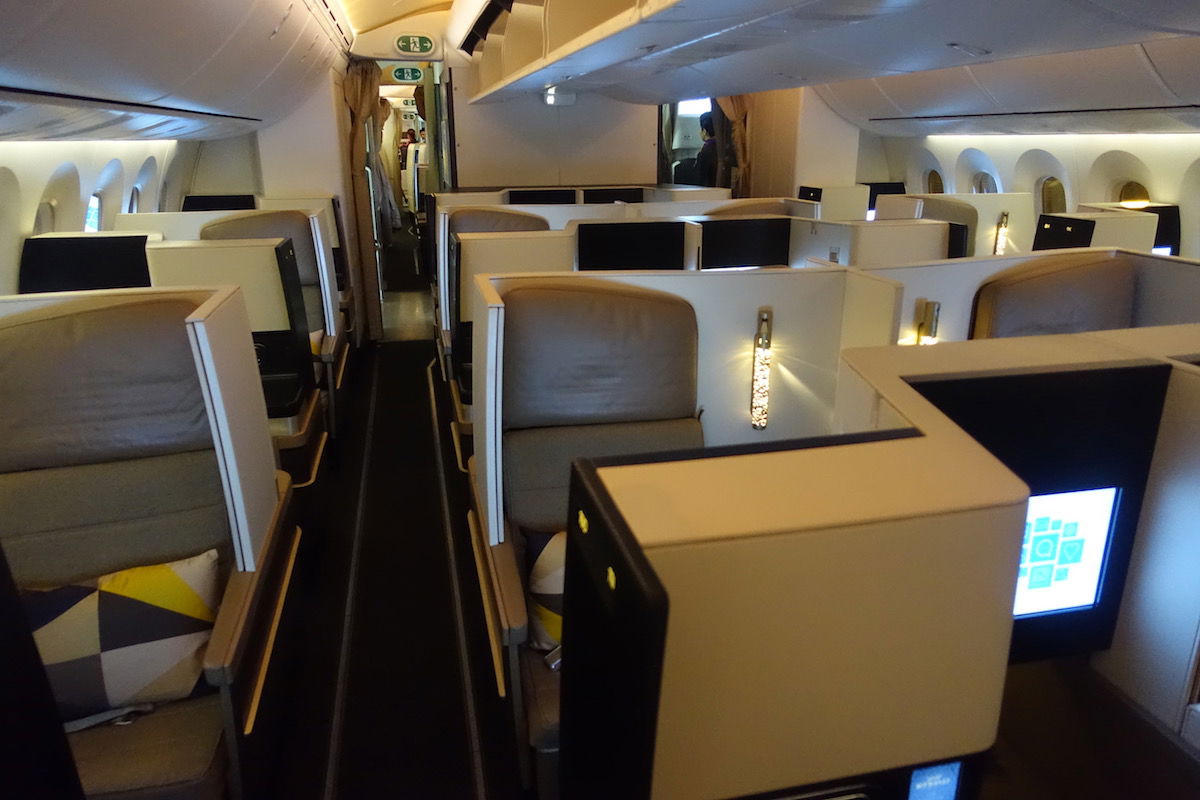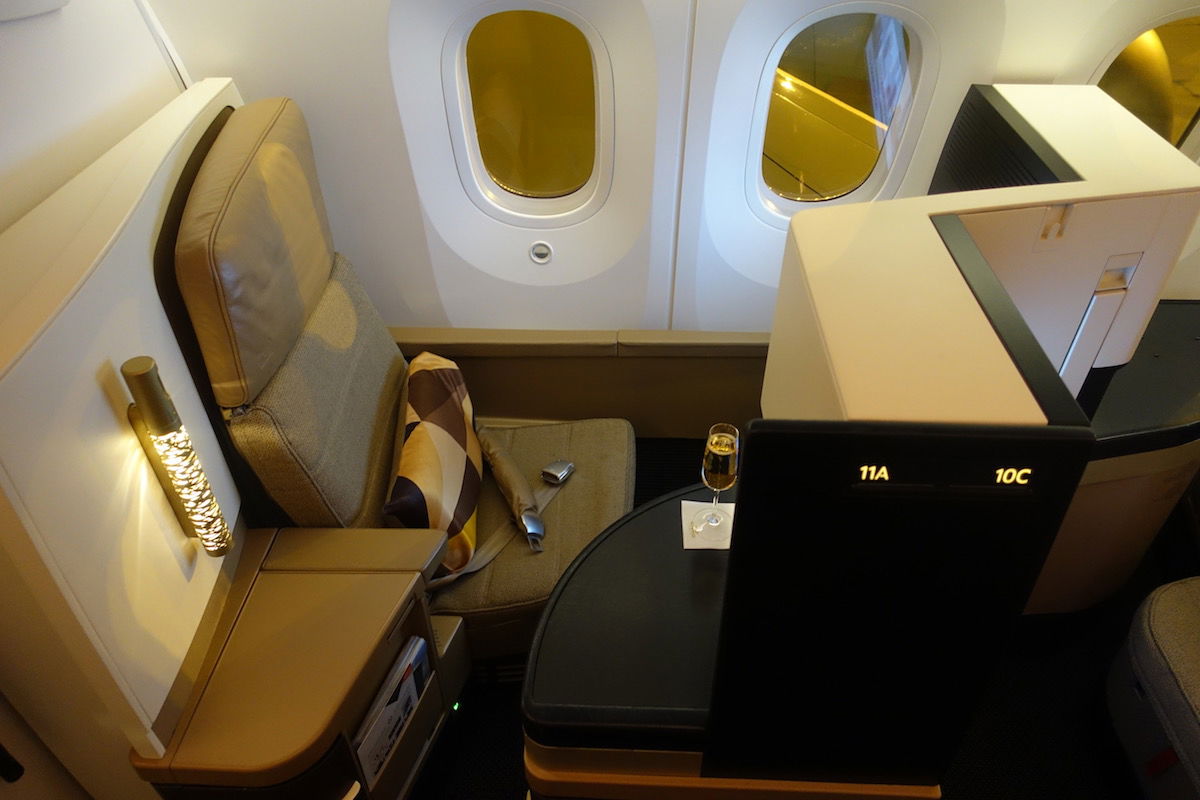 Crews — Emirates
There's an important distinction to be made here. Service procedures aside, generally I find Emirates crews to be more consistent than Etihad crews. That's not to say that the overall service is better, but rather that the flight attendants themselves are generally more polished and consistent on Emirates.
On Etihad I've had fantastic flight attendants (as I had from Washington to Abu Dhabi), but I've also had some really lousy crews. So I have to give Emirates the edge when it comes to the overall quality of their crews.
Service concept — Etihad
This is an area where Etihad wins by a landslide.
Emirates should be embarrassed by the service procedure they have in business class on the A380. It feels like an assembly line, and there's no dine on demand concept. They'd be hard pressed to make the experience less personalized, and the focus absolutely seems to be on efficiency over personalization.
Etihad's service concept is the opposite. They have a dine on demand menu, and service is very much customized. That's not to say that the execution of service is always perfect, but at least the concept is good.
Wifi — Etihad
Emirates offers free — or rather nearly free — Wi-Fi. Everyone gets 10MB of free Wi-Fi, or for $1 you can buy 600MB of Wi-Fi. The catch is that it's unusably slow aside from texting and very basic functions, so they're really doing a disservice to anyone looking to get any work done.
Etihad has some of the best Wi-Fi in the sky, on the other hand. For ~$21 you can buy a pass that will last you the whole flight with no data caps, and I generally find the speeds to be excellent. This is a great compromise, in my opinion.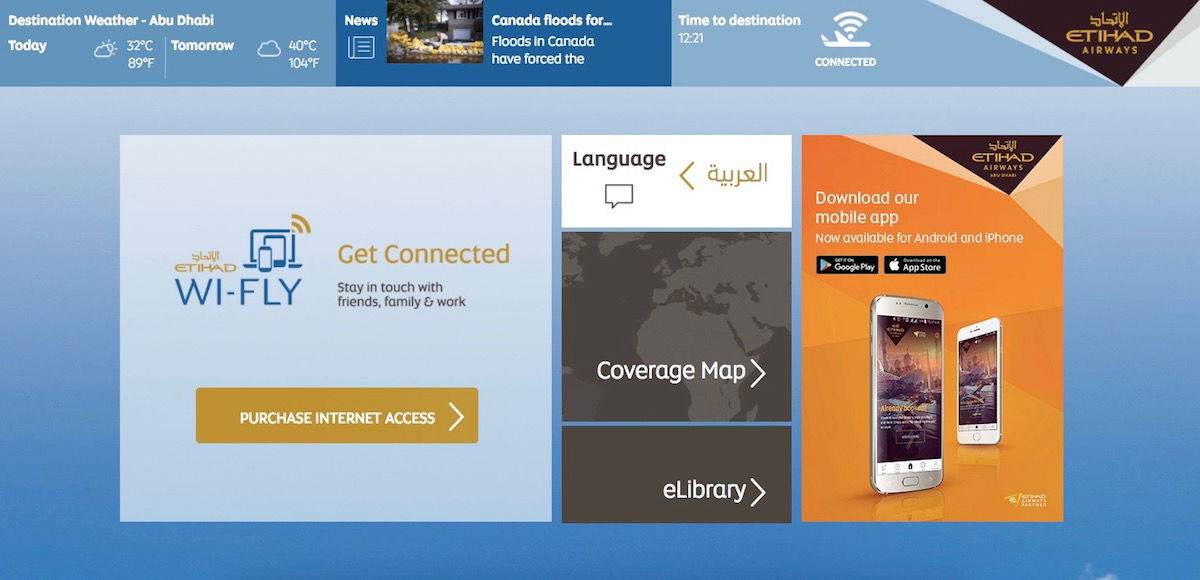 Entertainment — Emirates
Both airlines have good entertainment selections, though Emirates' ICE system is the best in the sky, and beats Etihad's E-Box system.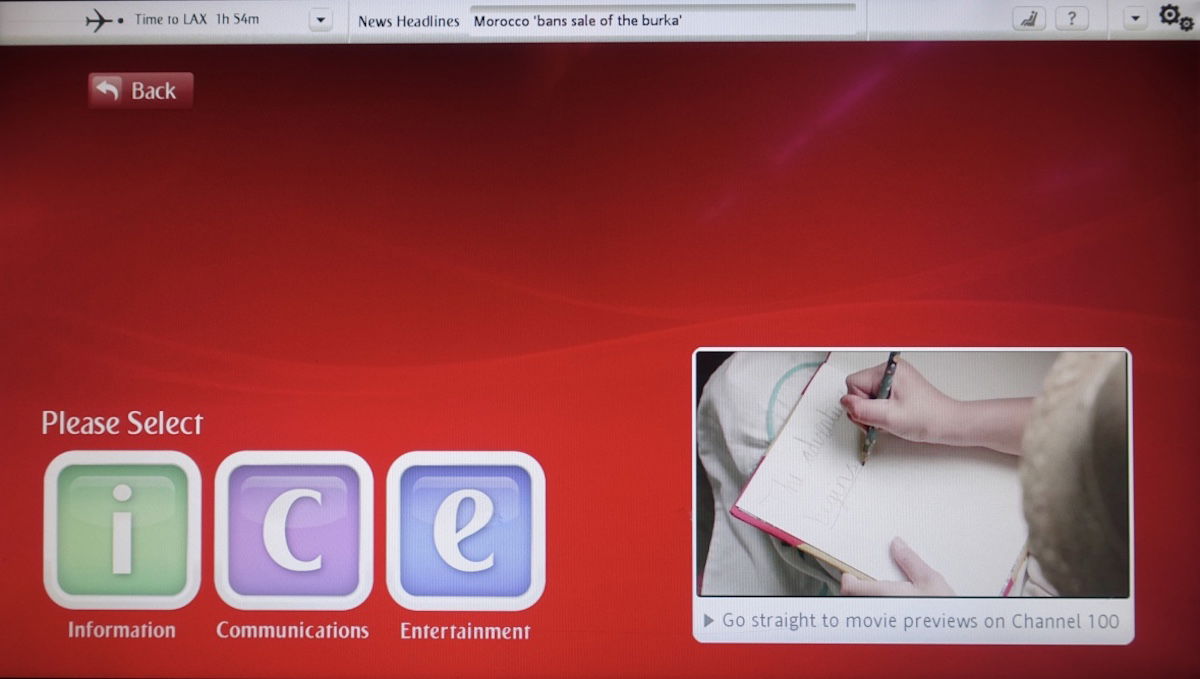 Personally I care more about Wi-Fi than entertainment, though I know most people probably feel differently.
Amenity kits, bedding, and pajamas — Etihad
Bedding is roughly comparable on both airlines, in my experience.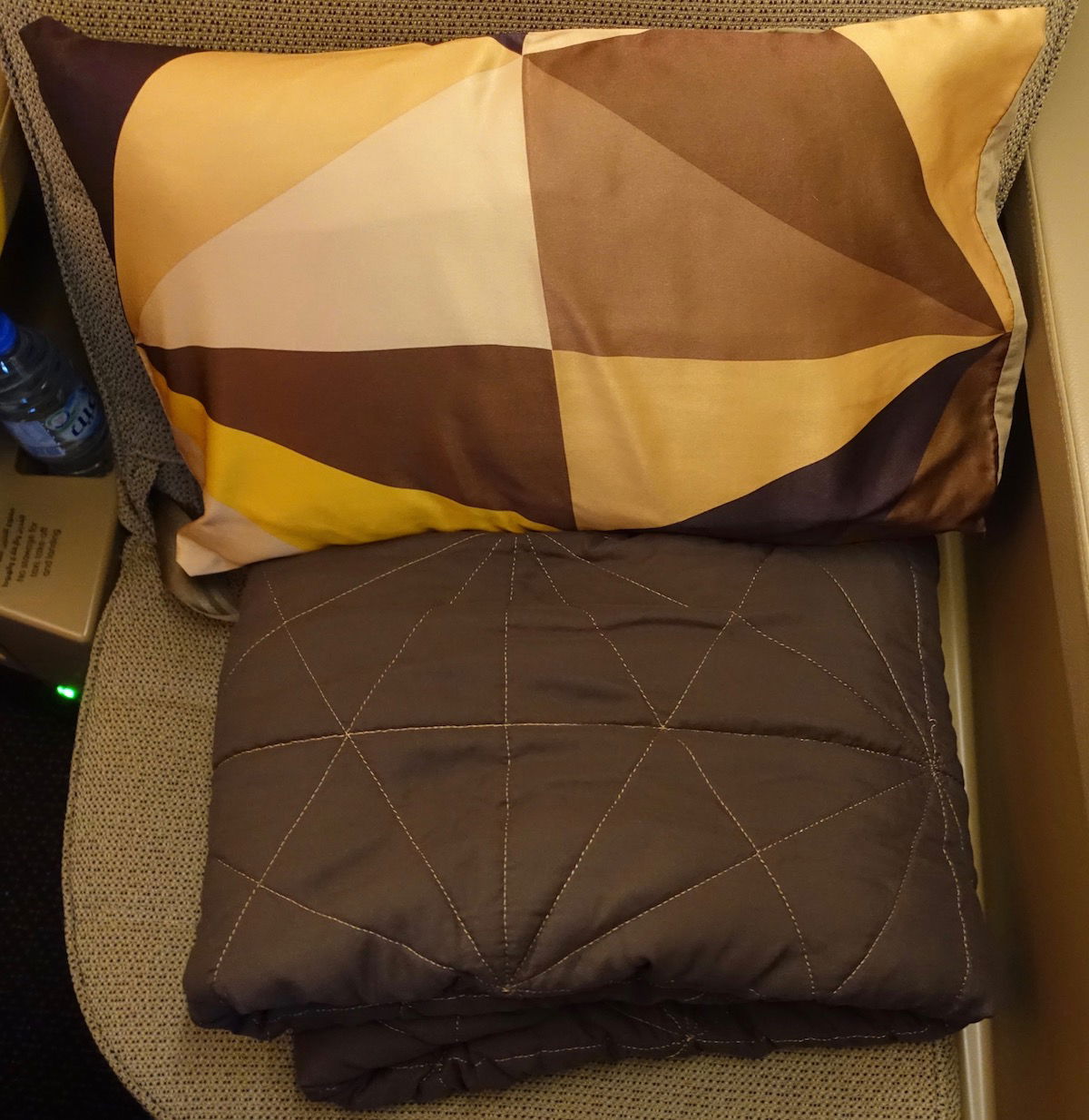 Emirates has a superior amenity kit with BVLGARI amenities.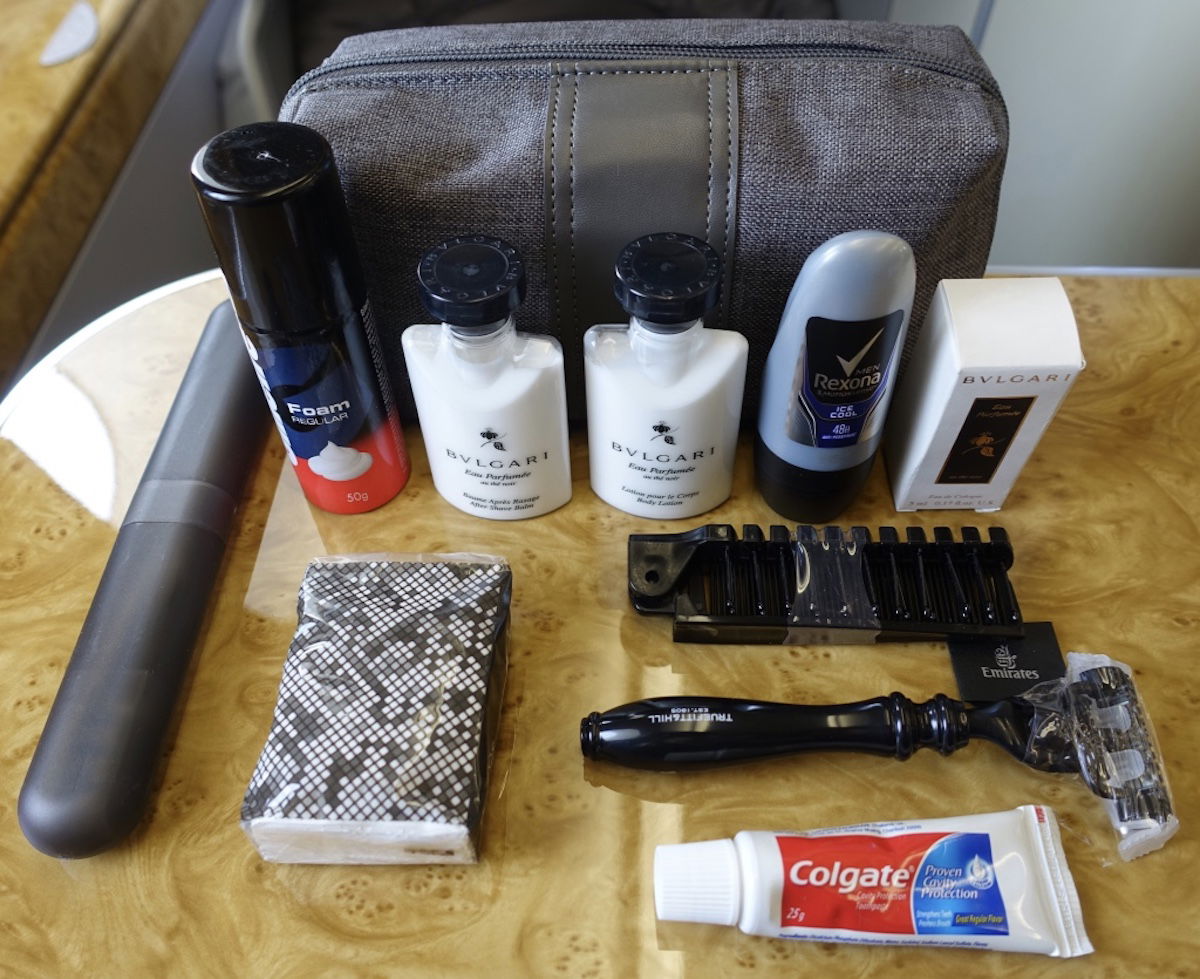 However, Etihad has the advantage of offering both an amenity kit and pajamas, so they win out in this category, in my opinion.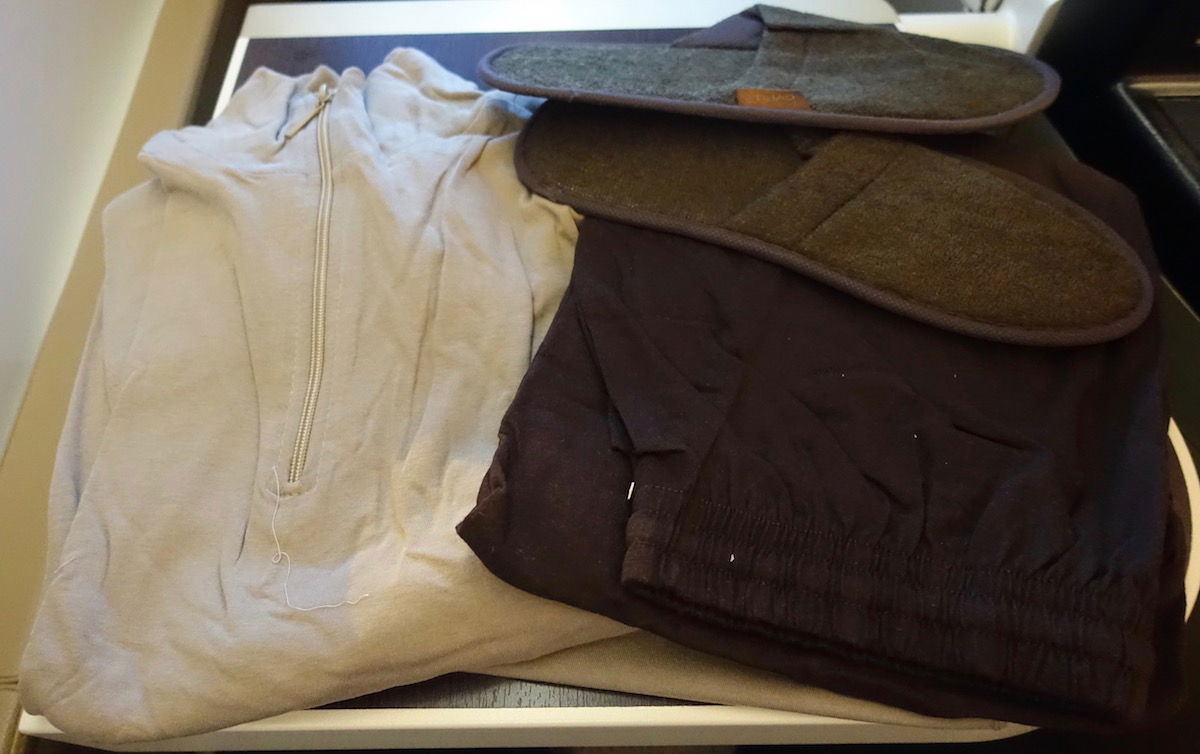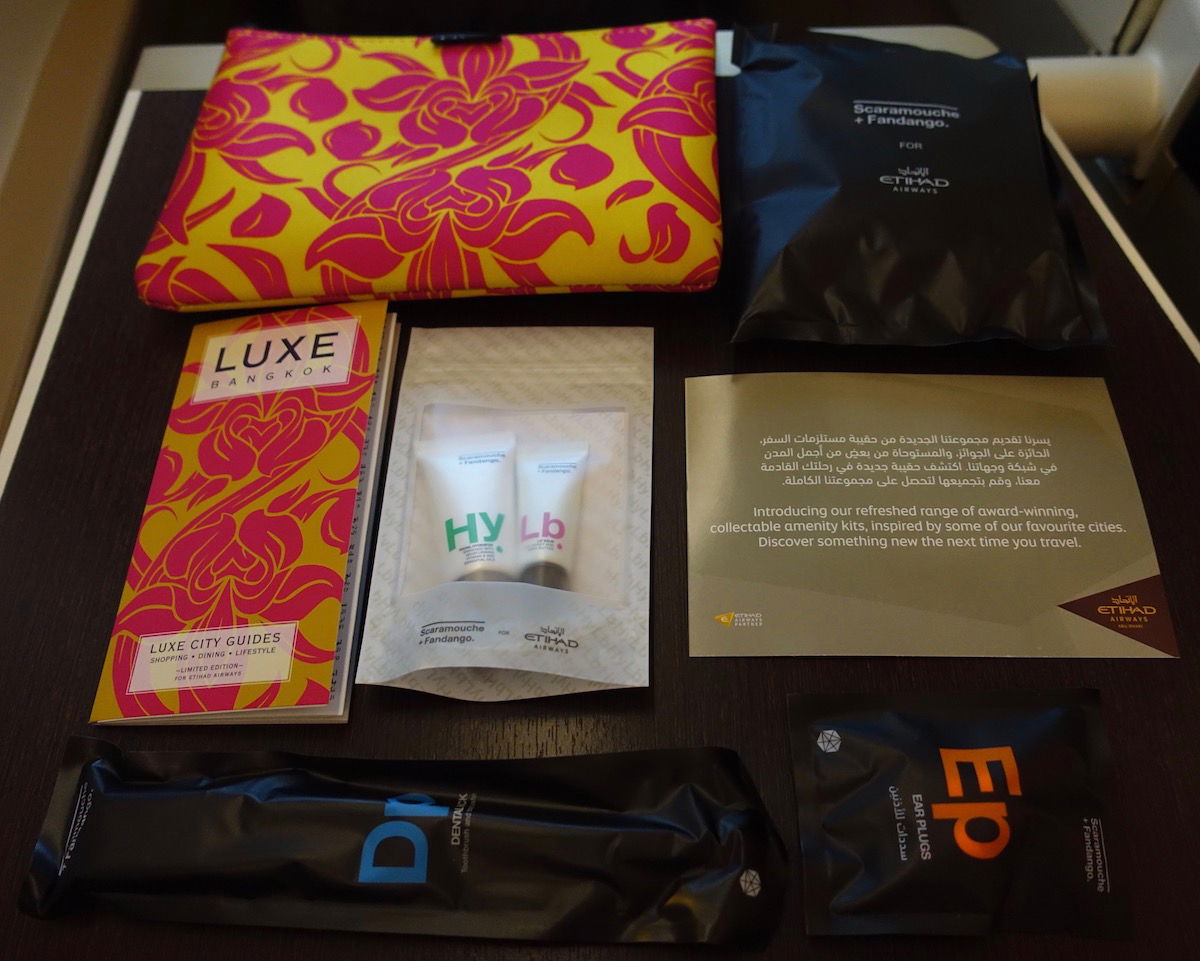 Onboard amenities — Emirates
Emirates has an incredible bar at the back of the upper deck of their A380s, which is one of the best bars offered by any airline. What a fun place to kill time.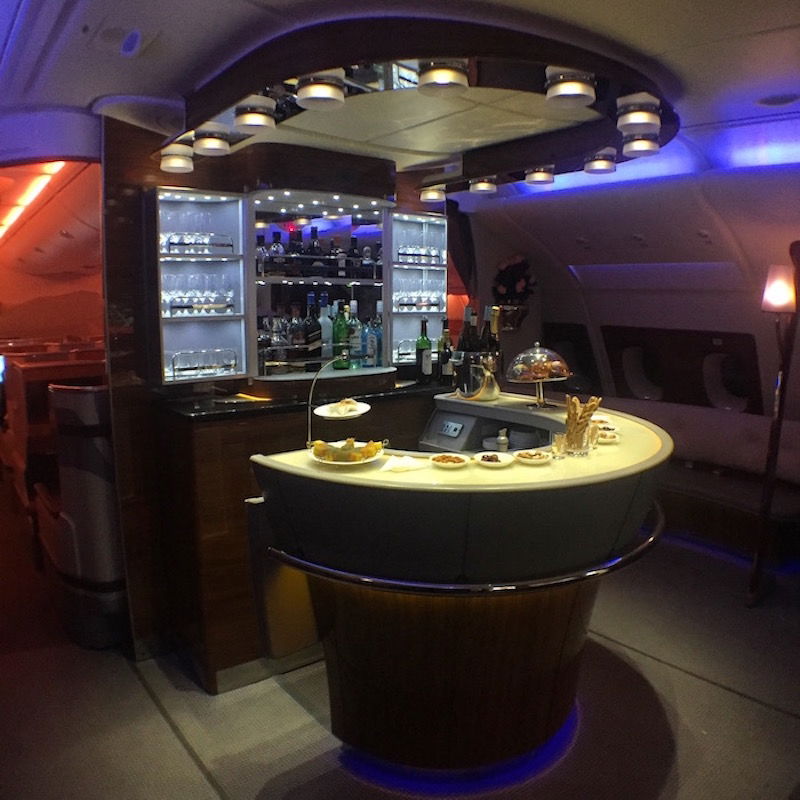 Meanwhile Etihad has the "lobby" on their A380s, which is a bit of a boring concept, in my opinion. You can sit there if you want, but it doesn't have nearly the fun vibe of Emirates' onboard bar.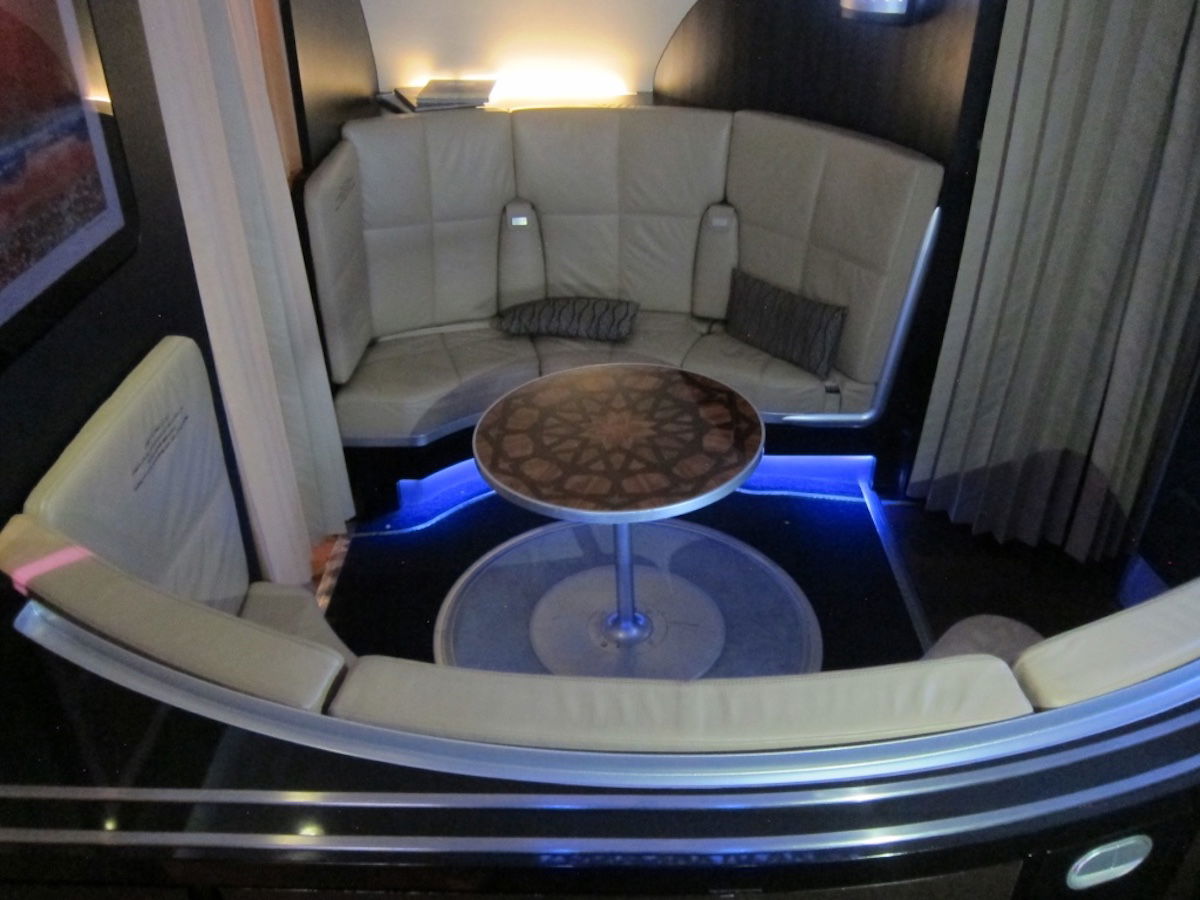 Food — tie
While I think Etihad's service concept is significantly better than Emirates', I actually think the food itself is roughly comparable. Both airlines have above average food and great cappuccinos.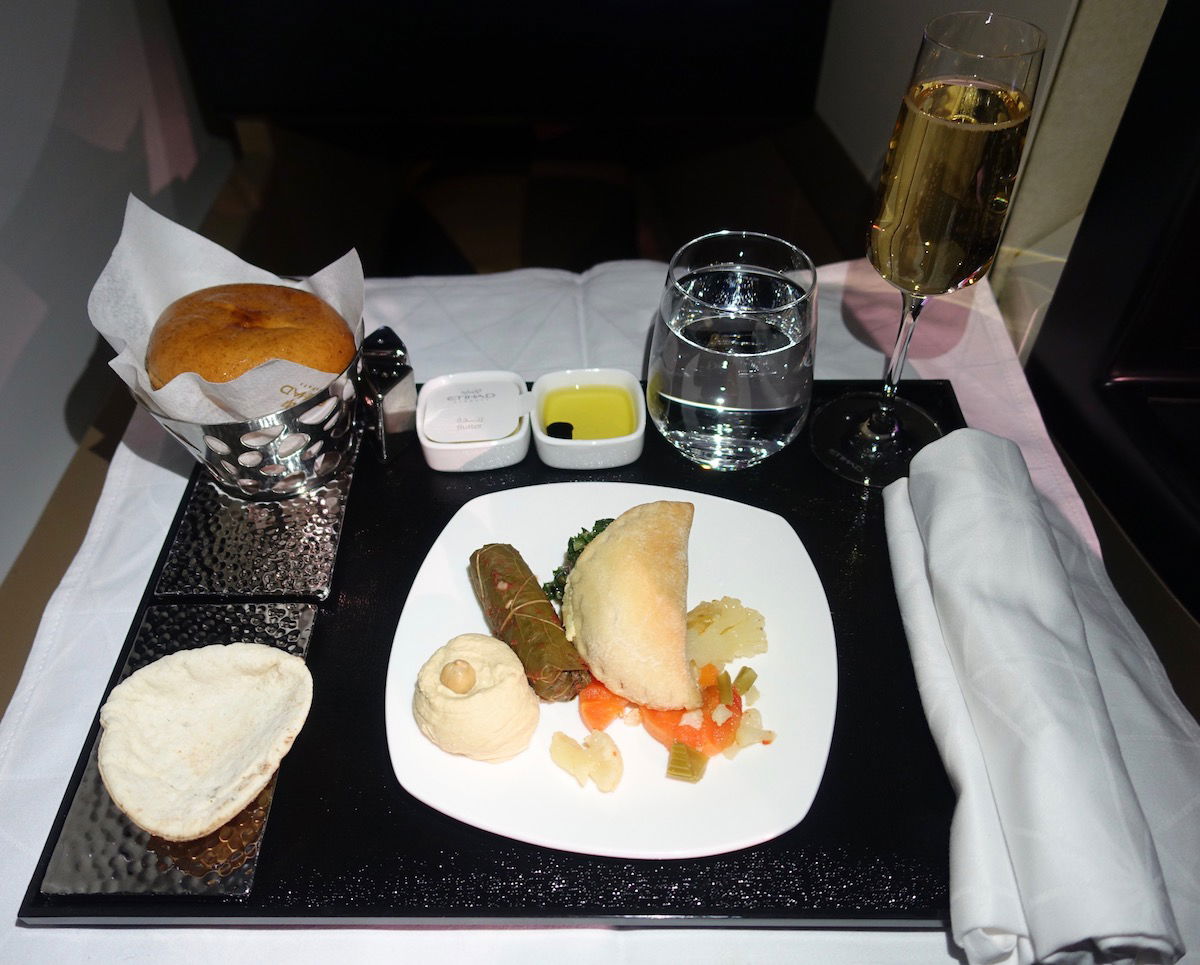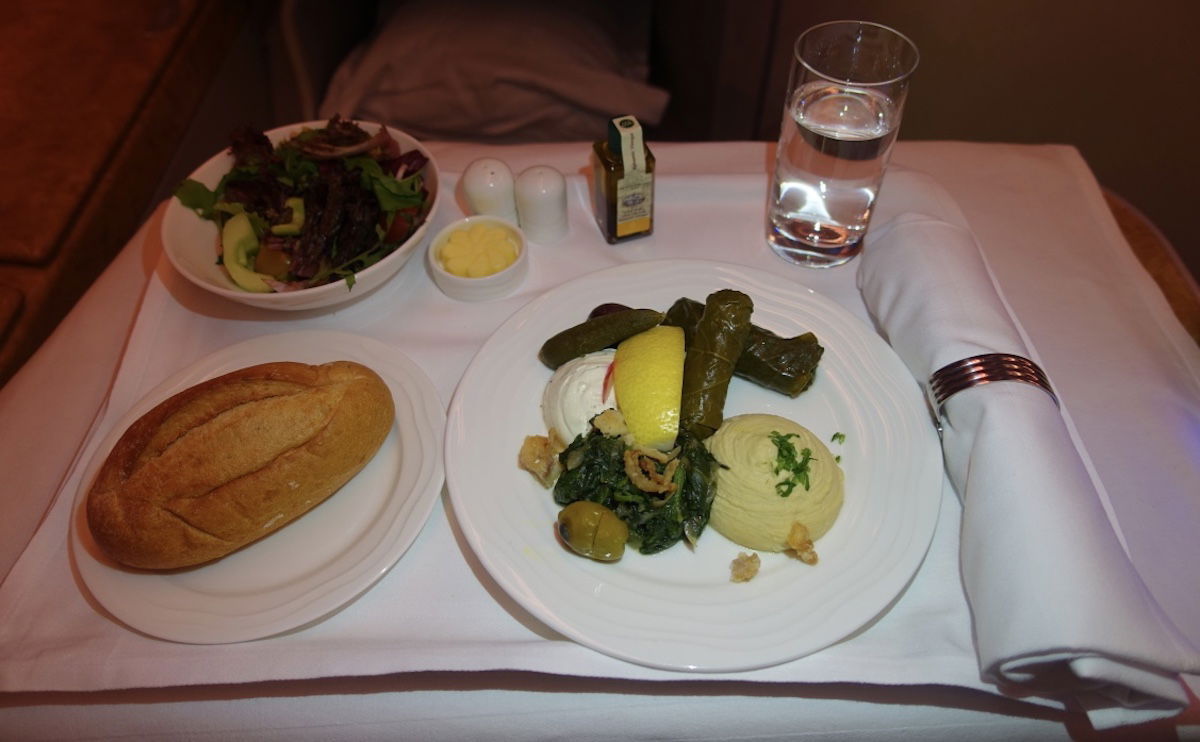 Lounges & chauffeur service — tie
Both airlines offer first and business class passengers chauffeur service, with varying restrictions. Unfortunately neither airlines offers this service to passengers booking most partner award tickets anymore.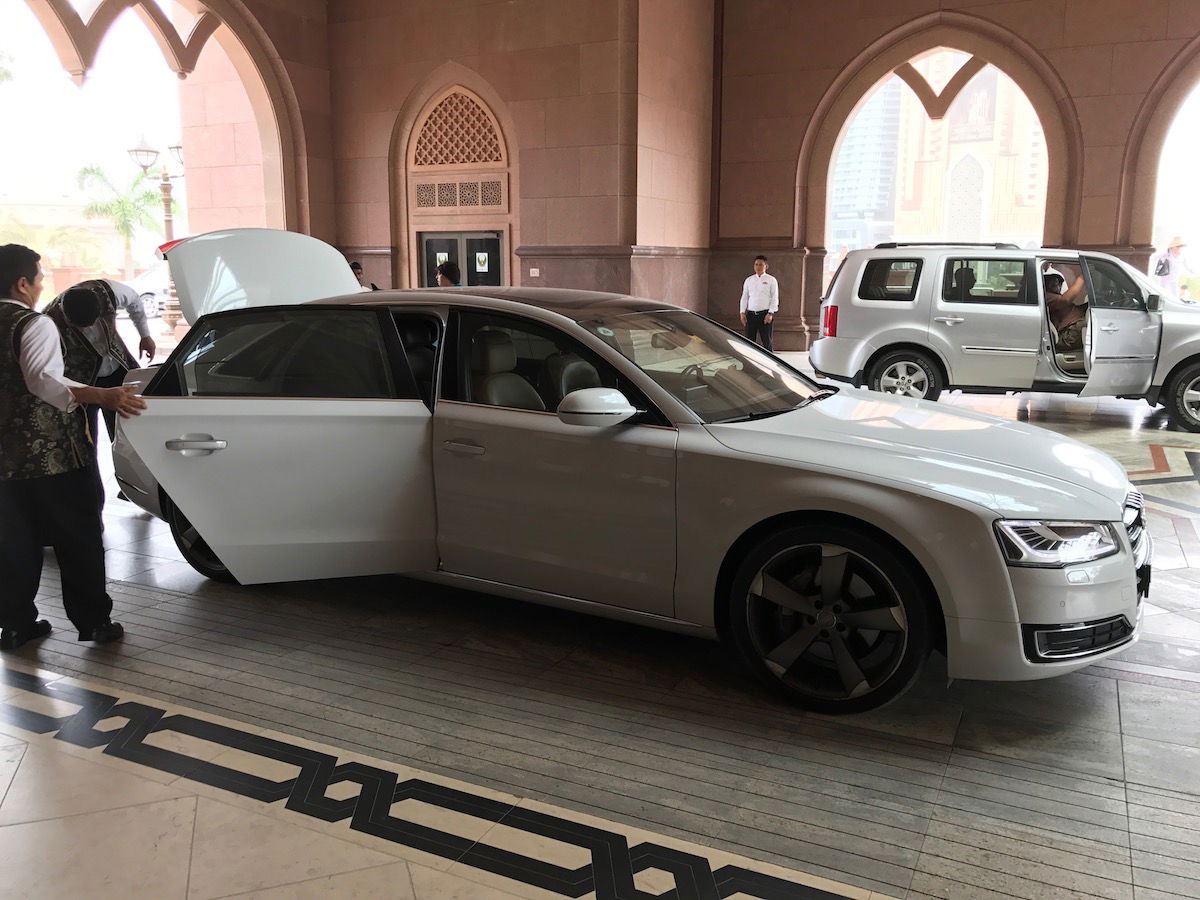 As far as lounges go, I also think it's a tie, or perhaps more accurately, it's highly dependent on the airport. In general I prefer the aesthetic of Etihad lounges to that of Emirates lounges.
However, when it comes to their hub airport lounges, I do think Emirates in Dubai has a slight edge to what Etihad offers in Abu Dhabi, as the Emirates lounge is massive, and also lets you board your flight directly through the lounge.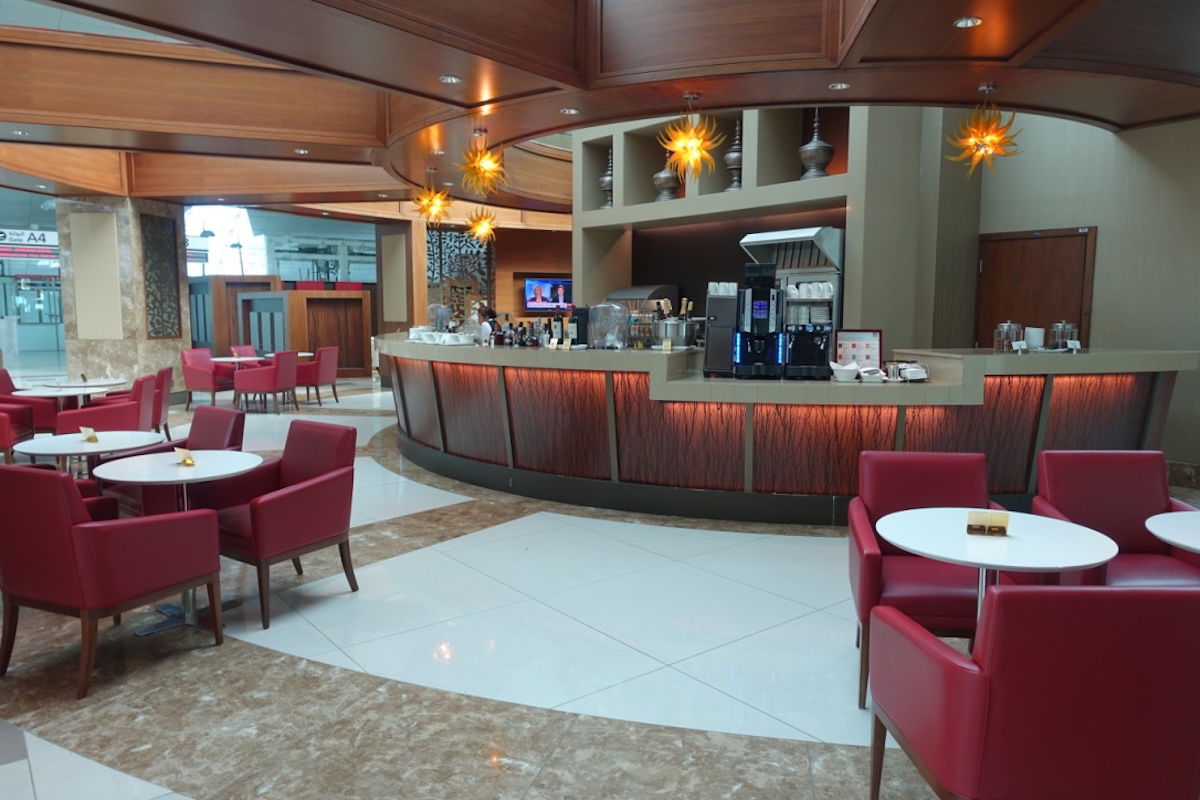 Bottom line
The experience you'll have on either airline will be highly dependent on the exact flight you take, the crew you get, etc. However, in general I think Etihad's new business class has the edge over Emirates' A380 business class product. The seat and Wi-Fi are better, and I appreciate that they offer dine on demand, rather than the assembly line service offered by Emirates.
However, Emirates also has its advantages, like a great onboard bar, fantastic entertainment system, and superior lounge in Dubai. I can't stress the awesomeness of Emirates' onboard bar enough, so for a daytime flight that may very well make Emirates a better option than Etihad, depending on how you're looking to spend your flight.
If you've flown Emirates and Etihad business class, which did you prefer?