In early May, Etihad Airways unveiled their revolutionary A380s, which included the first private bedroom on a commercial plane. The three mega-Gulf carriers (Emirates, Etihad, and Qatar) are constantly going head-to-head to outdo one another, so it's no surprise that the next day Emirates announced they were working on a similar concept.
My money is on them having bluffed at the time. I highly doubt that both carriers were simultaneously working on that concept, especially since Emirates had nothing to "show" for it. My guess is that Emirates was simply caught off guard and claimed they were working on a similar concept, even though they were just starting the exploration process.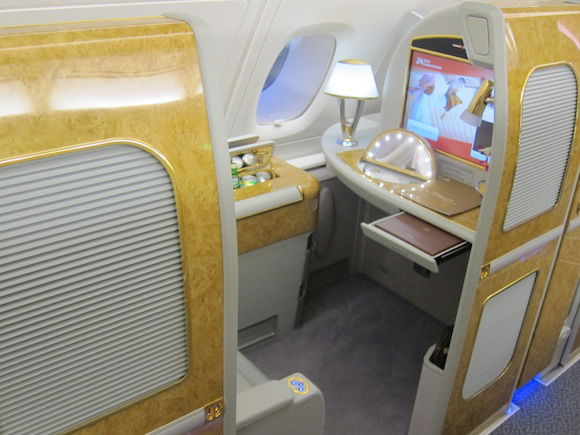 Emirates A380 first class
The National had an interesting article yesterday about Emirates' "bedroom concept." While it's clear that Emirates is still in the really early stages, it does have some interesting tidbits:
"It's all about privacy. That's very much in our current first class private suites product, and our new bedroom concept will take it to the next level," said Tim Clark, the president of Emirates.

"We're talking fully enclosed rooms, with all the touches and amenities that you'd expect in hotel or a private bedroom on a luxury yacht, room service and so on. It will be on our A380s, and on our new 777s."

Emirates said that it is in "advanced stages" of developing its bedroom concept. While it did not disclose the cost of a bedroom, it said that its current first class suite costs US$500,000 apiece, and with the 1,500 seats in its current fleet, that is a total investment of $750 million.
Advanced stages of developing the concept? With nothing to show for it and no timeline for it rolling out, I highly doubt that. But it is interesting to note that they apparently plan on introducing bedrooms on both their A380s and new 777s.
While Etihad only has orders for a total of 10 A380s, Emirates currently has nearly 50 in service, with firm orders for a total of 140. So the amount of growth they'll be undergoing will just be insane, and they'd be doing private bedrooms on a completely different scale than Etihad.
In general I'm not a huge fan of creating something above first class for a few reasons:
Ultimately it reduces first class capacity, since presumably the "space" for the private bedroom comes from the first class cabin
With only one bedroom per flight, my guess is that in practice it won't be attainable on miles, even long term
If not taking away from overall capacity, the "space" used for these bedrooms is in most cases taking away from first class amenities
For example, Etihad is placing their private bedroom at the top of the upper deck on the A380. This is the same area where Emirates has two showers — one on each side of the staircase.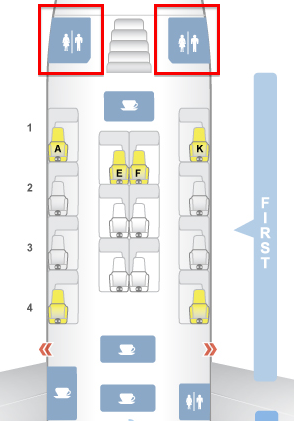 Emirates A380 shower locations via SeatGuru
Presumably if Emirates installs a private bedroom it will mean that they'll reduce the number of showers from two to one… or maybe eliminate them altogether.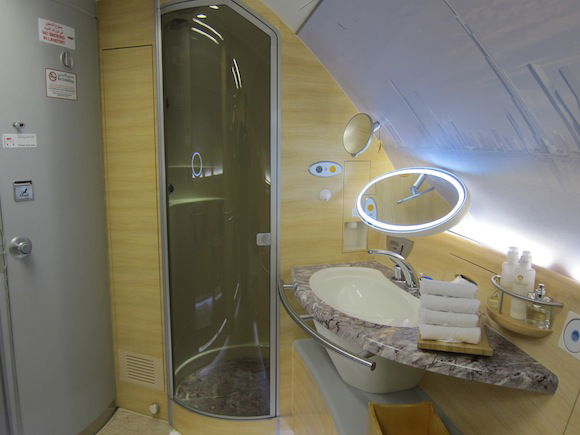 Emirates A380 first class shower
If you're going to offer first class passengers showers and your airline is based in Dubai, it really is important to have two showers. Unless you're flying to Australia or North America, most flights out of Dubai are in the 5-7 hour range, and getting 14 people showered in a single shower is pushing it. And I realize not everyone showers, but one shower for 14 people just won't do the trick, in my opinion.
Anyway, I'm very curious to see how Emirates rolls this out. I'm still not convinced it will actually happen, or what the timeline will look like if it does happen, but interesting to keep tabs on nonetheless, in my opinion. I actually hope it won't happen.
Do you think Emirates will follow through with the bedroom concept, and if so, will it come at the expense of the two showers for first class passengers on the A380?