Emirates is further growing capacity on their US routes by soon adding Airbus A380 service to Houston and San Francisco. They will be increasing capacity in these markets in December, replacing the existing Boeing 777 service on the routes.

Emirates A380
The Emirates A380 service to San Francisco will launch daily as of December 1, 2014, with the following schedule:
EK225 Dubai to San Francisco departing 8:50AM arriving 12:50PM
EK226 San Francisco to Dubai departing 3:30PM arriving 7:25PM (+1 day)
The Emirates A380 service to Houston will launch as of December 3, 2014, with the following schedule:
EK210 Dubai to Houston departing 9:30AM arriving 4:05PM
EK211 Houston to Dubai departing 6:25PM arriving 7:05PM (+1 day)
Emirates currently offers twice daily A380 service to New York JFK, as well as daily A380 service to Los Angeles. On top of that they'll be launching A380 service to Dallas as of October 1, 2014.
With the addition of these two new A380 routes, Emirates will offer six daily A380 flights to the US, which is the most of any airline.
Not only is this a huge increase in capacity for the two routes, but also an increase in the quality of the product.
While the first class suites are similar on the 777 and A380, the A380 has an onboard bar and two shower suites. The six additional first class suites should also make award tickets slightly easier to come by, I hope.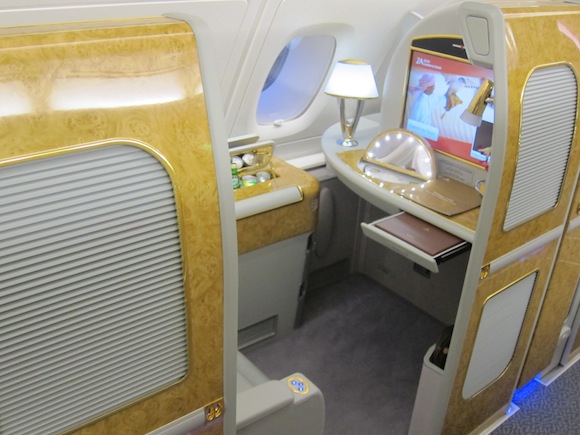 Emirates A380 first class
Meanwhile business class is a huge improvement as well, and not just in terms of capacity. Amazingly Emirates doesn't have fully flat beds in business class on the 777s, though they do on the A380s. Add in the fact that they have an additional 34 seats, and that's great news.

Emirates A380 business class
For reviews of Emirates' A380 first class, see these posts:
Will be very excited to see these "big birds" at Houston and San Francisco soon!