At the Dubai Airshow we've seen some interesting new aircraft orders, like Emirates' order of 40 Boeing 787-10 aircraft, which they'll take delivery of starting in 2022.
The other aircraft order that interests me most is from EgyptAir, as they just signed a letter of intent for an aircraft order I didn't see coming. In early October I wrote about how EgyptAir's board of directors allegedly approved the purchase of some Boeing 787-9 and Airbus A320neo aircraft. That was an exciting development for an airline that has been struggling financially. However, up until now we haven't actually seen those orders finalized, even though the board allegedly approved them. I'm not sure if they had a change of heart, or…
Well, during the Dubai Airshow EgyptAir has signed for an aircraft order, though it wasn't for the 787 or A320neo. Instead EgyptAir has signed a letter of intent for a firm order of 12 Bombardier CS300 aircraft, with the purchase rights to another 12 aircraft. At list prices this is valued at 1.1 billion USD to 2.2 billion USD, depending on whether or not they exercise their purchase options (though presumably they got a discount as well). We don't yet have details on the delivery schedule for these planes.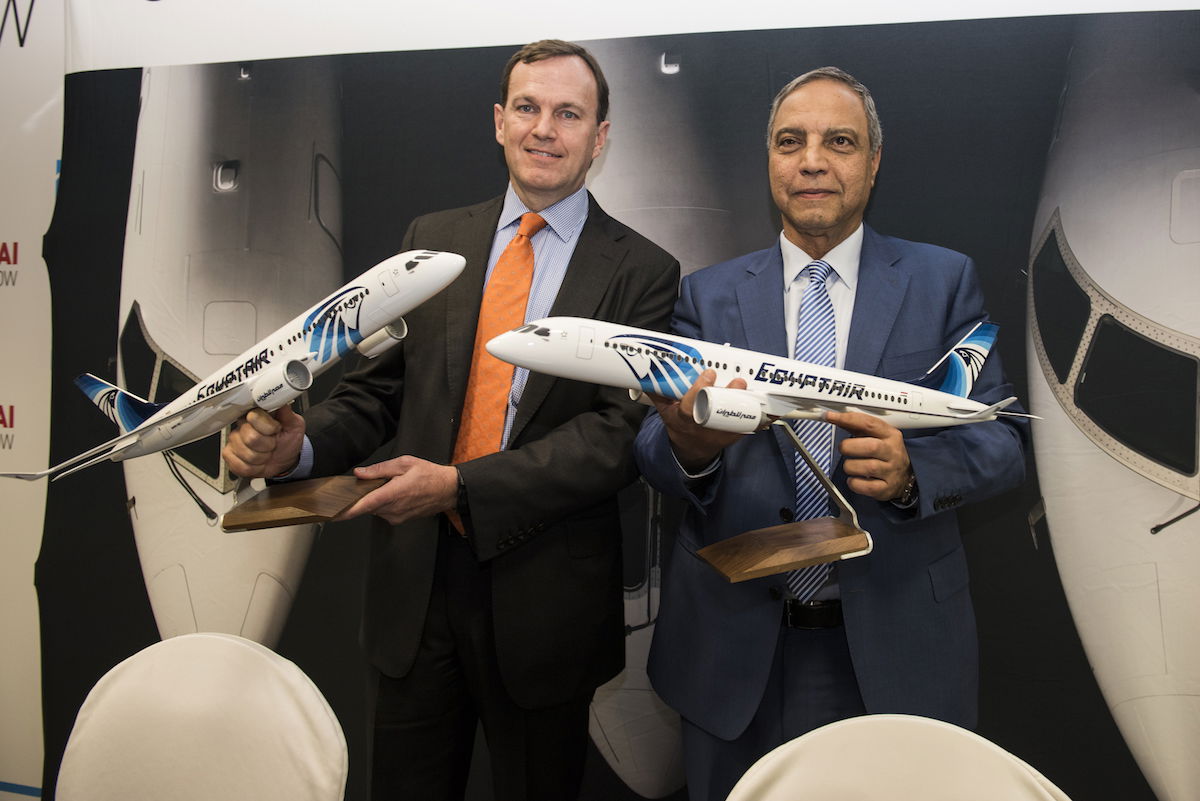 Here's what EgyptAir's CEO has to say about the aircraft order:
"It is our pleasure to have this new partnership with Bombardier, which came as a continuation of our fleet modernization strategy. We undertook a thorough evaluation process of our fleet and realized that the CS300 would fit perfectly into our business plans and growth strategy," said Safwat Musallam.

"We selected the C Series aircraft because its excellent range will allow us to best serve domestic and regional destinations, including neighboring Arab cities, the Middle East as well as several European destinations. This is in addition to the CS300 aircraft's exceptional economics and outstanding cabin. We look forward to expanding our network with the CS300 and we are happy to see that the partnership announced with Airbus will bring added support to the C Series program."
The CS300 has a capacity of 130-160, so in many ways it can be a substitute for the A320.
Presently EgyptAir has a fleet of seven A320s and A321s, which they plan to retire in the next couple of years. On top of that they have a fleet of 27 737s, which they have no immediate plans to retire. It's my assumption that this CS300 order will be in place of an A320neo order, at least in the short term. Keep in mind that Airbus just took over a majority stake in the CSeries program, so it's pretty funny that Airbus is potentially losing one order here, but getting an order in another way.
Or who knows, this is "only" a letter of intent, which isn't quite the same as an order being fully finalized. Maybe we'll see EgyptAir change their mind again.
(Tip of the hat to Economy Class & Beyond)