Reader manojl17 asked the following question in the Ask Lucky forum:
Something is rubbing me the wrong way but I wanted to reach out to the community to get your perspectives to see if I am taking this too internally.

First trip to Europe. Was staying in Brussels for a day. Arrived at the Ibis Brussels Centre Gare Midi (only because it is right across the station and I had an early morning train to catch the next day.)

I booked a room here for one night in advance for a discounted rate of some $55 for the night. Normal check in time is at 2 pm. I arrived a little bit after 11 am and figured I might see if I can check in early and was willing to pay a fair price (I know, fair here is subjective.)

The receptionists had a sly and almost demeaning attitude. Lifeless yet spoke as little as possible. They told me that it would cost an additional Euro35 to check in early. The only option to leave the my bags were lockers downstairs that were coin operated most of which were already occupied leaving me with the option to either sit down till 2 with my bags and waste a few hours or pay the extra Euro35 and check in.

Don't get me wrong; I'm not a cheapskate but yet felt paying nearly $40 or so to check in less than 3 hours before check in on a $55 booking was a little crazy. I willingly did pay the extra since this was our first trip to Europe and we had full intentions to spending the entire day touring and making the most of what we had.

A few days later, I wrote to the customer service department of IBIS and pointed out the above and requested if they would be willing to refund part of the Euro35 I was charged and charge a fair fee. I also politely acknowledged that if they don't, I completely understand as it was a choice I was given and I took it.

No response ever.

I know IBIS is not a Marriott or Hyatt but is it too much to expect some basic courtesy? Is it alright to be upset or am I taking this too deep?
I think it's becoming more common for hotels to try to monetize early check-in, especially at budget properties. On many ibis hotel websites, they actually list this as an amenity.

In Europe especially, hotels know that Americans typically arrive in the morning, exhausted from their transatlantic flights and willing to pay good money for a nap.
Tired and/or hungry people don't always think rationally, which explains why hotels can also get away with charging 30 bucks for a room service hamburger.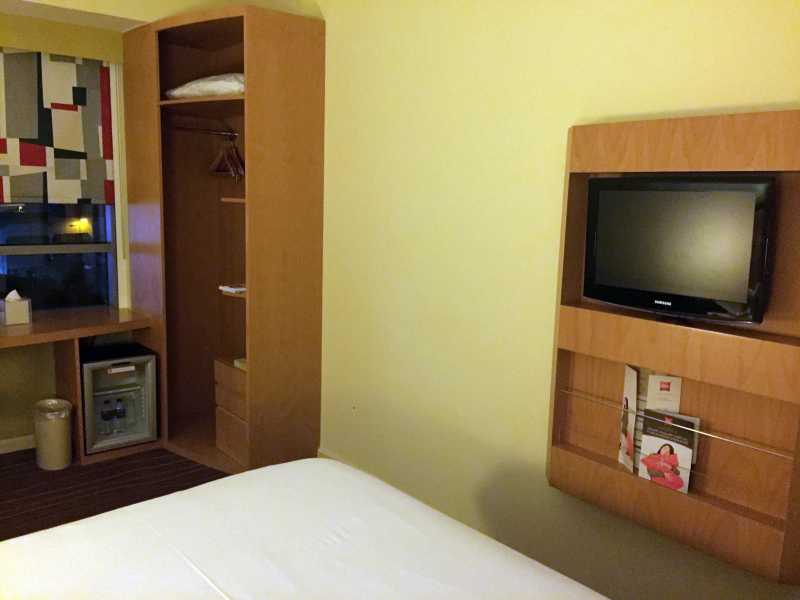 I have a few strategies to avoid paying for early check-in:
Leverage loyalty status, where possible
I have IHG Platinum status thanks to my IHG Rewards Club Select card, and Hilton Gold thanks to my Hilton Surpass card by American Express.
Early check-in isn't a published benefit for either of those status levels, and it's actually rare to find early check-in as a published benefit for most levels of status in hotel loyalty programs.
But I do find that I tend to get early check-in more frequently at hotels where I have status.
Be really nice at check-in
I stayed at an independent hotel in Lucerne, Switzerland last year where I checked in around noon. I made a point to be extra pleasant to the check-in agent, and she was happy to assign me a room. The next day, when I checked out at noon, I saw the same agent calmly explaining to a less-friendly guest that the hotel charged for early check-ins.
On other occasions, I've had agents scold me for arriving early and basically tell me that they are letting me check in early purely out of the goodness of their hearts.
If all else fails, see the denial of early check-in as a blessing in disguise
If I nap when I arrive in Europe, I'm missing out on valuable daylight hours I could be spending exploring. More importantly, it makes it that much harder to adjust to the time change.
Better to have a caffeinated beverage and power through until early evening that first night!
Bottom line
Early check-in typically isn't guaranteed, and it's not that unusual for hotels to only offer extra time in the room for a fee.
That all said, Accor Hotels at least owes you the courtesy of a reply to your complaint, even if they don't refund the early check-in fee! I'd at least expect them to throw you some Le Club Accor points, "as a courtesy" (which is corporate speak for "we think you're wrong but hopefully this will make you stop complaining").
Has anyone else ever been charged a fee for early check-in?