As least in terms of "mass" name recognition, Dom Perignon is considered to be one of the best first class airplane champagnes out there. Personally I'm not a huge fan of Dom Perignon, at least the 2003 vintage, which up until recently was primarily the one being served on planes.
Their 2004 vintage was much better, though still not as good as my beloved Krug.
Over the past couple of years the 2004 vintage has become the norm for airlines serving Dom Perignon in first class, so that's good news.
Anyway, historically a few airlines have stood out when it comes to their business class champagne selection.
Back in the day, Jet Airways served Dom Perignon in business class. Through all their financial troubles they've eliminated it, in favor of Billecart-Salmon Brut. That's a perfectly nice business class champagne, though not in the same league as Dom Perignon.
More recently, EVA Air, the Taiwanese Star Alliance carrier, has served Dom Perignon in their business class (Royal Laurel Class). EVA Air offers an absolutely fantastic business class product, perhaps with the exception of their food. Of course I'm more than happy to sacrifice food for some good champagne. 😉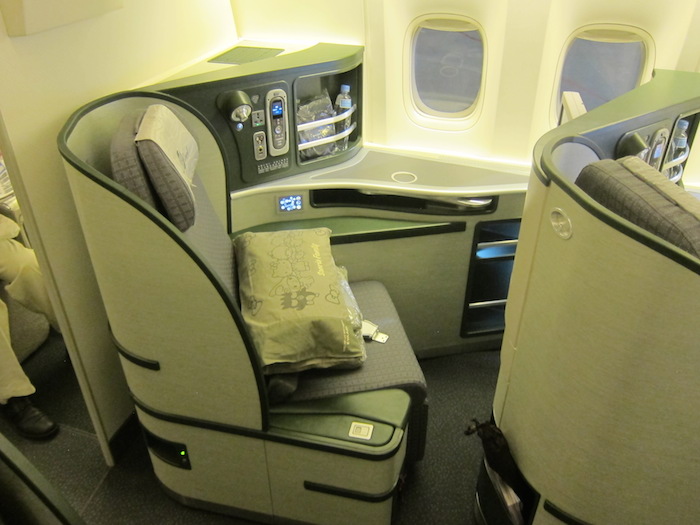 Anyway, I've received quite a few messages and comments lately from people pointing out that EVA Air is no longer serving Dom Perignon in Royal Laurel Class.
Instead they're now serving Veuve Cliquot La Grande Dame 2004. The most common response I've gotten is "Veuve, really?!" I think it's worth pointing out this isn't the entry level Veuve that every Real Housewives franchise seems to have a sponsorship deal with.
The La Grande Dame variety is actually fantastic, and I think I even prefer it to Dom 2004 (definitely prefer it to Dom 2003). I was also served it in the spring in Lufthansa first class, as it was part of their champagne rotation.
So if you've been looking forward to Dom on EVA, you're out of luck. That being said, I'd argue the replacement is at least as good, even if it doesn't come with quite the same name recognition.
On the plus side, you'll still get a Rimowa amenity kit. 😉