With the goal of reassuring people that it's safe to travel, airlines and airports around the world are unveiling measures they're taking to safeguard passengers.
Yesterday Qatar Airways revealed new safety initiatives (including masks for passengers and full body PPE for crews, pictured below), and today Doha Hamad International Airport has shared some updates as well… including that many airport employees wearing helmets?!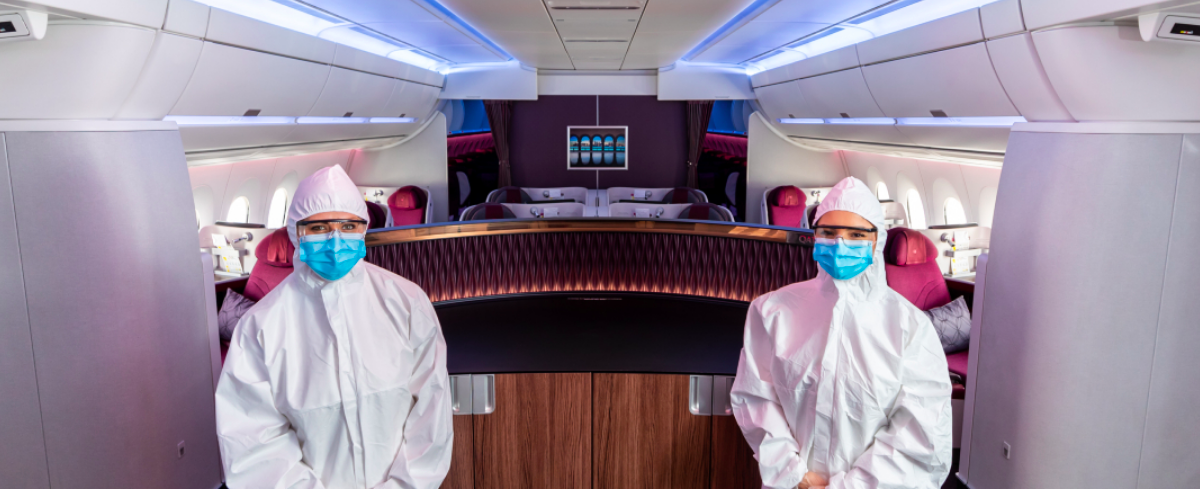 Doha Airport's fancy helmets
Chances are that most people would do a double-take if they walked through the airport and saw people wearing the below helmets.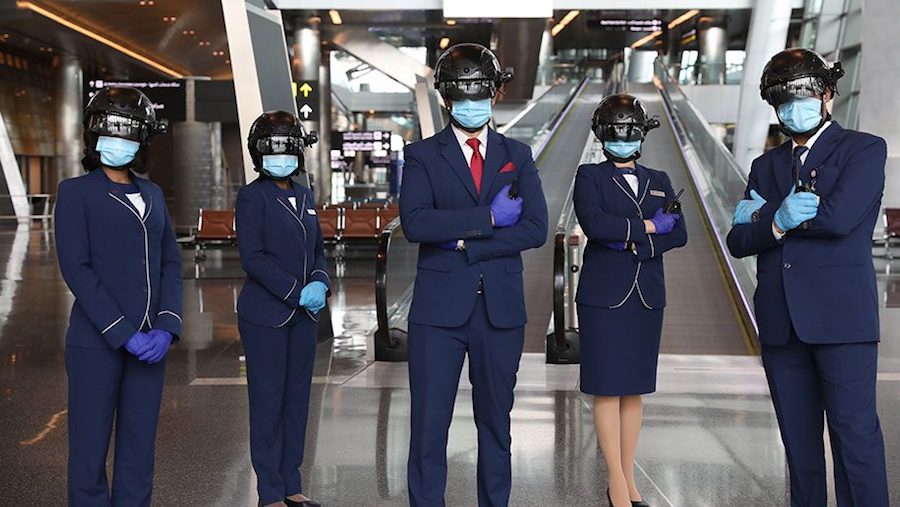 Well, you better get used to it, because it will be a common site at Doha Hamad Airport.
What exactly is going on? The airport is introducing the Smart Screening Helmet, which is a wearable, intelligent helmet. This is intended to enable portable, safe, contactless, and effective temperature measurement of passengers. The helmet uses infrared thermal imaging, artificial intelligence, and augmented reality, to screen passengers.
I suppose it's creative technology, though without context I feel like this will freak some people out. It's one thing if you know you're being scanned for your temperature, but if you have someone wearing a helmet who you can't make eye contact with approaching you, you may be a bit uncomfortable.
Doha Airport's disinfectant robots
In addition to the above helmets, Doha Hamad Airport will also introduce disinfectant robots, which are fully autonomous mobile devices emitting concentrated UV-C light, known to be effective in eliminating a majority of infectious microorganisms.
The robots will be deployed in high passenger flow areas.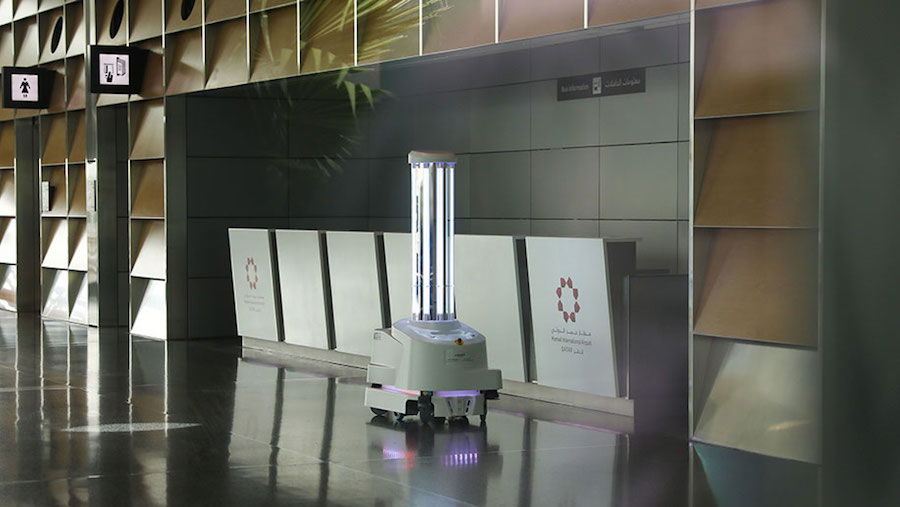 Other initiatives at Hamad Airport
In addition to the above, here's what else you can expect if passing through Doha Hamad Airport:
Passengers will be provided with hand sanitizer at key locations throughout the airport
The airport will require 1.5m social distancing across all passenger touch points throughout the airport, which will be enforced with floor markings, signage, and distance seating
All HIA retail and food and beverage outlets will encourage cashless transactions through cards, and the airport is considering introducing online or in-app purchases in the future
Ultraviolet disinfection tunnels will be used to disinfect all checked-in passenger luggage
A face mask detection system will use artificial intelligence and computer vision technologies to automatically detect if all employees are wearing masks
High contact areas will be cleaned and disinfected every 10-15 minutes, and all baggage trolleys and tubs will be regularly disinfected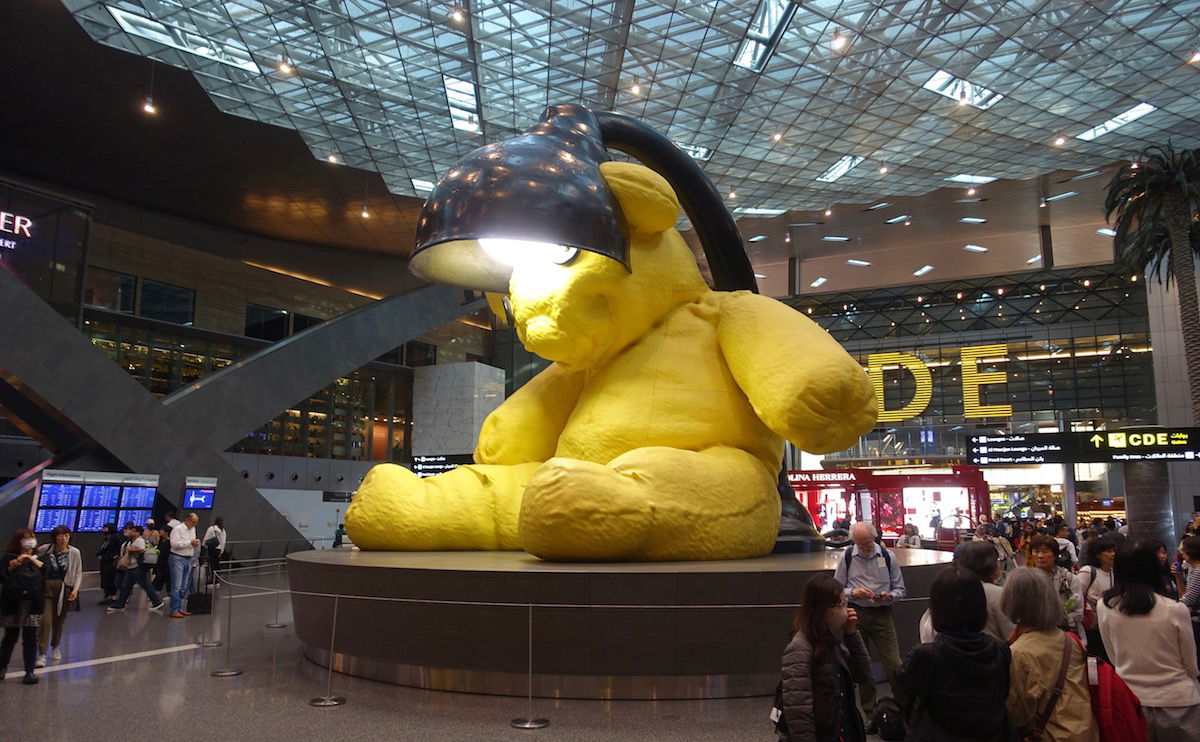 Bottom line
Doha Airport has announced a series of initiatives intended to keep passengers safe, which coincides with Qatar Airways significantly ramping up operations in the coming weeks.
Most of the initiatives we're seeing from the airport are pretty much what you'd expect, though the smart helmets are something I haven't seen anywhere else. I'll be curious to see just how common these are in practice.