I recently published a review of a hotel stay where we brought our dog, Winston. I read all the nice comments to Winston and he very much appreciates them (though next time he would prefer turkey in the mail from you guys rather than nice comments). 😉
A couple of readers asked if I could write a bit more about the process of having a dog with you in a hotel, for those who may have dogs but who may not have done so before.
I'm by no means an "expert" when it comes to pet travel, though I'll gladly share my experiences.
A bit about Winston…
First let me talk a bit about Winston, because, well, what dog lover doesn't love to talk about their dog? I'm not just sharing this because I love him so much, but because I think it's useful context for some of the challenges he has with hotels.
Winston is four years old, and we've had him for about two years. We got him from a shelter, and not only that, but he was half off, since he had been there for a month… talk about the best $60 we ever spent!
Winston had been brought to a shelter as a puppy (not by the owner, so he was found), and then somehow he ended up there again about 18 months later. He was chipped during his first time being brought there (since they do that to shelter dogs), so they tried to contact his family, but I guess they didn't want him.
We fell in love with Winston the second we saw him. Most dogs in shelters are incredibly subdued because it's just absolutely awful there, but when we walked by Winston, he was dancing on his hind legs with a big smile on his face. I can't believe he had been there for a month and no one wanted him.
Below is him with Ford the second we got him (suffice to say he needed a good haircut and wash, because he was filthy, cute as he was).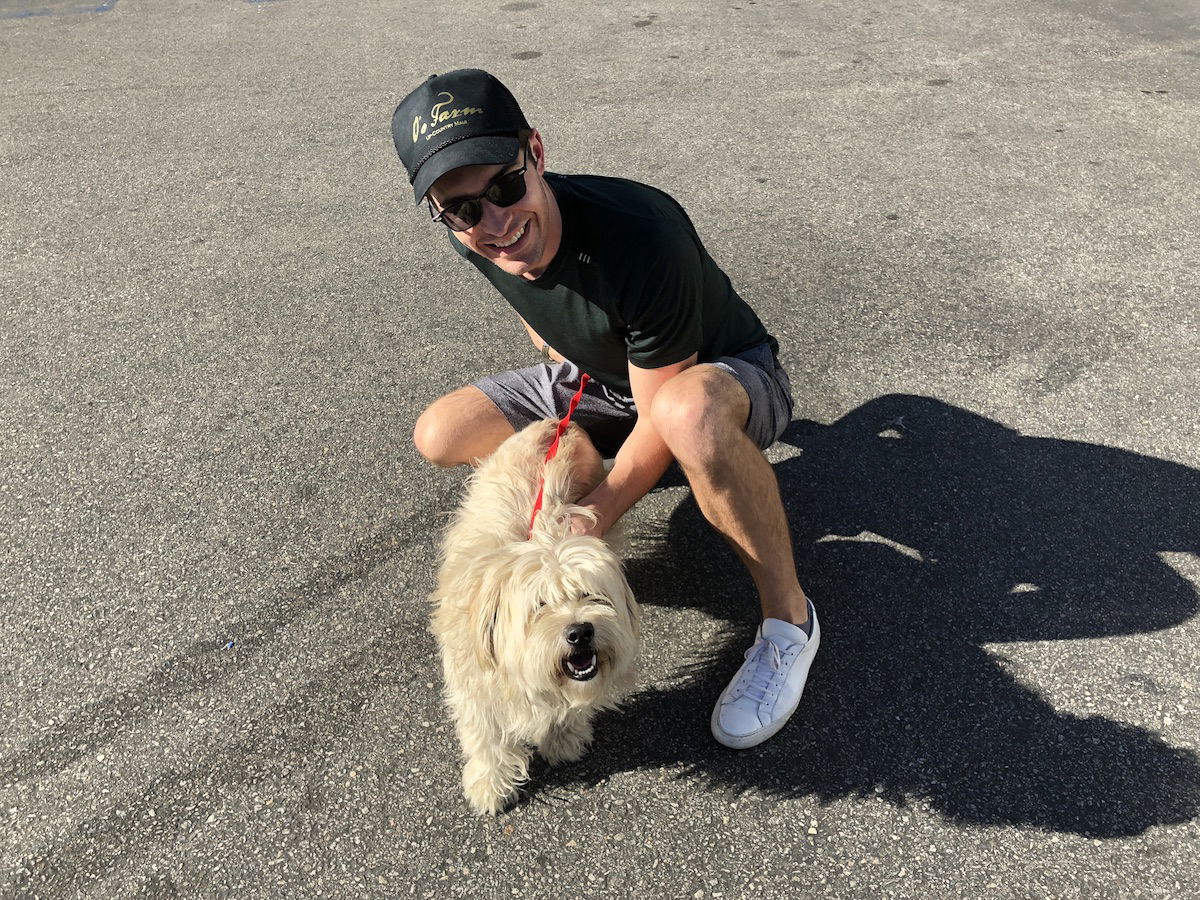 "I can't see what's going on, but I like it!"
Anyway, that's everyone else's loss, because he's with us forever now.
While it's not the point of this post, let me say that if you're someone who hasn't considered adopting a dog (over buying one from a breeder), I'd highly recommend doing so. There are so many dogs who need homes who have so much love to give, and it's sad how many of them are put down.
Growing up (when I was very young) we "bought" two dogs from a breeder, and after Winston I know that I'll only be getting dogs at the shelter in the future.
No judgment to those who buy their dogs, but you'd be surprised by how many incredible dogs there are who want nothing more than to feel loved and secure.
Winston has abandonment issues
As is to be expected given his past, Winston has some abandonment issues. Fortunately he has come such a long way since we got him.
When we first got him he would cry in the most heartbreaking way if we even left home for an hour. He had such a terrible fear of being abandoned. I'd say that was the case for months, and then eventually he got much better.
Nowadays he is very happy if we just lock him in our bedroom at home, turn on some relaxing dog music (it's a thing on YouTube), lay out his favorite blanket on the bed, and dim the lights.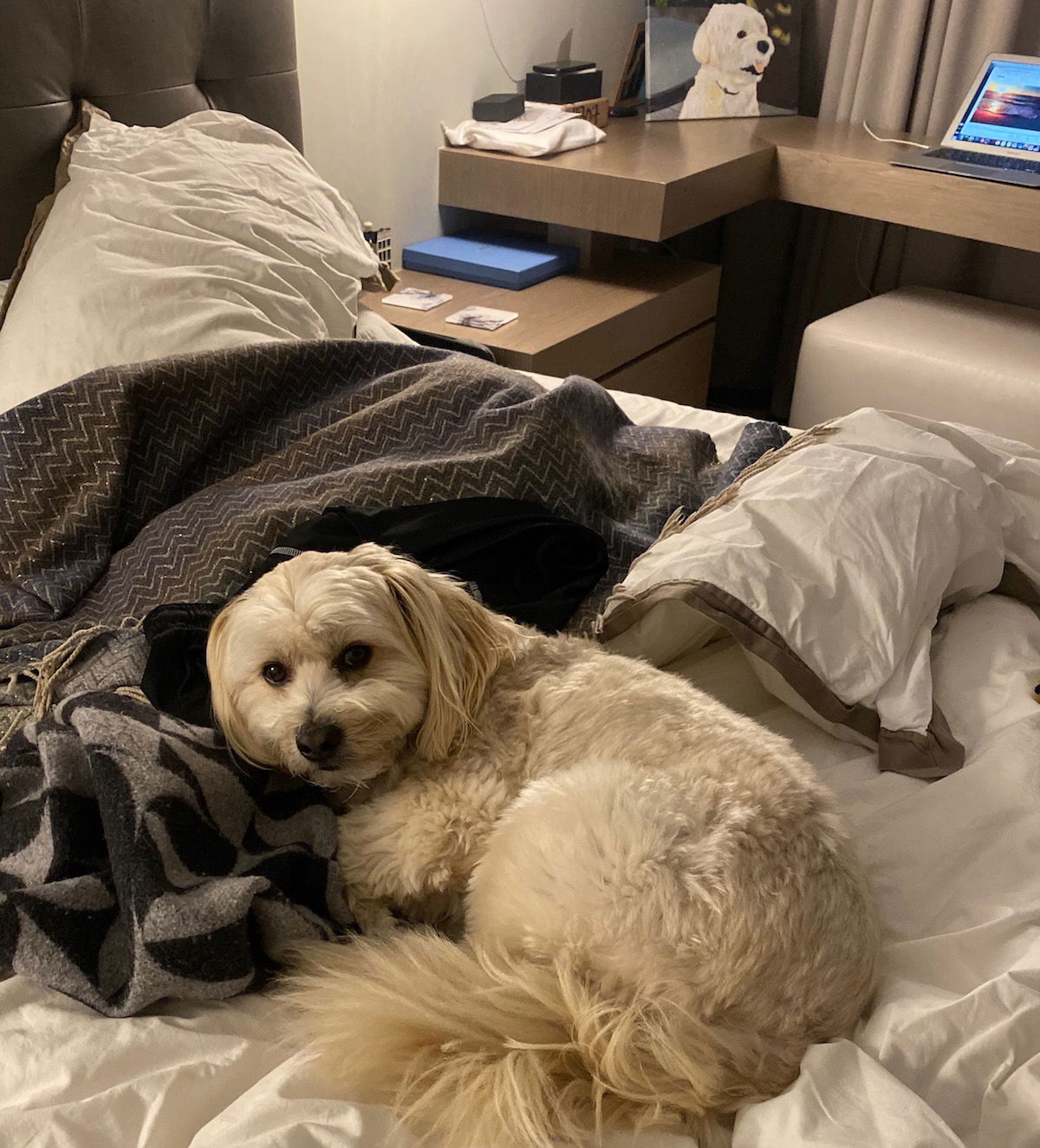 "Posing for my next portrait!"
Heck, we just have to say "Winston, nap time," and he runs to the bed. Typically he doesn't move between the time we leave and when we get back, and his face is usually "smushed" on one side.
While Winston has gotten very comfortable at home, when we travel with him, all bets are off. Even when he's with us, he still hates being in an unfamiliar environment:
He gets so depressed when he sees us packing our bags, even if we're taking him with us
He hates being alone in a hotel room
Even if he's sleeping with us, he often wakes up in the middle of the night and is very alert when he hears noises in the hallways, doors slamming, etc.
Tips for staying in hotels with dogs
With the above out of the way, I wanted to share some general tips and thoughts I have on staying with dogs in hotels. Again, this is all just based on my own experience, and I encourage others to share their experiences as well.
How do you figure out if a hotel is pet friendly?
This is fairly obvious, though generally I just do a quick web search for the hotel's name and "pet friendly." This either brings me to the hotel's website directly, or to BringFido.com, which is great for figuring out if a hotel is pet friendly or not.
If I see it on the hotel's website I assume it's accurate, while if I see it on BringFido I still try to check the hotel's website to verify. If the hotel's website isn't clear, I'll call the hotel to ask.
Note restrictions on the number of pets, size limits, etc.
Even among the global chains there's quite a bit of inconsistency when it comes to whether or not hotels are pet friendly. Kimpton is perhaps the exception, and is known for just how pet friendly they are.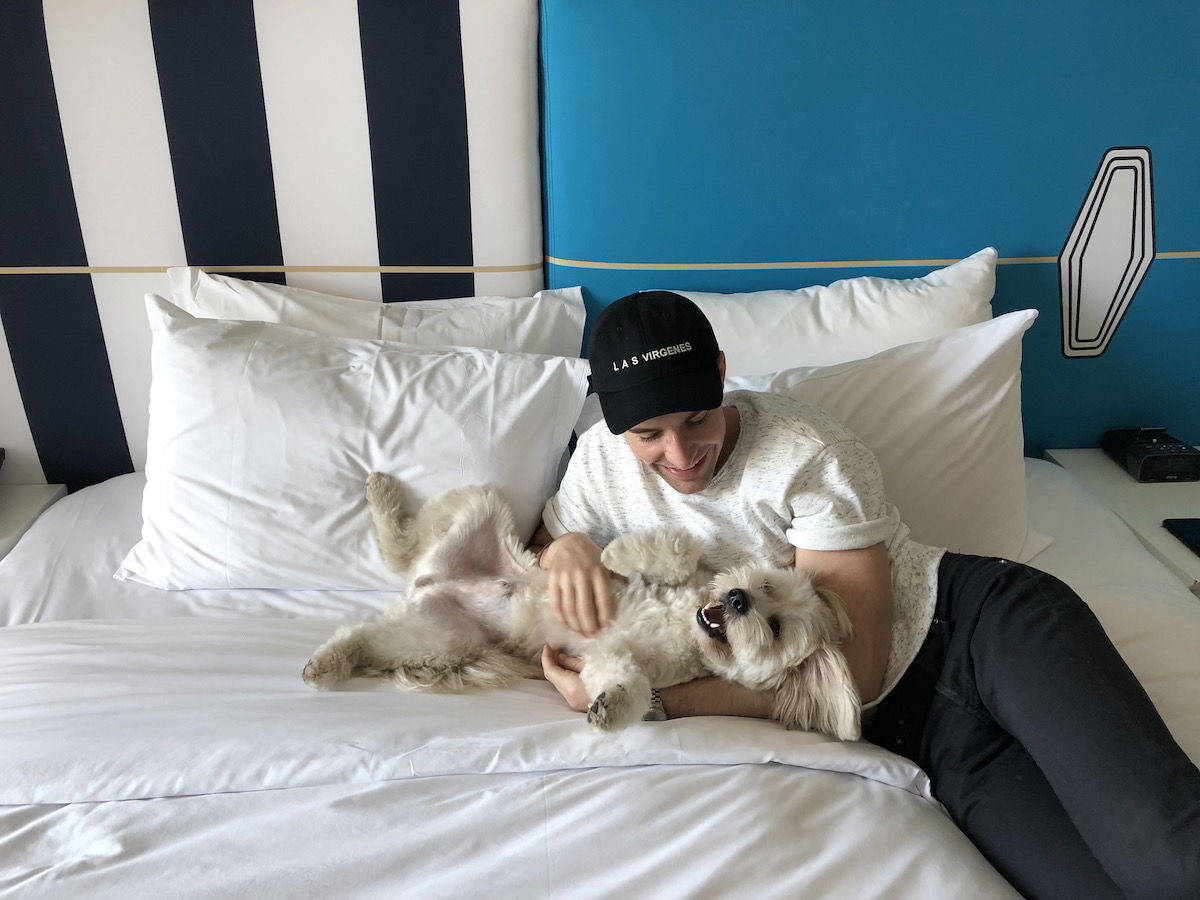 "Two paws up for Kimpton!"
How much is the pet fee at a hotel?
The fee for bringing your pet varies by hotel. Some charge a flat rate per stay, some charge a per night fee, some charge different amounts if you have two dogs, etc. In general I've found the fee to be anywhere from $50 to $200, so there's huge variance.
A couple of things to note:
Some people claim that they get the pet fee waived if they have an emotional support animal; personally that's not something I'm comfortable requesting (even if, theoretically, Winston were certified for that, because I think it's reasonable for hotels to charge something, and I want to encourage them to continue to be pet friendly)
I know some people just sneak their dog in, which realistically is easy enough to do, especially at bigger hotels, though it's not something I've done
Do you have to let a hotel know in advance if you're bringing a pet?
I know some hotels prefer if you let them know in advance if you're bringing a pet, though it's something I only very rarely do. I'm just not a good planner, and there are all kinds of emails I should probably send hotels before arrival that I don't.
I usually just let them know at check-in (assuming they're pet friendly), and have never had an issue.
However, others have mentioned that they have run into issues in these situations, as only a limited number of rooms may be pet friendly. It seems the best practice here is to let the hotel know in advance.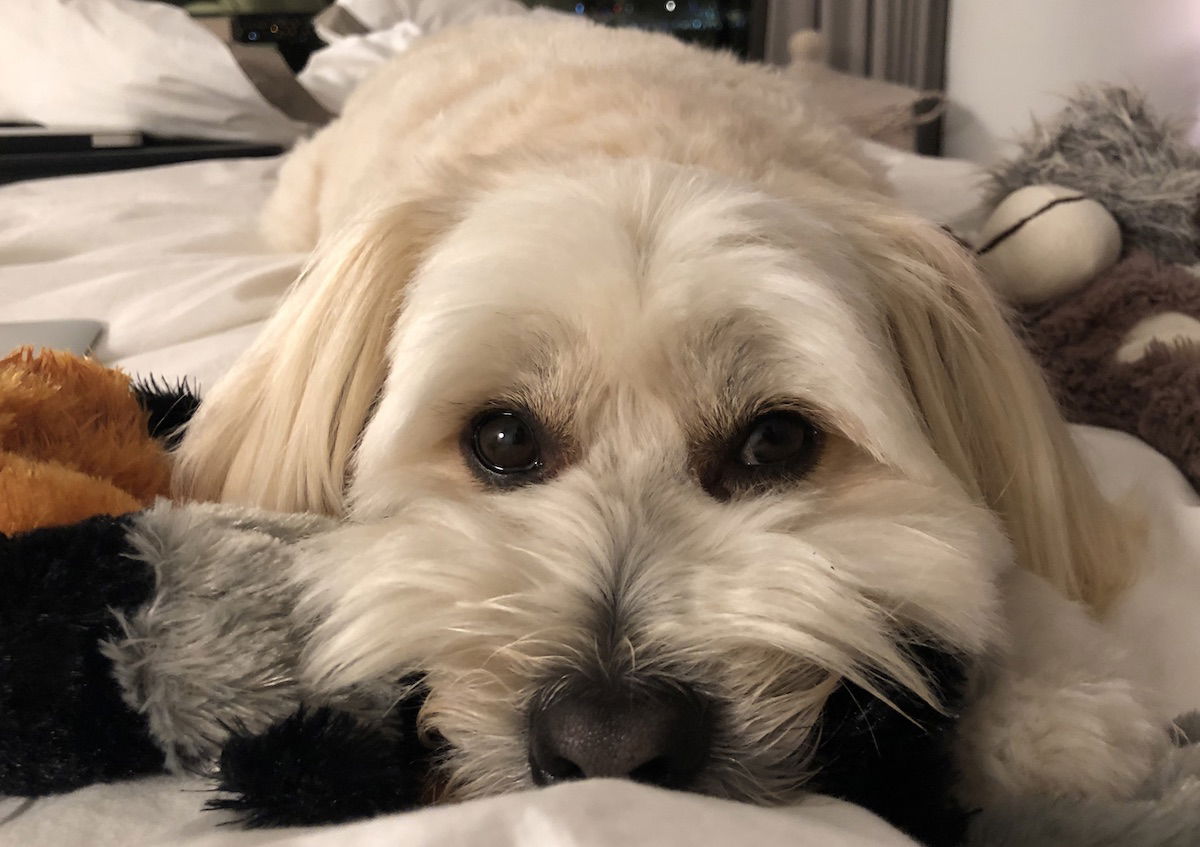 "I like to arrive unannounced."
What should you know once you're at the hotel with your pet?
Typically you're asked to sign a pet waiver, the exact details of which vary by hotel:
Most hotels ask you to put a special sign or do not disturb sign on your door when your pet is there, so housekeeping doesn't accidentally enter
Many hotels require that you don't leave your dog unattended at any time; of course you'll know your own dog best, and realistically I'd have no qualms leaving my dog alone if the dog was comfortable with it and won't cause any problems (even if it violates the rules)
There are usually restrictions on what parts of the hotels you can bring your pets to, where they should do their business, etc.
Traveling with a pet might not be as fun as you'd expect
The thought of staying in a hotel with a pet probably sounds really fun, though if you haven't done it yet, note that it might not be as fun as it sounds. Take Winston, for example. He's so nervous when he's in hotels alone, and really doesn't enjoy it.
He'd much rather stay with one of his grandmas, even if he misses us.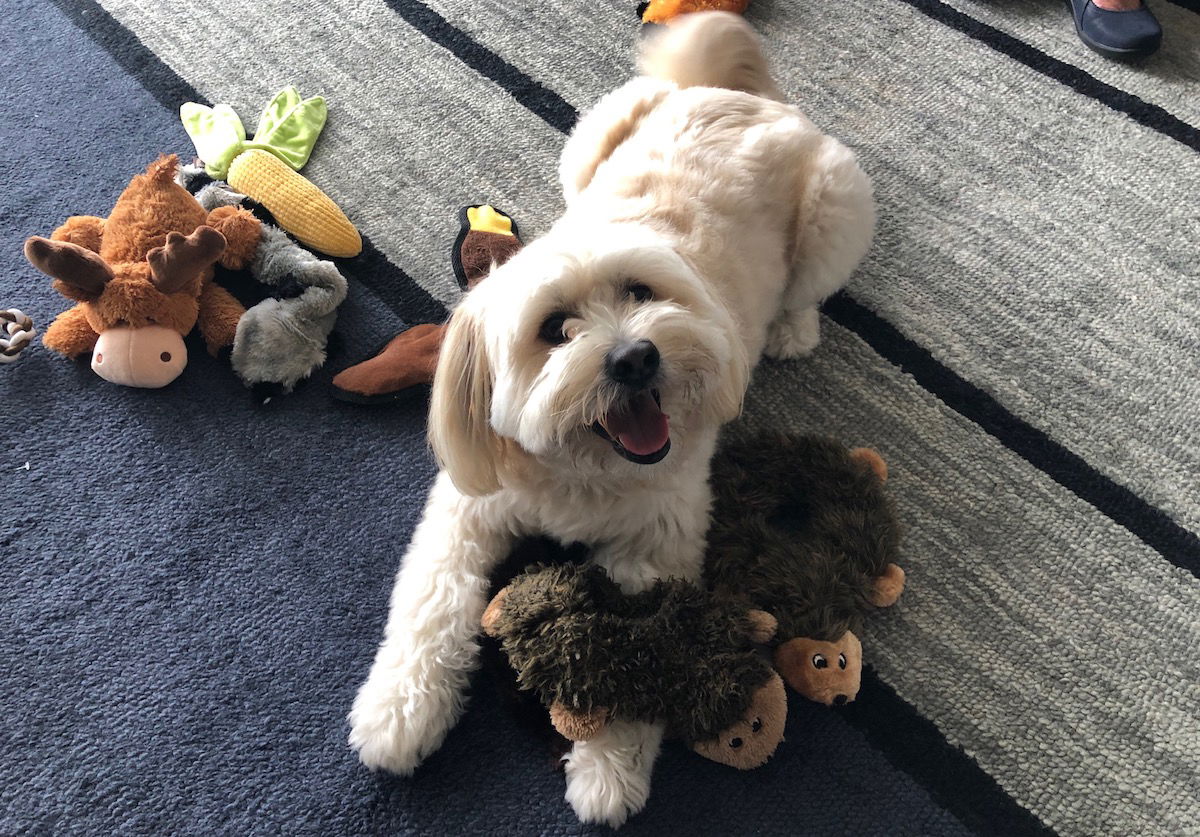 "I like staying with grandmas, they never Bonvoy me!"
But even for Winston, sometimes taking him along is still the best option:
When we visit Ford's mom in West Palm Beach, it's only a ~90 minute drive away, and it's easiest to just take Winston
Throughout my mom's cancer treatment we've often taken Winston with us to Tampa since we just don't know how long we'll be there, and in cases where there is no one else who can take care of him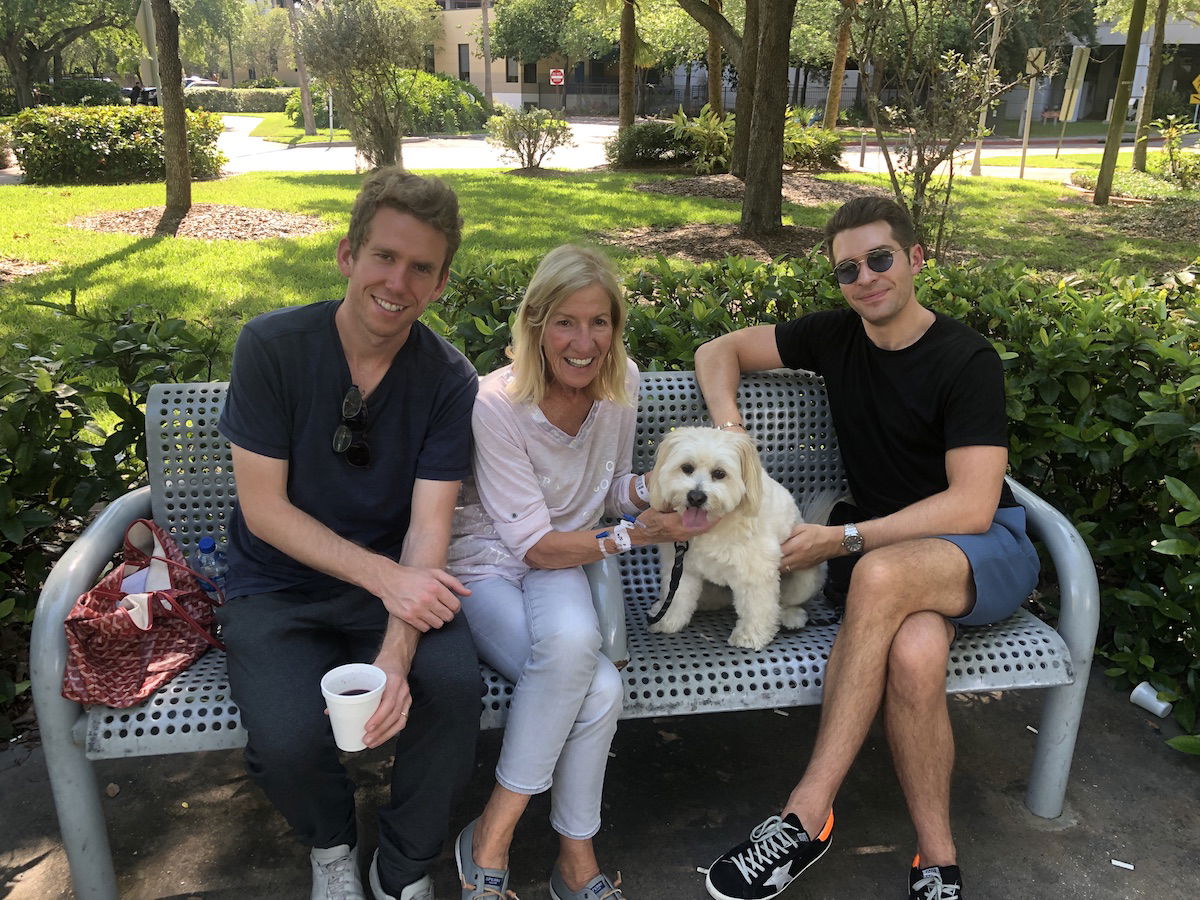 "Who says I'm not an emotional support animal?!"
That proved pretty problematic last year. For the most part my dad was coming to our hotel during the day to watch Winston while we went to the hospital.
However, one morning when my mom was having an emergency surgery at 4AM we ran to the hospital and left Winston behind, and 15 minutes later the hotel called us and said that Winston was crying uncontrollably. Grrrr…
Make the room as familiar for your pet as you can
If you are taking your pet to a hotel, make the room as familiar as possible. Everyone knows what makes their dog most comfortable, so whether that's bringing some familiar toys, some clothing that smells like you, a blanket, or a bed, that can go a long way to making your pet feel at home.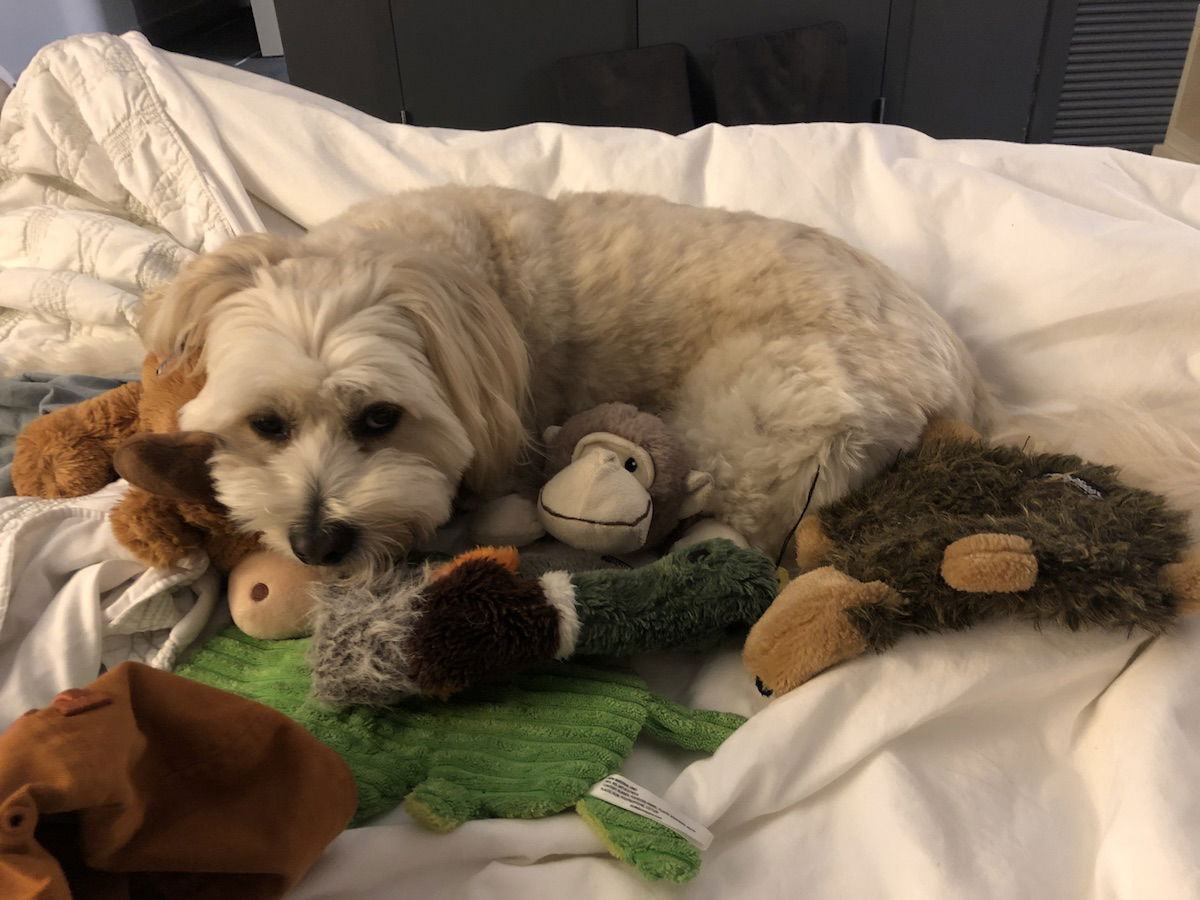 "I just brought a few of my friends"
Plan your travel differently if you take a pet
Like I said, everyone knows their own pet best. If your pet is happy alone in a hotel room then this is all a non-issue. For the rest of us, it can make sense to plan your hotel stay differently with a pet in tow.
Plan dog friendly activities, look at restaurants where you can take your pets, etc.
My question: how do you get pet sitting at hotels?
Here's something I'm curious about, which sure could come in handy. For those situations where we do take Winston to hotels, I always wonder if there's any practical service for last minute petsitting.
I know there are some dog walking and dog sitting apps out there, etc., but is there a practical/non-creepy option when you're staying in a hotel room? Like, I feel like it sounds creepy to ask a stranger to sit in your hotel room and watch your dog, so I'm curious if anyone has any advice in that regard.
"Ew, can't you leave your pet at home?"
Lastly, to address the inevitable comments from some about why we can't leave our pets at home…
If you don't like hotels with pets, don't stay at pet friendly hotels. Hotels aren't pet friendly because the global hotel chains are charitable, but rather because they've decided it's good for business — not only can they charge fees for pets, but many people will choose certain hotels for being pet friendly.
If you don't like it, there are plenty of hotels you can stay at that aren't pet friendly.
Bottom line
The above are some of my tips and thoughts when traveling with Winston, and I'd certainly welcome thoughts from others about traveling with pets.
I guess my simple advice is to know the policies of hotels, and don't assume that your pet will like traveling as much as you do. The unfamiliarity may scare them, and they might just be happier at home. At least that's the case for some dogs, while some more adventurous dogs love it.
If you've traveled with your pet, what was your experience like?