Over the past few years, Delta SkyMiles has been evolving into one of the least transparent frequent flyer programs out there. This really started back in early 2015, when they eliminated SkyMiles award charts.
The underlying motivation here is that Delta wants to turn SkyMiles into a revenue based frequent flyer program as much as possible, and it's easier to condition people to just pay whatever price they see if you don't have award charts.
But the thing is that Delta hasn't just eliminated award charts, but they've also introduced many other practices that leave us confused. They've devalued award pricing without notice, they've started charging more for awards on partner airlines than awards on their own flights, and they've introduced higher award costs when booking select partner airlines last minute, which seems backwards to me (those seats are going to be empty, so have the least opportunity cost).
The problem is that often Delta SkyMiles has situations that they claim are glitches, but without an award chart and published award rules, we typically don't know whether something is a devaluation or a glitch. We're being conditioned to believe that "the price is the price," which leaves me confused pretty often.
It looks like Delta has recently instituted their latest "devaluation" of sorts, though I can't fully isolate what they're doing here. Specifically, delta.com no longer shows many partner awards when looking to book within three days of departure. This doesn't apply for all partner flights. For example, I can find a fair amount of intra-Europe award availability on delta.com even within a few days of departure.
However, for virtually all longhaul flights, as well as flights within Asia, they're just pulling space three days out.
For example, I searched availability from Shanghai to Bangkok for this Friday earlier today, before it became Wednesday in Asia, and they showed availability for Friday onwards.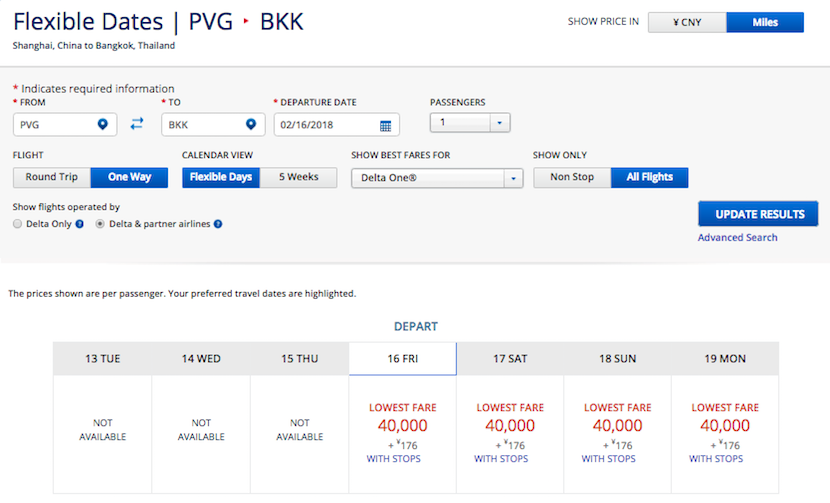 I checked again a few hours later once it became Wednesday in Asia, and now they only show availability on delta.com for travel starting on Saturday, even though the same flights show award availability through other sources.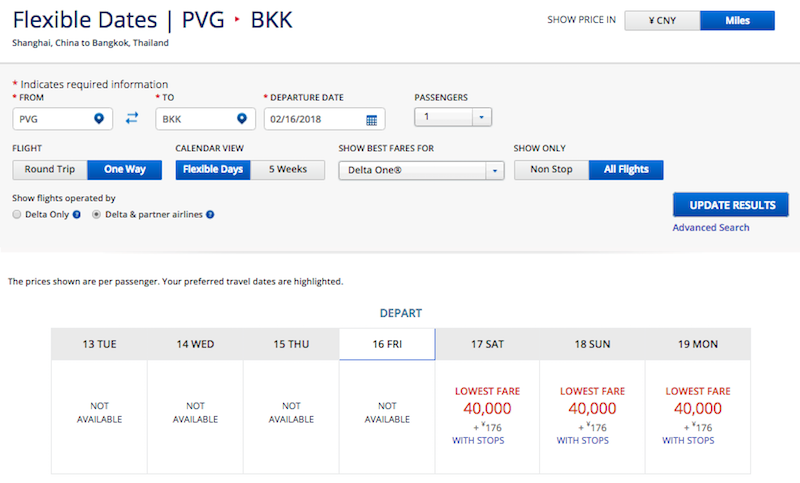 I've had mixed experiences as to whether these flights are still bookable by phone or not. Delta (and SkyTeam in general) has so many issues with seeing partner award availability at times, so it can be tough to tell for sure. In some cases these flights are still bookable, in other cases they're not.
So, why has Delta stopped displaying a lot of partner award availability within three days of departure? There are a few possibilities, the way I see it:
This is a glitch, and something funky is causing availability to not show on many routes within a few days of departure
This is cost saving measure, as Delta knows that the less award space they display, the fewer awards people will book
This is some sort of fraud prevention technique, as they're concerned that many last minute partner award bookings are fraudulent
This functionality has temporarily been taken down while Delta works on something nefarious
All four are very real possibilities. My general inclination is that the fourth point may be closest to the truth, while I'm guessing they'd claim it's the third point. In some cases Delta has started to charge more miles for partner award bookings that are made close to departure (including on China Eastern and Virgin Atlantic). That leads me to believe that this may be an extension of that, in one form or another.
So in the meantime, expect not to book most partner airline award tickets through delta.com within three days of departure. The good news is that many of these awards should still be bookable by phone.
Only time will tell what Delta's motivation is here, but I suspect it's something…
Have you noticed Delta blocking partner airline award space within three days of departure? What's your theory as to what's happening?